Meet a national Partner for Life group guided by faith and helping Canada's Lifeline
Ahmadiyya Muslim Youth Association is dedicated to helping others
December 16, 2021
Stephanie Pedersen, territory manager in Vancouver, B.C., with Atta ur Rehman, regional president of Ahmadiyya Muslim Youth Association BC chapter at a blood donation event the association held earlier this year in the gym of their mosque in Delta, B.C.
For over a decade this national partner has instilled useful habits in its youth members and helped Canada's Lifeline increase the number of donors in Canada.
As the new national vice-president of the Ahmadiyya Muslim Youth Association (AMYA) Canada, Salman Mangla knows his members will find opportunities to serve the community.
For more than 15 years, his association has hosted blood drives and stem cell donor recruitment events (recruitment events have been suspended since the onset of COVID-19) as a national Partner for Life group with Canada's Lifeline.
The Ahmadiyya Muslim Youth Association is an international non-profit organization for Muslim men aged 15 to 40.
The association's slogan is "love for all, hatred for none." It regularly encourages its members to get involved in humanitarian activities.
"In our religion, Islam, service to humanity is part of our faith," Salman explains.
"Our holy book, the Koran, says that saving the life of one individual is akin to saving the life of all mankind. Serving mankind is deeply rooted within our organization. Donating blood or stem cells, and helping others, is an extension of what we already believe in."
Stem cell donation brings joy to a donor as well as hope to a patient
Beautiful story of survival begins with donated blood
Meeting the need for blood donors
Salman Mangla has been a member of the faith-based group since he was a teenager. He has held many roles and was appointed vice-president of the association in November 2021.
The Ahmadiyya Muslim Youth Association is headquartered in Vaughan, Ont., and the group is backed by more than 50 branches across Canada.
"We are all volunteers," he says. "The way our association is structured, we get put into different departments or positions. This is my first year in this role, but I'm familiar with our organization's intention to give back to the community."
In December, three of the Ahmadiyya Muslim Youth Association's major sites in Vaughan and Maple, Ont. and in Delta, B.C., will again host blood donation events.
The blood drives will take place during our Season of Giving campaign, which is a critical time to involve blood donors.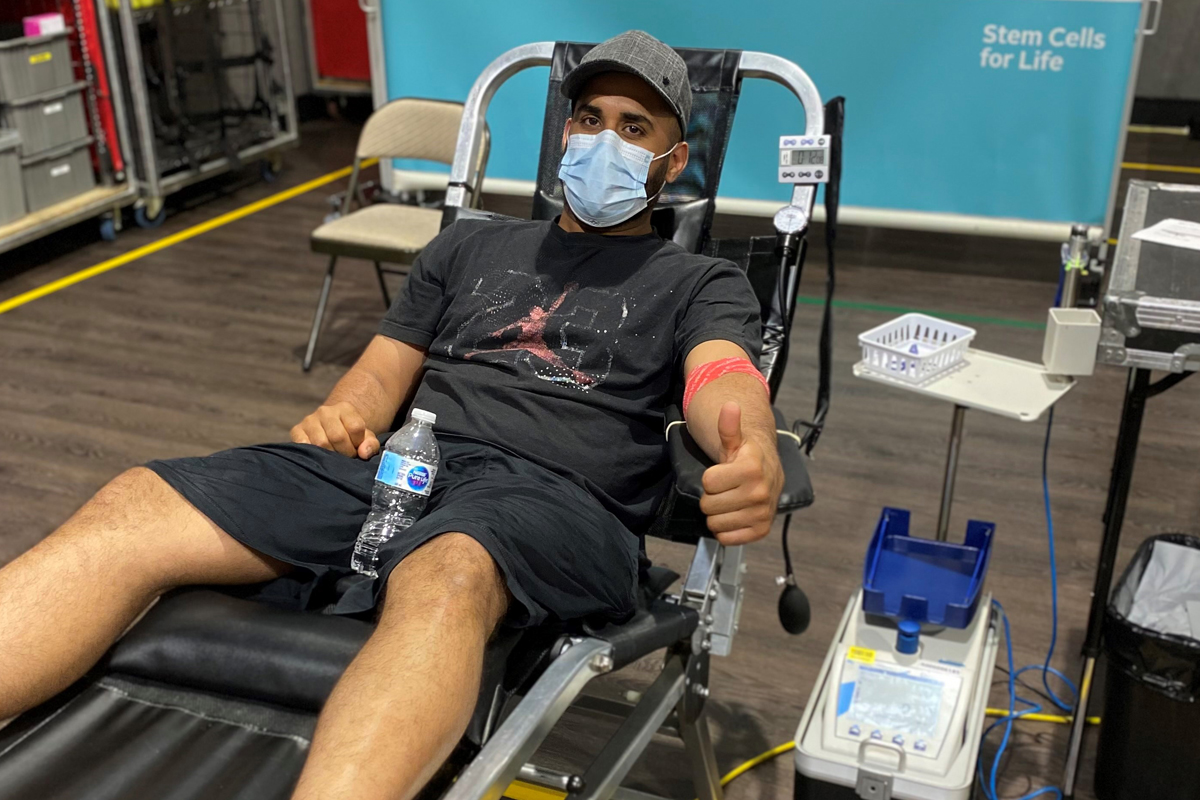 Blood donors are always needed, especially during the season of giving
Canadian Blood Services needs to fill thousands of open appointments by January 4, 2022. The last two weeks of December are generally a challenging time for whole blood collections.
The contributions of Ahmadiyya Muslim Youth Association members will play an important role in ensuring patient needs are met.
Blood donation and other connections
Blood donation is one of many ways the association connects with local communities and contributes to Canadian society.
The Ahmadiyya Muslim Youth Association teaches its members to support others by continually answering the call for help.
Not only does it run blood drives, but also charity walks and fundraisers, food and clothing donation drives and other activities that benefit those in need.
Celebrating national partners during Asian Heritage Month
'My Asian heritage has rubbed off on my work'
A few weeks after Salman started his position, the association's regional chapter in British Columbia began organizing volunteers to respond to an unexpected climate emergency.
In November, heavy rainstorms caused flooding, mudslides, and road closures in parts of B.C.
The Ahmadiyya Muslim Youth Association BC informed Salman about the crisis and reached out to all affected municipalities to offer help.
On November 19, after a state of emergency had been declared for B.C., Ahmadiyya Muslim Youth Association Canada announced a "one million pounds" food drive.
In the wake of the storms, the Ahmadiyya Muslim Youth Association BC quickly assembled a team of volunteers to help hundreds of affected residents in southern B.C.
Atta ur Rehman, the regional president of Ahmadiyya Muslim Youth Association BC, collaborated with the association's chapter president of Abbotsford. Together, they steered helpful activities in the communities of Abbotsford and Chilliwack.
"Our volunteers did their best to support people affected by the storms. We provided cooked meals, handed out pillows and participated in local relief efforts," says Atta.
Stepping up at a moment's notice to respond to the crisis in B.C. is the latest example of the role the Ahmadiyya Muslim Youth Association plays in communities across Canada.
This July, in response to a tragic and horrific attack on a Muslim family in London, Ont., the Ahmadiyya Muslim Youth Association organized several blood drives at mosques in Ontario, Alberta, and B.C.
Hundreds of Ahmadi Muslim youth donated blood in support of Canadian Blood Services.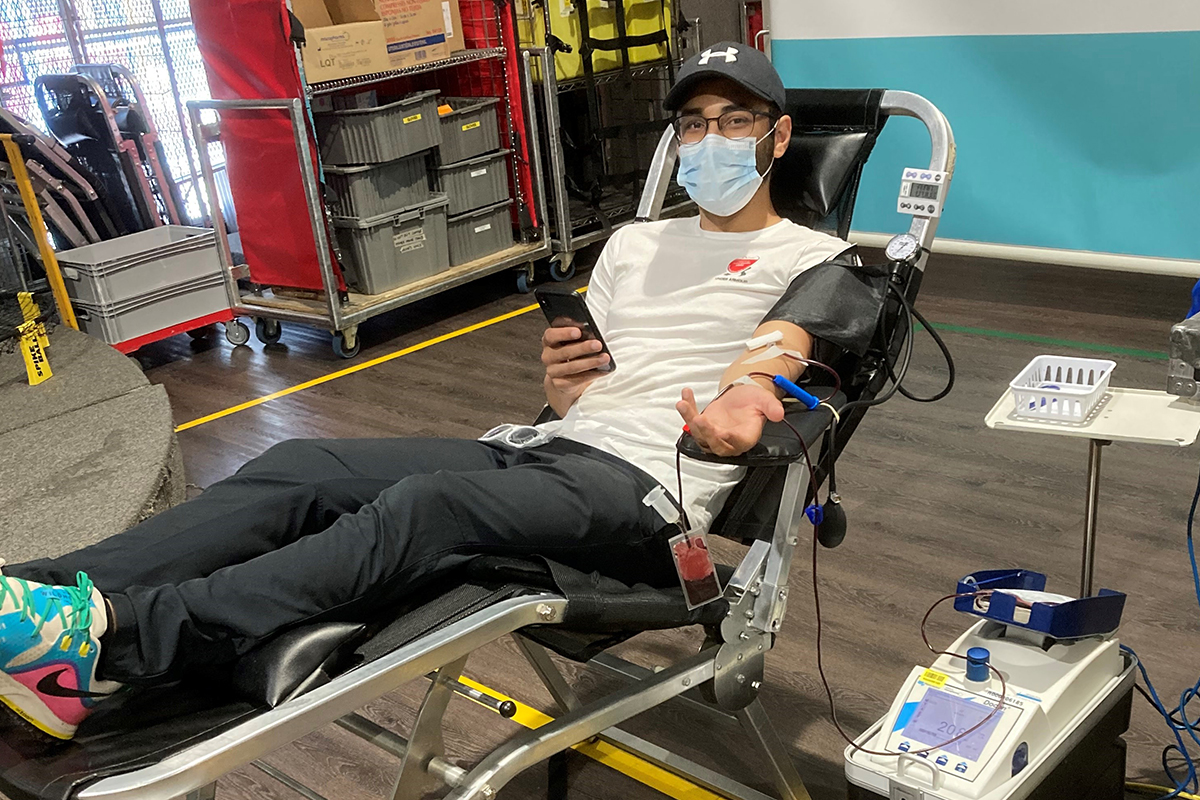 Ahmadi Muslim youth regularly donate blood in service to others
Blood donors reap benefits
Salman believes Ahmadiyya Muslim Youth Association's youth members benefit in many ways as a result of becoming regular blood donors.
First, providing support for hospital patients "creates an attachment to the community at large," he says. "When you feel you've done something good and potentially helped save someone's life, that's a positive mindset to develop at a young age."
Donating blood also gives Ahmadiyya Muslim Youth Association youth members a chance to connect with other like-minded people within their community, "who are also looking to serve humanity in some way."
'It's an incredible privilege to help save a life'
Celebrating the annual Sikh Nation blood donation campaign
Sharing information on Canada's blood system and encouraging young people to become regular donors benefits the association's members as well as patients.
"If somebody donates blood at a younger age, it's an activity they can get accustomed to and continue throughout their life. They donate more blood over a longer period, which helps to ensure ongoing support for Canada's Lifeline."
To help others learn about the Muslim community, the association also welcomes groups and individuals to their mosques.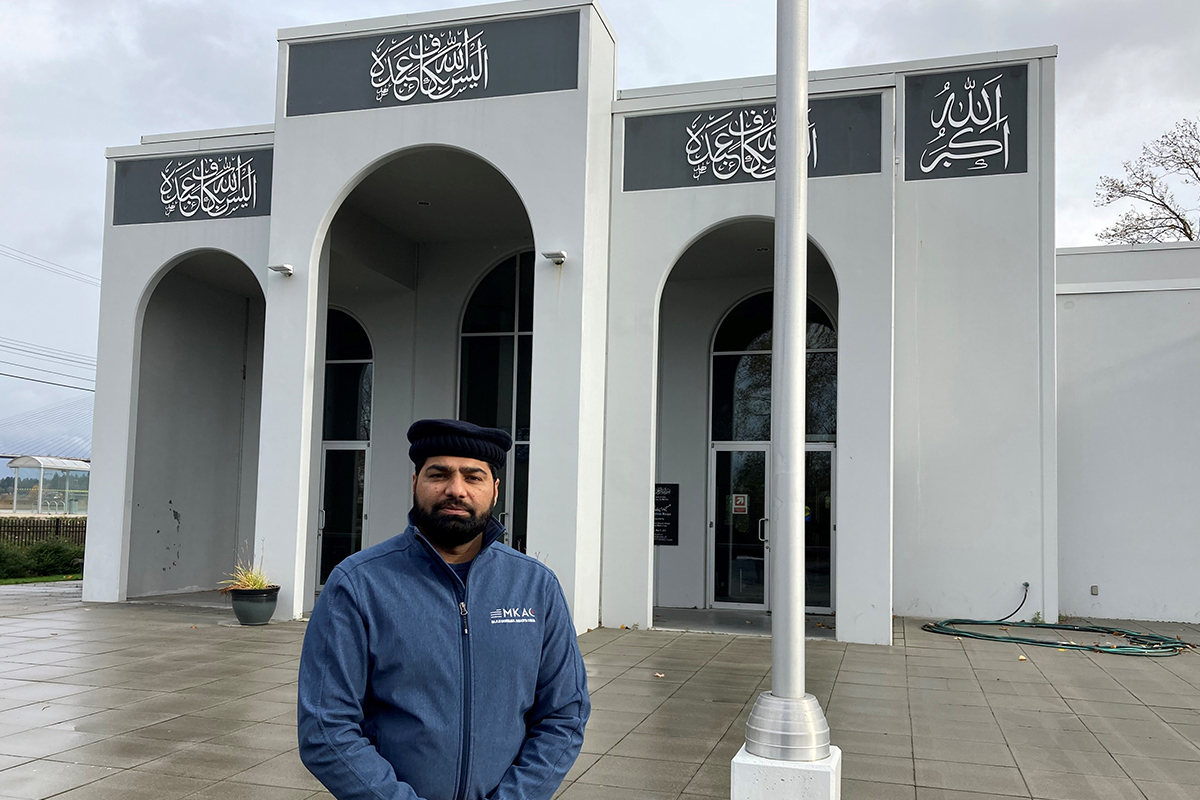 Atta ur Rehman, regional president of AMYA BC, oversees one of dozens of chapters across Canada
"In a country like Canada we are so blessed," says Salman. "We have all of these amazing amenities and facilities. Blood donation is an activity Ahmadiyya Muslim Youth Association's members are pleased to support."
Blood donors enjoy experiences that connect them to their community. It's a form of selfless service to help others that fosters focus, inspiration, and a sense of wellbeing for Ahmadi Muslim youth.
Broadening the blood donor base
The Ahmadiyya Muslim Youth Association and other Partner for Life groups account for about a third of all donations collected each year.
The association's support for Canada's Lifeline helps meet patient needs and increase the number of donors in Canada. Each year, it encourages youth members across its vast network to join Canada's Lifeline.
Many of these new donors help support increasingly diverse patient populations in Canada, including but not limited to stem cells and rare blood patient needs.
A life beyond sickle cell disease, thanks to a stem cell donor
Family of man with rare blood disorder grateful for gift of life
By rallying members of its diverse community to book and keep blood donation appointments, the Ahmadiyya Muslim Youth Association helps to create awareness of the need for more donors.
In return, the Partners for Life program makes it easy for the association and other partners to donate as a team, record their contributions and provide lifesaving gifts.
Canadian Blood Services is deeply grateful for the partnership with the Ahmadiyya Muslim Youth Association and their dedication to patients.
Thanks to their support Canada's Lifeline can continue to ensure a reliable inventory of blood and blood products are available where and when they are needed.
Organizations that partner with Canadian Blood Services provide incredible support for patients in a range of ways, from blood donation events to fundraisers. Learn more about becoming a Partner for Life. We also invite you to learn more about our commitment to diversity, equity and inclusion at blood.ca/DEI.