'My Asian heritage has rubbed off on my work'
This Asian Heritage Month, Lilet Raffiñan reflects on recruiting donors in one of the world's most multicultural places
May 13, 2021
Asian Heritage Month is a time to celebrate the rich history and accomplishments of Canadians of Asian descent. This May, we are exploring their connections and contributions to Canada's Lifeline as employees, donors and patients. Lilet Raffiñan, a Canadian Blood Services employee in the Greater Toronto Area, told us about her work, her background and what Asian heritage means to her.
As a territory manager who recruits blood donors in one of the world's most multicultural urban areas, Lilet Raffiñan is constantly building relationships with Canadians from diverse backgrounds. She's passionate about diversity, equity and inclusion, and her personal values drive her work every day.
"Issues of fairness and inclusion are very important to me," says Lilet. "Working in diverse neighbourhoods in and around the GTA allows me to recruit donors from all ethnic communities to help patients."
Lilet was born and raised in the Philippines. Her father was of Filipino descent, while her mother was of mixed Syrian and Filipino ancestry, and she brings the lessons of her rich multicultural childhood to work.
"To this very day, I remember how my parents always used to say pagtulong sa kapwa, a Tagalog expression which means 'to care and think more about others and less of ourselves,'" she says. "That's what I try to think about as I do my job, and I have passed that lesson on to my children because I want them to be selfless."
Lilet has been married to her husband Gerry Raffiñan for 35 years. They immigrated to Canada in 1995 with their two young children, Dominic and Karella. Since that time, they've seen the Filipino community grow in Canada, and Lilet is passionate about connecting them to Canada's Lifeline.
"As a family, we try to lead by example in our community," says Lilet. "My children and I are both blood donors. And both Dominic and Karella joined the stem cell registry as a birthday gift to themselves when they turned 17. Today, they're proud of the decision they made many years ago."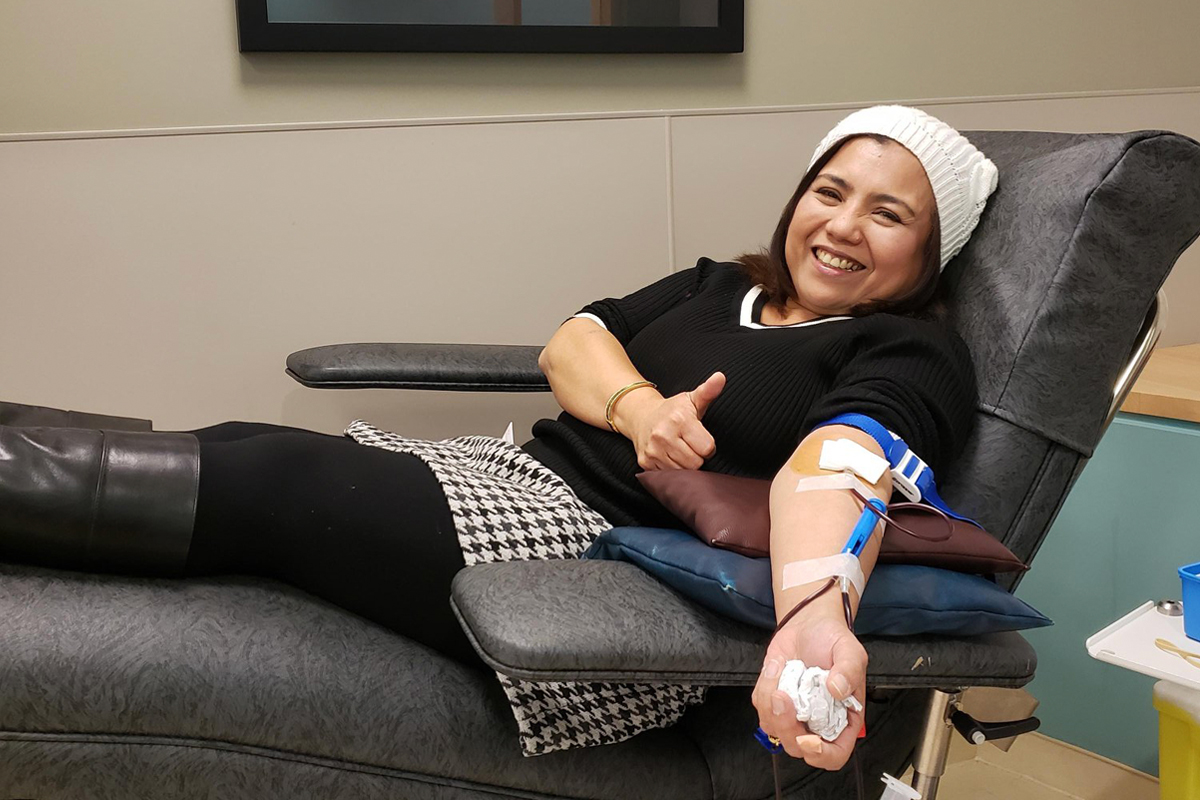 Lilet Raffiñan donates blood at a donor centre in the GTA when she's not working. As she recruits donors in the community, she says it's important to lead by example.
'COVID challenged me to up my game'
Before COVID-19 hit, Lilet regularly organized events and met with diverse groups to raise awareness about blood donation. For the nearly 16 years that she's been with Canadian Blood Services, she has built and nurtured relationships with the Sikh, Hindu, Muslim, Nepalese, Buddhist, Palestinian, Syrian, Chinese, Filipino and Black communities. She regularly met with people personally, and often in large gatherings. But the pandemic changed all of that.
"Pre-COVID, I would immerse myself in these groups and break bread with them during their cultural festivities," said Lilet. "It was a way for me to show respect for their traditions and become their ally."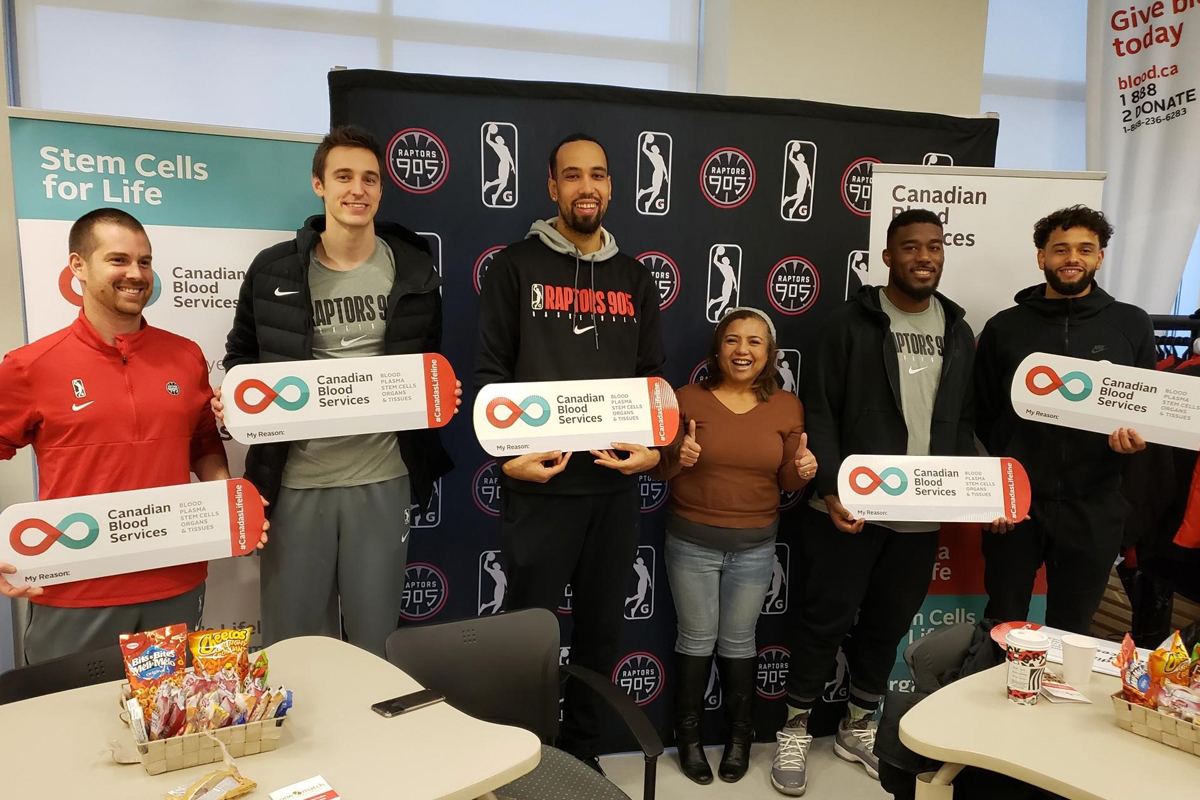 Lilet Raffiñan (third from right) cheers members of the Raptors 905 team during their group blood donation event in Mississauga in 2019. She's always excited about connecting with Canadians from diverse groups to help patients.
With the lockdowns and restrictions necessitated by the pandemic, communities were forced to contend with a new normal, and so was Lilet. "The need for blood is constant and I knew that the lives of patients were at stake regardless of the raging pandemic," she says. "So, COVID challenged me to up my game and work extra hard to bring in donors."
In keeping with COVID mitigation measures in Ontario, Lilet found new ways to connect with community champions and leaders. "I would meet them from a distance in their driveways or at their places of worship, and even participate in their festivities virtually," she says. "I never stopped engaging with them. My message to them was that they could donate together and still be apart."
During the first year of the pandemic, Lilet organized nearly 150 group blood donations in the GTA alone. "Over 1,500 people in these groups booked their appointments to donate blood at our Mississauga donor centre," she says. "And they all represented various ethnicities across the region."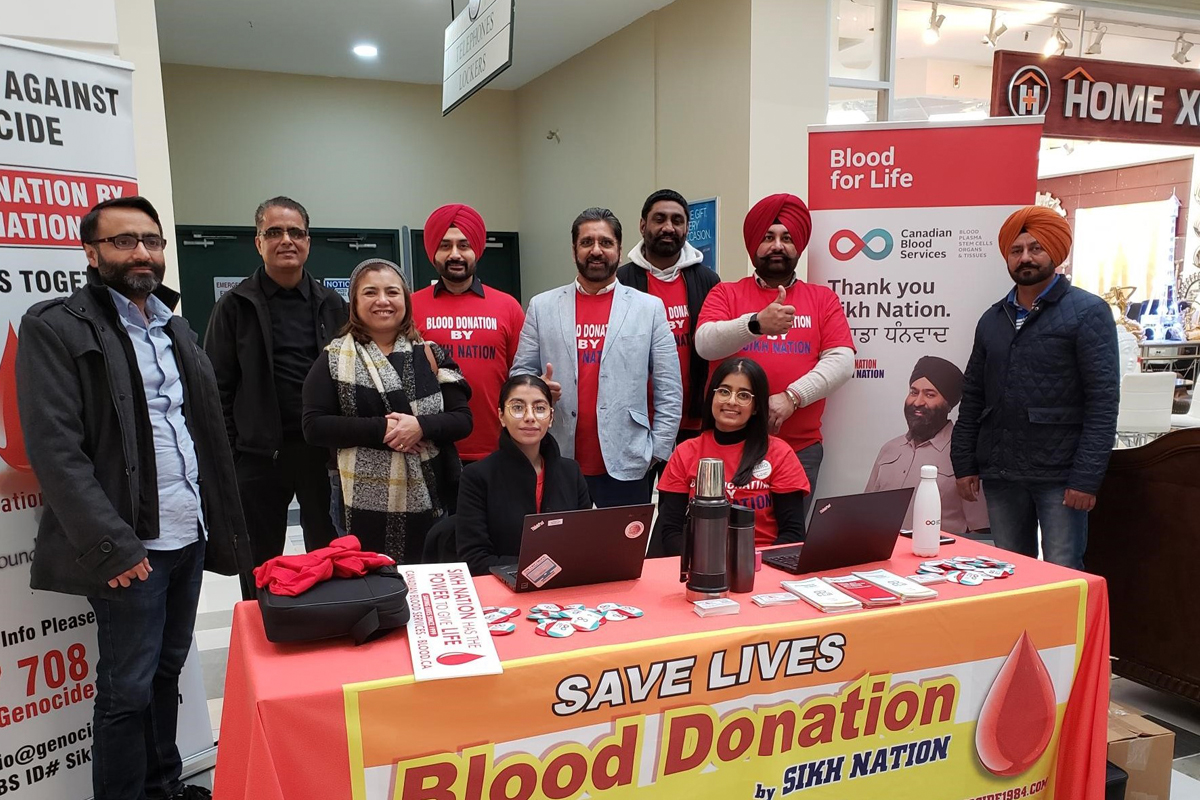 Lilet Raffiñan (third from left) poses with some members of Sikh Nation during their group blood donation in Brampton in 2019. Sikh Nation has become one of Canadian Blood Services' largest donor groups in the country.
One of the groups Lilet works with is Sikh Nation, a Canadian Blood Services Partner for Life blood donor group. For more than two decades, Sikh Nation has run annual donation events in provinces across the country. Their efforts have helped save nearly 150,000 lives as they've become one of the largest donor groups in the country.
Sikh Nation recognized for contributions to Canada's Lifeline
"My Asian heritage has rubbed off on my work," says Lilet. "It's helped me to connect very easily with several minority groups. One of the things I'm most proud of is my role in bringing together people from these groups to help patients in need."
This Asian Heritage Month, as we reflect on the contributions to society of Canadians of Asian descent, we are mindful that actions are necessary to remove barriers, develop equitable opportunities and foster inclusive spaces. This is needed not only during the month of May, but year-round. Learn more about our commitment to diversity, equity and inclusion at blood.ca/DEI.