Beautiful story of survival begins with donated blood
Munira Premji has survived three cancers in the last nine years. Blood donors have been with her every step of the way.
May 31, 2021
Munira Premji has survived for nine years since being diagnosed with the first of three cancers. But without blood donations, she would have died before her very first dose of chemotherapy.
Munira's cancer journey began in winter 2012. At the time she was 53 years old, with a high-powered career in human resources. She and Nagib, her husband of nearly 30 years, were living busy lives in Toronto. Munira had fallen in love with the city during a visit from her native Tanzania in December 1978 and decided to stay. The couple had met, married and raised two children there; Shayne and Sabrina were now pursuing careers of their own. It was "really a fulfilled life," Munira recalls.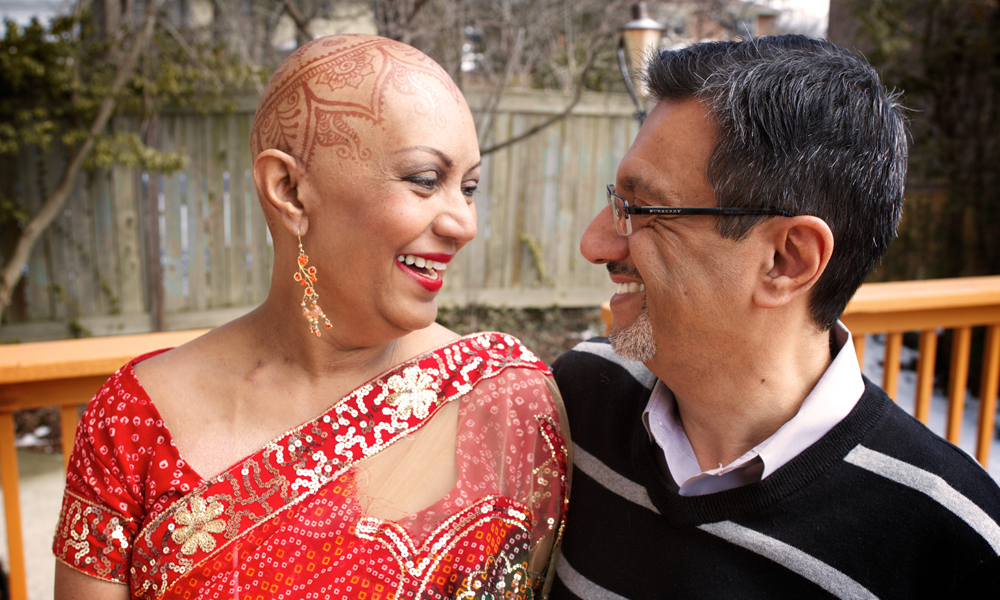 Munira Premji, seen here at left with her husband Nagib Premji, was first diagnosed with multiple myeloma in 2012. She was later diagnosed with two other advanced cancers, Non-Hodgkin lymphoma and breast cancer.
Her very first signs of illness were subtle.
"As I was working, I noticed that I was getting really tired," says Munira. "And I'm incredibly high energy so this just didn't feel normal."
She initially thought her fatigue, weight loss and night sweats could be related to menopause or stress at work. But her rapidly dropping levels of hemoglobin ― a protein in the red blood cells that carries oxygen ― suggested something more sinister could be happening. On Feb. 3, 2012, she received the devastating diagnosis: multiple myeloma, an incurable cancer of the blood.
'But it was not just one cancer'
Munira shares the details of her long and complex journey with cancer in her memoir Choosing Hope: 1 Woman, 3 Cancers. The chapter called "But it was not just one cancer" picks up her story just one week after that first diagnosis. Doctors had been looking at the results of her bone marrow biopsy and had concerns. She needed to go for more tests.
In March 2012, barely a month after learning she had multiple myeloma, Munira learned she had a second life-threatening illness: advanced non-Hodgkin lymphoma, a second cancer of the blood. Her oncologist, Dr. Rodger Tiedemann, recommended chemotherapy to begin immediately.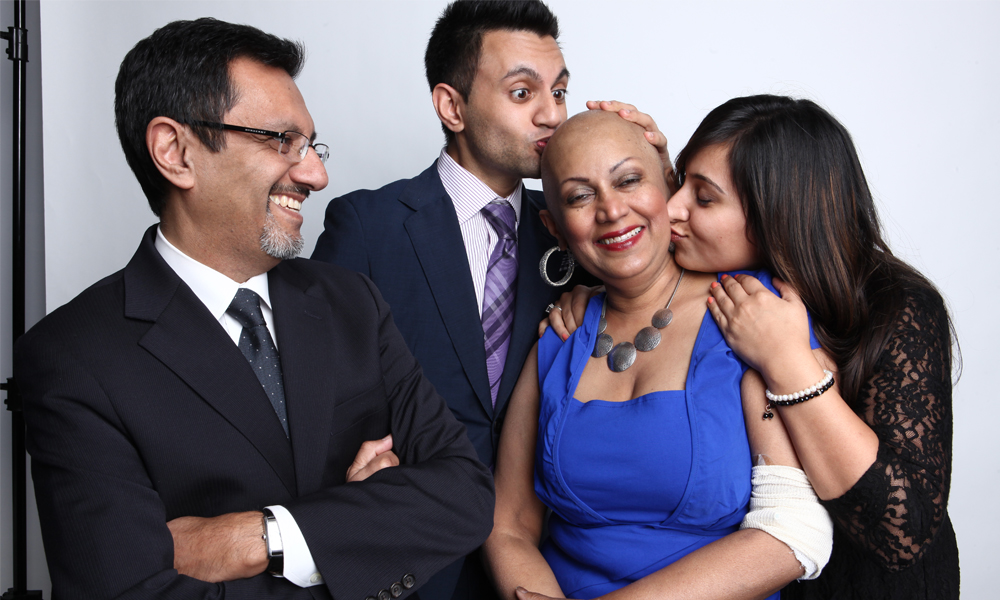 Munira Premji, second from right, is the author of Choosing Hope: 1 Woman. 3 Cancers. She is seen here with her husband Nagib (far left), her son Shayne (second from left) and her daughter Sabrina (right).
The day before her first scheduled chemo session, Munira went with her family to Dr. Tiedemann's clinic to get clearance to begin treatment. But upon viewing the results of routine bloodwork, Munira writes, the doctor appeared flustered.
"He kept asking me how I was feeling, apparently surprised that I was standing before him," she remembers in Choosing Hope.
The reason? Munira's hemoglobin had plummeted to 42 ― almost one-third of the lowest normal value for a woman. Instead of going to chemotherapy, she was quickly on her way by ambulance to the emergency department of a different hospital across the street.
Staff at the emergency department seemed equally stunned by her condition, Munira recalls. She describes what happened next in one of the book's most harrowing passages:
Shortly after I was seen by an emergency doctor, I was lying on a bed in a curtained-off room when I overheard a phone conversation that the doctor was having outside about the patient in Bed 9, beside me. Apparently, the woman was in critical condition and her organs would begin shutting down if they did not begin a blood transfusion immediately. It appeared that the person on the other end of the line was not in favour of this decision. They began a heated discussion until the doctor exclaimed "She is my patient and I'm making the call to start the blood transfusion immediately! If we don't start it now, she will die!" Our sympathies reached out to this woman. Who could she be, where was her family? We became quiet. And then in that moment we overheard the doctor correct himself, "Oh sorry, not Bed 9, it's Bed 8.
I was in Bed 8.
"That was probably the worst day of my life, because I honestly thought that I was going to die that day," says Munira.
She soon learned more about the very difficult problem facing her medical team. Munira needed a very specific blood type because of antibodies her body had developed in response to two transfusions in the previous two months. Transfusing the wrong type now could be deadly, but so could the wait for test results to confirm a perfect match. Meanwhile, Munira's hemoglobin kept dropping to even more dangerous levels, all the way down to 36. Doctors warned that her organs would start shutting down.
That evening, she recalls in her book, doctors rushed her from emergency to intensive care with a plan: to transfuse her with four units of blood that had only been partially evaluated as a match for her own. In other words, there was a risk of a mismatch that would produce a dangerous transfusion reaction. Filled with fear, Munira — a devout Ismaili Muslim — turned to prayer, as did her family.
"We sat beside her, hearts racing, tears rolling down our cheeks, prayers on our lips, and watched those first drops of blood make their way into her body," recalls Munira's daughter, Sabrina, in Choosing Hope. "If her body was going to reject the blood, we would know within the first few minutes. A nurse was by her side monitoring every vital sign."
In the end, each of those units from four different donors were safely transfused. The next day, Munira was up and about and writing on her iPad when she received a surprise visit from the hematologist whose team had worked diligently on the blood matching.
"She said, 'You are such a miracle. I can't even explain how close you came to dying yesterday,'" Munira recalls.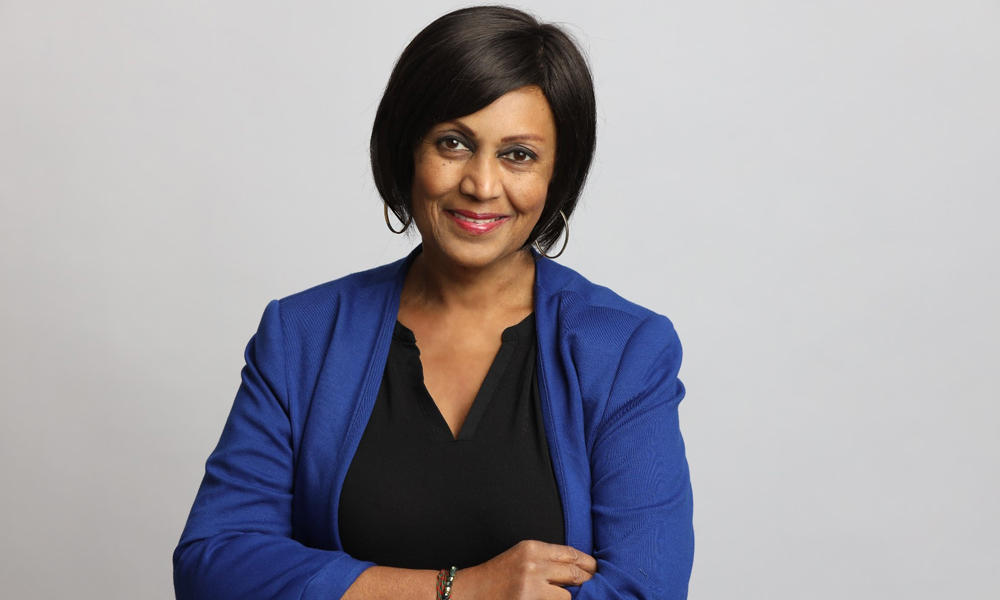 Munira Premji is alive and thriving nine years after being diagnosed with multiple myeloma. Since 2012 she has also been diagnosed and treated for two other advanced cancers.
Blood 'the price of admission' for livesaving treatments
Those first units of blood were what Munira describes as "the price of admission" for the cancer treatments to come, first for lymphoma and then for myeloma. Because myeloma is incurable she will need to battle it periodically for as long as she lives. In addition to chemotherapy, the treatment so far has included two autologous stem cell transplants, which Munira jokingly compares with the "Ctrl-Alt-Delete" computer reset. Each time, the process involved a procedure to harvest stem cells from her own body, followed by very intense chemotherapy to fully destroy her bone marrow before her stem cells were transfused back.
She has also had several more blood transfusions since that frightening night in the hospital in March 2012. She has had red blood cells to boost her hemoglobin to a safe level before chemotherapy treatments. And after her stem cell transplants she needed transfusions of platelets. As these lifesaving products flowed into her body, Munira would always think about the people behind them.
"It was a time of prayer, of gratitude, of hope that the blood would give me what I needed," Munira says. "But it always started with gratitude for the person that donated. I like to think of it as sacred space, because at those times I didn't listen to a podcast or read a book. I wasn't on the phone with a friend. This was my time to say thank you."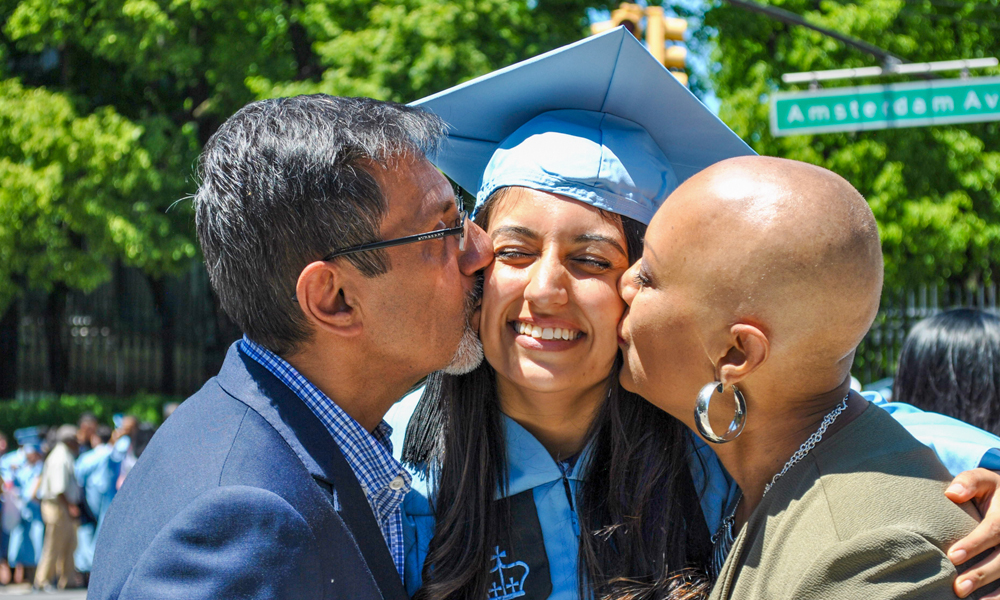 Blood donations have helped prolong and improved the life of Munira Premji, right, as she battled three types of cancer. One blood transfusion helped make it possible for her to travel abroad for her daughter Sabrina's university graduation.
A third cancer diagnosis
In 2015 Munira was hit with yet another cancer diagnosis. This time it was breast cancer. Incredibly, she fought that too, and finished treatment in September 2016. As before, she was determined to keep living life as fully as possible, even during treatment, and blood donations helped her do that. One memorable transfusion helped make it possible for her to travel to New York for Sabrina's university graduation.
Staying positive through so many rounds of severe illness is not easy. But today, Munira is not only making the most of each day, she is supporting other cancer patients to do the same. She connects personally with one or two each day, and also contributes to a blog, videos and podcasts about both her experiences with cancer and the new memories she is making.
Remarkably, she has even come to see cancer as a gift.
"I'm living joyfully. I'm living with purpose. I realize what's important to me," Munira says. "I don't let the noise get in the way. I'm more likely to ask for forgiveness than permission. I'm living my absolute best life right now."