Celebrating the annual Sikh Nation blood donation campaign
This longtime partner is both saving lives and helping Canada's Lifeline build a more inclusive blood system
November 1, 2021
What began as a community-based blood drive in Surrey, B.C., has blossomed into an annual campaign that draws thousands of donors to dozens of events across Canada.
The annual Sikh Nation blood donation campaign unites Canadian Sikhs each November. They remember their past and respond with positivity by donating blood or plasma to help patients. As the largest contributor to Canadian Blood Services' pledge-based Partners for Life (PFL) program, Sikh Nation has helped save more than 150,000 lives to date through its annual donations and support. Last year, the group's efforts spanning more than two decades were recognized with a national Honouring Canada's Lifeline partnership award.
Sikh Nation recognized for contributions to Canada's Lifeline
Jastej Kaur Sidhu has volunteered for Sikh Nation in British Columbia since their annual campaign started in 1999.
"The most unique thing about Sikh Nation is that it's a volunteer-driven campaign completely based on community support," says Jastej. "That's what Sikh Nation stands for. That's why year after year we're seeing so much growth. As the community grows, the campaign continues to grow."
Jastej's view is echoed by Sikh Nation volunteers who support the campaign in other parts of Canada.
"In 2011, we started the campaign in Ontario with one Sikh Nation event, and this year we will have 13 events," says Ranjit Panesar, who lives in Brampton, Ont., and supports the campaign in the Greater Toronto Area. "The Sikh community has responded very well to calls to join the campaign, more than we expected."
Jastej and Ranjit are proud of Sikh Nation's lifesaving contributions and understand the important role donors play in meeting patients' needs.
"As I've grown up, I've realized there are many people in our lives who end up needing support from Canadian Blood Services," says Jastej.
Those who participate in the Sikh Nation campaign want to inspire both Sikh youth and the broader community to help others.
"Success for us is reaching one new volunteer or donor a year. Our main mission is to help save lives in the communities that we live in," says Jastej.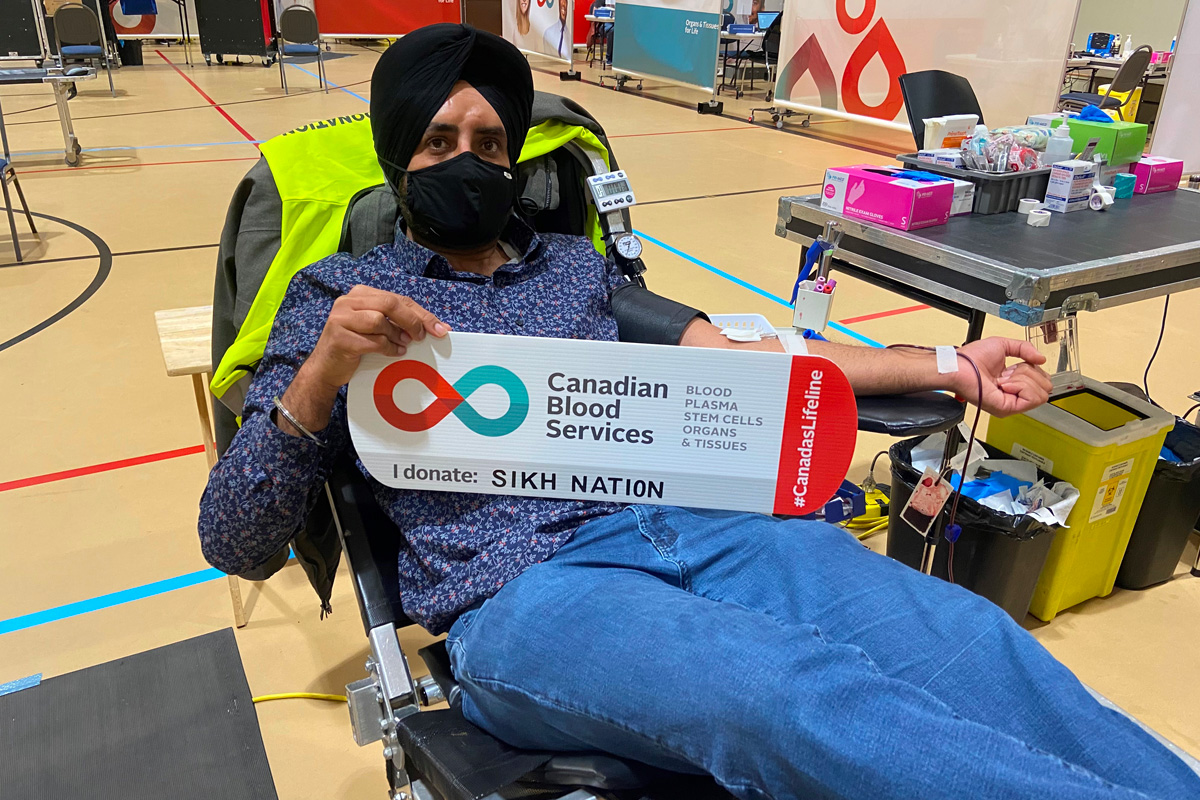 Taranjit Mann is a Sikh Nation donor and volunteer in B.C.
Sikh Nation embraces plasma donation
The 2021 Sikh Nation blood donation campaign runs from November 1 to 27. Sikh Nation will adopt select blood donation events and make group donations at others. Altogether, the campaign involves 29 donation events in B.C., Alberta, Manitoba, and Ontario. Thousands of Canadian Sikhs are expected to participate.
This year, Sikh Nation is anticipating 3,000 donations, the largest number since the group's partnership with Canadian Blood Services began. It will also be their first November campaign to include group donation events at our dedicated plasma centres. Events are planned for both Sudbury, Ont., and Kelowna, B.C., following Sikh Nation's very first group plasma donation event in Sudbury last summer.
Plasma donation gets a boost from Sikh Nation
The incredible story of how plasma donations help patients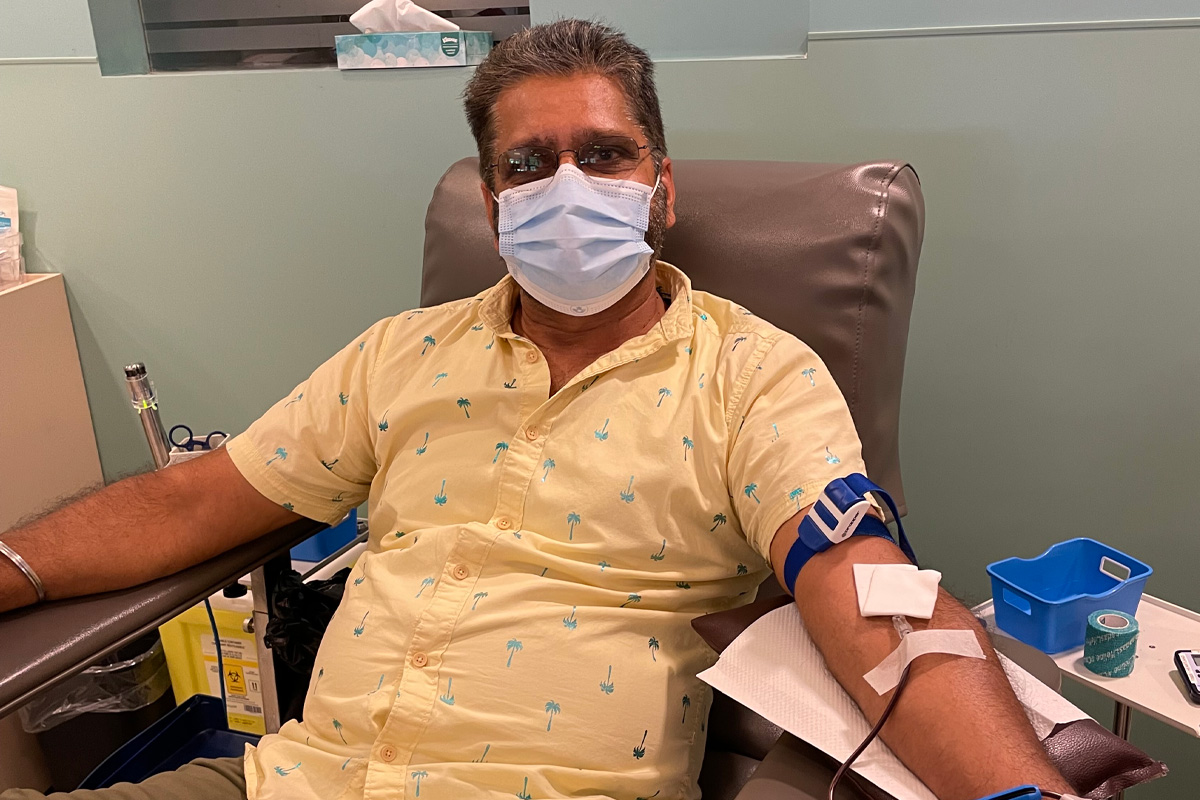 Sikh Nation volunteer Ranjit Panesar inspires people in Ontario to save lives.
Canada's Lifeline values support from diverse communities
By introducing new donors and volunteers to Canada's Lifeline, Sikh Nation is helping us build a more inclusive blood system to meet the needs of patients now and in the future.
We need thousands of new donors every year. Additionally, Canada is more diverse than ever, and the ethnic landscape is changing quickly. Donors from diverse communities are critical to helping diverse patients in Canada, whether they require blood, plasma or stem cells. In some rare instances, patients require blood that is matched beyond basic blood type, and they are most likely to find such a match in a donor who shares their ethnic background.
Group blood donation connects people
For more than 20 years, Sikh Nation has shown the good that can be accomplished when like-minded people work together to help others. Although 60 per cent of their donations happen each year in November, many Sikh Nation members donate year-round. Even when they donate alone, they are building camaraderie and community with their shared commitment to patients.
You can choose to assign your own donations to Sikh Nation's annual pledge at any time by joining one of their Partners for Life teams through blood.ca/PFL. The Partners for Life program makes it easy for partners like Sikh Nation to see their contributions and donate as a team.
Organizations that partner with Canadian Blood Services provide incredible support for patients in a range of ways, from blood donation events to fundraisers. Learn more about becoming a Partner for Life. We also invite you to learn more about our commitment to diversity, equity and inclusion at blood.ca/DEI.