Blood donors mean the world to this young cancer patient and his family
In this season of giving, Hunter Marsden and his family are expressing thanks for the blood, plasma and platelet donations helping him fight neuroblastoma 
November 26, 2021
As he goes through cancer treatment amid the COVID-19 pandemic, Hunter Marsden is grateful to blood donors. He and his family can't help but reflect on the support that has literally been saving his life, particularly as we enter the season of giving.
In May 2017, the Marsdens were enjoying the warm weather in St. Margaret's Bay, just outside of Halifax, N.S., when Hunter ― who was eight years old at the time ― began to complain about pain in his legs. Within a few days he was unable to walk. After a visit to the local children's hospital, the family received staggering news: Hunter had neuroblastoma, a cancer that begins in immature nerve cells called neuroblasts. The pain in his legs was the result of a tumour in his stomach which had become so large it was compressing nerves in his spine. At stage 4, the cancer was very advanced.
Quickly after his diagnosis, Hunter underwent surgery to remove 95 per cent of the primary tumour in his stomach. He then endured multiple rounds of high dose chemotherapy and radiation at both the IWK Health Centre in Halifax and the Hospital for Sick Children (SickKids) in Toronto. Hunter's team of doctors in both cities worked together to develop an aggressive treatment plan which would require frequent transfusions of blood and platelets.
How do I donate blood?

How do I donate platelets?
Between 2017 and 2019, Hunter had several courses of treatment. He developed osteoporosis, as well as a new tumour on his spine which required more radiation.
"They would have liked to try to remove the new tumour surgically, but because of where it was, there was just too much risk of damaging his spinal cord or lungs. So, they ended up doing five more rounds of radiation, and that actually did get rid of it," says Tina, Hunter's mother. "He then had a period of time after he finished those treatments when he was doing well."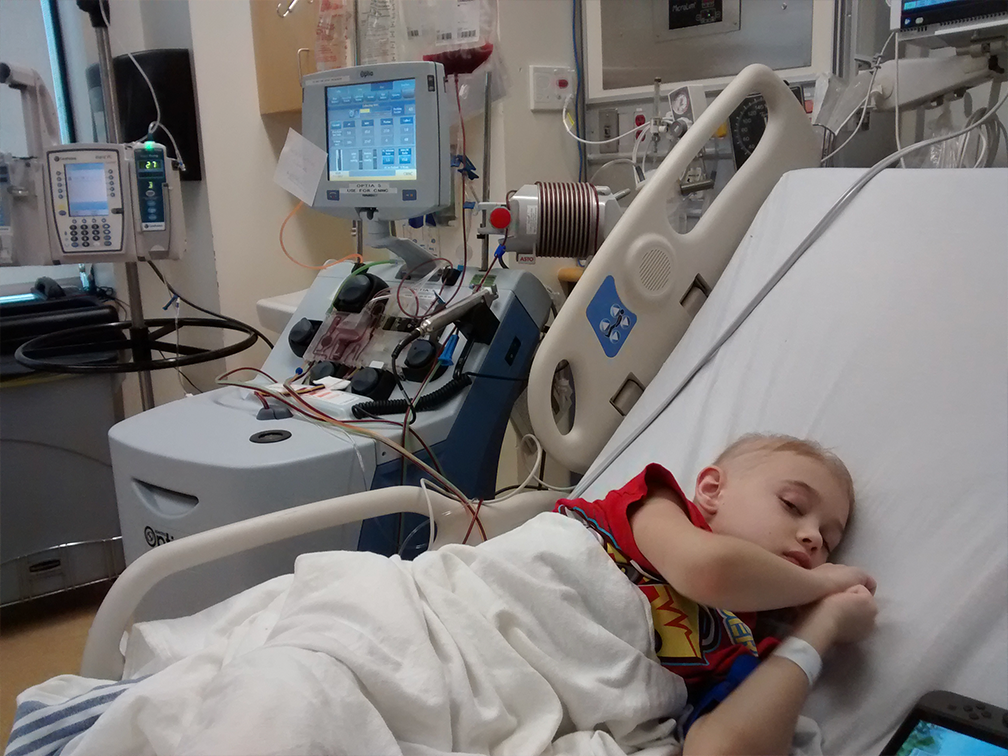 Hunter Marsden began aggressive treatment for Stage 4 neuroblastoma at the age of 8 in 2017. Throughout treatment, he has required regular transfusions of blood and platelets.
Then, in the spring of 2020, Hunter began experiencing pain again. "We were getting ready to go camping, and he said, 'Mom, I feel like I broke my leg again or something,'" says Tina. "And he was having a hard time walking."
Another series of scans at the hospital showed cancer in the bone marrow throughout Hunter's body, including his jaw and his skull. "When he relapsed, they in all honesty told us that we needed to prepare ourselves, that the chances of curing this were next to none," says Tina.
Still, doctors developed another aggressive treatment plan. This one would require Hunter and his mother to travel to Toronto for extended periods, just as the COVID-19 pandemic was hitting Canada.
Throughout all his treatments, Hunter has received platelets and blood regularly. Without those transfusions, he would not have been able to survive the aggressive chemotherapy and radiation.
"I honestly have lost count of how many transfusions Hunter's had," says Tina. "When you're battling cancer, you wouldn't be able to do it without so many blood donors. I want to say thank you so much to everybody that is a regular donor."
What is the process to donate blood?
CTV News Atlantic visited Hunter and his mom, Tina to hear about his journey and the impact blood donors have made to his cancer treatment.
Hunter's community has rallied to support him and his family from the earliest days. "The community has been phenomenal from the day he was diagnosed," says Tina. "Just a few days later, his school bus driver came to me and said, 'You know, people are coming to me, and people are coming together. They want to do something for Hunter and all of you, to help you through this.' Because it really did shock the community."
That community support took the form of a campaign called "Heroes for Hunter." There were fundraising events to help the family, as well as an event at their local library to recruit prospective stem cell donors for Canadian Blood Services Stem Cell Registry. Hunter's own treatment involved what is called an "autologous" stem cell transplant, in which a patient's own stem cells are harvested and later returned to their body. But many cancer patients require stem cells from donors; the registry connects those patients with matching donors in Canada and abroad. "People all of a sudden saw the importance of stem cell transplants, so they wanted to help," Tina recalls.
How do I join the stem cell registry?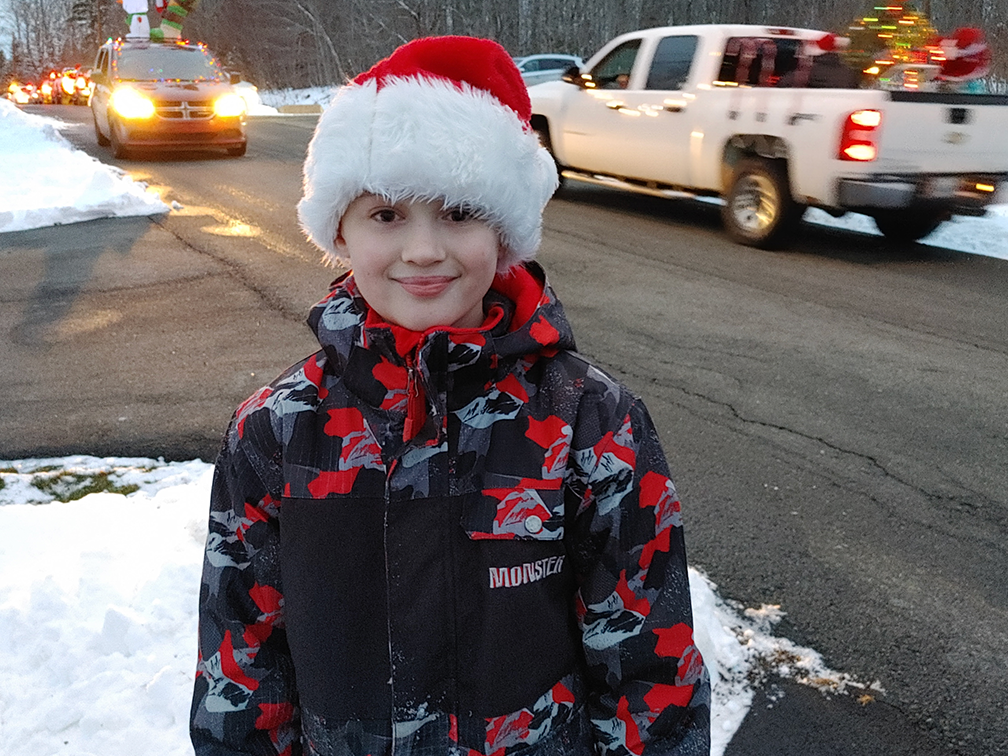 Hunter Marsden received support from blood donors and many people in his community. In 2020 they organized a festive parade to lift his spirits during the holiday season while he was undergoing treatment.
Hunter is now 13 years old and doesn't let his diagnosis get him down. "He's quite a kid, and he's been determined to beat it since the get-go," says Tina. "Honestly, he was our rock when he was first diagnosed." Hunter's positive spirit persists in the newest phase of his cancer treatment: a clinical trial at SickKids in Toronto. Through it all, he will continue to rely on the generosity of donors.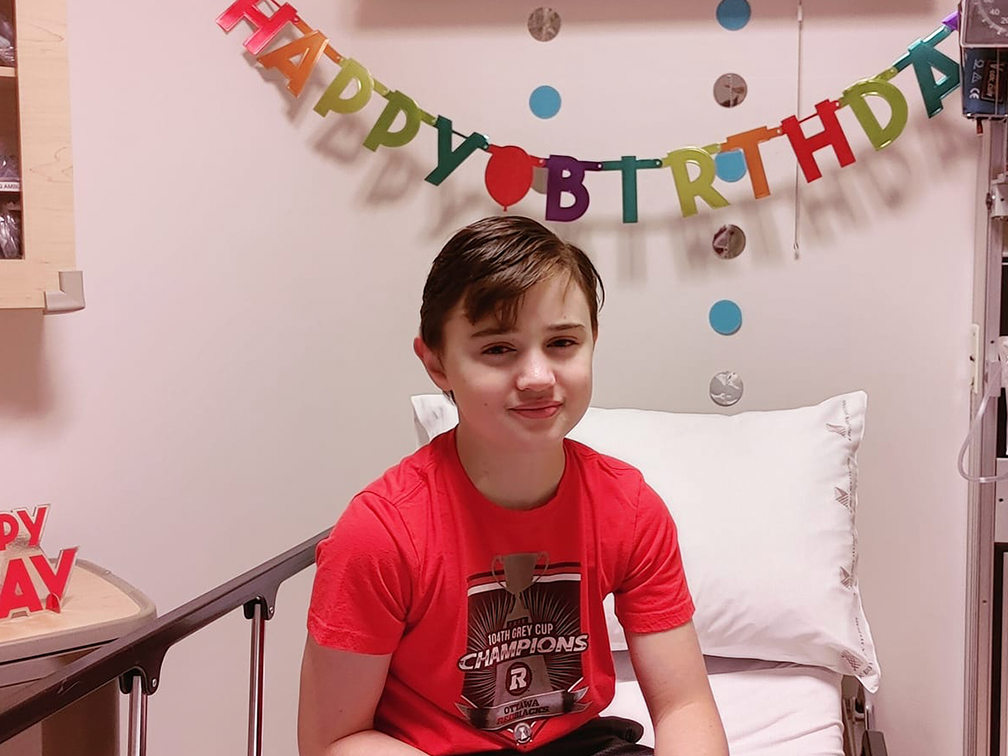 Hunter Marsden is now 13 years old and continues treatment for neuroblastoma. In September 2021 he celebrated his birthday at SickKids in Toronto.
Blood donations are an essential support for many cancer patients like Hunter who are undergoing aggressive treatments. During the season of giving we invite you to support those patients by booking an appointment to donate blood, plasma or platelets. You can use the GiveBlood app, book at blood.ca, or call 1 888 2 DONATE.