'It's an incredible privilege to help save a life'
For Joel Menard, the chance to donate stem cells felt like 'winning an unexpected reward.' Today, six years later, he works for the stem cell registry.
September 16, 2021
Six years after donating his own stem cells to a person he didn't know, Joel Menard now works full-time helping others to do the same for more patients.
"It's an incredible privilege to help save a life as a donor, and now as an employee of Canadian Blood Services who helps patients get their lifesaving stem cells," says Joel, who works in Ottawa, Ont., as a transplant services representative.
Stem cell stories of giving and gratitude
Stem cell donation brings joy to a donor as well as hope to a patient
Every year, hundreds of Canadian patients need lifesaving stem cell transplants and most rely on the generosity of a complete stranger. Stem cell transplants are critical treatments for more than 80 blood diseases and disorders, and they are far more likely to succeed when the recipient and donor are a close genetic match. However, when patients are unable to find a match within their families, they turn to Canadian Blood Services Stem Cell Registry, which has a database of over 440,000 healthy volunteer donors as well as connections with similar registries around the world.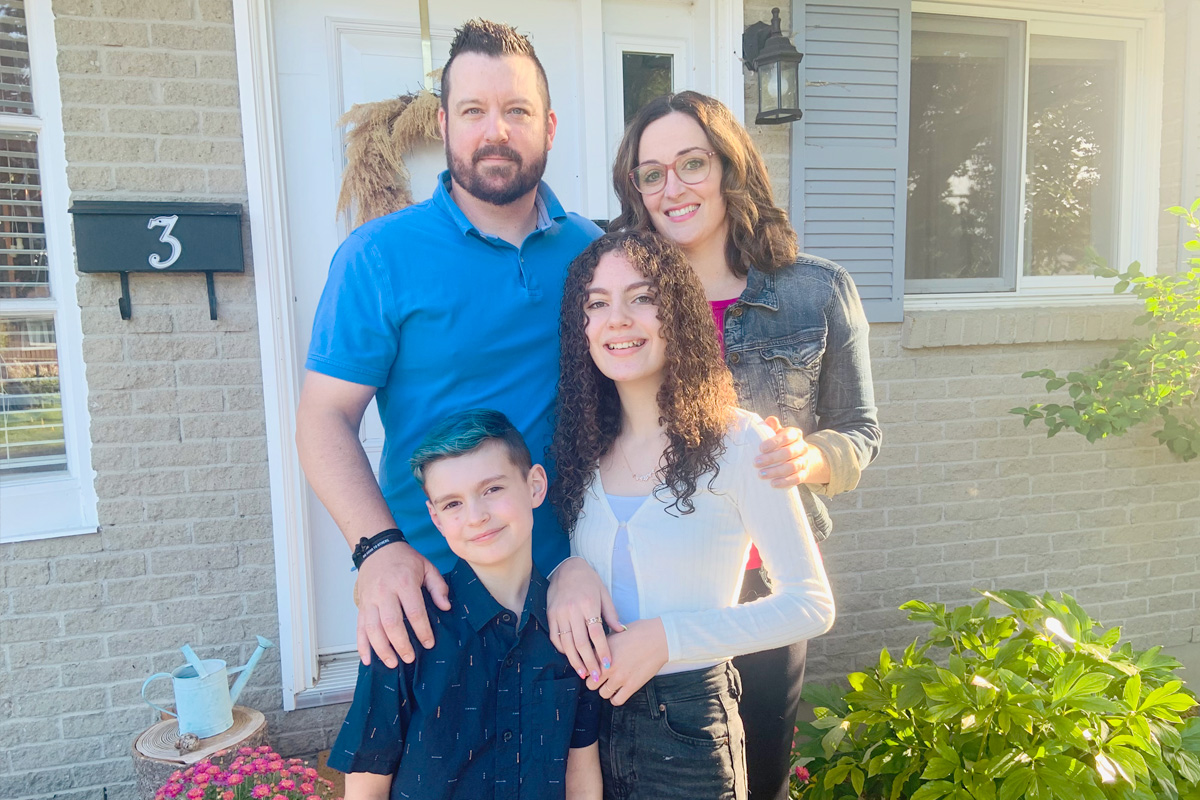 Since he donated stem cells in 2014, Joel Menard ― seen here at left with his wife, Lisa Menard, and their children Noah and Gabrielle ― has encouraged others to join Canadian Blood Services Stem Cell Registry. He recently became an employee with the stem cell registry team.
Joel joined Canadian Blood Services Stem Cell Registry in 2007. At the time he was living in Kingston, Ont., and regularly donated blood there.
"The staff at the donor centre spoke passionately about other ways to help Canadian patients besides donating blood and they encouraged me to join the stem cell registry," Joel recalled.
They also impressed upon him that joining the registry requires a long-term commitment. Prospective donors may wait years for a call to actually help a patient. But when that call comes, the need is typically urgent. Any delay, such as one caused by a need to seek an alternative donor — if one can even be identified — can put a patient at risk.
Joel never really expected to hear from the stem cell registry at all. Many prospective donors don't. But in fact, his phone rang twice. The first call was five years after he signed up. In that case, it was ultimately determined he wasn't the best match for the patient. Then in 2013, Joel got another call, informing him that he'd been matched again.
"Getting that call was shocking at first, although in an unbelievably exciting way," says Joel. "The kind of shock I felt is the kind you feel after winning an unexpected award."
As it turned out, the patient who needed Joel's stem cells wasn't ready for the transplant immediately. So, Joel had to wait 16 months before making the donation. During his wait, he was advised not to do anything that put him at risk of a transfusion-transmissible disease, such as getting a new tattoo.
"I remember being so nervous when the time finally came, nervous for the patient as well as nervous for the donation process," he says. "But everything went well, and I felt truly blessed to be able to help save a person's life."
Stem cell donor and patient FAQs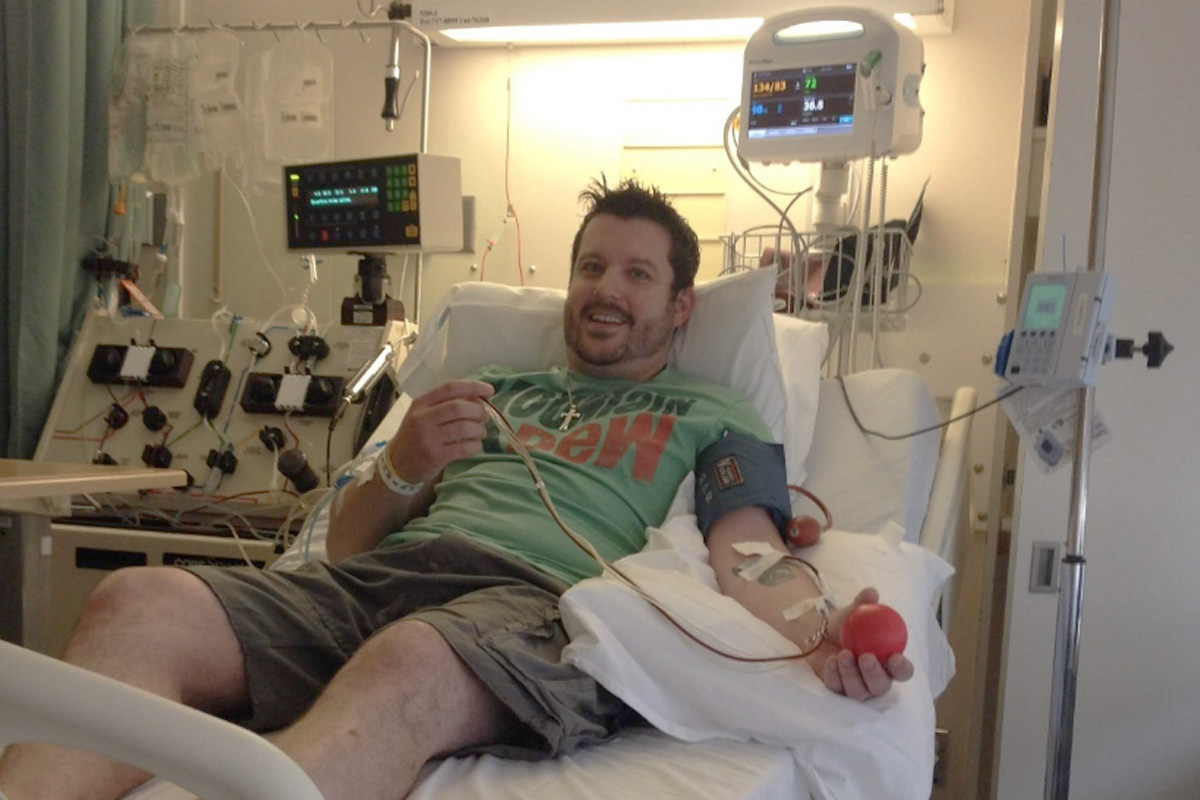 Joel Menard donated stem cells seven years after joining Canadian Blood Services Stem Cell Registry.
Joel has never met the patient who received his stem cells. But in the years leading up to his donation, his eyes had already been opened to the incredible impact of donors ― by the stories of other patients.
"I know two young ladies who are both alive today because of stem cell transplants," he says. "While their diagnosis happened after I was already registered, it certainly hit closer to home and made my donation all the more personal."
Unfortunately, not all patients are as lucky as the patient Joel helped, or those two transplant recipients he met. A patient's best hope is in a stem cell donor who shares their ancestral background, and prospective donors of Asian, Indigenous, Hispanic, mixed-race and Black backgrounds make up only 33 per cent of those on the registry. That's why individuals from all backgrounds are encouraged to join the registry to reflect Canada's diversity and give hope to all patients who need stem cell transplants.
'I needed to do more'
Two years after his stem cell donation, Joel was recognized at an event called Honouring Canada's Lifeline (HCL). It's a national event where Canadian Blood Services recognizes some of the most dedicated people at the heart of Canada's Lifeline.
"Canadian Blood Services shocked me for a second time in an incredible way," he says. "I had felt grateful for being given the chance to help someone in need and potentially save their life, and now I was the one receiving an award.
"The experience humbled me, and I knew that I needed to do more."
Joel began volunteering to recruit donors to the stem cell registry by helping to organize events and by speaking to thousands of students during orientation week at Queen's University. While volunteering, he was always inspired by how much Canadian Blood Services employees loved their jobs. "They were always so excited to talk about what they did and how they got to help people in need by raising awareness about blood and blood products," he says.
So when a position opened on the stem cell registry's team last spring, Joel jumped at the opportunity to apply. "All I wanted was to help more patients from within the organization," he says.
As a transplant services representative, Joel is often the first point of contact for potential stem cell donors when they are identified as a match.
"I have the privilege of calling to inform them," he says. "I explain the entire donation process to them and make sure that they understand what's involved."
Joel has also encouraged members of his household to join the stem cell registry. His 21-year-old son signed up when he was in high school, and was recently contacted as a potential match for a patient. Joel's two younger children already talk about wanting to sign up when they turn 17.
"Joining the stem cell registry is such a simple way to have a huge impact on someone's life," says Joel. "It's not an overstatement to say that you could save a life and touch the lives of your recipient's family.
"I encourage everyone to join the stem cell registry if they're eligible."
This World Marrow Donor Day (September 18), we celebrate the vital role of all stem cell donors who help us support patients. From the bottom of our hearts, we thank you for your contributions. If you are between the ages of 17 to 35, you can give patients hope by registering online to join Canadian Blood Services Stem Cell Registry.