Image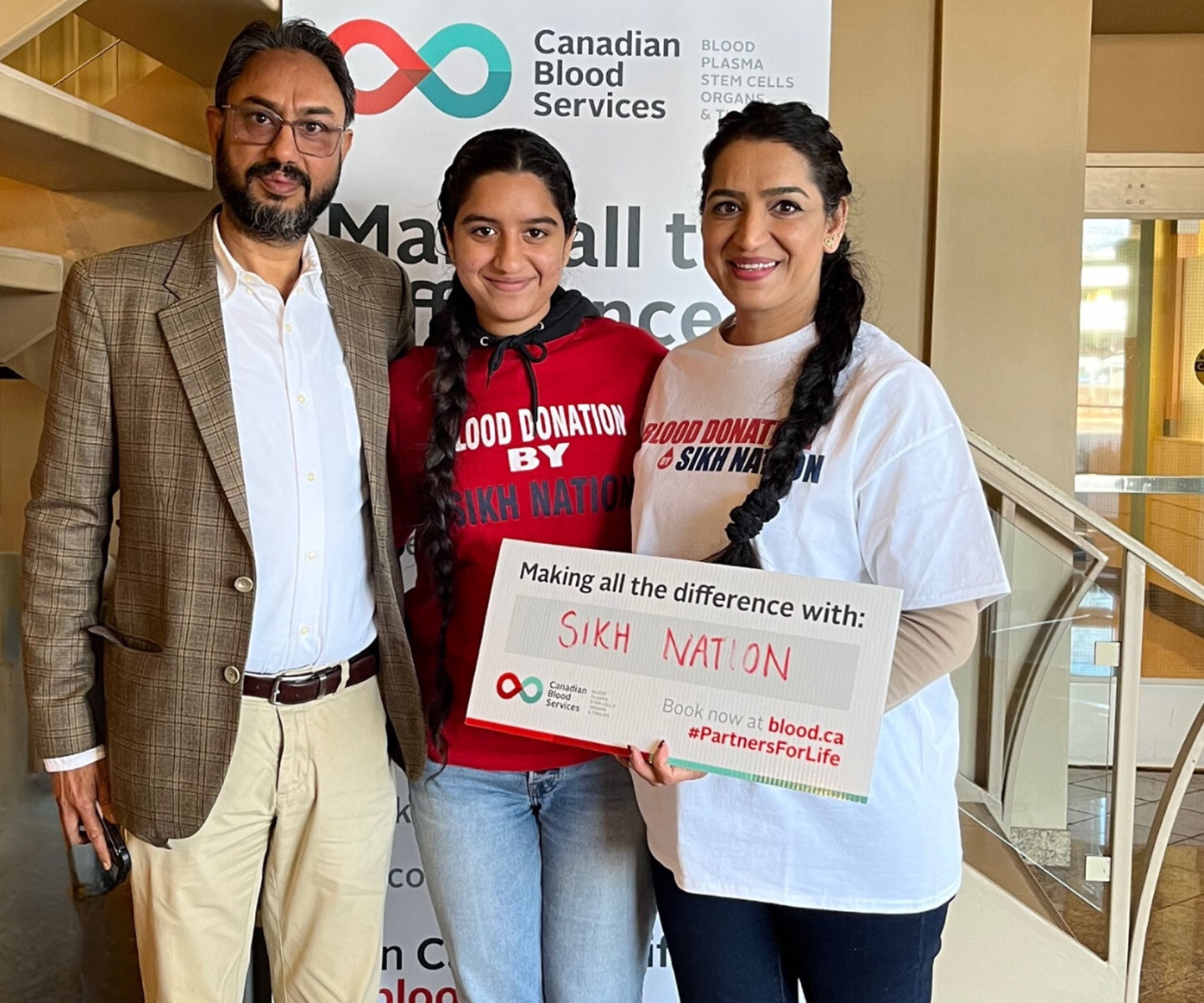 During Sikh Nation's 25th annual donation event, volunteers across Canada remember their beginnings
It's a cool autumn evening and four-year-old Jastej's feet are hurting, but her small fingers reach up to hold her dad's hand as they make their way up another driveway. That night in 1999, they knock on many doors to encourage neighbours and friends to join Sikh Nation in their first blood drive.  
More than two decades later, Sikh Nation has established itself as a national effort that has become a living monument for Sikhs and their compassion for all people and humanity.  
Since their first blood donation event in November 1999, Sikh Nation has grown to be one of Canadian Blood Services largest contributors to the pledge-based Partners for Life program, contributing more than 3,600 units of blood and plasma in 2022 alone. Together, with the help of more than 10,000 volunteers of all ages, they help collect and donate well over one thousand units of blood and plasma during their focused campaign every November, adding even more throughout the year.  
As a volunteer who has been involved with the campaign alongside her family from day one, Jastej Kaur looks forward to having a strong turnout of donors during Sikh Nation's 25th annual donation campaign, with 31 donation events planned across Canada in 2023.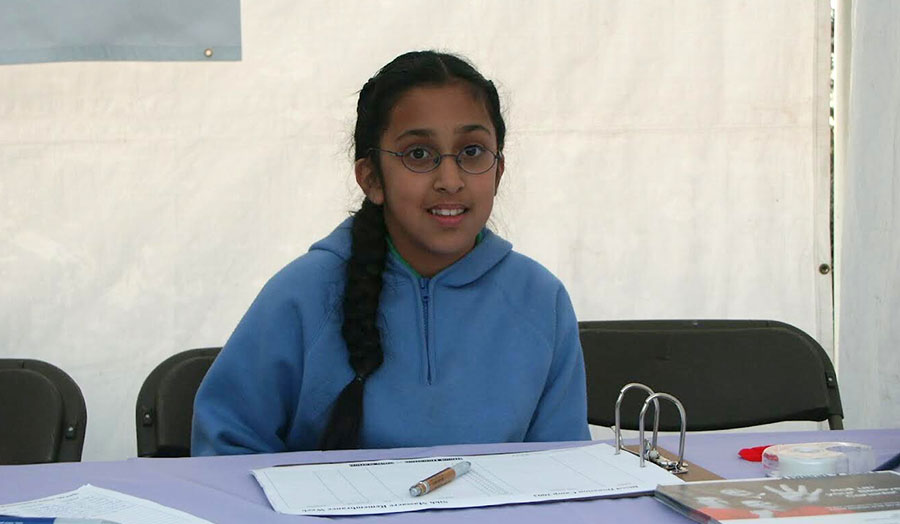 "As a campaign whose core is deep-rooted in saving lives, each individual life that is saved strengthens our living monument," shares Jastej. "I have witnessed volunteers who are no longer on this earth with us, yet all of us feel their presence in every step we take in the campaign. This living monument that was created over the past 25 years will continue to grow and exist for lifetimes." 
Volunteers leading the way, past and present  
With no formal positions or hierarchy, this community believes that everyone has a role to play in making the campaign successful, including volunteers of every age. Just as Jastej first got involved with the campaign when she was four, volunteers today range from five to 70 years old.  
"Years ago, I remember making phone calls to people on a landline phone, in the living room of someone's house. And this same kind of activity continues today," explains Jastej. 
"We have volunteers who are quite young but still feel comfortable enough to call others, not knowing who might be on the other line. They might be 50 or 60 years old, maybe they don't speak English, they speak Punjabi, but our volunteers are still able to deliver the campaign's message."  
The spirit of community remains strong for Sikh Nation in their efforts to mobilize others for planned donation events.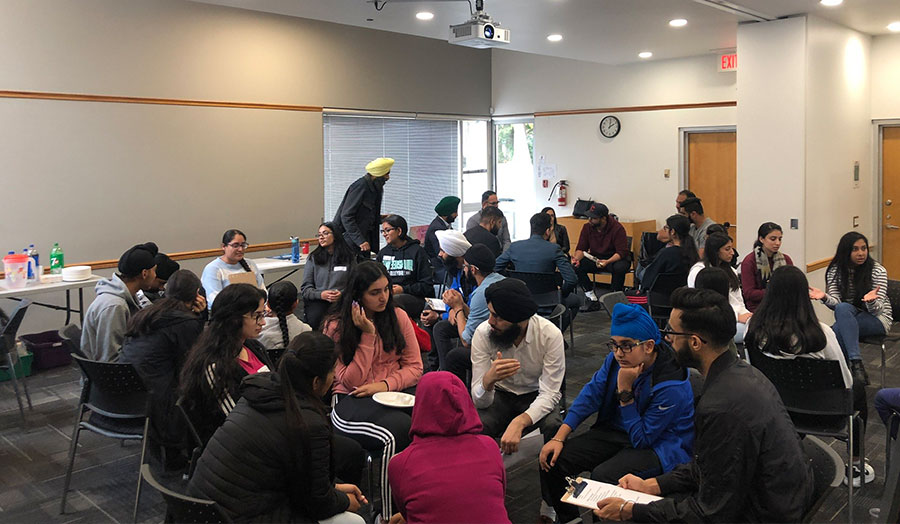 Because so many get involved with the campaign at a young age, as volunteers, it can feel like a real milestone when they are finally able to participate as donors, too.   
"I remember my first blood donation was the most positive experience," recalls Jastej. "I see this with other volunteers as well. When they turn the minimum age to donate blood, they make their first donation during the campaign. Because what better way to bring in your first donation than surrounded by all your people?" 
What's more, as Sikh Nation's annual campaign continues to attract more blood and plasma donors year after year, their community is also playing an important role in making our donor base more ethnically diverse, which is vital to meeting the needs of patients with rare or complex blood needs.  
A shared legacy, a shared cause  
The fact that Sikh Nation's annual campaign engages people of all ages demonstrates the passionate commitment of this global community to their shared cause. And for many throughout the campaign's history, their reasons for getting involved are deeply personal and emotionally charged.
For the older generations of Sikhs who started Sikh Nation's campaign in Canada, it's particularly emotional to see younger generations — people who were born in Canada, and have a very different lived experience from Sikhs who emigrated to Canada decades ago — helping to continue their efforts.
Participating in the dozens of blood and plasma donation events Sikh Nation hosts every year is an emotional experience for Jastej and so many others. Even those ineligible to donate blood or plasma themselves stop by, simply to remember and spend time with their community.
"Every year, I look forward to this campaign with my fellow volunteers and seeing the faces and numbers change as the Sikh Nation living monument grows exponentially," says Jastej. "I refer to the campaign as a living monument because that's what we truly believe it is."
For the last 25 years, Sikh Nation volunteers have helped save more than 176,000 lives with their donations.
The Partners for Life program makes it easy for partners like Sikh Nation to track their impact and donate as a team. Join Sikh Nation's team of lifesavers or start your own Partners for Life team by visiting blood.ca/partners.