Sudbury family caps life-long involvement by volunteering
Sudbury family caps life-long involvement by volunteering at Sudbury plasma donor centre 
April 20, 2021
National Volunteer Week (April 18 – 24) is a time to express our gratitude to our dedicated volunteers for their commitment during the COVID-19 pandemic and beyond. Over the past year, their invaluable support helped to ensure that Canadians continued to get the products they needed during this unprecedented time in the history of Canadian Blood Services.
For Paul and Geri Laforet, volunteering at the Sudbury plasma donor centre caps off their lifelong involvement with Canada's Lifeline. These high school sweethearts met and married in Sudbury, Ontario. Soon after, they moved to Winnipeg, Manitoba, where they raised their three children, Teri-Mai, Lee and Paul.
The couple remained in Winnipeg for 30 years. During most of this time, Paul worked for the City of Winnipeg, and Geri drove a school bus and helped train other drivers. They were also busy in the hospitality industry and active in their community, coaching ringette and serving on committees at the local community centre.
The need for blood  
For Paul, the introduction to Canada's Lifeline came early, as his parents were avid blood donors. "I followed their lead and became a donor as a way to give back," remembers Paul. "It was something I really enjoyed, knowing that it made such a difference in people's lives." 
He never imagined that 18 years later, he would have to stop donating blood and instead would need blood products donated by others just to survive.  
In 2003, Paul began to feel ill. After  not meeting blood donor screening criteria on two occasions, Paul visited his doctor and was eventually diagnosed with hairy cell leukemia, a rare, slow-growing type of blood cancer. Paul's condition was treated with chemotherapy, but he needed blood transfusions to help him recover. 
"They gave me two or three units of blood, and it was miraculous," says Paul. "Within a day, I felt so much better." Blood products played a key role in his recovery on another occasion, when he experienced a relapse almost 10 years after the initial diagnosis.  
Connection to Canada's Lifeline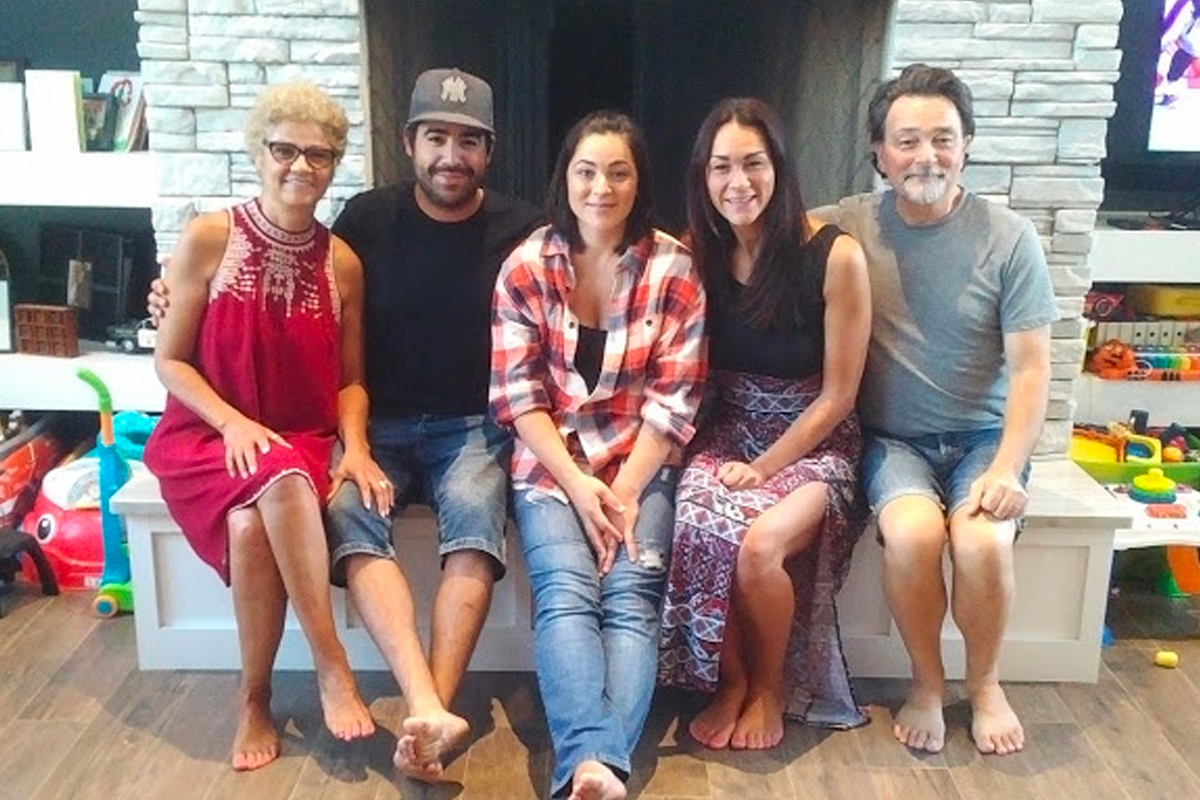 The Laforet family: Geri (at far left) and Paul (at far right) with their children, Paul, Lee and Teri-Mai  (Photo taken pre COVID 19) 
The Laforet family has always had a connection to blood donation. The couple's three children have all been blood donors, and two of Geri's brothers have donated regularly over the years. 
For Paul and Geri's elder daughter, Teri-Mai Armstrong, there is another connection. Teri-Mai has worked for Canadian Blood Services for 18 years, first as a shift supervisor at the National Contact Centre in Sudbury and more recently as business development manager at the Sudbury plasma donor centre. When Teri-Mai told her dad that the organization had an opening in the Winnipeg logistics department, he decided he wanted to get involved as an employee and was part of that team from 2012 to 2016.
"It was a great experience. I enjoyed working there — the people are so great!" says Paul
"I transported equipment to mobile donor centres, set up the beds and computers, brought the donations to the centre for processing, and eventually packed and delivered the final products to area hospitals. It was awesome."
Becoming volunteers 
In 2016, the couple returned to Sudbury. They became volunteers at the Sudbury plasma donor centre six months ago. 
"We are so proud of our daughter Teri-Mai for her role at the Sudbury plasma donor centre," says Geri. "We have lived very fortunate lives and just wanted to support her and give back."
Geri tried donating blood in her youth and decided that it wasn't for her; however, the need for plasma has recently become personal.
Within the past two years, her sister has been diagnosed with Guillain-Barré syndrome. She had to be hospitalized for a week and was receiving plasma 24 hours a day during her admission.  
Medication from plasma spurs recovery from terrifying illness  
"Volunteering is a way that I can help," says Geri. "My gift to recipients like my sister is that I can help recruit donors and help them feel as comfortable as possible while they are at the donor centre." 
Paul and Geri have settled into a routine. Paul volunteers on Thursday afternoons, and they work the Friday morning shift together.  
"People are so happy to be able to give back and are so appreciative of our help. It warms your heart, it really does," says Geri. 
The couple truly enjoy their work. 
"We create a warm and inviting atmosphere from the minute the donors walk in," notes Geri. "We welcome them at the door and help introduce them to this new experience. We want them to feel like part of a team that is helping save lives."
The current pandemic has been a factor in their role. "Because of COVID-19 restrictions, donors aren't able to bring their supporting persons with them, so we want people to feel comfortable and glad they came," adds Paul.
"It's great to be part of the community and give something back. I can't give my blood anymore, but I can give my time."
Now it is Geri and Teri-Mai who donate plasma together.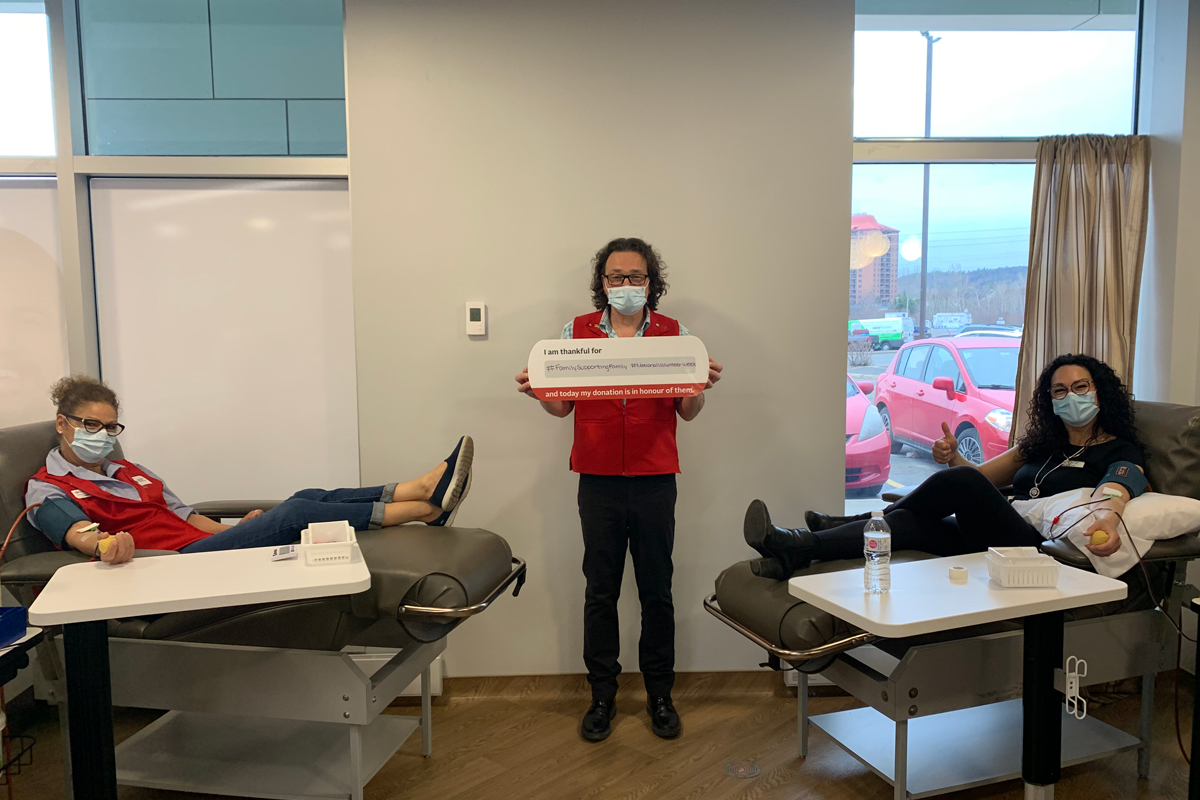 It's a family affair. From left to right, Geri, Paul and Teri-Mai at the Sudbury plasma donor centre.
Teri-Mai is very proud of her parents. 
"I look out of my office and my heart is so filled with pride and gratitude when I see them building relationships with donors while they assist them in the centre. This is particularly special for me, having seen blood donations save my dad's life. I literally watched it give him his life back, and now my parents choose to give back to donors through volunteering." 
Paul and Geri find their roles very fulfilling and encourage anyone with time to spare to consider volunteering with Canadian Blood Services. 
 "You take an average guy like me," says Paul. "Blood didn't just bring me back; it affected my whole family. It's Canada's gig, and we are here, because together, we are Canada's Lifeline."  
Life Bus driver marks 350 blood donations 
Celebrating volunteers during the pandemic and beyond
Volunteers like Paul and Geri Laforet are helping to grow our donor base, recruit new donors, raise awareness of the importance of donating blood, plasma, stem cells, organs and tissues, and fundraise to support our lifesaving programs. We appreciate their efforts all year round but feel it's especially important to recognize and thank them during National Volunteer Week.