Celebrating volunteers during the pandemic and beyond
Rachel, Riley and Alexa MacKay are supporting Canadian Blood Services in Charlottetown
April 23, 2020
National Volunteer Week is a time to recognize the vital contributions volunteers make to Canada's Lifeline and patients in Canada. We are grateful to our dedicated volunteers for their commitment during the COVID-19 pandemic and beyond. 
Three siblings in Charlottetown, P.E.I. are among those committed volunteers. Alexa, Riley and Rachel MacKay are students who aspire to work in health care. They're following in the footsteps of their parents, with a mother who works as a community public health nurse and a father who is a pharmacist. 
Alexa, 22, has just graduated with a degree in biology and is pursuing a career as a paramedic. She got her start with Canadian Blood Services as a community event volunteer. She also led efforts to develop a blood club at the University of Prince Edward Island (UPEI) to encourage students to become blood donors. 
Alexa's dedication to Canada's Lifeline spread to her brother Riley, a second-year biology student at UPEI who hopes to become a pediatric plastic surgeon.  
"I was involved in minor volunteer roles for various causes through high school, and when Alexa started the club at UPEI, it was only natural that I become involved," said Riley, who will lead the UPEI blood club next year. 
Young volunteers warmly welcomed 
Many donor centre volunteers are older, and concern about their vulnerability to the virus that causes COVID-19 is prompting many to stay home. Krysta Hanakowski, volunteer coordinator for New Brunswick, Nova Scotia and P.E.I., is grateful the MacKays came forward. 
"Alexa and Riley were the first to reach out to see how they could help during the COVID-19 pandemic, each taking on separate days at the donor centre," said Krysta. "Their younger sister Rachel will be starting this week for her first time. It's inspiring to see this younger generation stepping up." 
The MacKay siblings describe the decision to volunteer as an easy one. 
"Mom and Dad are on the front lines everyday, so we decided we should be there too," said Alexa. 
"With social distancing guidelines in place, we can't see friends," added Riley, "so why not go to the donor centre to socialize with others and help out where needed? It feels good."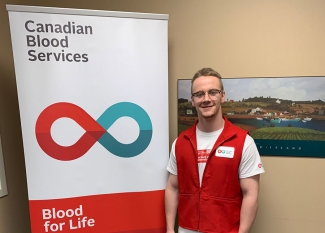 Jacob Perry, supervisor of the Charlottetown donor center, also speaks highly of these dedicated young people. 
"The MacKay siblings are a warm welcome to staff and donors at the donor centre. Alexa and Riley have each volunteered for time slots and have set the bar pretty high by attending our events during final exams and regularly staying beyond their scheduled shifts to ensure PEI donors are being well cared for," said Jacob. "They see how vital the volunteer role is in helping our donors practice physical distancing, which in turn keeps all people in the building safe." 
Rachel Mackay is in high school, hoping to pursue a career as a dermatologist.  
"I knew I wanted to get involved with Canadian Blood Services at some point. Since I am still only 17, we thought that this was a great time for me to start to get involved, as volunteers are needed now more than ever," she said. 
Volunteers such as the MacKays support donors throughout the donation process. They also recruit new donors, raise awareness of the importance of donating blood, stem cells organs and tissues, and help fundraise to support our lifesaving programs. We thank them for their positive impact and for inspiring others to join our volunteer community.