Life Bus driver marks 350 blood donations
David Neu remembers feeling apprehensive before his first donation and now he helps other first-timers feel at ease
November 2, 2020
More than 53 years after his initial blood donation, David Neu rolled up his sleeve for the 350th time this October. "Everybody seems to be making a big deal out of it. I'm nobody special," says the 70-year-old from Hamilton, Ont.
David made his first blood donation at age 16 at the first high school clinic held in Hamilton, back in February 1967. Now he's a veteran, with a treasure trove of Canadian Blood Services and Red Cross memorabilia and a lifetime of stories he's quick to share.

David Neu made his 350th blood donation on Wednesday, Oct. 14. The Life Bus driver has been donating since 1967.
In one of those stories he recalls feeling slightly apprehensive as he sat down that first time to give blood, not really knowing what to expect.
It's the main reason David — or Dave as he's known behind the wheel — became a Life Bus driver for Canadian Blood Services 11 years ago, a volunteer role unique to specific areas.
His favourite assignment? Picking up students at the area high schools.
Am I eligible to donate blood?
"I figured there was going to be a lot of first-timers," he says. "I started doing a little pep talk on the bus, introducing them to being a donor, to the procedure. I always say, 'Hi, my name is Dave and I'm your driver and I've done over 300 (donations). Any questions?' Then I go into the spiel about the procedure to calm their fears.
"I was a student once, a first-timer. It's my inner motivation on that one."
Although COVID-19 has put the brakes on Life Bus operations for the moment, many of David's former passengers took to social media to congratulate him on his milestone donation.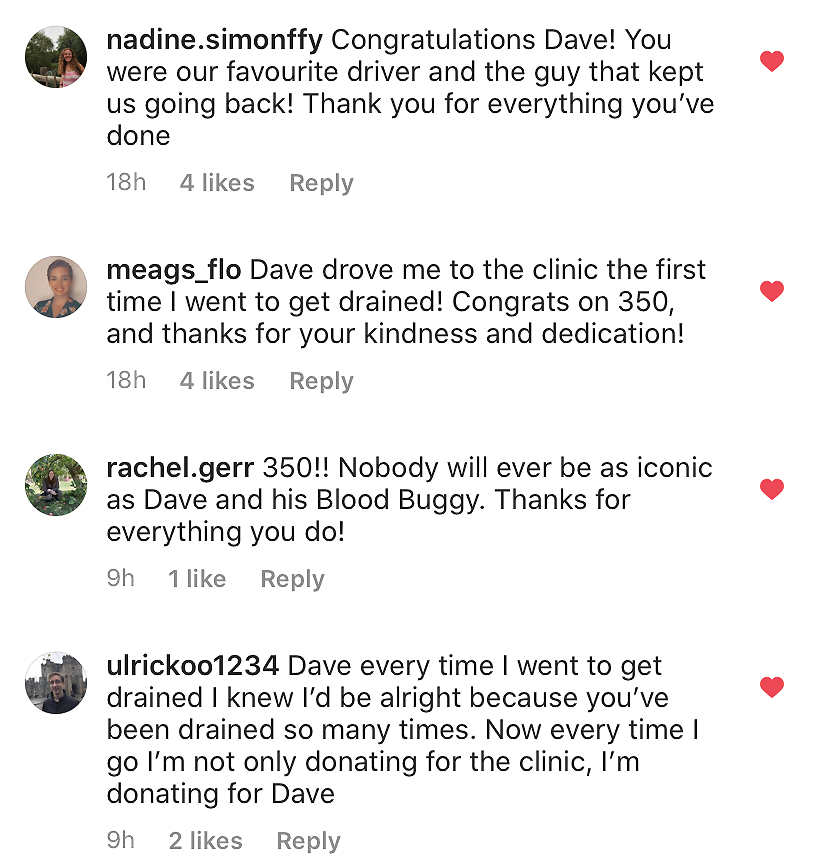 David Neu was touched by the messages of support he received on social media. He said he had no idea he had made an impact on people.
David stresses he doesn't donate for the recognition or to "rack up the numbers." For him, it's the little things. The small interactions and knowing he's helping somebody else.
He remembers a day when he was sitting in a quiet room at the former Henderson Hospital while his mom was being treated for Hodgkin's lymphoma down the hall. A young man in a wheelchair rolled in and they got to talking.
The young man had leukemia and David mentioned his history with Canadian Blood Services. "He uttered six words to me: 'Thank you for saving my life,'" David says. "I know the commitment that donors make. Being a donor isn't a one-time deal because other people's lives depend on it.
"Meeting people whose lives have been saved, I feel grateful."
The need for blood is constant for patients across Canada. You can help save lives by booking an appointment to donate. Download the GiveBlood app, call 1 888 2 DONATE or visit blood.ca/donate. Enhanced safety measures are in place during the COVID-19 pandemic.