Pedal for the bevel
For Josiah Ng and Aaron Tsui, cycling is a way to keep their bodies healthy and a means to contribute to a greener world. Earlier this month however, their love of cycling took on a new spin as the two Vancouverites embarked on a journey from Vancouver to Seattle — an incredible 250 kilometre and an estimated 12 hour ride — all while raising funds for Canadian Blood Services.
May 2, 2019
In addition to cycling for "Ride for Refuge" in the past, they've also held multiple blood donation events amongst their friends and family to spread awareness for support of Canadian Blood Services through blood donation. "Calling them parties really helps to draw in the crowd," said Aaron.
Image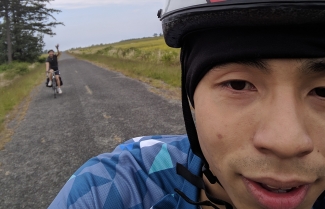 "We find it empowering to know that every single person can make a profound difference through their support of Canadian Blood Services," said Josiah. "Start a fundraiser, donate blood, donate stem cells, become an organ and tissue donor — there's lots of ways to help save lives."
Although Josiah and Aaron have never needed blood themselves, like many Canadians they both know people in their personal and professional lives who have been given the gift of life through blood. In fact, 53% of Canadians will need blood, or know someone who needs blood at some point in their lives.
Image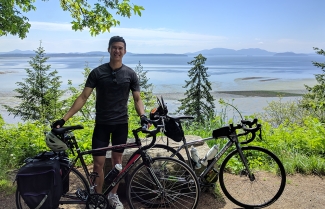 "At the end of the day there wasn't anything particularly special about this event," said Josiah.  "We love to cycle and we enjoy finding new ways to help those around us. It was simply a matter of putting the two together."
Their fundraising page exceeded its original goal and the funds received will be distributed where the need is the greatest in support of four areas: blood, stem cells, organs and tissues, and research and innovation. From helping recruit the next generation of blood and stem cell donors, modernizing collection centres to improve the donation experience and funding innovative research in transplantation and transfusion medicine, the funds raised will have a direct impact on improving lives for Canadian patients.
Image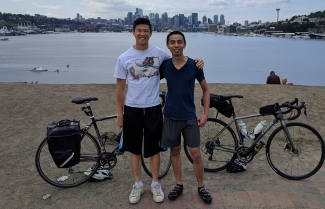 "We are very thankful for those that supported Canadian Blood Services and either donated money or their very own blood," Aaron said. "We want them to know that they have made a difference. It is our hope that people would continue to donate and encourage others to donate, but more than that, to find where their own gifts, talents and hobbies intersect with ways to make the world a better place."