Young cord blood heroes bring hope to patients
After each of her three boys was born, Lynn Bates donated their umbilical cord blood to Canada's Lifeline
July 28, 2021
When Lynn Bates was pregnant with her first child six years ago, she didn't know that her baby's umbilical cord blood had the potential to save lives. It wasn't until a family member encouraged her to donate that she started learning about this "precious resource."
"I had no idea that a baby's cord blood could be useful," says Lynn, a registered nurse in Ottawa, Ont., who works at the Civic campus of The Ottawa Hospital and at CHEO, eastern Ontario's children's hospital in Ottawa. "But learning about the impact cord blood could have on patients and their families made our decision to donate easy."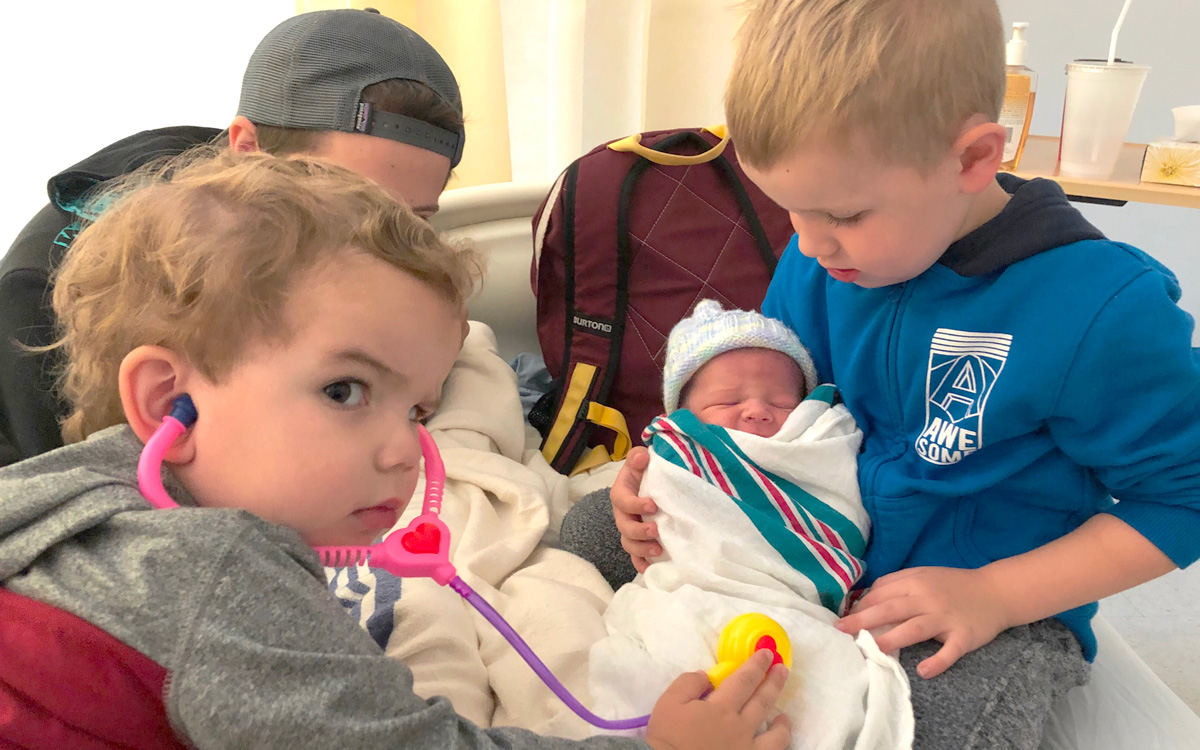 Cord blood donors Austin Does (left) and Donovan Does (right) welcome their baby brother, Evander Does, moments after their mom donated his cord blood.
Why cord blood is special
After a baby is born, the blood left in the umbilical cord and placenta is rich with lifesaving blood stem cells. With mothers' consent, Canadian Blood Services' Cord Blood Bank collects and stores this cord blood for future use by any matching patient in need of a stem cell transplant. And like stem cells found in bone marrow or circulating blood, those found in cord blood can be used to treat more than 80 blood diseases and disorders, including life-threatening cancers.
In fact, hundreds of patients in Canada need stem cell transplants every year, and only about a quarter of them will find matching donors within their own families. The rest will need stem cells from adult donors identified through Canadian Blood Services Stem Cell Registry or from cord blood units. And unlike adult stem cells, which require a close genetic match between the donor's and recipient's human leukocyte antigens (HLA), stem cells from cord blood do not need to be an exact match for a patient. That makes cord blood a great option for patients who cannot find a match within the adult registry.
Also, because cord blood stem cells are collected in advance, stored and ready for use immediately when needed, they can generally be made available to a patient more quickly than those obtained through a search for a matching adult donor. And during the COVID-19 pandemic ― which has prevented in-person recruitment for the stem cell registry as well as created challenges for the collection and shipping of adult stem cells ― our public cord blood bank has only grown in importance. The bank has shipped more cord blood units in the past year than in all previous years since its founding in 2013.
An easy choice
Lynn successfully donated cord blood after the births of all three of her children in 2015, 2017 and 2019 at The Ottawa Hospital. Over the years she has seen awareness about cord blood donation grow among her friends and family.
"Cord blood donation felt a lot more prioritized for my third baby," says Lynn. "I remember how the hospital clerk always asked if I was still planning on donating cord blood every time I went for my appointment. You could tell the hospital was serious about raising awareness, and it's great to witness that progression from six years ago."
Lynn has also helped to spread the word herself since the time of her first pregnancy, when Canadian Blood Services' Cord Blood Bank was still quite new. She observed that not everyone was comfortable with the idea of donating. One couple she encountered said they thought it was "weird to hand over their baby's tissue to someone else to use." However, cord blood which is not banked is discarded as medical waste. Knowing that made Lynn all the more determined to donate herself as well as to share information with others.
"I kept thinking of all the patients that could be helped with the stem cells from our babies' cord blood," she says. "I just couldn't allow ours to be tossed aside. It cost us absolutely nothing to donate and it could mean the entire world to someone else and their loved ones."

After the births of all three of her sons, Lynn Bates from Ottawa, Ont., donated cord blood to Canadian Blood Services' Cord Blood Bank, a national public resource. As a nurse, she appreciates the lifesaving benefits of cord blood and looks forward to telling her boys that they're cord blood heroes.
Public banking versus private banking
There's so much to do and so many decisions to make when expecting a baby. Deciding whether to store cord blood, and whether to do so in a public or private cord blood bank, can feel like a challenge. We often recommend families start by discussing it with their health care provider. They can also consider the following:
While it is possible to bank cord blood stem cells privately for a child's own potential use later, most doctors do not encourage this. The chance of a privately banked cord blood unit being used is less than one per cent. In many cases, donor stem cells are a more suitable treatment than stem cells from the patient's own cord blood. Parents also must pay to store cord blood privately.

Donating cord blood to our public cord blood bank makes potentially lifesaving stem cells available to any patient in Canada or internationally who needs a transplant. Donors help to increase the volume and diversity of cord blood units available, making it easier for patients to find matches. There is also no cost to donate to Canadian Blood Services' Cord Blood Bank.
Delivering hope, one cord blood donation at a time

From left to right: cord blood heroes Donovan Does, Evander Does and Austin Does. Their mom Lynn Bates donated their cord blood at birth in the hope they could save a patient's life.
Your little miracle can help save someone's life
For Lynn, the opportunity to donate cord blood three times was a privilege, one that she cannot wait to tell her sons about when they're older. The possibility of saving a life is incredible to her.
"I was excited when I heard back from Canadian Blood Services that our last donation was successfully banked," says Lynn.
How donated umbilical cord blood saved the life of another newborn
'It's a beautiful way to celebrate the start of our daughter's life'
Thanks to donors at our four hospital collection sites in Vancouver, B.C.; Edmonton, Alta.; and the cities of Brampton and Ottawa in Ontario, our cord blood bank has stored more than 3,800 cord blood units. We have also shipped nearly 50 units for transplant in Canada and beyond. Donors have also helped us meet targets for ethnic diversity in Canadian Blood Services' cord blood inventory. Diversity in the cord blood bank is important because patients are most likely to find a match in a donor of similar ancestral background. Currently, 62 per cent of units are from non-Caucasian donors.
Not all cord blood units are suitable for banking. Sometimes — for reasons that are not connected to the health of the mother or baby — their volume is insufficient, or they don't contain enough stem cells to be used for a stem cell transplant. In such cases, with the mother's consent, such units can be used for biomedical research. Our Cord Blood for Research Program helps to advance stem cell therapies and transplantation practices.
Learn more about the use of cord blood for research
Lynn believes information is the key to building Canadian Blood Services' Cord Blood Bank. She imagines that virtually any expectant mother who understands the power of cord blood will be inspired to donate.
"Women are incredible," she says. "And we cannot miss this amazing opportunity to use some of what we literally create to help others who desperately need it. As a three-time donor, I encourage all mothers-to-be who are able to donate cord blood to do so."
As we mark Cord Blood Awareness Month this July, we encourage expectant moms living in Brampton, Ottawa, Edmonton, and Vancouver to consider donating cord blood. You can register online to donate. Each donation can help save a life.