How donated umbilical cord blood saved the life of another newborn
Justin Lau had a stem cell transplant with cord blood stem cells when he was just a few weeks old
July 21, 2021
Less than a year after losing her firstborn son to a rare disorder, Celia Lau of Burnaby, B.C., found herself fighting to save the life of her second.
Celia's first son Cameron had been diagnosed at the age of five months with X-linked severe combined immunodeficiency (SCID). The illness left him unable to fight off most types of bacterial, viral and fungal infections. He died just one year after diagnosis, leaving a permanent hole in his parents' hearts.
Within months, Celia discovered that her second child would be born with the same disorder. She was just 14 weeks pregnant at the time. The news was devastating but also not completely unexpected, as Celia had learned during Cameron's illness that she carried the gene for this rare inherited condition. Now doctors could use that knowledge to give her baby a fighting chance.
"As soon as the diagnosis was confirmed for my new baby, the pediatrician at B.C. Children's Hospital worked closely with my obstetrician-gynecologist to develop a plan," says Celia, who works as a pharmacy assistant.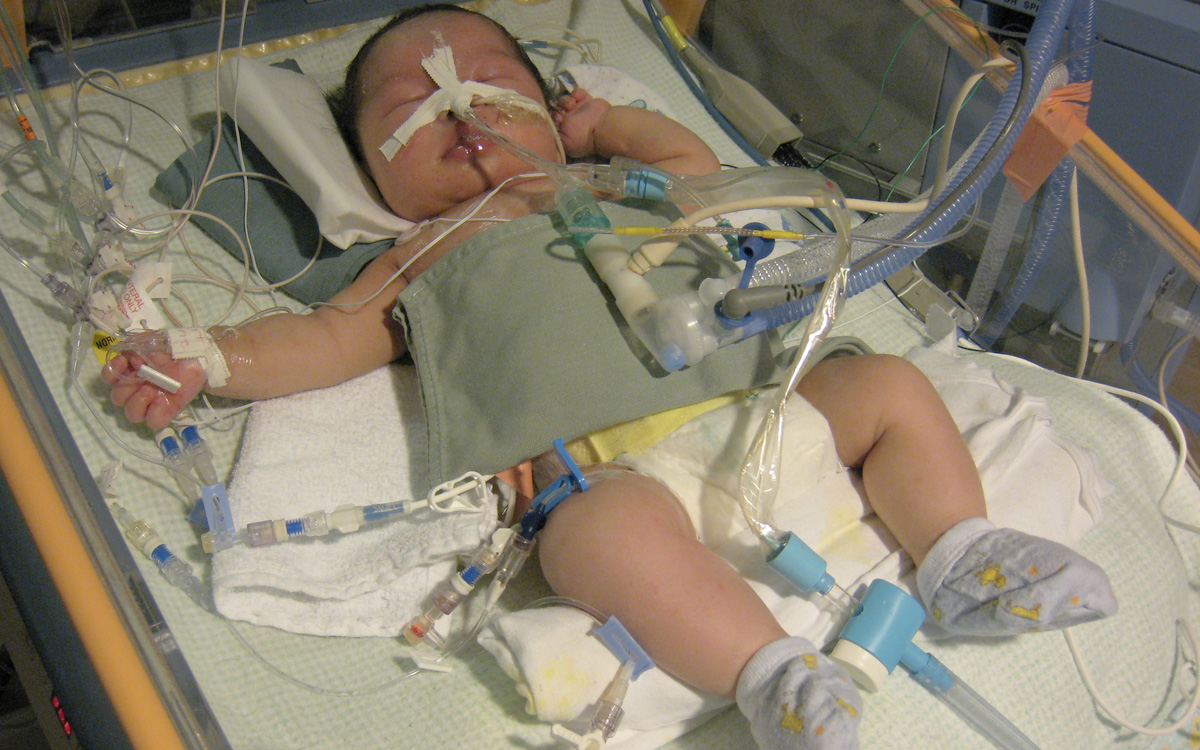 Several weeks before his birth, Justin Lau was diagnosed with X-linked severe combined immunodeficiency (SCID) — an inherited disorder that left him unable to fight off most types of bacterial, viral and fungal infections.
Cord blood saved her son's life
That plan included a stem cell transplant, a procedure which can be used to treat more than 80 diseases and disorders.
Stem cells can be obtained from the circulating blood or bone marrow of adult donors, as well as from donations of umbilical cord blood. Canadian Blood Services helps match donors with patients through both our adult stem cell registry and our national public cord blood bank. When mothers of newborns consent to donate umbilical cord blood to Canadian Blood Services' Cord Blood Bank, it is stored for future use by any matching patient in need of a stem cell transplant.
Remarkably, in this case, the search for a match began well before birth. Celia was just 21 weeks pregnant when a suitable cord blood unit was identified.
"Hearing that our infant son needed to undergo chemotherapy and a cord blood transplant from an unrelated donor just days after his birth was overwhelming for us. But it was his only hope for a cure," says Celia.
At 38 weeks, baby Justin made a scheduled arrival by cesarean section at B.C. Women's Hospital. Celia recalls how very quickly he was placed in an incubator and transferred to B.C. Children's Hospital, where he could be isolated for protection against any bacteria or viruses.
Delivering hope, one cord blood donation at a time
Cord blood donors could be someone's hope for life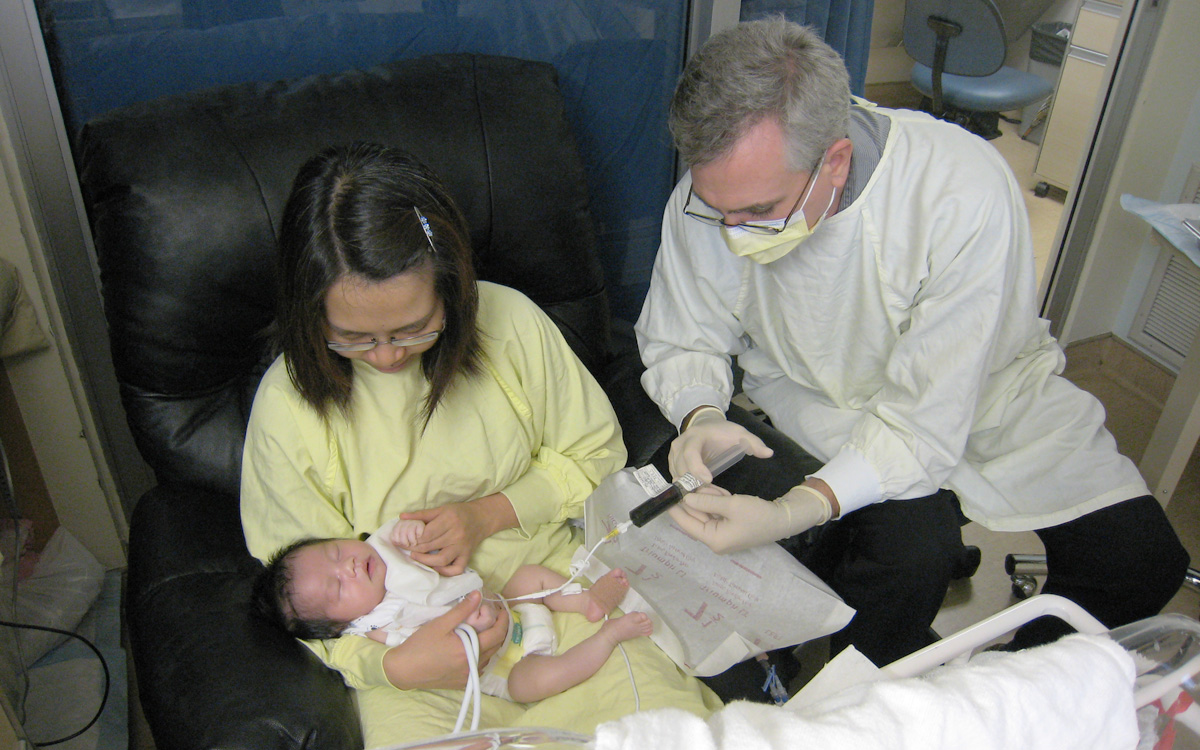 In December 2007, Justin Lau received chemotherapy followed by a cord blood stem cell transplant to cure his X-linked severe combined immunodeficiency (SCID). His mother Celia Lau carries the SCID gene and had lost her first baby to the same disorder.
Justin was only 10 days old when he started 10 days of intensive chemotherapy to prepare his body for the stem cell transplant. He received those cord blood stem cells as a three-week-old infant.
"It was a scary moment for our family," Celia recalls. "After the transplant, he developed a major infection and had to be on life support for days. And after 67 days in isolation, he was finally discharged for the hospital."
Thankful to be alive
Justin recently turned 13 and won a "Spirit Award" during his elementary school graduation. Although he doesn't have any memory of his experience as an infant, he's grateful for the gift of stem cells he received.
"I always think about the cord blood donor who saved my life and I know I may never meet them," says Justin, who loves to construct Pokémon characters with LEGO. "But I'm thankful that I am alive to be with my parents and that I can see how beautiful this world is."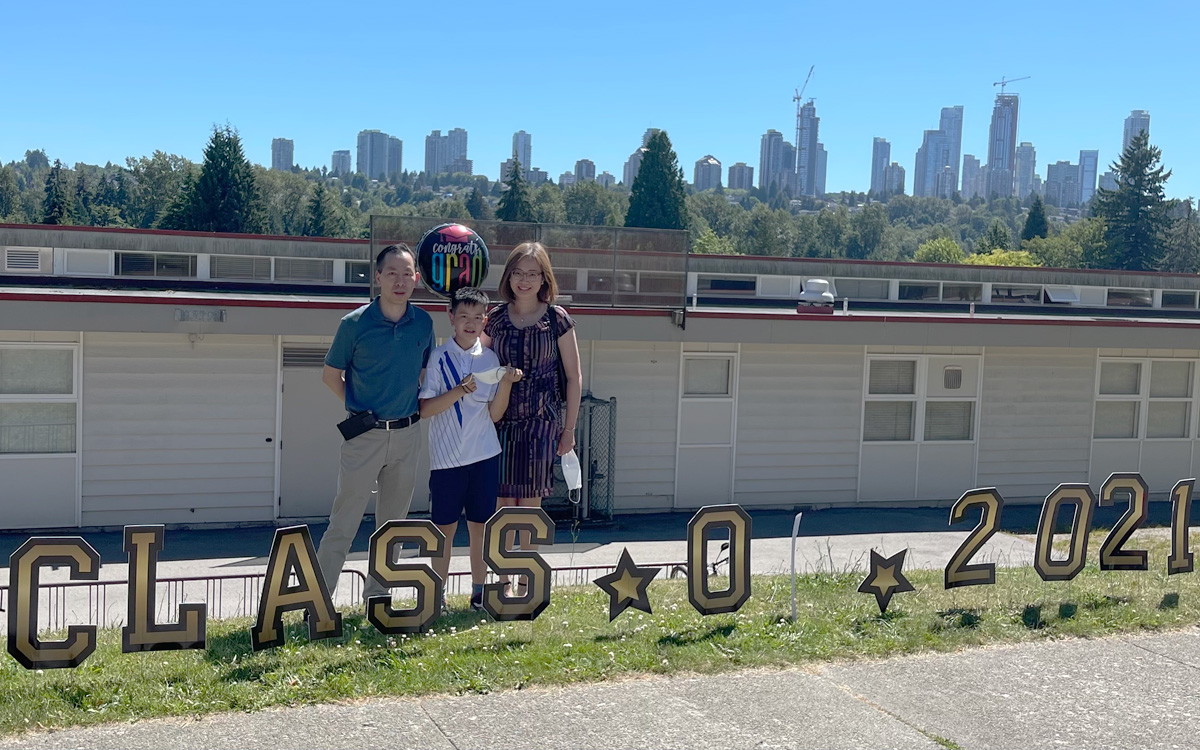 Justin Lau recently celebrated his graduation from elementary school with his parents, Marcus and Celia Lau. As an infant, Justin underwent chemotherapy followed by a cord blood transplant for X-linked severe combined immunodeficiency (SCID).
Celia and her husband Marcus Lau are just as thankful.
"Our family was so fortunate it only took six to seven weeks to find the right cord blood match for Justin," Celia remembers. "From the get-go, we knew how hard it could be to find a matching stem cell donor for a patient like Justin with a Chinese background. So finding that match for him quickly removed a tremendous amount of stress during my pregnancy."
The best stem cell transplant outcomes happen when a patient's human leukocyte antigen (HLA) and the HLA of their donor are a close genetic match. Such a match is more likely when patient and donor are of the same ancestral background. So since Asian, Hispanic, mixed-race and Black people in Canada make up only 33 per cent of potential donors on Canadian Blood Services Stem Cell Registry, finding a match for those patients is especially challenging. Because cord blood stem cells do not need to be matched as precisely, they can be extremely valuable for those patients whose ethnic backgrounds are under-represented in the pool of potential adult donors.
Also, because cord blood stem cells are stored for use anytime, they can generally be made available to a patient more quickly than those obtained through a search for a matching adult donor.
All in to help
Since Justin's transplant, his parents have eagerly sought ways to help others. That includes supporting research projects at B.C. Children's Hospital to develop techniques that could save the lives of babies with SCID before they're born.
'Paying it forward' through cord blood donation
Both Celia and her husband Marcus have also registered as organ and tissue donors. While they are not eligible to join the stem cell registry themselves, they have encouraged their family and friends who are eligible to sign up.
Celia is particularly passionate about encouraging people of Asian, Hispanic, mixed-race and Black ancestries to join Canada's Lifeline. She calls healthy volunteers from these groups "heroes" and a critical part of Canada's health system.
"I wish more people from different ethnicities would join the stem cell registry or donate cord blood," she says. "Just like a generous cord blood donor saved my son's life, they too could save a patient's life."
As we mark Cord Blood Awareness Month this July, we encourage expectant moms living in Brampton, Ottawa, Edmonton, and Vancouver to consider donating cord blood. You can register online to donate. Each donation can help save a life.