How common is COVID-19?
Results from the first batch of tests for the COVID-19 antibody
July 22, 2020
Today, Canadian Blood Services and Canada's COVID-19 Immunity Task Force (CITF) released initial results of the first 10,000 blood samples tested for the antibody against SARS-CoV-2. Of these samples, collected in the last two weeks of May, fewer than one per cent tested positive for the antibody.
These results offer some early insight into how common COVID-19 has been among a subset of Canadians, as a first step in an ongoing seroprevalence study we're conducting. These 10,000 donations are the first batch of 37,800 donations, the rest of which will be tested in the coming weeks. As more samples are tested, the strength of the results will increase, allowing our epidemiologists to conduct a full analysis.
Image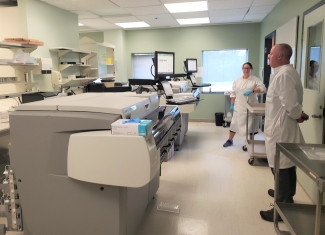 Our Centre for Innovation's Craig Jenkins, senior manager, and Valerie Conrod, senior medical laboratory technologist, oversee the two instruments used for COVID-19 immunity assessment in blood donors.
These results come from nine provinces. Quebec's blood operator, Héma-Québec, will also provide data to CITF in the near future.
We are still learning about COVID-19 immunity, but the results indicate that the vast majority of individuals tested remain vulnerable to infection because very few individuals have antibodies against the virus.
Image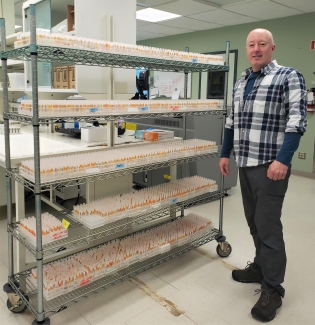 Craig Jenkins, senior manager at our Centre for Innovation, seen with a busy day ahead: more than 3,000 samples to be processed in one day to support the COVID-19 Immunity Task Force's federal objective of testing one million Canadians.
About the seroprevalence study
Back in April 2020, when the government established CITF, Canadian Blood Services and Héma-Québec reached out to offer their assistance.
"Canadian Blood Services is proud to support CITF's mandate. As a blood operator, we are uniquely positioned to help by providing information on the presence of COVID-19 antibodies in a large number of people across Canada relatively quickly," says Dr. Graham Sher, chief executive officer of Canadian Blood Services. "This is a great opportunity and privilege for us to contribute to a national need in a novel way."
Canadian Blood Services already routinely tests blood donations and has an active research program that has undertaken ethics-approved seroprevalence work, like this project, to guide policies in the past. We are currently conducting phase one of the study, where we're testing 37,800 donations. We anticipate there will be additional phases of testing in support of CITF.
At this time, individual donors will not be informed of their antibody status. The samples being tested are anonymized and the researchers cannot link test results to an individual donor. COVID-19 is not believed to be transfusion transmissible. Unlike other testing Canadian Blood Services does, such as for HIV or hepatitis, a positive result to the COVID-19 antibody test would not result in the donor requiring medical attention. The purpose of this study is to get a broad sense of how prevalent the disease has been in the Canadian blood donor population, not to determine the status of individual donors. 
Image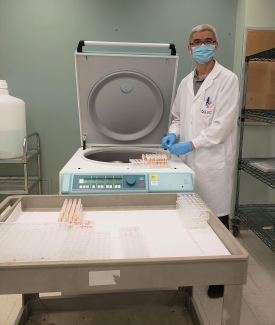 Yuntong Kou, senior assistant at our Centre for Innovation loads the centrifuge for blood sample preparation prior to the COVID-19 antibody assessment in blood donors as part of our seroprevalence study.
Ultimately, the study may help give policy-makers an understanding of the COVID-19 infection rate for different groups and regions in Canada, including those who may have only suffered a mild infection or were asymptomatic to COVID-19 and were eligible for donating blood. 
Our seroprevalence study only provides insight into a subset of the Canadian population. Blood donors are a relatively healthy subset of adult Canadians, and our donor centres have been actively screening out donors with symptoms or other risks related to COVID-19. Other limitations include that our donors are aged 17 and over, but there are relatively few donations among people over 65. Our population subset is also skewed towards urban centres, which have generally seen a greater amount of COVID-19 community spread. Other projects from the research community, CITF and the Canadian Institutes of Health Research will help fill gaps in the data.