Delivering hope, one cord blood donation at a time
Umbilical cord blood is rich in lifesaving stem cells. Learn how our teams help get that precious gift to people in need.
July 16, 2021
Andrea Cheung, above, is a cord blood collection specialist with Canadian Blood Services in Edmonton, Alta.
Every day at four hospitals across Canada, parents welcoming new babies are also bringing hope to patients.
These families have chosen to donate to Canadian Blood Services' Cord Blood Bank, a home for precious stem cells collected from the umbilical cord and placenta after a birth. Just like stem cells obtained from adult donors, these cells can be used for transplant ― a potentially lifesaving treatment for more than 80 diseases and disorders.
And just like donations from adult donors on Canadian Blood Services Stem Cell Registry, any donation to the bank could be a patient's only chance of survival. The donated cord blood could be needed years from now or right away, for a patient in Canada or across the world. That's why collecting and preserving these donations is a heartfelt mission for Canadian Blood Services specialists across the country; the ones you're about to meet all work in Edmonton, Alta.
How and where can I donate cord blood?
Cord blood donation 'a beautiful way to celebrate the start of our daughter's life'
The promise of cord blood
Going to work for the cord blood bank in 2015 brought Aileen Wiebe full circle in a career that began in front-line nursing in 1982. Not only had she worked for many years as a labour and delivery nurse, she had also helped care for children with cancer.
"As a pediatric nurse, I was very invested in my patients," recalls Aileen. "I went to funerals for those who died. At the time, chemotherapy and radiation were pretty much all that was available for their cancer treatment."
Had they been born later and treated more recently, some of those children might well have received stem cell transplants. Stem cells from both adult donors and cord blood have the potential to cure some blood cancers ― including an acute leukemia that claimed the life of one of Aileen's own cousins.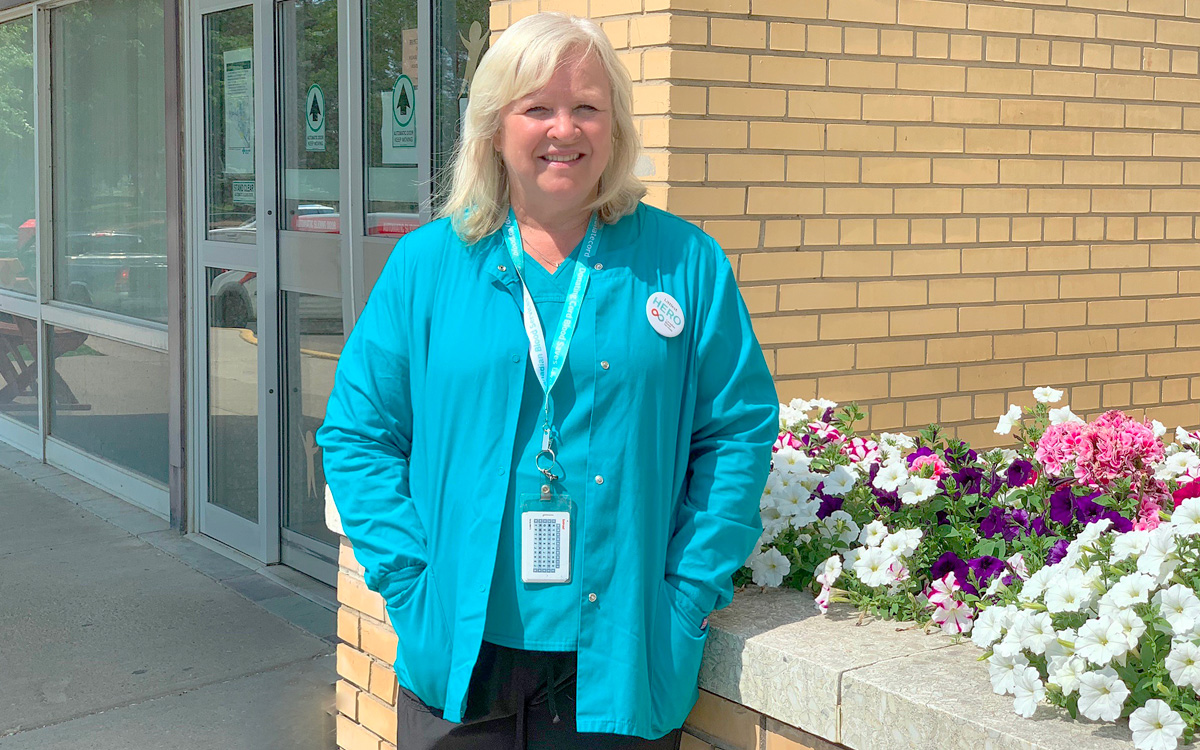 Aileen Wiebe oversees a team of cord blood collection specialists and nurse specialists in Edmonton, Alta., one of four cities in Canada where expectant mothers can register to donate umbilical cord blood for Canadian Blood Services' Cord Blood Bank.
For these reasons and more, Aileen is thrilled to deliver hope as a supervisor with the cord blood program. She oversees a team of cord blood collection specialists and nurse specialists in Edmonton, all based at the Lois Hole Hospital for Women. Similar Canadian Blood Services teams are in place at hospitals in Vancouver, B.C., and in the cities of Brampton and Ottawa in Ontario.
Aileen also helps to educate outside medical professionals about cord blood collection. Nurses and doctors play a vital role in helping us spread the word to mothers-to-be about the benefits and ease of donating cord blood. They also help us during the births, by following specific protocols that allow collection of viable cord blood afterward. Aileen knows from experience that it's not always an easy feat in the adrenaline-filled environment of the delivery room.
Aileen also feels a certain bond with the families of stem cell recipients. Her own husband was treated for cancer with an autologous stem cell transplant, a procedure in which the patient's own stem cells are harvested and stored temporarily, then returned to the body after intense chemotherapy. It was a harrowing time for her family, even without the stress of searching for a matching donor.
"It's given me a much greater appreciation for the people who are waiting for a stem cell match, not knowing if they are going to find one," she says. "It's made me even more passionate about my work."
'What I really enjoy is connecting with people'

A patient's best hope for a match is a donor of the same ancestral background. That's why Canadian Blood Services encourages people of diverse ethnicities to both register as stem cell donors and donate cord blood.
Patients of mixed ethnicity are among the most difficult to match because they are underrepresented on stem cell registries around the world. It's a truth that hits home for Andrea Cheung, one of Aileen's cord blood collection specialists ― and one she shares at times with the diverse expectant mothers she meets in the hospital.
"In educating them about cord blood donation, I might say 'My kids are Eurasian, half Chinese and half Caucasian, so if they ever needed a stem cell transplant, it would likely have to be from a donor who is also of Chinese and Caucasian descent,'" Andrea explains. "It helps them understand why we need ethnically diverse cord blood units."
While Canadian Blood Services encourages cord blood donors to register online in advance of their delivery, Andrea also meets personally with some mothers-to-be in hospital, such as those waiting for elective cesarean sections or induction of labour. Talking with them about cord blood donation is a rewarding part of the job for this self-described "chatty, chatty person," who once worked as a professional actor and theatre producer.
"What I really enjoy, and what I think I really excel at, is connecting with people," says Andrea.
To make that connection, she's also shared stories of patients in need. When Boston De Castro, an infant of mixed Filipino-Caucasian heritage, was searching for a stem cell match in early 2021, Andrea talked about the search with the Filipino and ethnically mixed couples she encountered.
Some other aspects of Andrea's role are more technical. When a cord blood donor delivers a baby during her shift, Andrea arrives with a cart to take delivery of the placenta and umbilical cord from hospital staff. Then, working in a secure, dedicated room of the hospital, Andrea places the placenta into a bowl hung high above her work surface, with the umbilical cord hanging down through a hole in the bowl's centre. After she carefully inserts a needle into a vein in the cord, gravity carries the cord blood into a sterile collection bag that resembles those used for blood donation.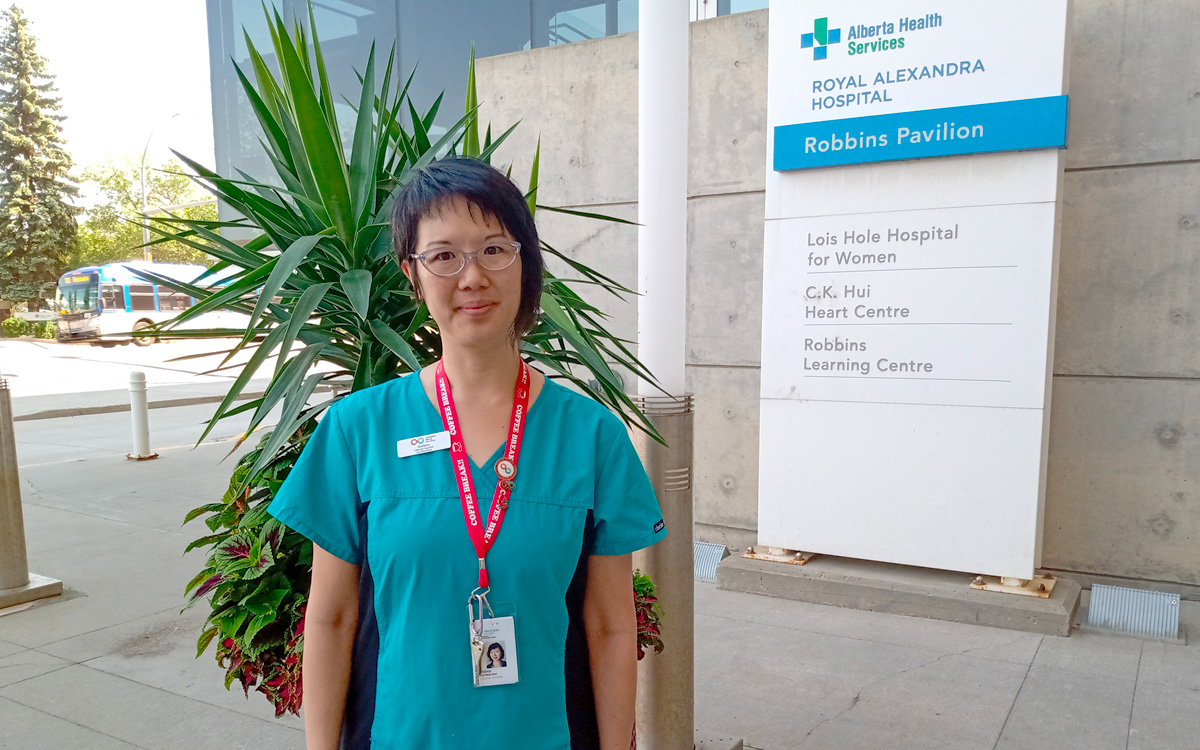 Andrea Cheung, a cord blood collection specialist in Edmonton, Alta., recruits cord blood donors and collects umbilical cord blood at Lois Hole Hospital for Women. Donations can be used for potentially lifesaving stem cell transplants.
After the collection is finished, Andrea does some preliminary tests and calculations to help determine whether the unit can be added to the bank for potential use by transplant centres. Units that do not meet certain thresholds for volume may not be suitable for transplant, though they can often be used for research, with the donor's permission. If the unit appears destined for the bank, one of Aileen's nurse specialists will review the mother's and baby's medical information, visit the mother to complete a more detailed health questionnaire and draw some blood samples from the mother for additional tests.
'You can't help but think about the patient'
After Andrea or one of her colleagues at the hospital has collected a unit of cord blood, they prepare it for shipment to one of two Canadian Blood Services laboratories for processing and storage. Some units travel across the country to Ottawa, but others go just across town, where medical laboratory technologists such as Denise Swaby are waiting.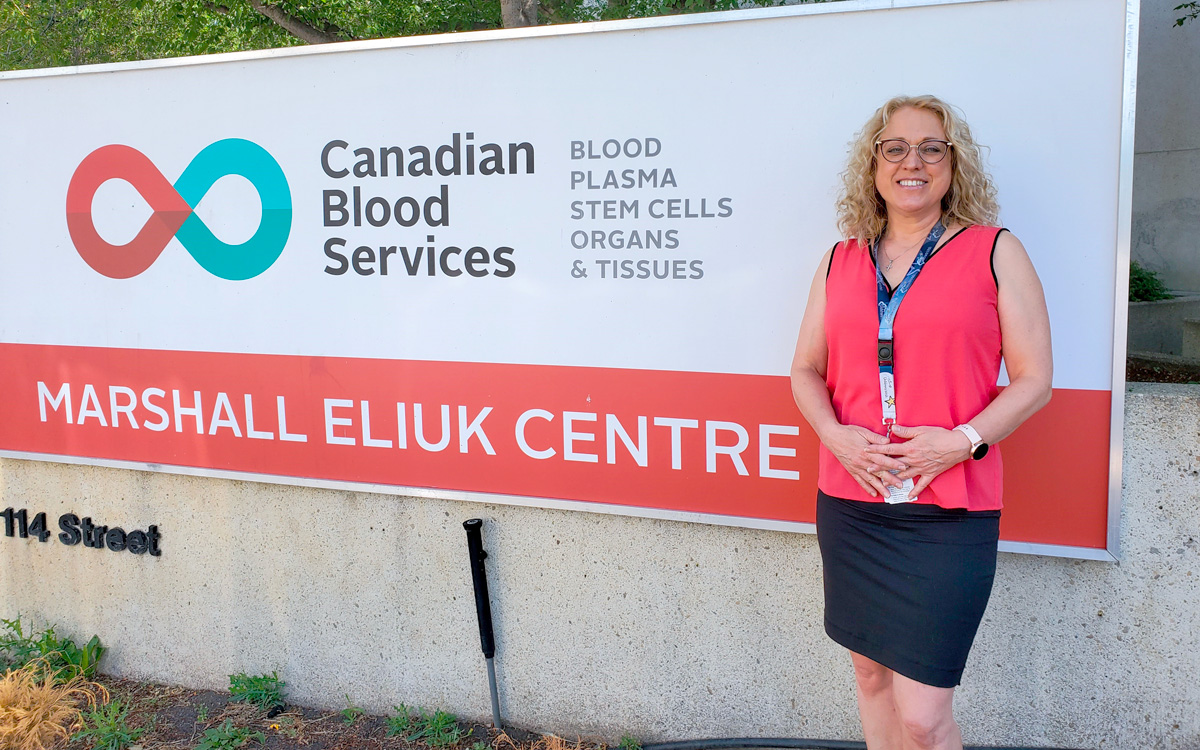 Denise Swaby is a medical laboratory technologist who processes cord blood stem cells for Canadian Blood Services' Cord Blood Bank.
In addition to processing stem cells for autologous transplants, Denise and her colleagues carefully test and preserve cord blood units. In one test, they screen the unit to assess its "total nucleated cell count," an indicator of how many stem cells it contains. To be added to the bank for possible use by patients, units must meet a certain threshold on this test. Other tests evaluate the unit's genetic profile and assess whether the stem cells will grow in a simulated bone marrow environment. (Bone marrow is the soft, spongy tissue inside most bones where stem cells develop into blood cells; a stem cell transplant re-populates a patient's bone marrow with healthy cells from the donor).
Denise also processes the unit to remove plasma, a straw-coloured liquid component of blood that makes up most of its volume, as well as some of the red blood cells. She then adds a substance to protect the stem cells from damage when they are frozen for storage.
Each unit rests inside a small metal cassette at –196°C until such time as it's matched to a patient. Before shipping, the cells are checked again for viability using an instrument called a flow cytometer.
"We actually have a unit that's going out tomorrow to the U.K.," says Denise. "We ship within Canada but also internationally. Every time we send out a unit we know it is a lifesaving chance for someone who needs it."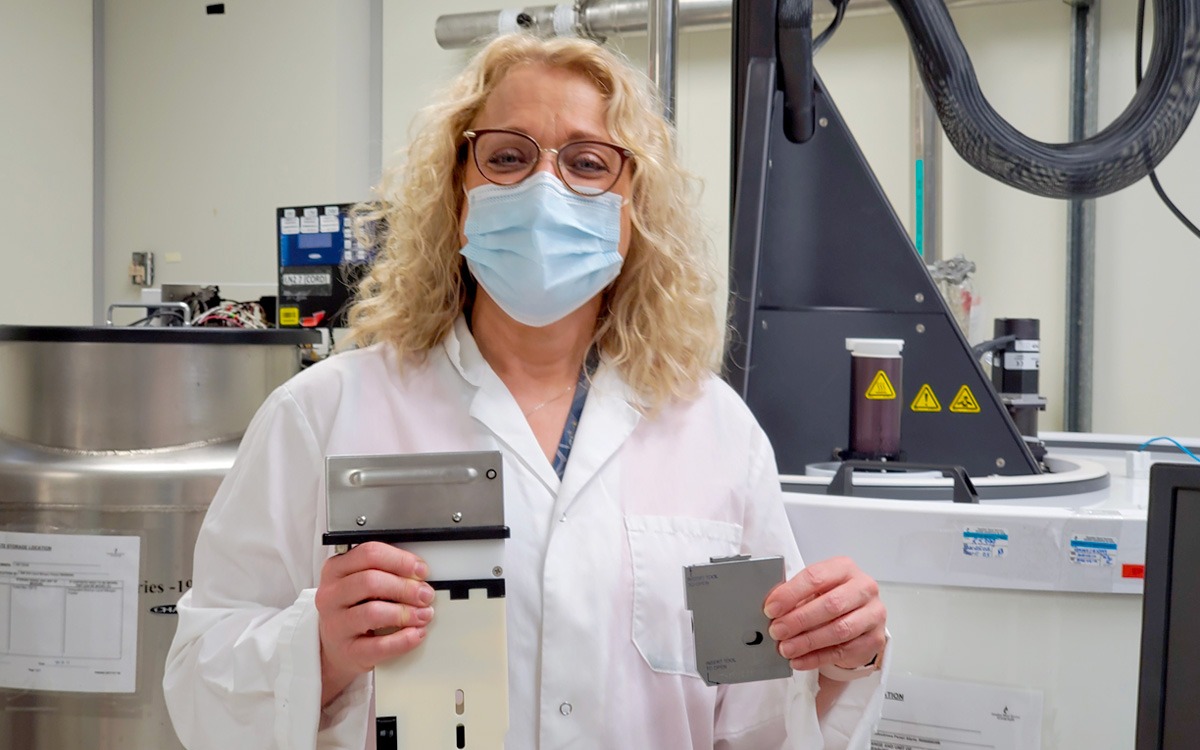 Denise Swaby holds one of the tiny cassettes used to store cord blood stem cells. In her right hand is a device called a control rate freezer, which is used to freeze the cells before they go into storage in the white tank in the background.
Because cord blood stem cells are stored for use anytime, they can generally be made available more quickly than cells obtained through a search for a matching adult donor. And during the COVID-19 pandemic ― which has prevented in-person recruitment for the stem cell registry and also created challenges for the collection and shipping of adult stem cells ― our public cord blood bank has only grown in importance. In fact, the bank has shipped more cord blood units in the past year than in any year since it opened in 2013. Every shipment is a source of pride and celebration for all members of our cord blood teams, who are notified of each one by email.
Like Aileen and Andrea, Denise is also driven by a deep personal understanding of the importance of this work. In fact, many years before Canadian Blood Services' Cord Blood Bank came into existence, Denise qualified to preserve cord blood from the births of her own children through a special program in Alberta.
Denise's husband is from Jamaica, and she knew their children's mixed Black Caribbean and Caucasian ancestry could make it difficult for them to find a stem cell match if they ever needed one. Additionally, there was a family history of blood cancer. Denise's sister had died of leukemia as a child in 1981, when stem cell transplantation was still a relatively new treatment. At the time, Canada did not yet have a stem cell registry, and no member of the family —not Denise or her four other siblings or their parents — was a match.
Today, that memory is a powerful reminder for Denise of why her work matters.
"You can't help but think about the patient on the other end and what they and their family are going through," says Denise. "And you know, just the hope that we're giving."
As we mark Cord Blood Awareness Month this July, we encourage expectant moms living in Brampton, Ottawa, Edmonton and Vancouver to consider donating cord blood. You can register online to donate. Each donation can help save a life.