'It's a beautiful way to celebrate the start of our daughter's life'
Rebecca and Tyler Munk donated their newborn's umbilical cord blood, a source of potentially lifesaving stem cells
July 5, 2021
When Rebecca and Tyler Munk had their second baby in June at B.C. Women's Hospital in Vancouver, B.C., donating her umbilical cord blood felt like "the most natural thing to do."
"I work with children undergoing cancer treatments and I see the difference a stem cell transplant can make in their lives and that of their families," says Rebecca, a pediatric anesthesiologist at B.C. Children's Hospital. "So the decision to donate Eliza's cord blood was easy."
Cord blood donors could be someone's hope for life
After a baby is born, the blood left in the umbilical cord and placenta is rich with lifesaving blood stem cells. With mothers' consent, Canadian Blood Services' Cord Blood Bank collects and stores this cord blood for future use by any matching patient in need of a stem cell transplant. And just like stem cells in the bone marrow or circulating blood of adult donors, those found in cord blood can be used to treat more than 80 blood diseases and disorders, including cancers.
"It's heartbreaking to watch patients and their families struggle to find stem cell donors who match their loved ones," says Tyler, an interventional radiologist himself who also regularly sees cancer patients. "Our ability to help another family in their time of need is a wonderful gift and a beautiful way to celebrate the start of our daughter's life."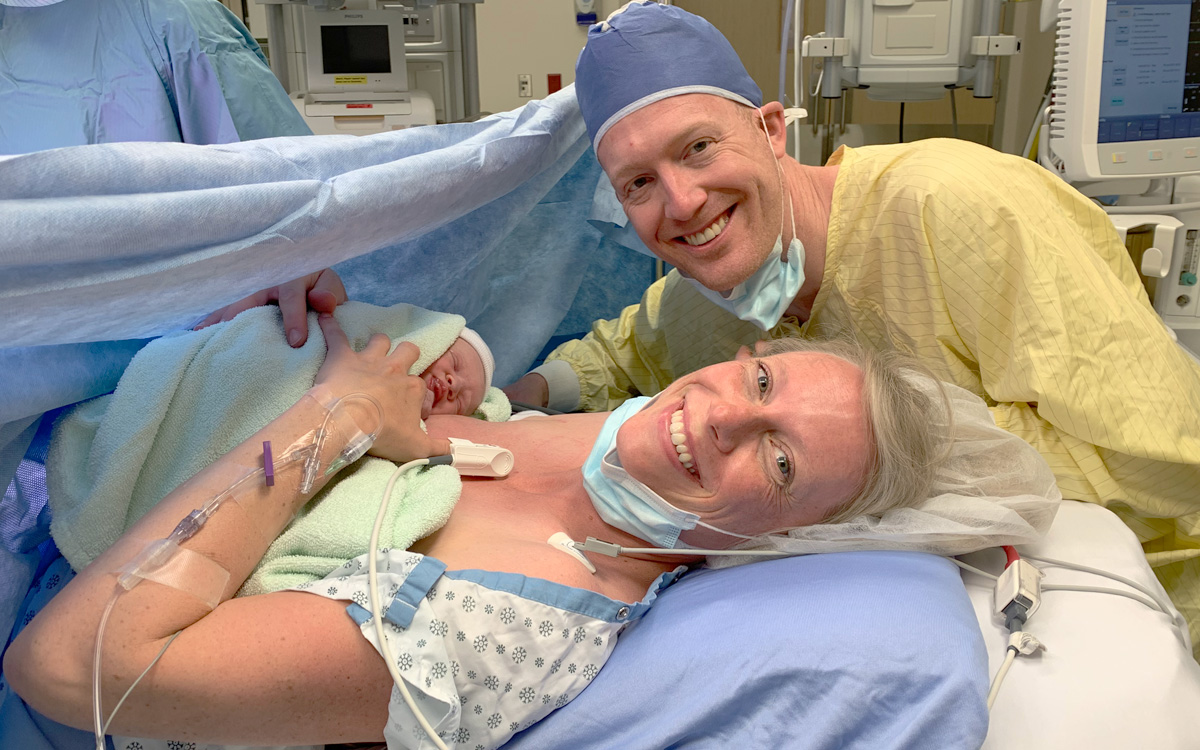 Rebecca and Tyler Munk welcomed their daughter Eliza in June 2021. As doctors, they often meet patients in need of stem cell transplants, so they were excited to support Canada's Lifeline by donating cord blood.
Rebecca and Tyler met in Adelaide, Australia in 2007, while Rebecca was in medical school. They got married in 2016 after nine years of dating, travel, adventure and studying. Their son Theodore was born in March 2019, and the family moved to Vancouver shortly afterward, in winter that year.
"We moved here for Tyler to complete a fellowship in interventional radiology and only planned to stay for 12 months," says Rebecca. "But we fell in love with the mountains and outdoor lifestyle of British Columbia and decided to make it our permanent home."
When Theodore was born, it wasn't possible for the couple to donate cord blood in Adelaide. But after learning from hospital staff that it was possible in Vancouver, they eagerly made plans to do so after Eliza's birth.
Where and how can I donate cord blood?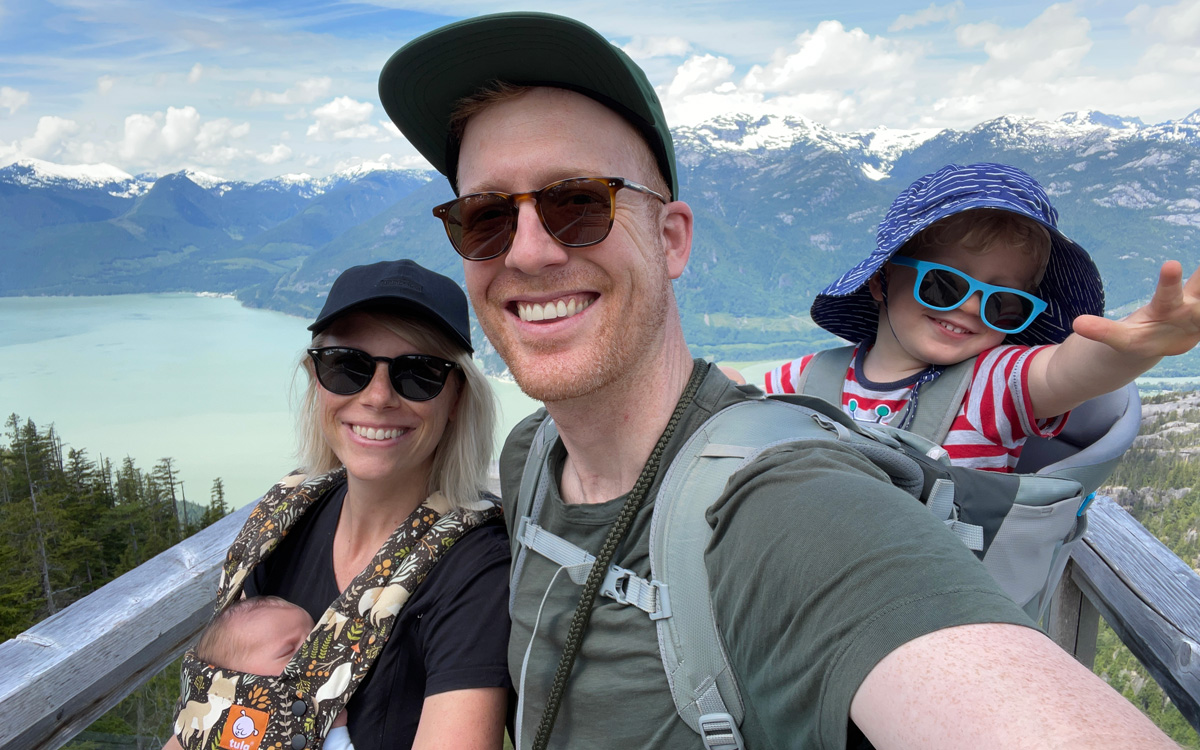 Cord blood donors Rebecca and Tyler Munk spend some quality time with their children Theodore, 2, and Eliza, who was born in June 2021. They donated Eliza's umbilical cord blood at birth, in the hope of one day helping a patient in need of a stem cell transplant.
Donating cord blood is easy and important
Even during the pandemic, cord blood donors are a critical lifeline for patients. Every year, hundreds of patients in Canada need stem cell transplants and about three quarters of those patients will rely on unrelated donors to help save their lives. But unlike adult stem cells, which require a close genetic match between the donor's and recipient's human leukocyte antigens (HLA), stem cells from cord blood do not need to be an exact match for a patient. That makes cord blood a great option for patients who cannot find a match within Canadian Blood Services Stem Cell Registry.
Also, because cord blood stem cells are stored for use anytime, they can generally be made available to a patient more quickly than those obtained through a search for a matching adult donor. And during the COVID-19 pandemic ― which has prevented in-person recruitment for the stem cell registry as well as created challenges for the collection and shipping of adult stem cells ― our public cord blood bank has only grown in importance. In fact, the bank has shipped more cord blood units in the past year than in all previous years, dating back to the bank's inception in 2013.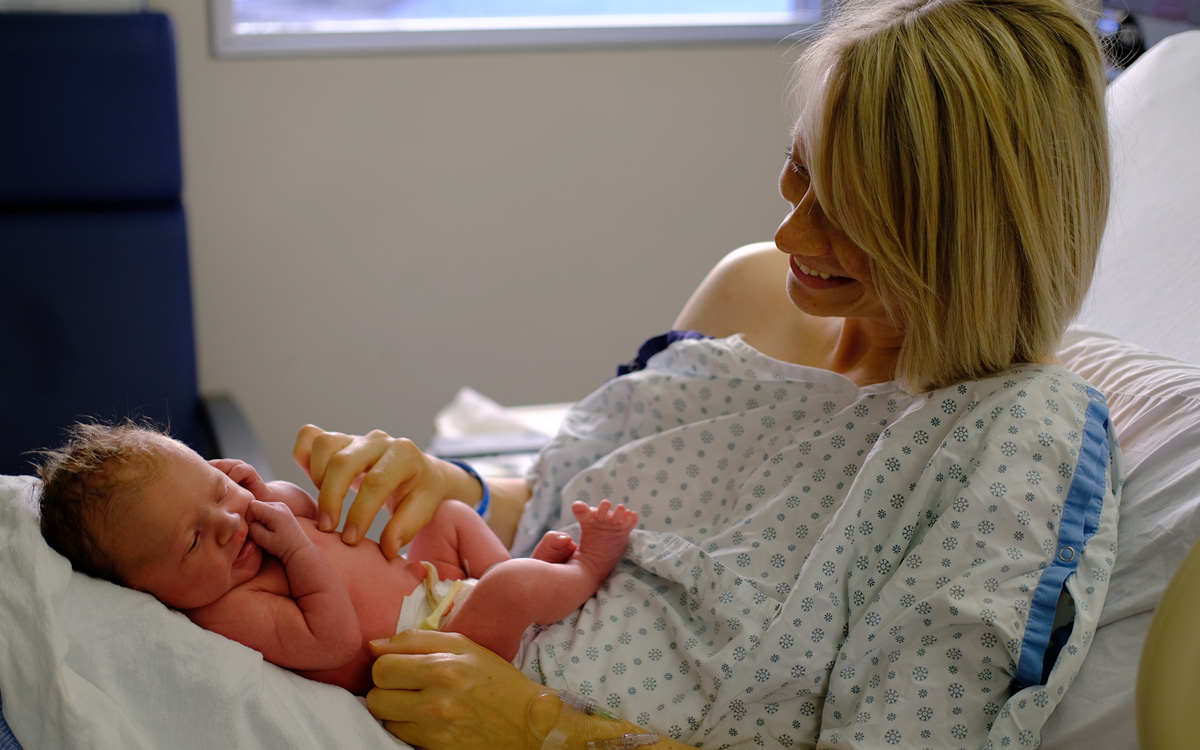 Rebecca Munk tickles baby Eliza's belly hours after her delivery at B.C. Women's Hospital in Vancouver, B.C. Her family is thankful for the opportunity to donate Eliza's umbilical cord blood to Canadian Blood Services' Cord Blood Bank.
Fortunately, donating cord blood during the pandemic has remained incredibly easy.
"Our donation happened seamlessly with our delivery, so much so that we were completely unaware that it was quietly happening in the background," says Rebecca. "The collection of the blood from the placenta did not in any way change our birthing experience, and we were provided with all the information we needed and got the opportunity to ask questions."
Cord Blood for Research Program
Days after Rebecca's delivery, she was thrilled to learn that the umbilical cord blood they donated could be added to the others in the bank that are available for transplant.
Since 2013, more than 37,000 mothers have donated their baby's cord blood to Canada's public cord blood bank. However, not all cord blood units are suitable for banking. Sometimes — for reasons that are not connected to the health of the mother or baby — their volume is insufficient, or they don't contain enough stem cells to be used for a stem cell transplant. In such cases, with the mother's consent, that cord blood is distributed to one of several approved research projects in Canada.
Moms who deliver in Ottawa, Brampton, Edmonton and Vancouver are often given the option to consent to donate their babies' cord blood for biomedical research. More than 8,000 cord blood donor moms have consented to donate for science through our Cord Blood for Research Program, which helps advance stem cell therapies and transplantation practices.
Cord blood researcher helping to fight blood cancers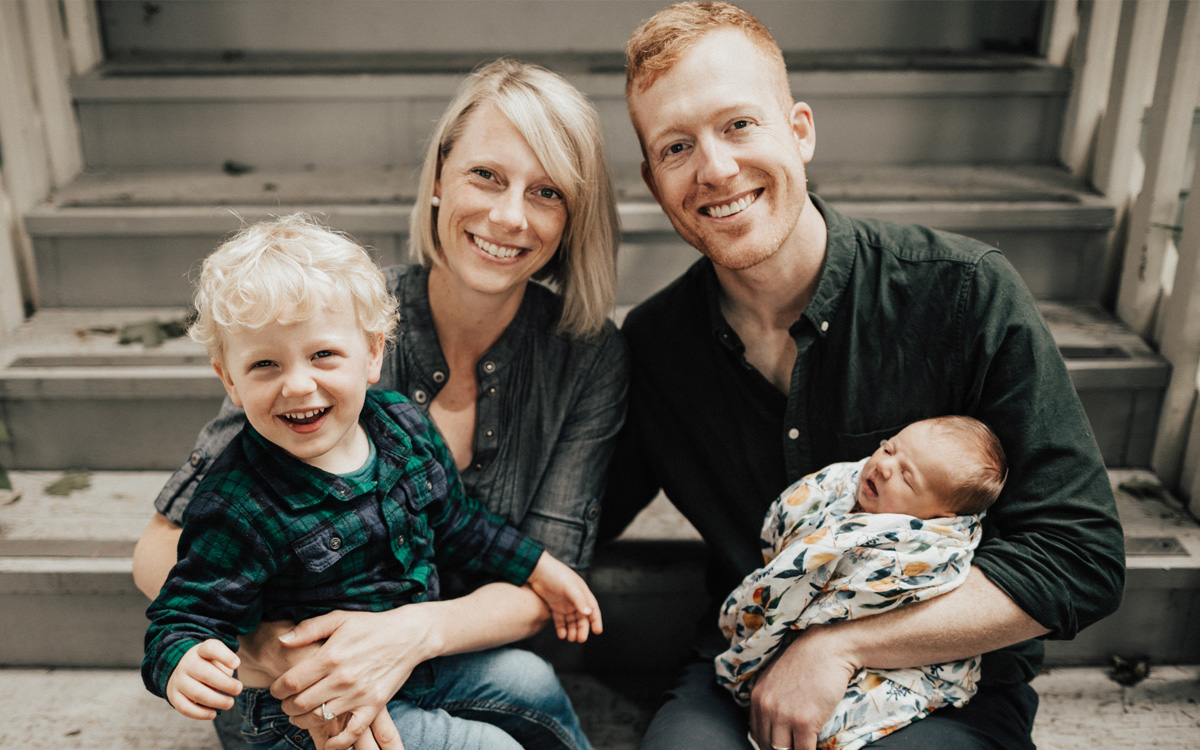 Rebecca and Tyler Munk are registered organ donors who also donated their daughter Eliza's cord blood in June 2021. Cord blood contains stem cells that can be stored and used for lifesaving transplants.
Rebecca appreciates those moms who, through their cord blood donations, have supported innovative research in stem cell transplantation.
"We're both incredibly lucky to work in careers where we can see the impact that modern medicine can have on the health and quality of patients' lives," she says. "To us, it shouldn't matter whether the donated cord blood is used for research or transplant. What matters is that we're able to help a patient in need now or sometime in the future."
As we mark Cord Blood Awareness Month this July, we encourage expectant moms living in Brampton, Ottawa, Edmonton, and Vancouver to consider donating cord blood. You can register online to donate. Each donation can help save a life.