Thousands of Canadians donated in honour of #NovaScotiaStrong
From coast to coast, donors showed their support to Nova Scotia 
September 1, 2020
From August 14-31, Canadians were called upon to roll up their sleeves and donate blood in honour of the #NovaScotiaStrong campaign. From the kick-off events in Nova Scotia to the many, many donors who extended their love from other provinces, we want to say thank you to everyone who made this campaign a success. We recorded an increase in visitors to our website over the two-week period and approximately 2,100 units of blood were donated across Canada including almost 1,100 units from Nova Scotia.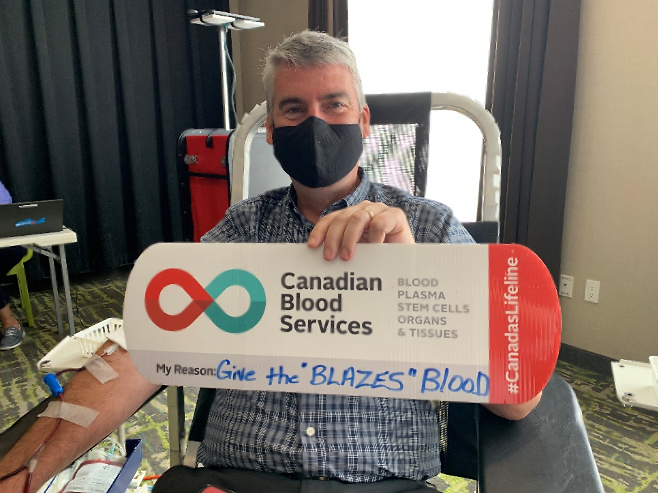 Nova Scotia Premier Stephen McNeil donated blood in honour of the victims of April's mass shooting in his province.
Donors in three Ontario cities – Kingston, Barrie and London – signed Nova Scotia flags with messages of support. They will be given to victims' families, including Charlene Bagley, whose father Tom Bagley died in the mass shooting. Charlene supported the Nova Scotia Strong campaign and shared her story about her father's legacy.
This one's for Tom. @CanadasLifeline #NovaScotiaStrong pic.twitter.com/3ztgdpDGy2

— paul brothers (@paulbrothers) August 25, 2020
Here are some more highlights from the two weeks of giving love, support and much-appreciated blood products to patients. 
4 months ago tragic events in Nova Scotia took the lives of 23 innocent Canadians. @CanadasLifeline is running a two-week long #NovaScotiaStrong campaign in honour of those we lost.

I invite everyone to show your support by donating blood at https://t.co/twQZBGMW7y pic.twitter.com/urw3Vp5P9V

— Doug Ford (@fordnation) August 19, 2020
We @CanmoreFireRes are happy to support the national #NovaScotiaStrong blood donation event hounoring the lives lost in the tragic events this past April. @CanadasLifeline #community #itsinyoutogive pic.twitter.com/V7b5dB4BqY

— Walter Gahler (@CanmoreFrChief) August 19, 2020
Keith Vortman, a Fredericton blood donor, was inspired to donate blood this week at the #NovaScotiaStrong event in honour of the more than 20 lives lost in the NS tragedy last April. #canadaslifeline. pic.twitter.com/nG0YzyjTyB

— Canadian Blood Services New Brunswick (@LifelineNB) August 19, 2020
Mon.Aug.24/20 - during this Covid-19 coronavirus pandemic its more important now than ever before to donate blood or plasma. This is my whole Blood🩸 Donation #123 - Give the Gift of Life #givelife https://t.co/BoTYmrvOdm #itsinyoutogive Be a Blood donor https://t.co/gnTW1c3Gpo pic.twitter.com/GOtKbF2I63

— David Andrew Hendsbee (@David_Hendsbee) August 24, 2020
RCMPNS employees rolled up their sleeves to donate blood in memory of Cst. Heidi Stevenson who lost her life in the line of duty. Cst. Stevenson was an avid blood donor. This is the 1st day of @CanadasLifeline campaign to honour all victims who lost their lives April 18 & 19. pic.twitter.com/PgCLx8XkYq

— RCMP, Nova Scotia (@RCMPNS) August 14, 2020
We've got your back from 4,600km away!#NovaScotiaStrong #WithLoveFromBrooks https://t.co/t6hyEIeAaJ

— City of Brooks (@CityofBrooks) August 5, 2020