Emotional start to #NovaScotiaStrong campaign
Two-week national blood donor event honours shooting victims
August 18, 2020
It's well-known that when tragedy strikes in Atlantic Canada, communities come together to support one another. When a mass shooting struck several tight-knit Nova Scotian communities this past April, the entire country felt it and mourned together. Canadians rallied alongside Nova Scotians, sharing in their grief through messages, videos, photos and song. Homes and businesses were adorned with Nova Scotia flags and the message "Nova Scotia Strong".
It was this outpouring of love and support that inspired the #NovaScotiaStrong blood donation campaign, which runs until August 31. The two-week national blood donor recruitment event honours the victims of the tragic shootings, asking Canadians to donate blood at their nearest donor centre or mobile event in memory of the lives lost.
The campaign was inspired by a mobile blood donor event to honour RCMP Constable Heidi Stevenson, who was among the victims. Not only was she a mother, wife, and a community leader, she was a regular blood donor. Her fellow RCMP officers wanted to dedicate their usual August event to her, and they filled the beds during the August 14 private event.
It was an emotional moment, with Heidi's husband and mother-in-law there to donate and show their appreciation to the RCMP and Canadian Blood Services. Also in attendance was their Honours, the Honourable Arthur LeBlanc Lieutenant Governor and his wife Patsy, Premier Stephen McNeil and Halifax Mayor Mike Savage.
Image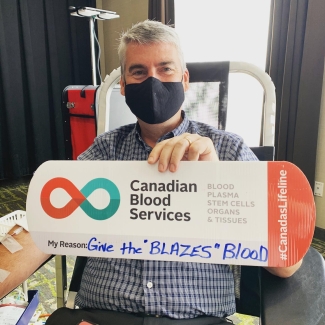 Premier Stephen McNeil showing his support at the RCMP's private blood donor event in honour of Cst. Heidi Stevenson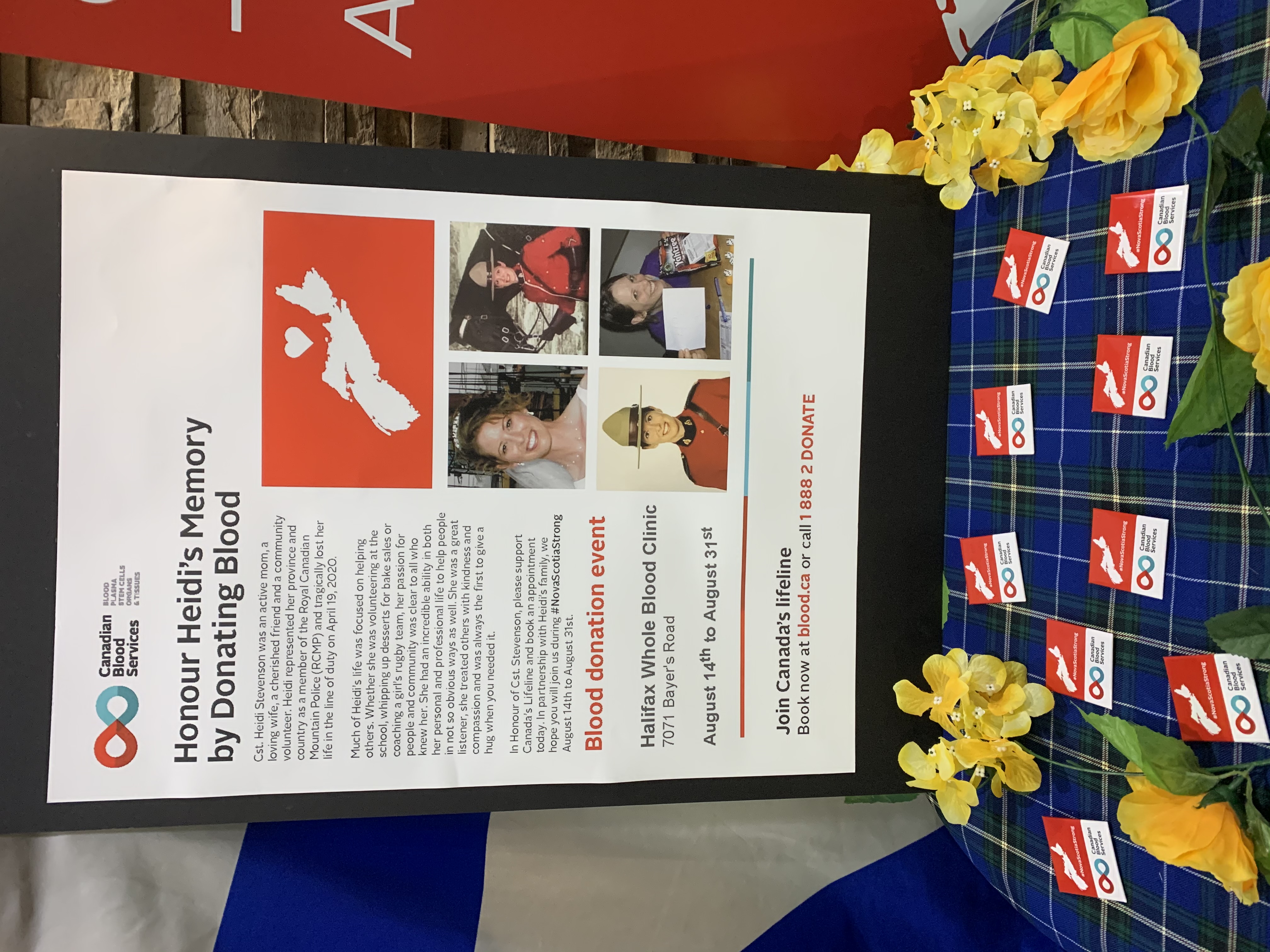 "In my 15 years in the organization I have attended many wonderful events and witnessed first-hand the generosity of our donors. I felt on Friday that the event had a special feel that both donors, and our staff, were seeing something good come from something so sad and tragic. I felt very proud to be a small part of it," says Peter MacDonald, director of donor relations, Atlantic. "We are proud to expand this support and love for the victims and their families in the form of blood donation from all Canadians."
When Charlene Bagley learned of the campaign, she knew she had to be involved.
Her father, Tom Bagley, a retired firefighter, was killed by the gunman when he was rushing to his neighbour's house which was set on fire by the shooter.
"If you knew my dad, he probably helped you at some point in your life," says Charlene. "I grew up seeing this all the time when he would drop anything to help out someone in need. I recently discovered that he received a certificate for donating blood 100 times. Donating blood was something he believed was important."
A mobile donor event scheduled for August 17 in Milford, N.S became the official kick-off for the #NovaScotiaStrong campaign. Milford is a small community in East Hants county, where several of the shootings took place. It's also where Cst. Stevenson donated blood as the Milford mobile is near her detachment.
Charlene became a spokesperson for the campaign, speaking with media and promoting blood donation. She joined Canadian Blood Services employees and donors in celebrating and honouring her father at the mobile event on August 17.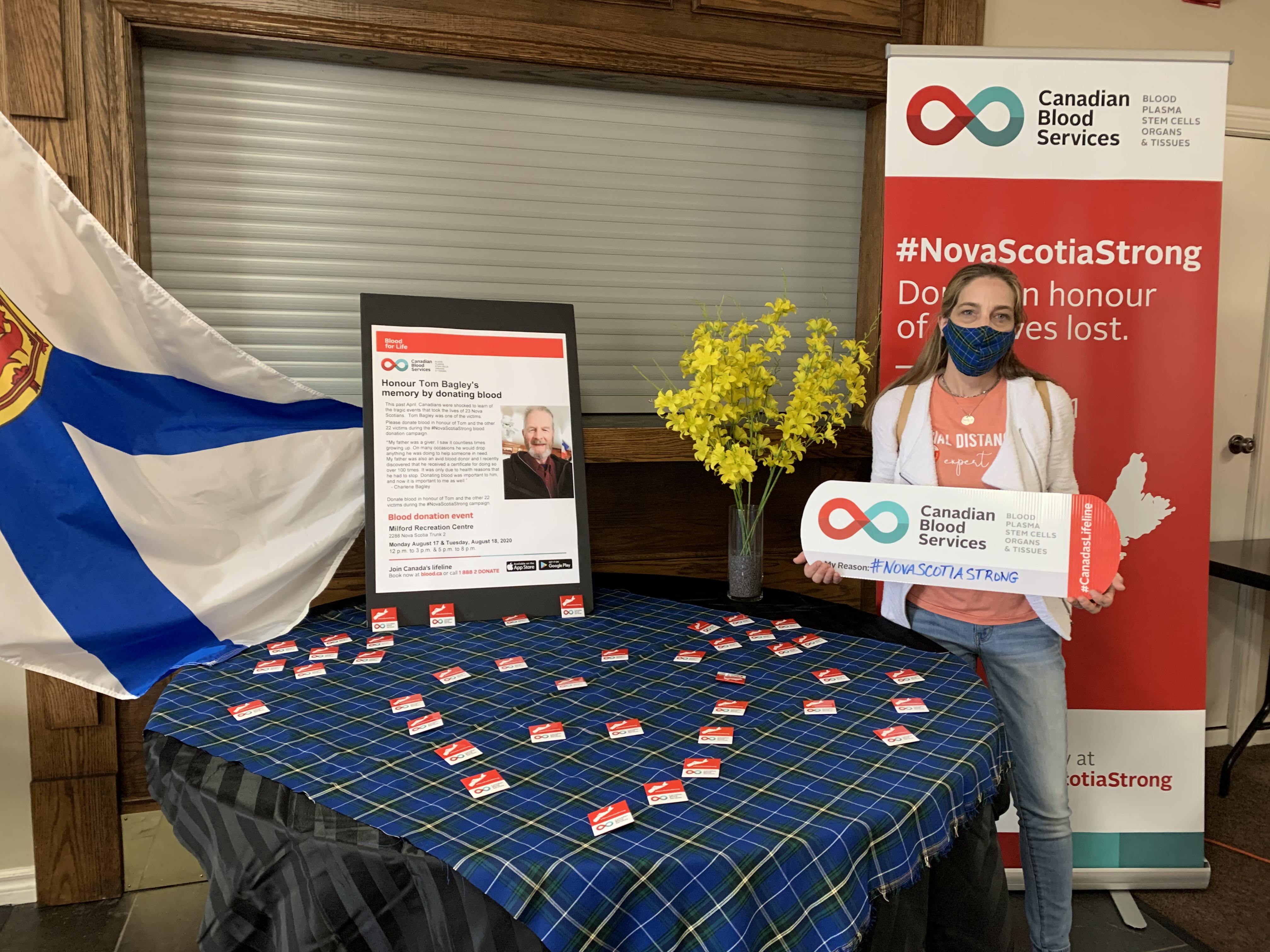 Charlene Bagley at the Milford, N.S. blood donor event, in honour of her father Tom.
Director Peter MacDonald was also on hand at the Milford event, in a community that only four months ago was impacted by a heartbreaking and tragic event.
"I was touched by Charlene's strength, her dedication to honour her father and how the community was coming together. What we do matters, and I really felt that today."
Donors can show their support by sharing photos, videos and their reasons for donating on social media using the hashtag #NovaScotiaStrong.
Blood donors are a vital link in Canada's Lifeline. If you're in general good health, please book and honour your appointment to help patients. Check blood.ca for the nearest donor centre or mobile event near you.
Download the GiveBlood app and join Canada's Lifeline. Please call 1 888 2 DONATE (1-888-236-6283) or book now at blood.ca/novascotiastrong.