This B.C. dad is 'forever grateful' for gifts of blood and stem cells
For years, Greg Duerksen had quietly feared he would die young. Then, amid a pandemic, donors helped him beat leukemia.
December 2, 2021
In spring 2020, Greg Duerksen was in the thick of an exciting phase of his career. The business development executive from Qualicum Beach, B.C., was launching a startup that would build data centres and use renewable energy to mine Bitcoin.
So he was utterly shocked when a routine blood test revealed he had acute myeloid leukemia (AML) — a type of cancer that makes the bone marrow produce large numbers of abnormal blood cells.
"My life flipped on its head," says Greg, 45, a father of two as well as a former volunteer firefighter. "From that day I woke up every day ready to fight and beat leukemia."
After rounds of chemotherapy and countless transfusions of blood and platelets, Greg needed a stem cell transplant to live. Stem cells, specifically blood stem cells, are immature cells that can develop into any cell present in the bloodstream. They can be used to treat more than 80 blood diseases and disorders. However, for stem cells to be transplanted successfully, donor and recipient must be a close genetic match.
How can I donate blood or platelets?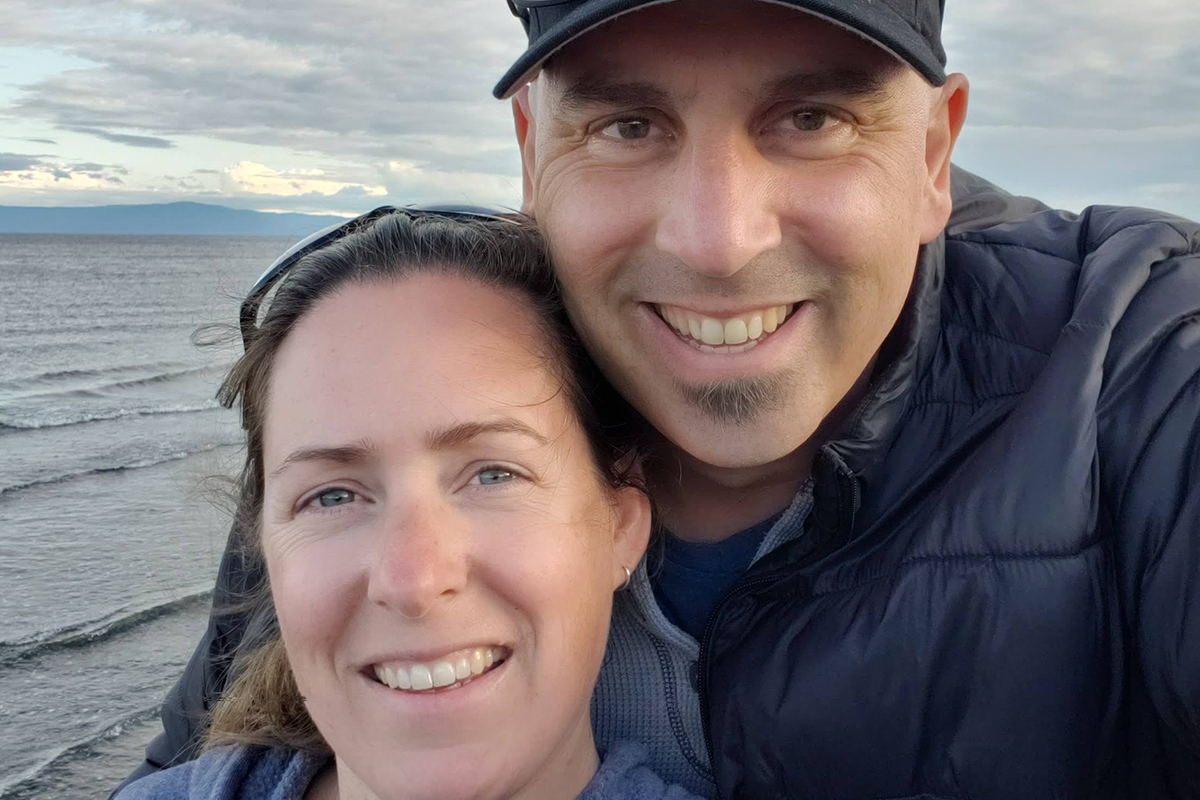 Greg Duerksen, 45, and his wife Lisa, 43, have been married for nearly 20 years. One year ago, Greg had to undergo a stem cell transplant in Vancouver to treat his acute myeloid leukemia. Thanks to blood donors and a stem cell donor, he is in remission today and has returned to doing the things he loves with his family.
No one in Greg's family was a match. He was one of the hundreds of Canadian patients who not only require a lifesaving stem cell transplant, but also must rely on the generosity of a complete stranger. Those patients turn to Canadian Blood Services Stem Cell Registry, which has a database of more than 440,000 healthy volunteer donors as well as connections with similar registries around the world.
It's easy to join the stem cell registry online
Patients from Indigenous, Asian, South Asian, Hispanic, mixed-race, and Black backgrounds have particular difficulty finding a stem cell match. Only 33 per cent of potential donors on the registry come from these groups, while the remaining 66 per cent are Caucasians — a statistic the registry has been trying to change to be more representative of the Canadian population.
Greg knows he was lucky to find a match (more on that later), having heard the statistics and the stories of patients who have struggled.
"I know that finding a stem cell match for a middle-aged Caucasian man like myself is much easier than searching for people with mixed-race or non-Caucasian backgrounds," he says. "That's why I encourage every eligible person from all ethnicities to join the registry to give all of us an equal fighting chance."
'I desperately need a Black donor to come forward'
An Indigenous stem cell donor's journey
This video explains how to use the at-home swabbing kit to join the stem cell registry. It takes just a few minutes, and it's easy to mail it back to us free of charge. It's easy to start the registration process online.
How family and friends helped Greg #punchIt
From day one, Greg was determined to fight his cancer, and he had an army of warriors behind him. His wife Lisa and their children Paige and Aiden were devoted to his care, while friends and family members rallied to raise funds and pray for all of them. Many also donated blood and platelets in Greg's honour and worked to recruit people to Canadian Blood Services Stem Cell Registry.
However, because Greg fell ill right in the middle of the COVID-19 pandemic, his doctors had to adhere to the strict measures put in place by his province to keep everyone safe. During the nearly three months he spent at Vancouver General Hospital in early 2020, Greg could not meet physically with his family or friends. To stay in touch with them, he started writing a regular diary on Facebook, which he tagged #punchit.
Greg's family and friends used those regular Facebook updates to start a campaign to educate people about how stem cell transplants work, and about the need for many more people to join the stem cell registry. They created custom t-shirts with the #punchit slogan and sold them to raise funds for Greg's medical expenses.
Through it all, one of Greg's buddies, Dave Ramsey, teamed up with Greg's children to both cheer Greg up and rally others to support him in a most creative way.
"Every day I stayed in the hospital, Dave came around to draw inspiring messages on the grounds of the car park," says Greg. "At first, his chalk signs were a show of support for me because the COVID restrictions prevented him from coming into the hospital. However, they quickly became inspirational for many patients who couldn't meet their own families and friends."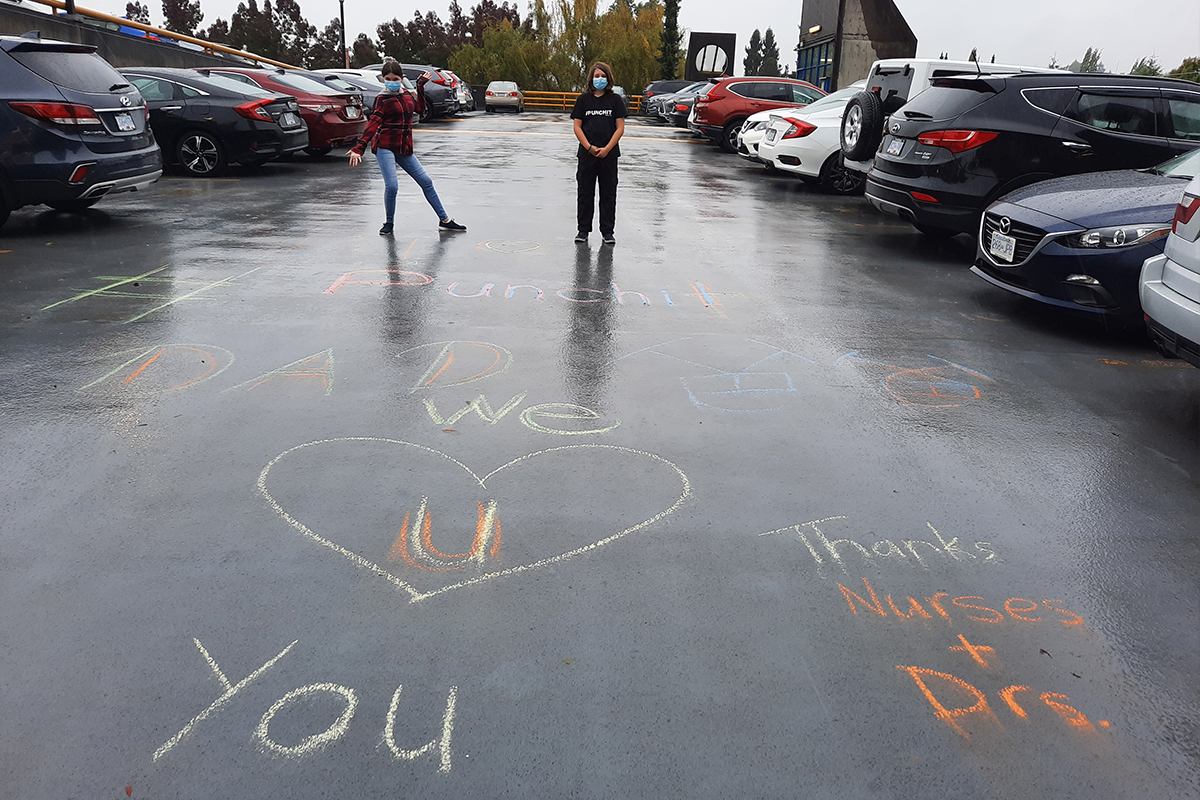 Paige Duerksen, 13, and her brother Aiden, 12, used chalk signs to cheer their father up and thank health workers at Vancouver General Hospital, where their father Greg Duerksen was receiving treatment for acute myeloid leukemia in 2020. Greg had a stem cell transplant a year ago and has been in remission.
Greg remembers how the hospital staff always looked forward to seeing Dave's chalk signs. Even patients on other floors began watching for them, and the drawings raised their spirits, too. Greg's Facebook diary continued to inspire others as well.
"Because of my Facebook stories, several nurses came back to me to say how my character and spirit had changed something for them," says Greg. "Tears and appreciation for our campaign to #punchit always followed."
Blood and stem cell donors helped Greg beat his 'quiet fear' of dying young
Greg turned 44 on Aug. 1, 2020, right after he finished chemotherapy and began his wait for a stem cell match. It was a milestone that really mattered.
"My father died at 43, just short of his 44th birthday," says Greg. "He had a cancerous brain tumor that ended his life way too early. But I remember him as a loving father, passionate Christian pastor and a man of excellent moral character."
Greg also recalls how his father dreamed of retiring early to explore the world. But he never even got to see his three children become adults. As Greg lay in his hospital bed, it struck him that he was the same age as his father was when he died.
"I've always had a secret thought at the back of my head that I won't make it to 44," Greg says. "That quiet fear is why I've chosen to get the most out of every day my entire life."
So Greg felt very fortunate when a few days after his birthday, the hospital informed him that Canadian Blood Services Stem Cell Registry had found a match for him. He could have a stem cell transplant with an international donor. The news motivated him to keep fighting.
"I can think of many moments where my life could have easily ended just a bit short," he says. "I have had a terrible car accident that wrote off two cars, a long dive in shallow water that put me in a Mexican hospital, plane near misses, bot fly, food poisoning, and now leukemia."
"I was ready to move past my fears and look forward to the next 44 years."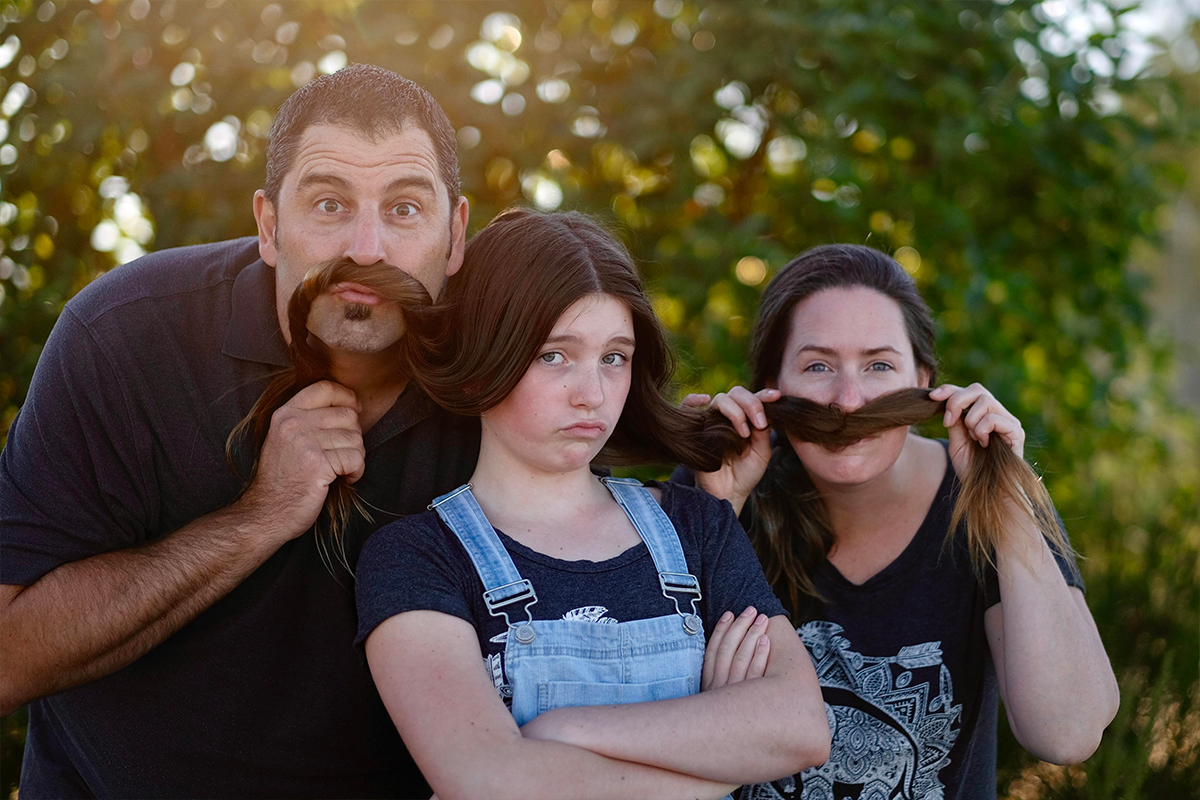 Greg Duerksen (left) was diagnosed with acute myeloid leukemia in the middle of the COVID-19 pandemic last year. He depended on blood and platelets transfusions to stay alive until his stem cell transplant in October 2020. His family helped him lead a strong campaign that encouraged individuals to donate blood and platelets and join Canadian Blood Services Stem Cell Registry.
Thankful to blood and stem cell donors
From the time he was a teenager, Greg has always been drawn to charitable giving. He began donating blood as soon as he became eligible, and has also been making financial donations to Canadian Blood Services over the years. So when he needed blood transfusions for the first time in 2020, he truly appreciated the donors who helped him.
Stem cell donor: 'It's an incredible privilege to help save a life'
Stem cell donation brings joy to a donor as well as hope to a patient
By the time Greg learned that his stem cell transplant would go ahead in mid-October 2020, he had already received dozens of blood transfusions. The transplant was successful, though he did feel weak after the procedure and was unable to continue his regular Facebook updates. A nightly family tradition also had to be adjusted.
"Every day of my kids' lives, I have taken the time to say goodnight to them, no excuses, from anywhere in the world," he says. "It's a point of personal pride. But when I couldn't speak after my transplant, they said goodnight to me through a video call. It broke my heart, but it also made me incredibly grateful for the gift of life."
A year after his stem cell transplant, Greg says he's "feeling great." At his last count, he had received more than 160 blood transfusions. They're some of the many reasons why this holiday season, he's urging others in Canada to be their neighbours' keepers by donating blood and platelets and joining the stem cell registry.
"I can think of no greater gift to give someone than a unit of blood, or swabbing to join the registry," he says. "That I'm able to place a few fun gifts under the Christmas tree is because of the kindness of others and the fact that their selfless donation has quite simply saved my life."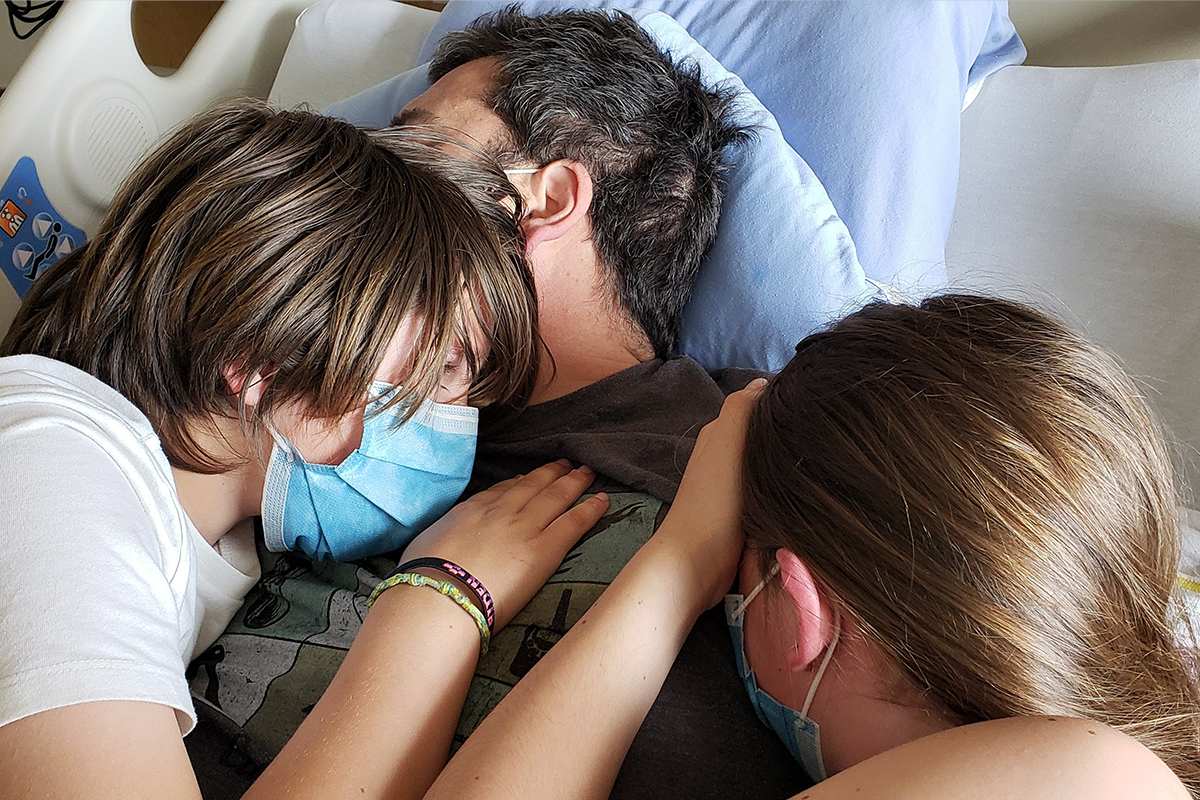 Stem cell donations are essential to the survival of many cancer patients. In the spirit of this season of giving, we invite those between the ages of 17 and 35 to join Canadian Blood Services Stem Cell Registry by requesting a donor swab kit online. You can also support patients by booking an appointment to donate blood, plasma or platelets. You can use the GiveBlood app, book at blood.ca, or call 1 888 2 DONATE.