Image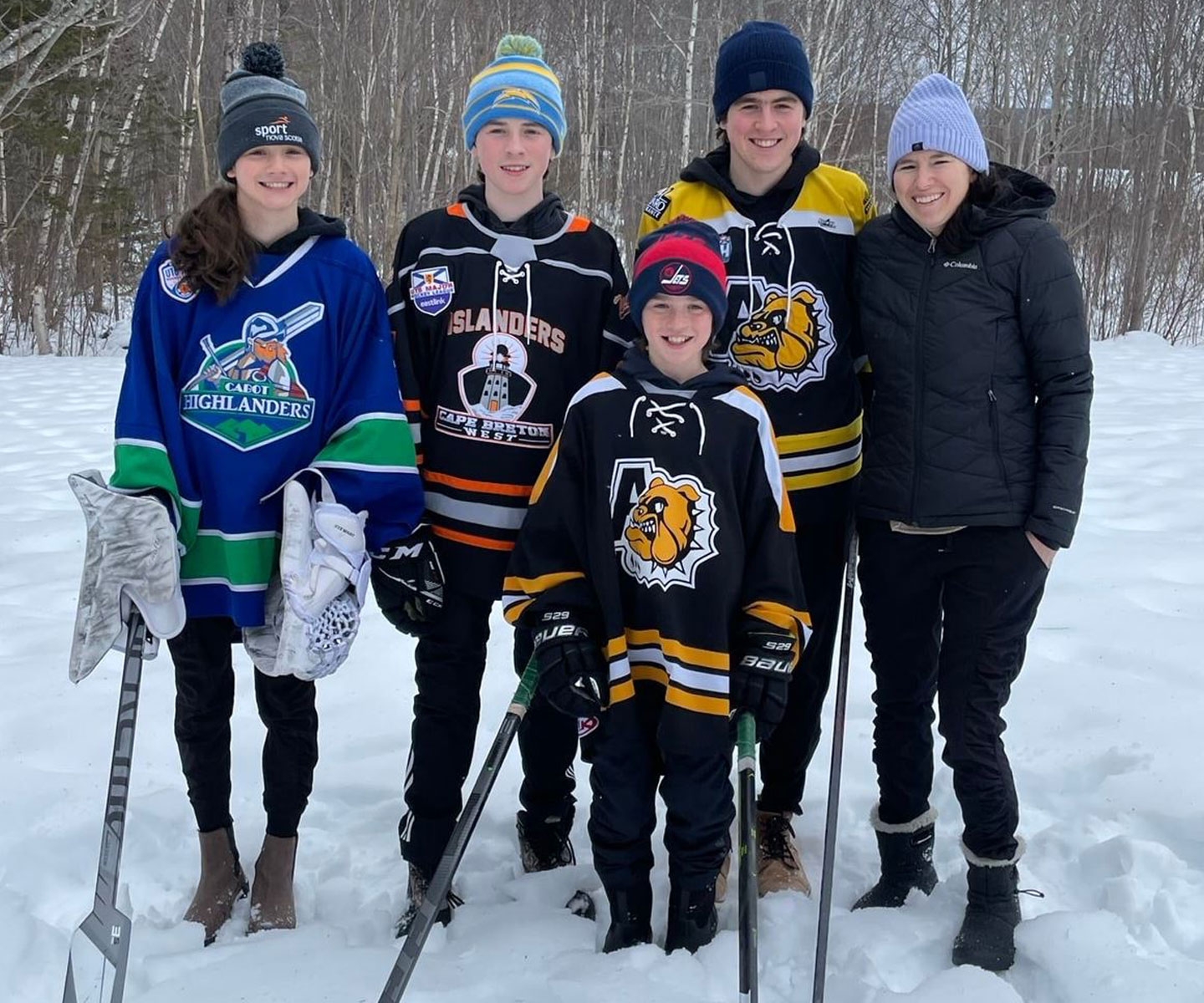 With support from Hockey Gives Blood and others, hockey mom Gail Stewart and her family have rallied sports teams to help patients
Before you read the story of Gail and her resilient family ...
Did you know financial donations also support patients like Gail in need of blood, platelets and stem cells? During this season of giving, your financial gifts will be put to work immediately to raise awareness and recruit blood, plasma and potential stem cell donors, because we vitally need more of them to support patients like Gail. 
Click here to give financially in support of patients touched by blood products 
Hockey is the heartbeat of Gail Stewart's home. With her husband Dave a coach, and their four kids playing competitively, carpools, puck drops and the whistle of the referee are all part of the rhythm of everyday life.
But in early 2022, devastating news broke that rhythm. Gail — seen in the photo above with her four children — was diagnosed with acute myelogenous leukemia, a cancer of the blood and bone marrow. The family's focus immediately shifted to her health, including her need for a stem cell transplant.
Stem cells, specifically blood stem cells, are immature cells that can develop into any cell present in the bloodstream. Stem cell transplants can treat more than 80 diseases and disorders. And like Gail, most patients will not find a matching donor in their own family. Instead, they'll turn to Canadian Blood Services Stem Cell Registry, which recruits volunteer donors and facilitates lifesaving matches.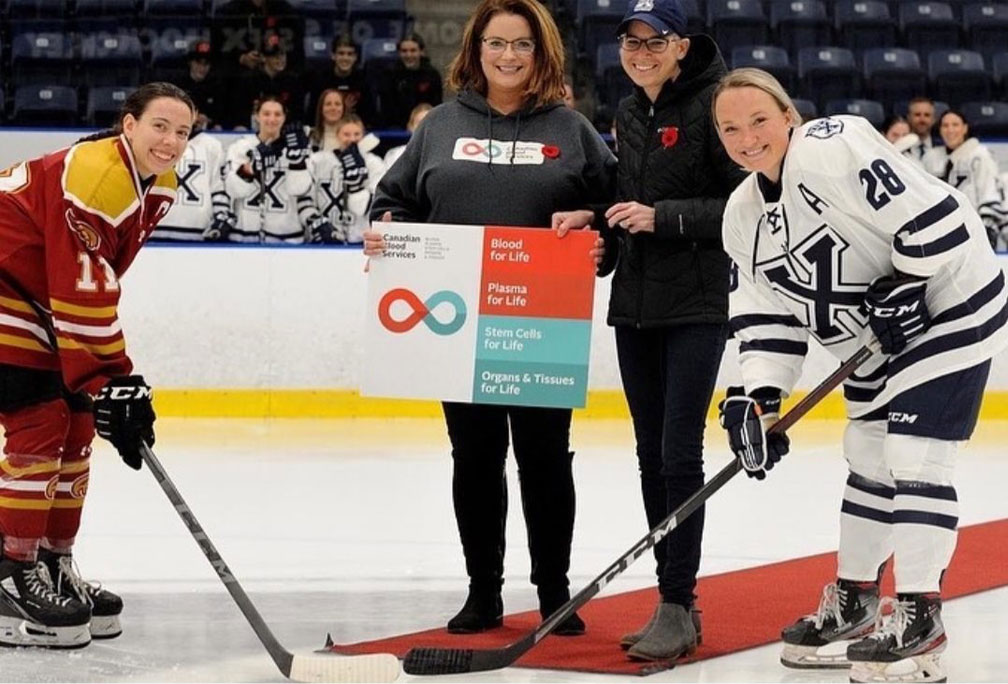 Search for a stem cell donor inspires hockey community to act 
Gail is so thankful for the donor the registry identified for her.
"The reality was none of my siblings were a match. Someone who doesn't know me saved my life," says Gail. "I don't think people realize the impact of what they're doing just by signing up for the registry — how much hope they're giving people."
She's also grateful for the support of the hockey community during her treatment and wait for a transplant. Not only did the sport keep the family grounded through an uncertain time, but players all over the Maritimes rallied their teammates to join the stem cell registry in Gail's honour.

In fact, Gail's story inspired 2,000 young people to sign up. At any time, any one of them could be matched to another patient in need of a stem cell transplant. And after her own transplant, Gail is hoping to inspire more. Along with the hockey community, the family is encouraging everyone between the ages of 17 and 35 to join the stem cell registry as part of the #BeAHero campaign.
#BeAHero is an annual initiative by Canadian Blood Services and Hockey Gives Blood, one of our national Partners for Life groups. The initiative has a particular focus on recruiting young people to the stem cell registry, as studies show there can be fewer post-transplant complications with stem cells from younger donors.
This year, Hockey Gives Blood player ambassadors including Connor Bedard, Ethan Del Mastro and Logan Stankoven, along with teams across Canada, are inviting people between the ages of 17 and 35 to register online to be a potential stem cell donor. Registrants receive a buccal swab kit by mail, which they use to collect a sample of cells easily and painlessly from the inside of the mouth (cheek). The sample will be analyzed for DNA markers used to match donors to patients. Returning the completed kit by mail could be the first step in saving a life.
From grassroots teams to national sports leaders, everyone can #BeAHero
It was Gail's husband Dave who first encouraged teams in the Maritimes to join the stem cell registry during Gail's illness. He started a campaign called Join Gail's Fight with help from a close family friend, Canadian Blood Services and Hockey Gives Blood. For Hockey Gives Blood, it was a natural extension of their efforts to help grow the registry through #BeAHero.
Join Gail's Fight began with one of the Stewart children's Under-13 hockey team challenging older hockey players to join the stem cell registry. It quickly grew into a movement of men's and women's hockey teams of all levels in the Maritimes hosting registration events. Other athletes, university students and local businesses joined the campaign, too, as word spread in person and on social media.
Knowing that the majority of patients rely on unrelated stem cell donors, and that the best hope of a match is often a person of similar ethnic background, Dave and others saw Join Gail's Fight as a way to support all those searching for a match.
"The support from our network reaffirms that our community is one of good people that want to help other people," shares Dave. "It's important that we continue building a culture in society, where joining the registry when you're eligible becomes the norm."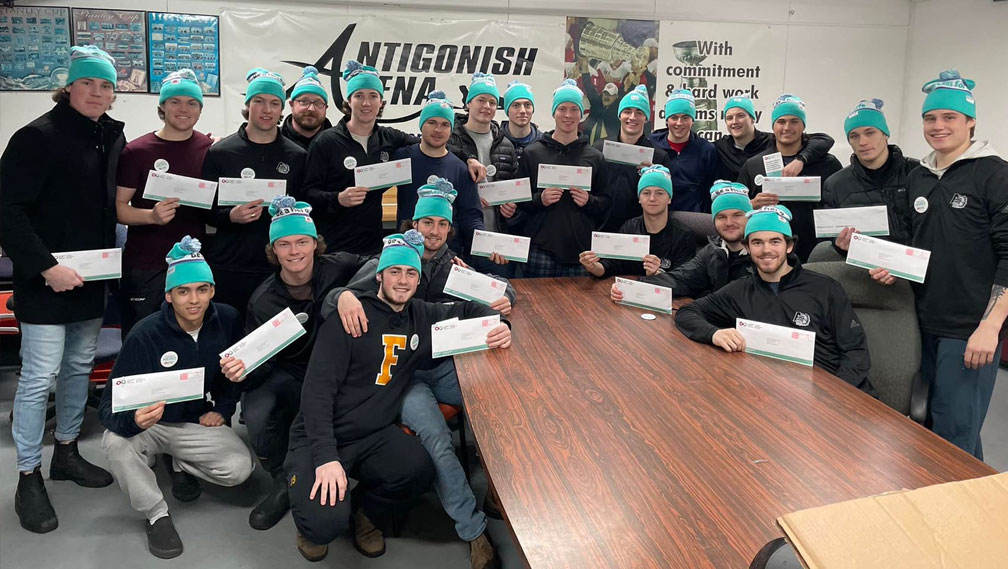 'Without blood, I wouldn't have been alive to get the stem cell transplant'
Gail's journey toward diagnosis also had a hockey connection.
It was after a game of pickup hockey with her kids on the local pond in Antigonish, N.S., that she started to notice strange symptoms like chronic swelling and low energy. A few weeks later, she was diagnosed with leukemia.
"I received a transfusion of red blood cells or platelets almost every day," says Gail. "I was tracking it at the beginning, but the transfusions were so frequent that I eventually lost count. Without blood, I wouldn't have been alive to get the stem cell transplant."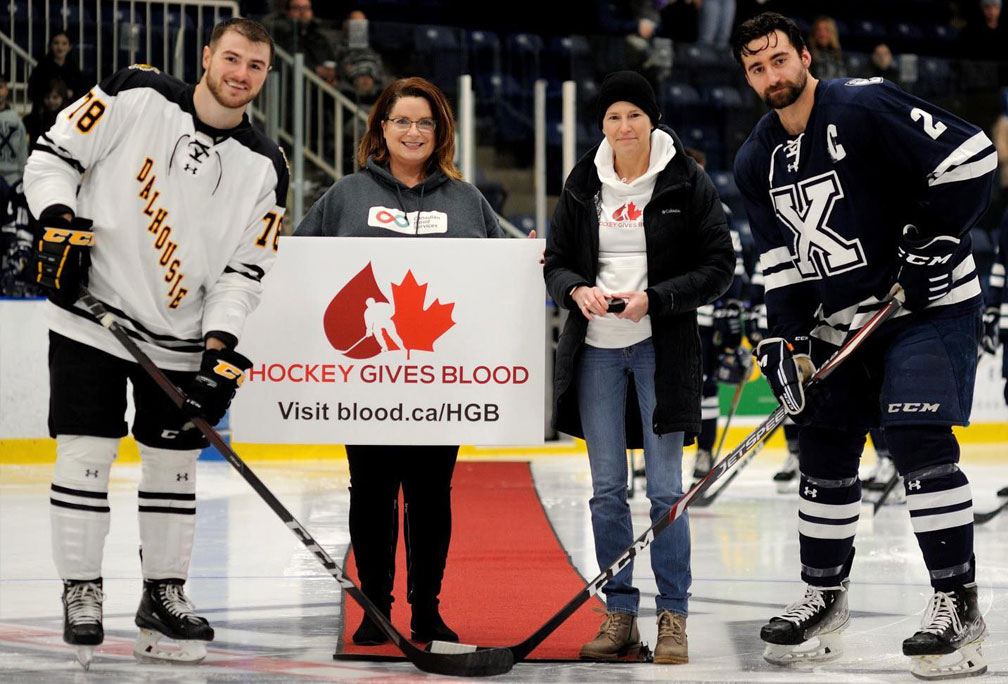 After her successful stem cell transplant, Gail is now back in the driver's seat for hockey carpools. And she's back to watching her family play the sport they all love from the stands, instead of through a phone in her hospital bed.
But while Gail, Dave and their family consider this return to routine a blessing, they're also continuing their work to build that culture of donation — for patients' sake.
"We want more people to build and grow the registry," says Gail. "So that people aren't sitting and waiting to find their match. So there are more options and hope for them."