Blood donation a family affair for father-daughter duo
Greg Dobbin made his 61st blood donation while his daughter Hilary, who was newly eligible to donate, made her first
August 18, 2021
Like many blood donors, Greg Dobbin of Charlottetown, P.E.I. was first motivated to donate blood by some chance events ― including a family member's close call.
"One of my brothers was in a serious car accident when he was 16 and required several units of blood," recalls Greg.
That experience primed Greg to say "yes" in the early 1990s when a friend invited him to tag along for a blood donation appointment. At the time, Charlottetown did not yet have a permanent donor centre, so people in the city would donate blood at a mobile clinic that travelled periodically from Halifax, N.S. Greg's friend enticed him with the news that staff gave donors raisin bread as a snack afterward.
Today, donating blood is a family affair for the Dobbins. Greg recently made his 61st blood donation. And as for his brother, not only did he survive that car crash because of blood donors, he went on to become a donor himself. 
"Interestingly, he is just one donation behind me!" says Greg.
Greg's daughter Hilary is the latest to join this family tradition. In July, as her dad made his 61st donation, she made her first.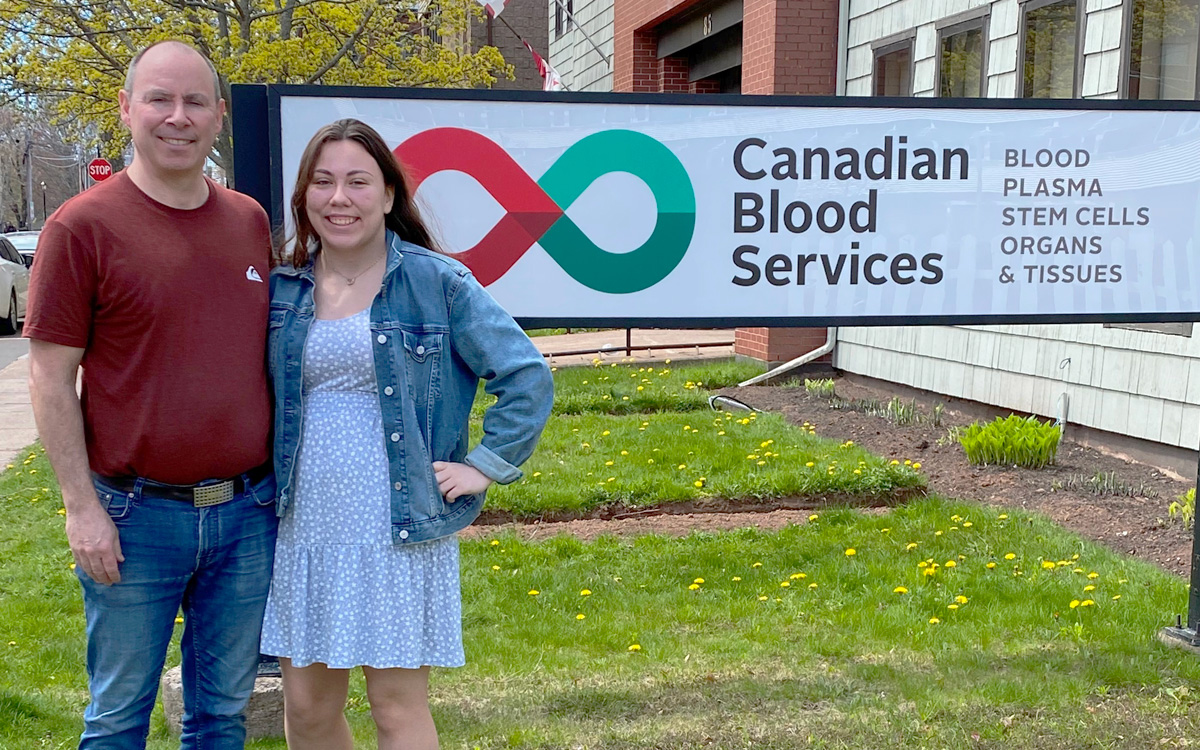 Greg and Hilary Dobbin donate blood at Canadian Blood Services' donor centre in Charlottetown, P.E.I.
First-time donor 'felt very welcomed' donating blood
"I wanted to be a blood donor because I saw how proud it made Dad, and I wanted to help someone and feel like that too," says Hilary, 17. "My first experience was good. Everyone was so nice to me, and I felt very welcomed."
As thanks for his brother's health, teen donates blood for the first time
While she had first expressed interest in donating at age 15, only teens 17 and older are eligible to donate blood. So Hilary's first blood donation was closely followed by another milestone that's important to many teens.
"I had a driving test the next day," says Hilary. "I told the tester about my giving blood, and he said thank you, because he had gotten double bypass surgery a year ago and needed lots of blood."
Am I eligible to donate blood?
Blood donation helps patients every day
Every day, patients across Canada require blood products of all kinds. While Greg is a regular donor of whole blood, he has also donated plasma many times. His commitment is professional as well as personal.
"I am a laboratory technologist working in a hospital setting, and as such, my education and my profession both make me acutely aware of the importance of a reliable blood supply for our patients," he says.
"Moreover, I feel like it is my civic duty. I believe that a community only flourishes when its citizens are willing to give something back. That can take the form of volunteering, helping a neighbor, serving on a volunteer board or making blood donations."
Donors are essential to meeting the needs of patients in Canada. To book an appointment with Canadian Blood Services, download the GiveBlood app, call 1 888 2 DONATE (1-888-236-6283) or book now at blood.ca.