Two stem cell transplants from one donor saved his life twice
Scott Monds is so thankful for Danielle Bean's gifts before and during COVID-19
October 8, 2020
Scott Monds has had two stem cell transplants from the same donor (Photo: Josh Carey)
A young truck driver from Dundas, Ont. has an unbreakable bond with a woman from California who has now helped him beat cancer twice.

Scott Monds, 26, was first diagnosed with acute myeloid leukemia when he was 23. He'd been experiencing extreme tiredness and chest pain, along with some unexplained wounds on his leg that didn't heal. Still, the news was a shock.

"I definitely didn't think it would be cancer at 23 years old," said Scott. "It was a lot to take in." Scott was quickly admitted to Juravinski Hospital and Cancer Centre (JHCC) in Hamilton, Ont., where he received chemotherapy. But it soon became clear that his best hope of long-term survival was a stem cell transplant.

Stem cells, specifically blood stem cells, are immature cells that can develop into any cell present in the bloodstream. They can be used to treat more than 80 blood cancers and disorders. However, for stem cells to be transplanted successfully, donor and recipient must be a close genetic match.

Sometimes, a match can be found within one's own family, but Scott is one of the 75 per cent of patients in Canada who turn to Canadian Blood Services Stem Cell Registry. The registry has access to a pool of nearly 460,000 potential donors in Canada and another 38 million on registries worldwide. Danielle Bean was one of those potential donors.
Image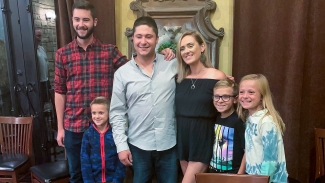 Scott Monds, centre, has received two stem cell transplants from donor Danielle Bean, third from right. They are seen here prior to the pandemic with Scott's brother Joey Monds, far left, and Danielle's three children Finley, Jeremy and Berkley.
'It was just pure emotion'
Danielle, 35, vividly remembers the day she was called to help save a life.

"My family and I were on a Disney vacation," says Danielle, who lives with her husband and their three children in southern California.

The family was just checking into their hotel room when Danielle's cell phone chimed to alert her to a new voicemail. When she pulled out the phone, she saw the already-transcribed message on the screen.

"I just started crying, and my husband and kids were like, 'What is happening? What's wrong?'" she recalls. "And I told them I was a match for somebody."

Danielle had joined a stem cell registry in the United States about two years earlier at the encouragement of a friend. That same friend had previously seen Danielle through one of the most difficult experiences of her life: the loss of her older brother Jeremy, then 16, to cancer of the brain and spine.

"Keeping my brother's memory alive was something my mom and I had both promised him, and so I just thought, 'What better way to serve that purpose than to sign up?'" says Danielle.

That day at Disney, memories of her time spent with her brother in hospital flooded back amid a powerful rush of other feelings.

"I immediately called her back and it was just pure emotion," says Danielle. "It was happiness, and I was just filled with hope ... knowing that if I could help somebody avoid that same situation, I was 100 per cent in."

When she made her first stem cell donation, the only things Danielle knew about Scott were his age, sex and diagnosis. But she describes an immediate feeling of attachment. The donation process began a few days before her birthday with a series of injections. The donation itself was the day after.

"I felt like my birthday meant that hopefully it would be somebody else's re-birth day," says Danielle. "It was just such a positive experience, and seeing how so many people come together for just one life was really just mind-blowing."
Image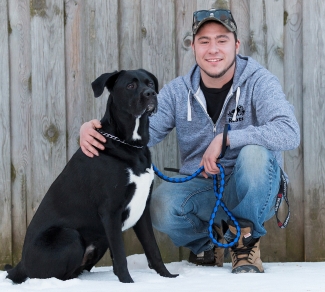 Scott Monds of Dundas, Ont., seen here with his dog Beau, has received two stem cell transplants from a donor in California.
'We just became one big family'

Not all recipients meet their stem cell donors, but many registries permit contact by mutual consent after at least one year has passed since the transplant. Scott and Danielle were eager to meet.

"He sent me an email, and I think that was probably the most emotional thing," says Danielle. "He started it by saying, 'I just want to thank you for my life.'"

Soon they were messaging and talking regularly, and getting to know each other's families as well.

"We just became one big family," says Scott.

"I really felt very close to his mom, being a mother myself," says Danielle. "And then watching what my own mother had gone through with her son. I just felt like we had this really close bond."

Scott's mother also grew close to Danielle's mother, and they came up with a plan for Scott and Danielle to meet in person. Scott's family flew to California to surprise Danielle for her birthday. When Danielle arrived at her mother's house, Scott opened the door.
Scott Monds paid a surprise visit to his donor Danielle Bean after his first stem cell transplant. She donated stem cells for him a second time in 2020.
"She was just ecstatic," recalls Scott. "She ran back out the door in tears. She loved it."

"To finalize what happened by actually being able to see him and his wonderful family, and watching our families click and become one, and to watch him with my children, and to be able to hug him, it was such a wonderful thing," says Danielle.

A devastating setback

Both families hoped Scott's stem cell transplant would be the end of his cancer journey. But last spring, Scott began experiencing bone pain, night sweats and high fevers. His leukemia was back, in the middle of the COVID-19 pandemic.

The second diagnosis "almost hit as hard as the first time," says Scott.

Danielle heard the news first from Scott's mother Diane.

"Diane and I cried together, and I told her, 'I'm here,'" says Danielle. "'Whatever you need from me, we are family now, and I'm here whenever you need me.'"

Scott's doctor confirmed that a second transplant should proceed with Danielle's stem cells. This time, however, Danielle's husband couldn't be at her side for the procedure because of COVID-19. Instead, he connected with her by Zoom, as did Scott.

"It almost felt like we were together, despite not being able to have everyone in the room at the same time," says Danielle.

On the day of Scott's stem cell transplant, the families gathered on Zoom again to support him. The transplant was the last stage of a difficult second course of therapy. Not only had Scott required more chemo, he'd also been through emergency surgery to remove his appendix during treatment. Now, with a successful transplant behind him, he's recovering well at home.
Scott Monds has had two stem cell transplants at Juravinski Hospital and Cancer Centre, one of three full-service stem cell transplant centres in Ontario. A program expansion is scheduled to be complete and open for patients in fall 2020.
"So far, so good. I feel amazing," says Scott. "I'm even hoping to go back to work in the new year."

The families are also hoping to meet in person again after the pandemic, this time in Ontario. For now, Danielle is simply grateful she could help Scott in his time of need twice, and for the deep friendship they now enjoy.

"I feel like when I donated the first time, I really had Scott's health in the forefront of my mind. And I really hoped and prayed that the cells would breathe new life into his body," says Danielle. "I felt like that would be such a blessing if that happened.

"But never did I think that it would come to what it has now ... It's just an amazing feeling that I wish everybody had the opportunity to have at least once in their lifetime."
Donated stem cells can treat more than 80 blood cancers and disorders including acute myeloid leukemia. The COVID-19 pandemic is having an impact on stem cell transplantation, and for this reason we expect transplant centres in Canada will rely more than ever on Canadian stem cell donors to provide lifesaving matches for patients. We urge healthy Canadians between 17 and 35 years of age to join Canadian Blood Services Stem Cell Registry online and order their swab kit to be delivered in the mail.