Blood donors honour incredible legacy of Bruce Phinney
Dec. 25 marks one year since the passing of 'Mr. Acadia'
December 15, 2020
A mother and daughter are encouraging people to donate blood over the holidays in honour of Bruce Phinney, their beloved husband and father who died last Christmas Day.
Bruce Phinney was a force. Before his death at age 61, he had an impressive career that spanned accounting, newspaper publishing and manufacturing. He was also fiercely dedicated to his alma mater, Acadia University in Wolfville, N.S.
"He was nick named 'Mr. Acadia,' and he bled red and blue," says Bruce's wife, Gretchen Phinney, referring to Acadia's school colours. "When he passed away, students and alumni asked what they could do. I suggested donating blood."
After being diagnosed in April 2019 with the rare bone marrow cancer myelofibrosis, Bruce required blood transfusions weekly. Gretchen counted at least 80 transfusions.
"We saw firsthand that the need for blood doesn't take a holiday," says Gretchen. "On one occasion, Bruce was waiting for blood and it was delayed. A large car accident resulted in an urgent need for blood for the victims. He did not get his blood for hours and we were worried."
In November, Bruce received a stem cell transplant as part of his treatment. Unfortunately, an infection took over and Bruce passed away on Christmas Day.
Gretchen and her daughter Evan wanted to recruit 80 blood donors in Bruce's honour to replenish the 80 units of blood he needed to help with his cancer treatment.
"I wanted to write a letter to every one of those 80 people, thanking them for giving him an extra week," says Gretchen.
They first took their message of blood donation to Bruce's funeral, and then started a Facebook page. They also worked with Canadian Blood Services to set up a Partner for Life group (#INME279132), a program that offers teams the opportunity to raise awareness, book group donations, host donation events, and/or set an annual donation pledge. 
A flurry of donors responded, including many Acadia students and alumni, friends and family, colleagues and associates. Gretchen and Evan started getting messages and photos of people donating blood. Donors came from across Canada, the United States and even South Africa. Some of the messages were from lapsed donors who were inspired to return to blood donation.

Therese Marie Underhill and daughter Kathleen at the Halifax donor centre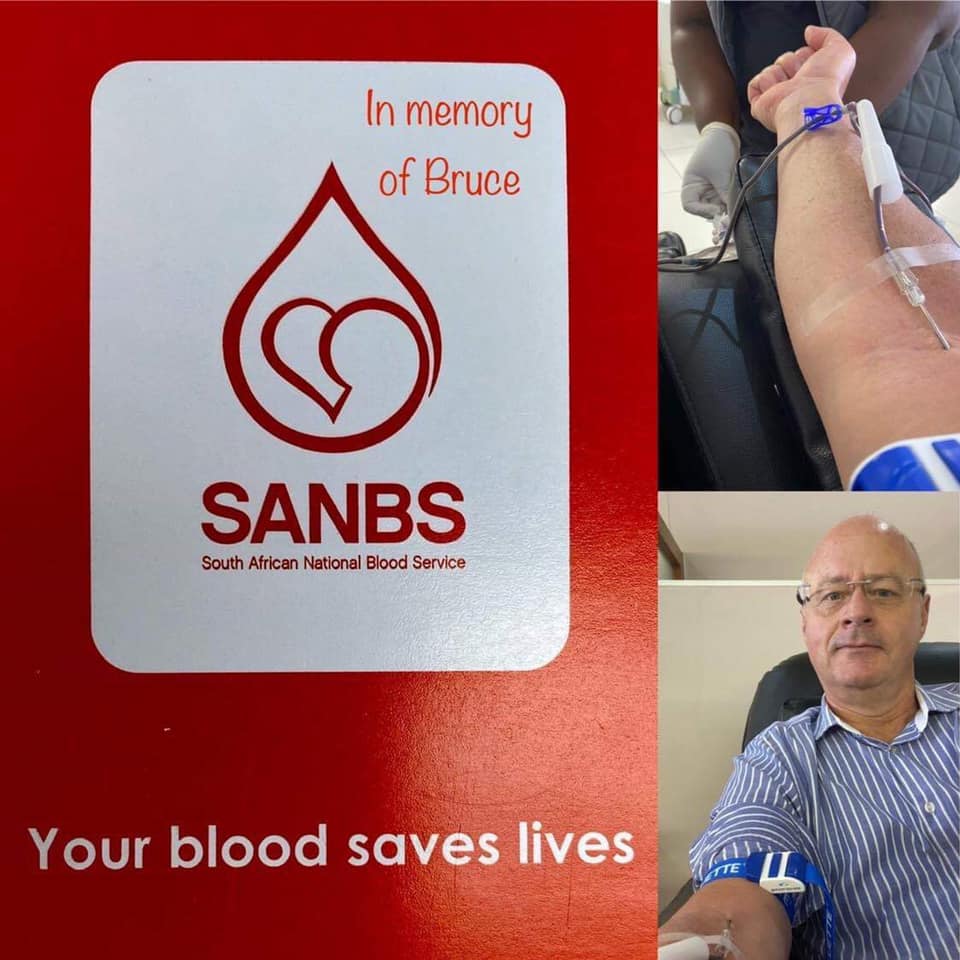 Gert de Beer donated in honour of Bruce in South Africa
The response could be attributed to the many lives Bruce's generosity touched. These donors wanted to give back to the man that brought so much to their community.
Bruce's love for Acadia University started when he was a student in Business Administration. He later became president of the Associated Alumni of Acadia and was a member of the Board of Governors. His daughter Evan followed in his footsteps, attending Acadia herself and serving alongside him on the board as a student representative.
Bruce was also a keen champion of athletes, in the broader community as well as at Acadia. He sponsored minor and Atlantic University Sport basketball events, numerous horse shows and provincial swimming programs and championships. He also assisted in the re-instatement of the Acadia Varsity Swim Team, which went on to win a men's championship title. The MVP Swimmer awards were named after Bruce.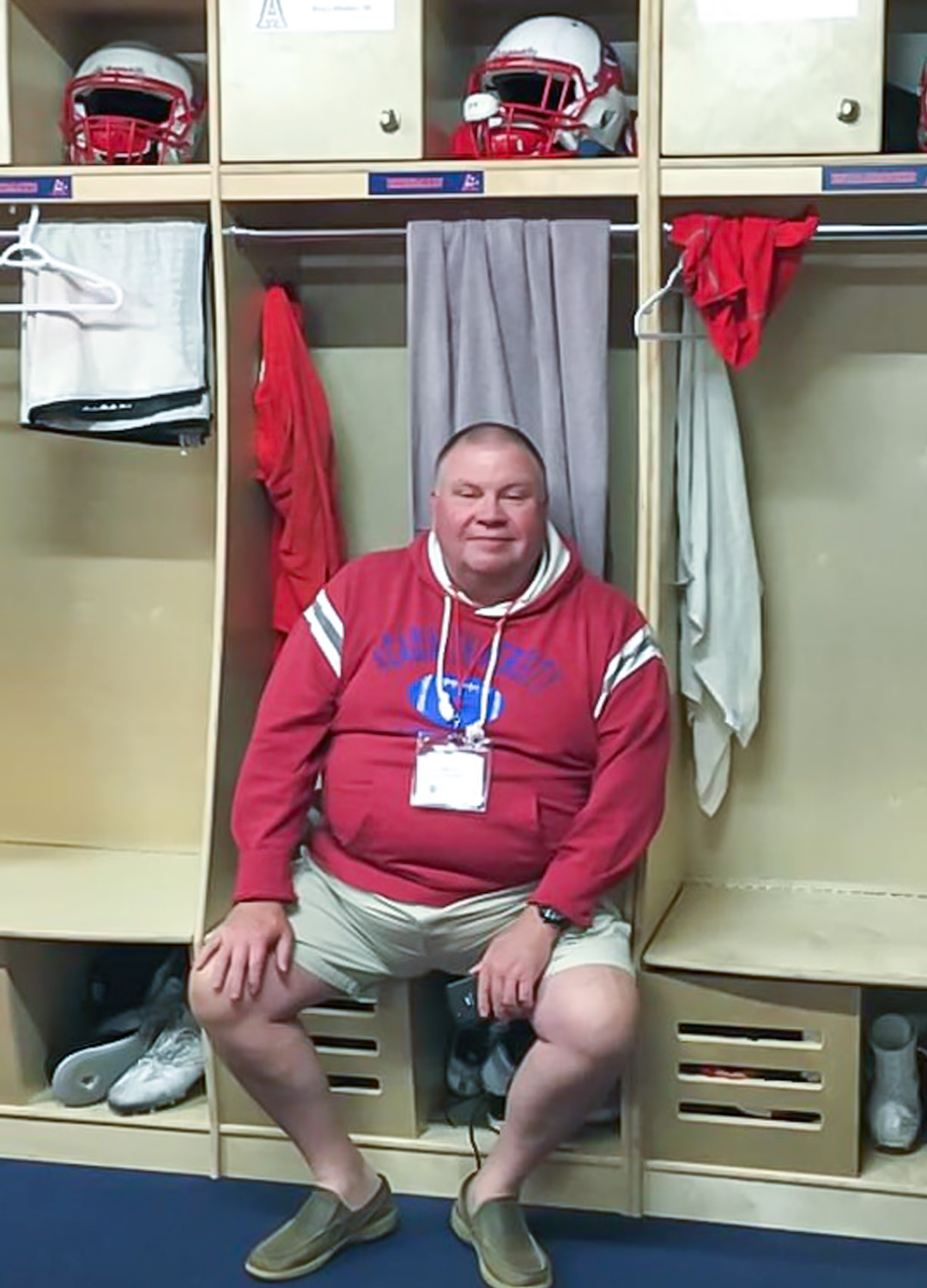 Bruce in the Acadia football locker room
"If an athlete didn't have enough money or food, he would quietly support them or invite them over to dinner," recalls Gretchen. "He even bought a house in Wolfville to rent to students. He was always thinking about ways to lift and mentor the students."
Gretchen wasn't surprised to reach the family's goal of 80 blood donations. Like Bruce, his friends and family are very competitive, so they quickly set new, higher goals. Supporters have now made 160 donations in Bruce's honour.
"The fact we have 160 units of blood donated in his name, it's so personal," says Gretchen. "A lot of people have donated money to his scholarship at Acadia as well. It's hard to describe how it feels."
The mother-daughter duo is even more motivated to recruit blood and stem cell donors in 2021. Once it's safe again, Gretchen is hoping the Acadia basketball team will plan a swabbing event to recruit potential stem cell donors to Canadian Blood Services Stem Cell Registry, and Canadian Blood Services plans to host blood donation events on the Acadia campus in Bruce's honour.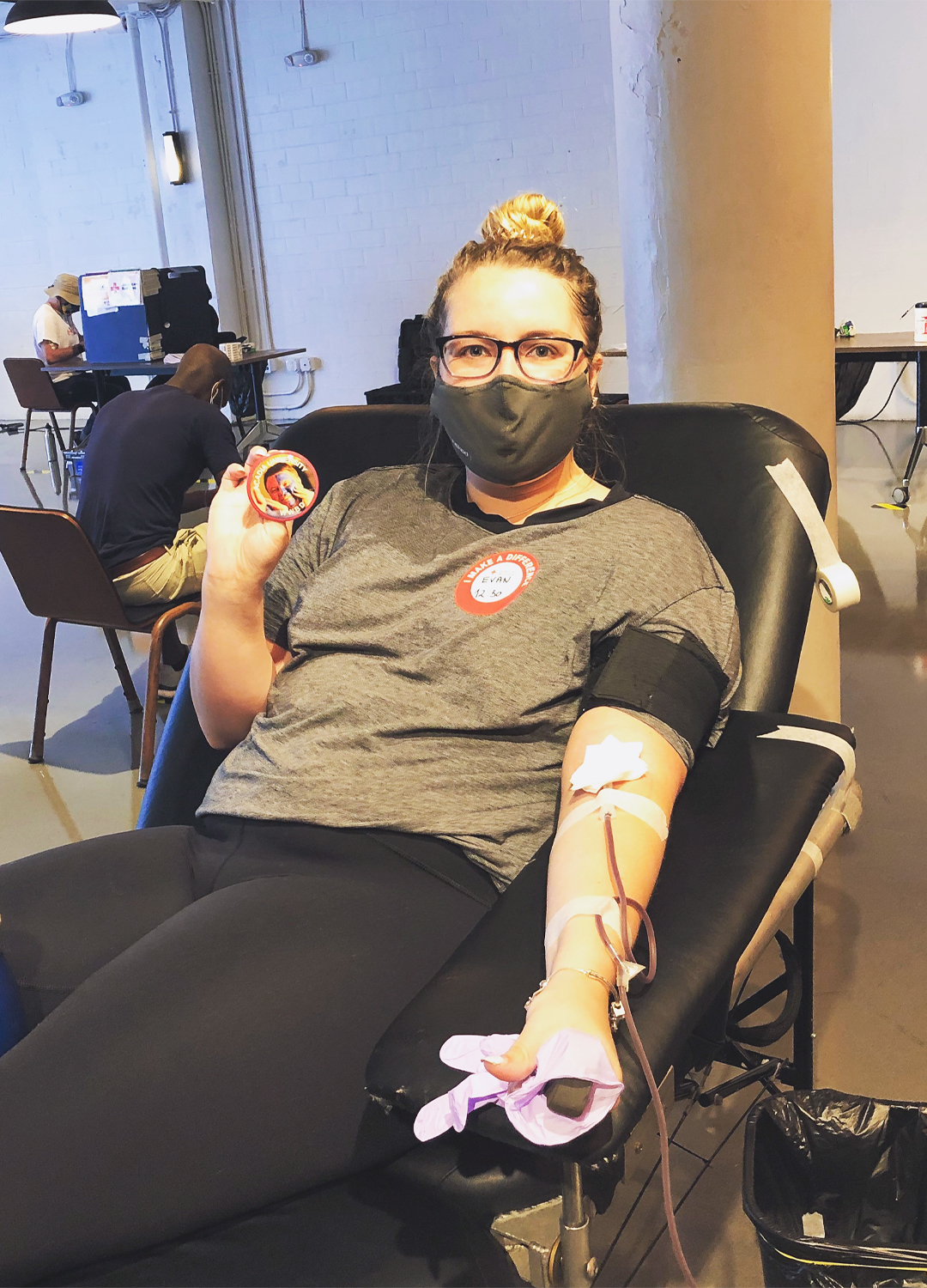 Bruce's daughter Evan donating for her father in Washington, D.C.
Because of COVID, "we are not able to properly memorialize the anniversary of Bruce's passing with groups of friends and family," says Gretchen. "Our holiday plans will include coming up with ideas to sustain the momentum of blood donor recruitment in Bruce's honour for years to come."
There are many ways to give to Canada's Lifeline this holiday season. In Bruce's memory, consider signing up as a stem cell donor, give financially to his scholarship fund or Canadian Blood Services, or donate blood in his name using the Partners for Life group In Memory of Bruce Phinney (#INME279132).