'We need to take cultural values into account'
Becky Luk, Canadian Blood Services' cord blood collections supervisor, on how diversity in leadership helps create more inclusive programs
May 6, 2021
Becky Luk is Canadian Blood Services' cord blood collections supervisor in Vancouver, B.C., and she's leading the way in making information more accessible for First Nations, Chinese and South-Asian mothers living on the west coast.
Through her connections with various community partners, she's delivered online information sessions in Cantonese and Mandarin, shared resources with mothers attending a local mosque and collaborated with the First Nations Health Authority to increase awareness around joining the stem cell registry and donating cord blood.
"Each community has inherent cultural values and beliefs, and we need to take those into account when delivering information," says Becky. "If we're going to be successful in growing and diversifying Canadian Blood Services Cord Blood Bank, then we need to reach out in the way they're comfortable receiving the information."
Born in China, Becky moved to Canada when she was 10 years old. She says Asian Heritage Month, which is celebrated each May, is an opportunity to look at new ways of reaching communities and removing barriers that exist for people in accessing credible information about donating blood products.
"For example, WeChat is the social media of choice for the Chinese community. There was a family that needed to find a stem cell donor. They posted on WeChat and inspired more than a thousand people to register. That's a success story," she says.
Read more: How Canada's Chinese community is helping patients find stem cell matches
Becky joined Canadian Blood Services more than 25 years ago, working as a nurse in a blood donation centre. Her leadership has been instrumental in creating and launching a successful cord blood collection program and in building relationships among community supporters.
"For me, it's about connection; working with families and volunteers and people in the community and empowering them to help us help patients," she says. "They are a critical part of the solution. We can't do what we do without them."
Last year, despite the challenges introduced by COVID-19, the Vancouver cord blood collection program nearly doubled its target, collecting 110 bankable cord blood units and more than 570 cord blood units overall. "It was the best year results-wise for us," she says. "We achieved the highest number of bankable units and set a new record way beyond what we were expecting."
Bankable units — units that are stored in Canadian Blood Services Cord Blood Bank and made available to any patient in need of a stem cell transplant — require enough volume and stem cells to be used for a stem cell transplant. When those conditions can't be met, and only with the mother's consent, the unbankable unit is distributed to one of several approved research projects in Canada.
Watch: How cord blood donation works
Every year, hundreds of Canadian patients require a lifesaving stem cell transplant to treat more than 80 blood diseases and disorders, including cancers. Three quarters of these patients will not find a match within their own family. To survive, they'll turn instead to Canadian Blood Services Stem Cell Registry.
The best stem cell transplant outcomes happen when a patient's human leukocyte antigen (HLA) and the HLA of a donor are a close genetic match.
Finding a match for patients with Asian, South Asian, Indigenous, Hispanic, Black Canadian, and mixed-race backgrounds can be especially challenging — only 33 per cent of prospective donors in the stem cell registry are from these groups.
But stem cells taken from donated cord blood "have a lot more leniency," says Becky. "We don't need a 100 per cent match to help the patient get the transplant they need."
Learn more about donating cord blood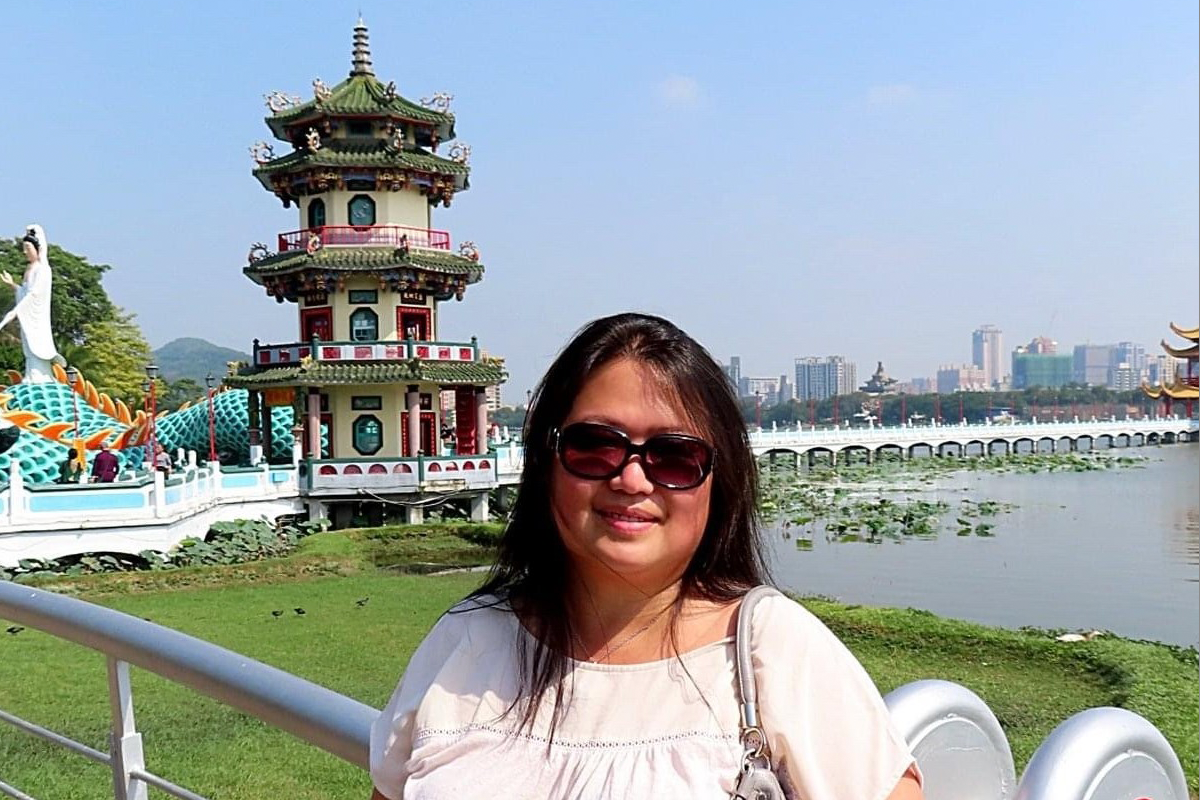 Becky, pictured here in Taiwan, brings a wealth of experience to her role as a cord blood collections supervisor in Vancouver, B.C.
Becky is a committed brand ambassador for Canadian Blood Services, leading with empathy and skill. She gives much of the credit to her team of cord blood collection specialists for their work in nurturing a safe, ethical and inclusive service.
"We draw on each other's connections and strengths. Everybody brings a different experience and that just enriches the whole team," she says.
Canadian Blood Services' efforts to become more diverse, equitable and inclusive are intended to make the organization stronger for those it serves, as well as for those working within. It's an area Becky has seen grow, particularly over the last few years.
Two new employee resource groups were launched last year, one for those who are Black, Indigenous, and People of Colour (BIPOC), and another for employees with disabilities. These join an existing LGBTQ+ employee resource group and the Women's Senior Leadership Network. The groups provide employees with a formal structure to support their unique needs and nurture their communities within the workplace.
"Diversity is always good because we need to see different perspectives, we need to have people who will bring their own experiences to the table," says Becky. "At the end of the day, we all have the same common goal — to be there when patients need us."
Asian Heritage Month is an important time to reflect on Asian Canadians' contributions to society, and also serves as a reminder that actions are necessary to remove barriers, develop equitable opportunities and foster inclusive spaces not only during the month of May, but year-round. Learn more about our commitment to diversity, equity and inclusion at blood.ca/DEI.