Social media influencer asks followers to join her in supporting patients
Michele Haire, who stumbled into social media stardom, is asking her followers to donate blood for patients like her sister
March 24, 2022
Today, patients across Canada need donors more than ever. You can donate blood or plasma, join the stem cell registry, register your intent to donate organs and tissues, or make a financial donation. Please give like lives depend on it — because they do.
If you asked Michele Haire what she planned to do with her time after retiring from a 30-year nursing career, she never would have said becoming a social media influencer. But after releasing some comedic videos on social media platform, TikTok, which amassed millions of views, that's exactly what happened.
Now Michele is turning to her dedicated following — more than 500,000 people — asking them to support Canada's Lifeline and donate blood.
When Michele heard Canadian Blood Services was facing challenges due to COVID-19 and there was an immediate need for new donors, she wanted to help. For Michele, supporting Canada's Lifeline is personal, as she saw firsthand how important blood donors were for her late sister, Doris.
As one of twelve children, Michele comes from a close-knit family full of love, support, and good humour. Her family has suffered some difficult losses, most recently with the death of a beloved sister, Doris.
When Doris was a child, doctors discovered she had a Wilms tumour, which is a childhood cancer in the kidneys also known as nephroblastoma. Doris required several blood transfusions during her treatment, which included surgery, radiation and chemotherapy. Witnessing Doris' health journey was one of Michele's first experiences with the health care system, where she would eventually have a long and successful nursing career.

Michele (left) with her sisters Doris (centre) and Mary (right) while Doris was undergoing chemotherapy as a child.
Health complications continued for Doris, but family was there to help
While Doris beat childhood cancer, the lasting effects of treatment and the disease put her at risk of future health complications. In 2018, they discovered bleeding ulcers and Doris required blood transfusions again to replace the blood she had lost. She was also monitored for nodules on her liver, which formed as a result of the childhood cancer treatment, but they had always been benign.
"For years they were stable and then in September of 2019, one of the nodules had grown," says Michele. The doctors were not expecting it to be cancer, but after a biopsy, Doris was diagnosed with stage four liver cancer. Originally put on the list of thousands of Canadians waiting for an organ transplant, things changed for the worse when they discovered cancer in Doris' lungs. This discovery came just as the pandemic hit in March 2020, which is also when Michele decided to retire to help care for her sister.
"I ended up choosing to retire so that I could be available to help her at home," Michele says. "Especially with COVID, because when you're in hospital you could only have one visitor, and we're a big family, so that wasn't going to work for us."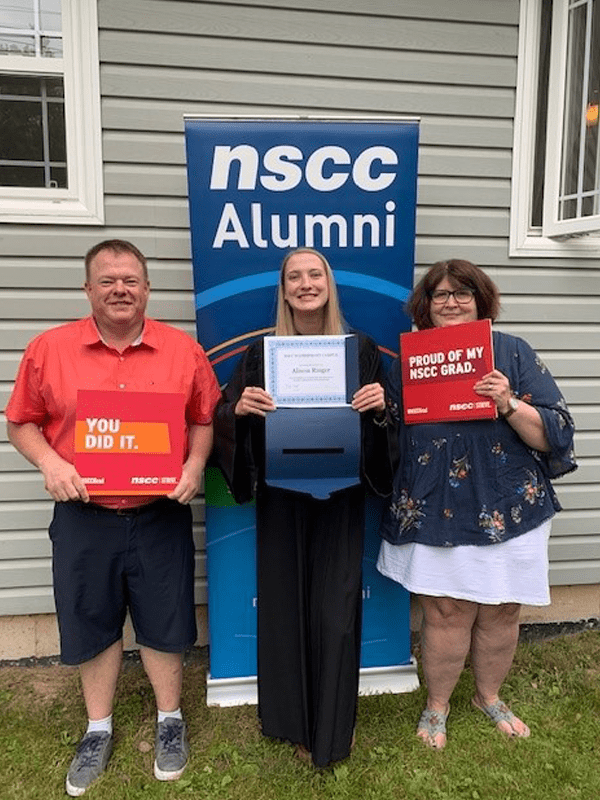 Doris and her husband Jeff celebrated their daughter Alison's college graduation at home while Doris was ill.
With the pandemic limiting what people could do, Michele was keen to find an outlet to entertain herself and Doris while she battled cancer. While retired from full-time nursing, Michele did take on a position supporting nursing students, and that's where she learned about the latest social media platform taking the world by storm, TikTok.
"I heard everybody talking about TikTok, and I love technology and I love to be current," she says. "I had a group of student nurses from Dalhousie University, so I said to them, 'OK, I'm going to teach you everything I know about nursing. You have to teach me about TikTok.'"
During her sister's cancer battle, Michele becomes a TikTok star
With the goal of making Doris laugh by sharing comical, 30-second videos, Michele shot to social media fame. Her TikTok videos, showing her listening to Top 40 music and classic rap while doing household activities, became a viral sensation
"Given my age of 56, it's unusual that I like rap music, and I've been asked my whole life, 'You like rap?!'" she says with a laugh. "As I'm singing an Eminem song, people would say 'there's no way you should know this.'"
Michele saw the humour in these situations and decided to record and share them on social media.
"How do I capture that contrast that people are seeing?" she asked herself. Her first viral video, which reached more than 30 million views, did exactly that. It showed her sitting at her kitchen table drinking tea, doing a puzzle, and singing along to Cardi B. She enlisted help from her husband Brian, and sons Kyle and Cameron for the camera work.
"Doris thought that was hilarious. She would share my TikTok videos and say, 'You've got to follow my sister. She's absolutely crazy.' And she'd laugh," recalls Michele. "That was something I could do for her. As a nurse, I'm used to fixing things and this was not something I could fix. But I could help make her laugh."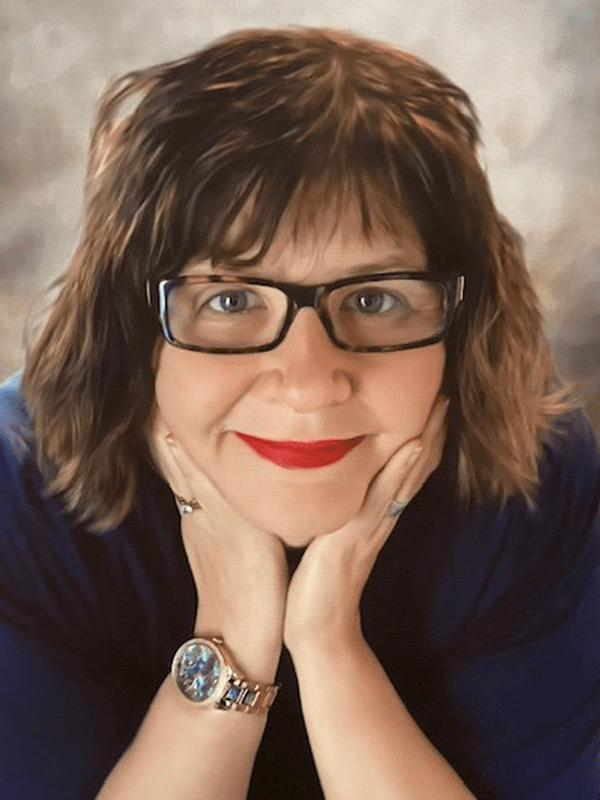 Michele's late sister, Doris, received blood products throughout her life for various medical and emergency situations.
Throughout Doris' cancer battle, Michele made many videos using the hashtag #laughsfordoris. Over several months, she gathered more than 500,000 followers on TikTok.
Sadly, on Aug. 8, 2021, Doris passed away, just shy of her 50th birthday. Michele considered ending her TikTok comedy but was encouraged by fans around the world to keep going.
"People were reaching out to me saying, 'please don't stop doing these TikToks, because we all need to laugh. I've been counting on you; I've been having a really hard time and your videos make me laugh and they help,'" shares Michele. "Then I thought, OK, well I'll keep doing it for Doris."

Michele inspires TikTok followers to #donatefordoris
While most of her content is intended to give people a chuckle, Michele also wanted her platform to inspire people to help others and become blood donors, in honour of her sister Doris.
"I've been in health care for over 30 years, so being able to help people as a nurse is very near and dear to my heart. And asking my TikTok followers to donate blood is a very positive way to put a spin on a bad situation, losing my sister," shares Michele.
In February 2022, Michele posted a TikTok video with the hashtag #donatefordoris, telling everyone she made an appointment to donate blood in honour of her sister. She also invited her followers to join her and to #donatefordoris.
Michele had donated blood many years ago, but fainted, which caused her to pause on donating for a while. That didn't stop her from trying again when she heard that more than ever before, Canadian Blood Services needs new donors to meet patient needs now and into the future.
"It was an excellent experience," she says. "I wore my Rudolph sweater that I wear in some of my videos. The staff were really good, especially because it was my first time in 30 years."
"The needle was fine, I hardly felt it! I didn't feel faint at all. When I stood up, they told me to take my time," she says. "And then we got to go to the snack area, and I have to give a thumbs up — they've got premium snacks."
What is the process to donate blood?
Michele's husband, Brian, also donated blood that day. He had been a regular blood donor for many years but hadn't made a donation in a while as life became busy.
"But we're back now," Michele says. "And we're going to stick with it. I'm really glad we went. People have reached out to say they were going to donate and that they booked appointments. So, hopefully this will get you a few more donors. Doris would absolutely love this."
Soon after Michele's video was posted on TikTok, others started making appointments with Canada's Lifeline across the country, and generated awareness by sharing on social media as well.
"If I'm going to be an influencer, I'd rather be influencing something positive," she says. "So, this is great. I have a good platform to be able to do that, and it's been an unexpected platform! Never did I expect to be viral on social media, but there are definitely some positive things about it."
Donate blood, plasma, stem cells, and register your intent to become an organ and tissue donor through Canadian Blood Services. Join us and give like lives depend on it — because they do. Book now on the GiveBlood app, call 1-888-2-DONATE, or visit blood.ca.