He was born safely in a pandemic, but his mother needed blood to survive it
Jakobe Greenidge was born 'plump and crying' before his mother suffered a life-threatening uterine inversion and blood loss 
March 12, 2021
A mother in Guelph, Ont. remains overwhelmed with gratitude for the blood donors who saved her life in the early days of lockdown.
Laine Greenidge, 33, was heavily pregnant with her second child when the pandemic turned life upside down for families across the country, including her own. Laine's husband Jerald Greenidge, 34, switched from commuting 1.5 hours each way to a job in downtown Toronto, to working from home. And with pre-school closed, their three-year-old daughter, Jaida, was suddenly home full-time as well.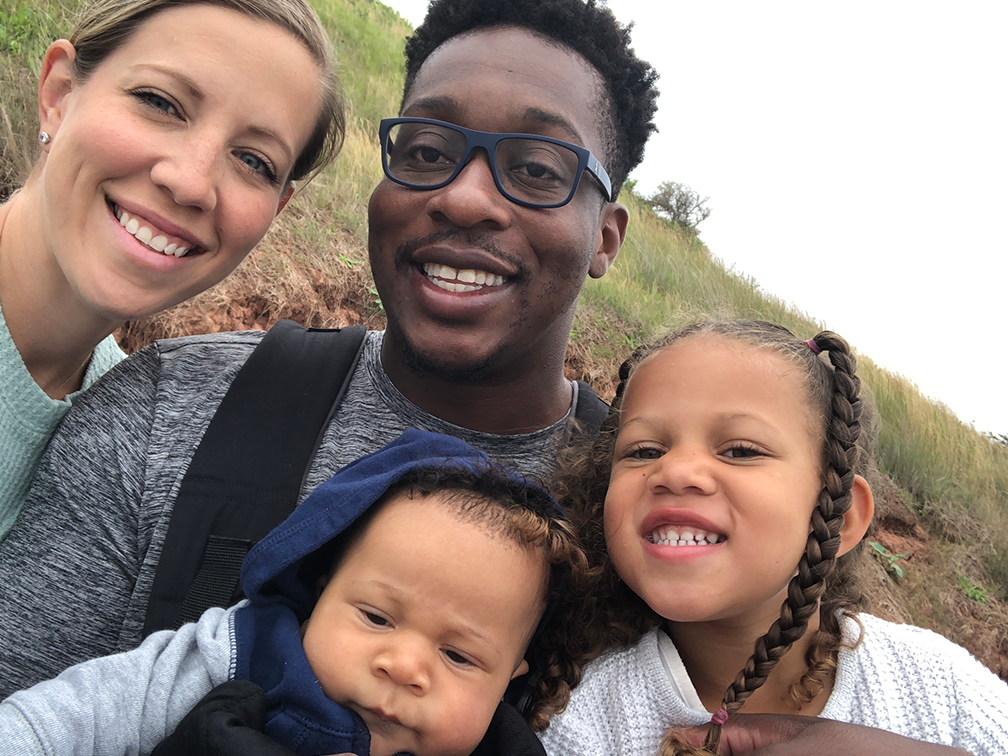 Laine and Jerald Greenidge with their children Jaida, right, and Jakobe, centre. Jakobe was born in April 2020, and Laine needed many blood transfusions after his birth because of a rare childbirth complication.
As the baby's late-April due date drew closer, the couple also faced difficult decisions about the upcoming birth. Laine had planned to deliver in hospital, but a COVID-19 outbreak at Guelph General Hospital in early April motivated the couple to try a home birth instead.
Laine was at ease, knowing that her first child's delivery had been smooth and that this pregnancy was also low risk. When she went into labour at around 7 a.m. on Apr. 29, four days after her due date, the family was well-prepared. Her parents came to pick up Jaida, and two midwives arrived to help her through the birth.
Just seven hours later the couple welcomed their son Jakobe Rowan Greenidge. At nearly 10 pounds, he entered the world 'plump and crying.'"
"There were no issues with his delivery. He came out just fine," Laine recalls. The midwives put the baby in her arms immediately.

"It was joyful, it honestly was," says Jerald. "Laine was smiling, looking at Jakobe, and everything was fine."
But just minutes later their peace was shattered when Laine delivered the placenta ― the organ that develops in the mother's uterus during pregnancy, to nourish the growing baby and remove waste products from the baby's blood. While normally routine and painless, in Laine's case it became a medical emergency.
B.C. motorcyclist survives crash thanks to donated blood
'I honestly thought we were going to lose her'

Laine experienced a uterine inversion. This rare and life-threatening complication occurs when the placenta fails to detach from the uterus and pulls the organ from the body as it exits. Painful as that sounds, Laine's first clue that anything was seriously wrong was the expression on her midwives' faces.
"They were in masks, so I could only see their eyes," recalls Laine, "but I could see the panic because they couldn't believe what they were seeing."
The midwives swung into action, calling 911 as well as the hospital to prepare them for Laine's arrival. Paramedics arrived quickly but she was losing blood fast. Before they could get her down the stairs, she passed out.
"Probably the scariest moment was when I saw them taking her lifeless body down the stairs," says Jerald. "I honestly thought we were going to lose her."
Laine remembers regaining consciousness in the driveway, followed by a painful ride in the ambulance to the hospital. Upon arrival she was wheeled straight to an operating room. The obstetrician who met her en route asked her permission to do a hysterectomy if needed.
Hours later, she woke up in intensive care, not knowing if she'd lost her uterus (fortunately, she hadn't), and also fearful of COVID-19.
"It was the scariest experience of my life," she says.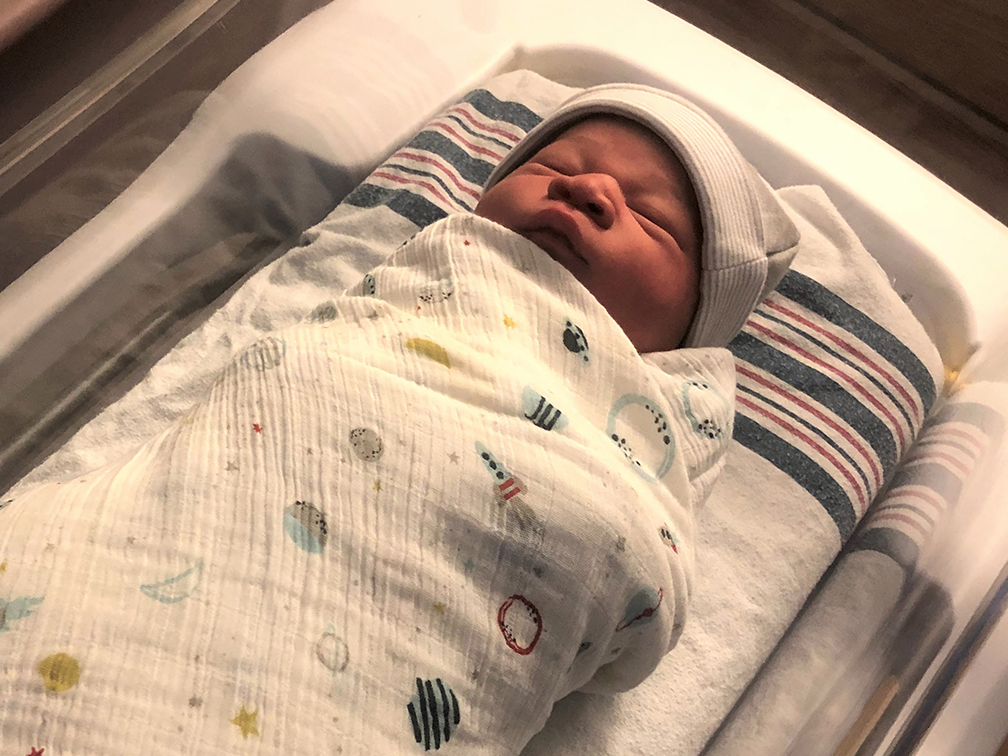 Jakobe Greenidge sleeps in hospital shortly after his birth. Jakobe was born at home, but spent his first few days in the hospital while his mother recovered there from a life-threatening childbirth complication.
'I actually lost the majority of my blood volume'
Nearly 11 months later, Laine and her family are living their story's happy ending, in large part thanks to blood donors.
After about 20 hours in intensive care, Laine was reunited with her husband and son in the hospital's birthing unit. Because of COVID-19, Jerald and Jakobe couldn't come and go from the hospital, so they remained together for a period of days while Laine recovered.
While Laine knew she'd come close to death, she didn't realize quite how close until a follow-up visit with the obstetrician six6 weeks later.
"I thought I'd had maybe a couple of blood transfusions, but she told me that I actually lost the majority of my blood volume," Laine says.
Even now, thinking about those blood donors brings her to tears.
"There's no doubt, I would not have survived [without them]."
"If I could see those blood donors today, I would just thank them from the bottom of my heart," says Jerald. "They saved my wife. I could never be more grateful or thankful."
How do I donate blood?

Am I eligible to donate blood?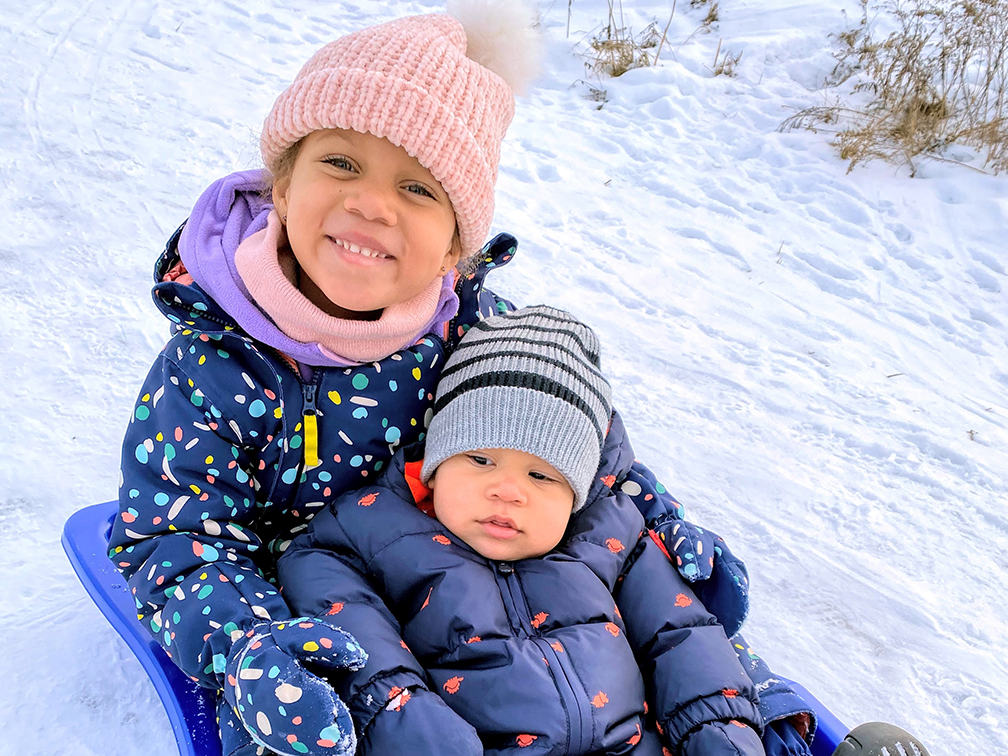 Jaida Greenidge, 4, hangs out with her little brother Jakobe in winter 2021. Jakobe was born early in the COVID-19 pandemic, and their mother needed blood transfusions to survive a life-threatening complication that followed his birth.
Paying it forward
It's entirely possible some of Laine's donors were people who responded to a call by Prime Minister Justin Trudeau in the earliest days of COVID-19. On Mar. 19, 2020 ― after a concerning surge in appointment cancellations ― he encouraged Canadians to continue donating blood through the pandemic. The flood of bookings that followed temporarily crashed Canadian Blood Services' system, but also ensured a steady supply of lifesaving products for patients at a scary time.
Gratitude was Laine's biggest motivation for sharing her family's experience on Canadian Blood Services' 'mystory' page afterward. While she can't personally thank the donors who saved her life, she wants everyone who donates blood to understand the impact. And now that she's "100 per cent" health-wise, she also plans to donate blood herself.
"My goal is to at least give back the five units that I received, and then make it a regular occurrence, for sure," she says.
As thanks for his brother's health, teen donates blood for the first time
Before receiving blood, Laine had previously donated a handful of times, knowing that her O-negative blood type could help any patient in an emergency. As for Jerald, he's now planning to donate blood for the first time ever. Laine's close call has motivated him to get past a fear of needles.
"It's sad to say that until it actually hit home, I didn't realize how truly important this is for us as a society."
Blood transfusions help patients with uterine inversion and many other conditions that result in blood loss. To book a blood donation appointment, visit blood.ca/donate or download the GiveBlood app.