Triplets mark 17th birthday by becoming first-time blood donors
Samantha, Jeanne and Veronica Cook donated blood in Barrie, Ont.
June 25, 2020
 For their seventeenth birthday, Samantha, Jeanne and Veronica Cook didn't want to receive gifts. Instead, the triplets wanted to celebrate by donating blood.
"Our dad has donated ever since we were babies," says Veronica, who donated with her sisters earlier this month. "We think it's a good thing to do because it helps people in need."
Image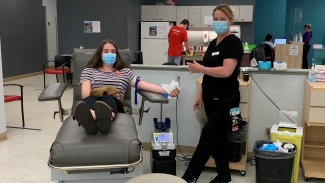 17-year-old Veronica Cook donated blood with her sisters in June. The triplets were first-time donors.
Blood donors in Canada must be at least 17 years old, so the triplets were hoping to donate on their big day, as soon as they became eligible. But they delayed for a week so the donor centre in Barrie, Ont. could accommodate all three of them at once.
As soon as their first donation was complete, they booked their second one.
Image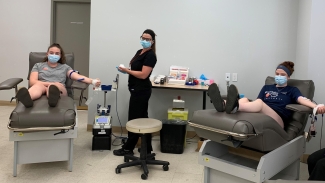 Samantha Cook, left, and her sister Jeanne Cook, right, became first-time blood donors in June along with their other sister Veronica Cook. The three sisters are triplets.
"I read a social media post from a teammate of mine who has Crohn's disease," says Samantha. "Some of her treatments are made from blood products and she encouraged everyone to donate."
"And we have a two-year old friend with leukemia," says Jeanne. "Blood from donors is important for her treatments, too."
A selfless attitude is not the only thing that sets the three Cook sisters apart. The triplets (Veronica and Samantha are identical, while Jeanne is fraternal) all have O-negative blood, making them universal donors. As the only blood type compatible with all others, O-negative blood is used in the most critical situations when there is no time to check the patient's blood type.
"In biology class this year, we learned about blood groups," says Veronica. "Only about 7% of the population has O-negative blood."
Image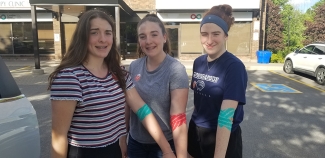 17-year old triplets Veronica Cook (left), Samantha Cook (centre) and Jeanne Cook (right) proudly show off their bandaged arms after their first-ever blood donation.
The triplets' father Ron Cook is also O-negative. He has donated more than 60 times, but had to stop temporarily after last year's family vacation in the Dominican Republic, where the risk of malaria is elevated. Now that a year has passed since the trip, he's again eligible to donate.
"We know that there's always a need for blood and that some donors are staying home because of COVID-19," says Jeanne. "By donating, maybe we'll inspire other people to come forward."
Manitoba paramedics inspire with group blood donation

Aaliyah's army: How blood donors helped one child survive during a pandemic
The Cook triplets are all dedicated athletes. Their competitive softball team has been unable to gather in person during the pandemic, so they practice on their own and log in to online team sessions. They also keep up with schoolwork online and hope that their school reopens by the time they start Grade 12 in the fall. Veronica started a part-time job at a recently re-opened hair salon.
"Life during the lockdown is pretty strange because you can't really plan much," says Samantha. "But at least we know when we'll donate blood again."