Manitoba paramedics inspire with group blood donation
Rebecca Clifton rallied colleagues on the frontline of the pandemic
June 11, 2020
During National Blood Donor Week, we celebrate and thank donors for their generosity and commitment. This year, during the COVID-19 pandemic, we need donors to fill every available appointment to meet the rising need. To book an appointment you can download the GiveBlood app, call 1 888 2 DONATE (1-888-236-6283) or book now at blood.ca.
Paramedics are at the frontline of patient care during the pandemic, but a group in Manitoba is also helping from behind the scenes by donating blood.
Regular blood donor and paramedic Rebecca Clifton organized a group donation in May, both to mark Paramedic Services Week, and to ensure patient needs were met at a time some others felt nervous about leaving home to donate.
"We were already on the front lines with COVID -19 so there was no hesitation to go out and donate blood," said Rebecca, who is also the administrative director of the Paramedic Association of Manitoba.
Image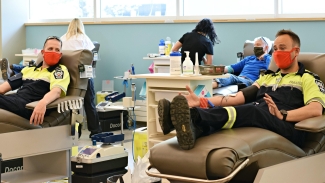 Clint Kennington and Scott Baker donated blood as part of a group donation organized by regular blood donor and paramedic Rebecca Clifton.
In the early days of planning, Rebecca worried she might not be able to fill all the scheduled slots, but in the end, 38 paramedics donated blood — including many who had never done it before.
"Tons of first-time donors participated, and I hope they become regular donors like myself," said Rebecca, who has donated blood 24 times. "Everyone at the donor centre was very professional.
"We work in the medical field, so we understand sanitary processes. The facilities are great, the chairs are comfortable, everyone is so very friendly, and despite being masked up everyone was in good spirits."
Image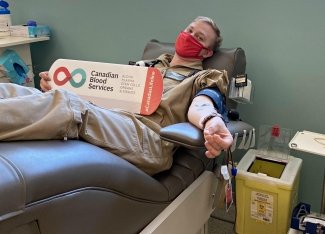 Flight paramedic Danny Kustra joined a group of nearly 40 other paramedics to donate blood in May.
The need hits close to home
The need for blood is particularly close to the Paramedic Association of Manitoba, as it has touched one of their own.
Eric Glass's commitment to paramedicine in Manitoba reaches back to 1992, when he first became involved with a community ambulance service while working full-time as an air traffic controller. He went on to a long career as a paramedic, and also served as chair of the provincial association's board, before his wife was diagnosed in 2012 with chronic lymphocytic leukemia (CLL). She has received red blood cells and platelets as part of her treatment.
"As much as I appreciated the need for blood as a donor and as a paramedic, the importance of blood really hit home with my wife's diagnosis," said Eric.
Another unexpected diagnosis
Then in 2014, Eric received his own unexpected diagnosis.
After experiencing acute shoulder pain while on a call, Eric visited an acute care injury clinic with what was determined to be shoulder dislocation. An MRI and biopsy revealed a lesion on his clavicle and led to a diagnosis of multiple myeloma, a type of blood cancer.
Image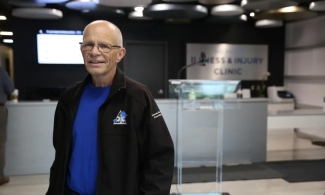 Longtime blood donor and paramedic Eric Glass learned firsthand the importance of blood for patients following two diagnoses of cancer: his wife's, and then his own.
Blood was a part of Eric's treatment as well. He received blood during surgery to remove a lesion on his back in August 2014, and again during chemotherapy later in the year. His treatment eventually included an autologous stem cell transplant — a transplant using his own stem cells —in 2015.
"I felt lucky that I could use my own stem cells and did not have to search for a donor," said Eric. "It gave me a real appreciation for stem cell donors."
Giving into the future
Despite retiring from the Paramedic Association of Manitoba after his cancer diagnosis, Eric is still actively involved and very proud of Rebecca Clifton for initiating the blood donation event in May. He hopes to see it become an annual event during Paramedic Services Week.
Canadian Blood Services territory manager Mike Choi, who worked with Rebecca to schedule the appointments for this year's event, has nothing but praise for the participants.
"During COVID-19, many people found that their lives had suddenly changed. For essential services workers like our first responders, this was not the case," said Mike.
"Despite no change in the emotional and physical demands that their line of work requires, members of the Paramedic Association of Manitoba chose to go above and beyond to support patients by rolling up their sleeves. It's an absolute pleasure to work with an organization that is so dedicated to its community."