First-time blood donor gives the same lifesaving gift she once received
Emily Hales recovered from an immune condition thanks to donors. Now she's paying it forward by donating blood herself.
December 12, 2021
Emily Hales, who previously received blood as part of her treatment for an immune disorder, made her first blood donation with her aunt, Jennifer Dixon.
Most 17-year-olds aren't actively looking to help save lives. But Emily Hales's life journey has been different from that of many teenagers. Not only does she come from a long line of dedicated blood donors, she has also received lifesaving blood products herself.
When she was 12, Emily, who is from Elora, Ont., suffered months of exhaustion and frequent nosebleeds. As an active grade seven student who enjoyed ringette, softball, soccer and hockey, she chalked it up to all the sports. Her parents brought her to the doctor, who helped treat the nosebleeds temporarily. But soon after, her symptoms took a turn for the worse. Frequent bruises began appearing on her body, along with little spots on her back, and the nosebleeds began lasting for hours.
Tests at the hospital in nearby Fergus, Ont., revealed that Emily was experiencing a health emergency. Bloodwork showed that her platelet count was life-threateningly low. She was rushed to Guelph General Hospital, where she was quickly treated with blood products and was also diagnosed with immune thrombocytopenic purpura (ITP). ITP is an immune disorder where unusually low levels of platelets lead to excessive bruising and bleeding.
"I only vaguely remember those first moments in the hospital because I was so drained. I was conscious, but falling in and out of sleep," says Emily. "After receiving the first transfusion, I felt much better physically, but my doctor said it was just the beginning of a long road of treatment."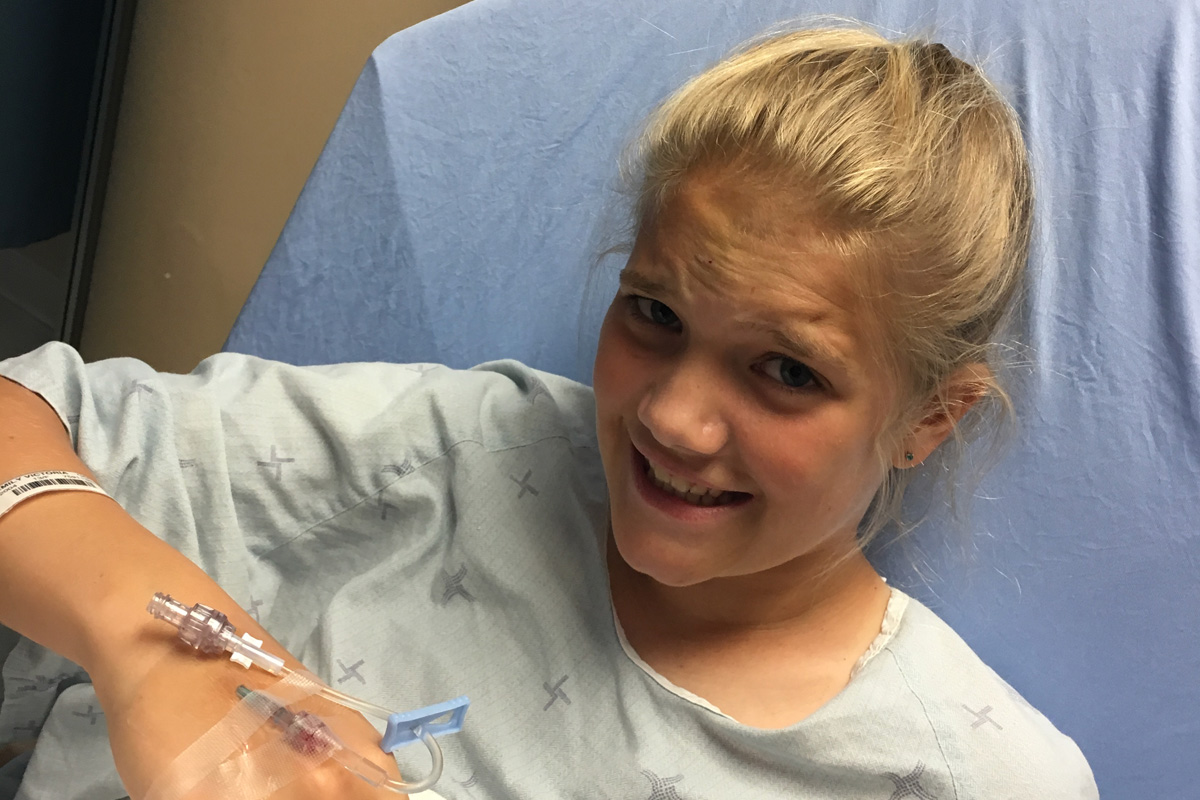 After Emily Hales was admitted to hospital with symptoms of immune thrombocytopenic purpura, transfusions of blood products helped her to regain strength.
Over the next year, Emily received 13 treatments of intravenous immunoglobulin (Ig). That's a product made from plasma, a straw-coloured component of blood which is extracted from donations of whole blood as well as donated separately through a process called plasmapheresis. After each treatment, and with the help of other medication, her condition continued to improve. In 2018, Emily received her final immunoglobulin treatment, and today, she is healthy and active.
Learn more about how plasma helps patients in Canada
How is donated plasma made into plasma protein products?
"Before needing blood products, I had never put anything into my body, so it felt odd to know that someone else's blood or plasma was saving me," says Emily. "I have many family members that give blood regularly, so it's kind of cool to know that donors like them helped me get my health back. I have a future again. I'm playing sports. And now I have a chance to help others the way I was helped."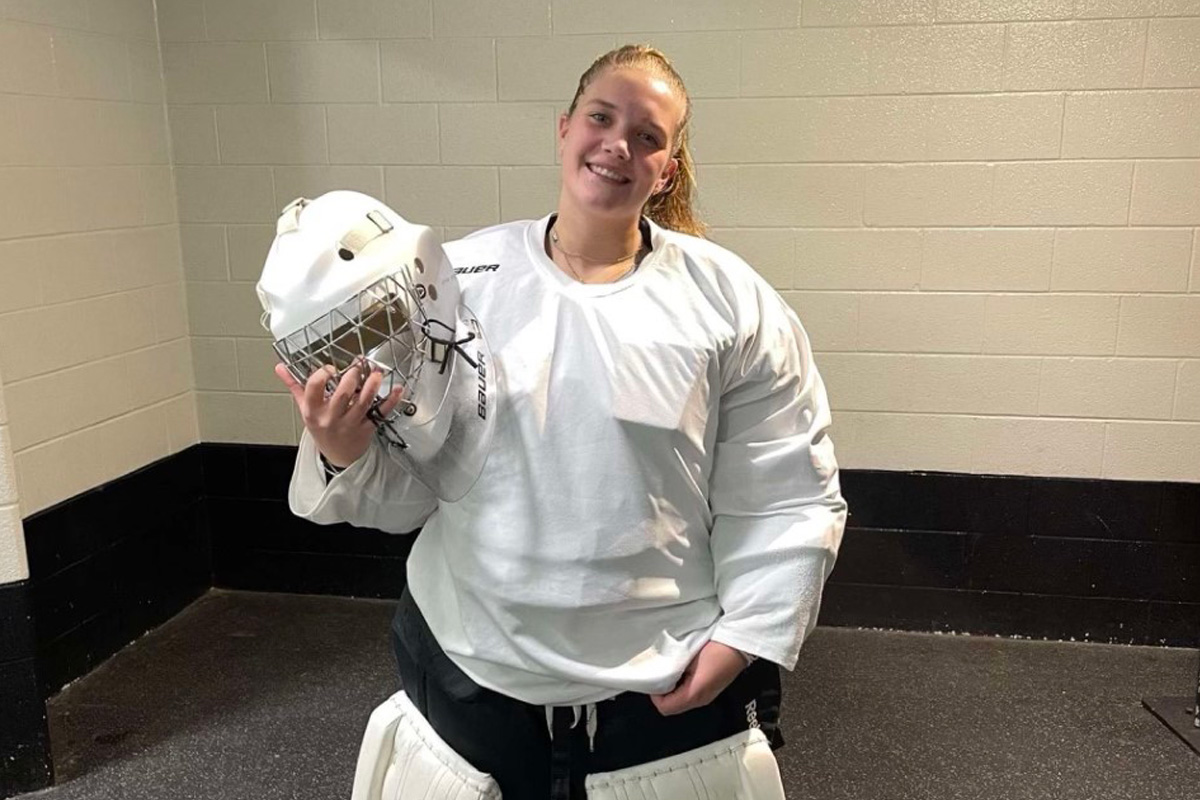 Emily is back to doing what she loves most, making saves as a ringette goalie, thanks to the lifesaving treatments made possible by generous donors.
Legacy of blood donation continues for Emily's family
Emily's grandfather served in the Royal Canadian Navy and began donating blood as a teenager. As soon as each of his own children were old enough to be eligible, he brought them to donate blood as well. So began a tradition of which Emily is now a part, inspired by both her grandfather's legacy and the donors who helped restore her own health. With the ITP resolved, and after consulting with her doctor, she was able to donate just after her 17th birthday. And she knew the perfect person to join her for this milestone ― her aunt, Jennifer Dixon, who had just surpassed 100 donations herself.
"I donate because there isn't one single reason why I shouldn't," says Jennifer. "I'm healthy, and it takes just an hour every few months, so it's always been a pretty easy choice.
"Then after seeing Emily so sick, knowing that someone in my family could have died without receiving blood, that just reinforced my commitment."
On July 22, 2021, at a donation event in Fergus, Jennifer made her 101st donation while Emily made her first. It was an emotional experience for both. Emily describes a feeling of relief while Jennifer felt pride.
"Seeing my niece come full circle, from recipient to donor, that was special," says Jennifer.
Am I eligible to donate blood?
"Now that I'm healthy, I just want to keep giving back and helping others," says Emily.
"I don't want anyone to ever feel the uncertainty my family felt when I was sick. I'm following the lead of my family members and the donors who saved my life and am now proud to be a regular blood donor."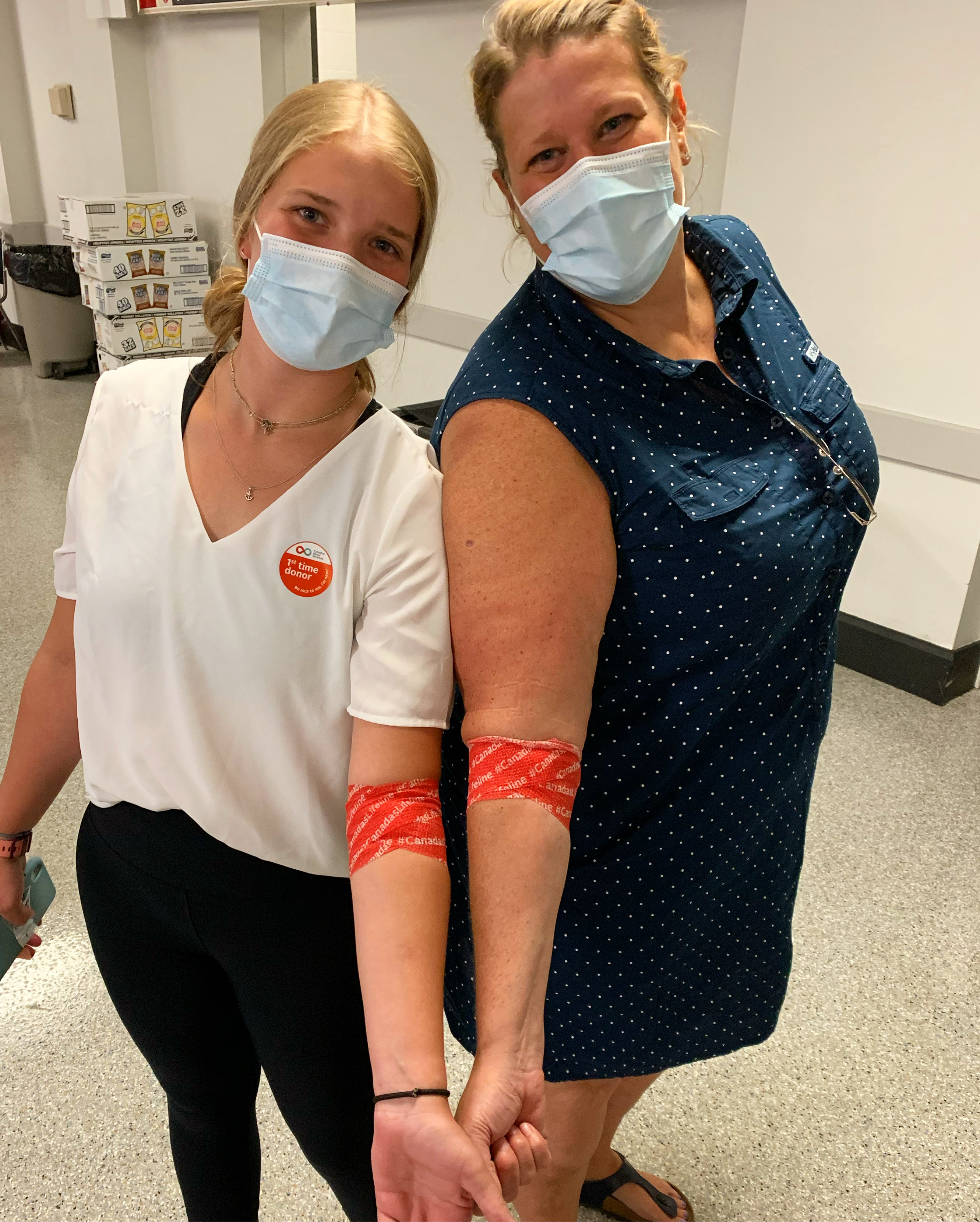 Blood, plasma and platelet donations are essential to meeting the needs of patients in Canada. To book an appointment at a Canadian Blood Services donor centre, download the GiveBlood app, call 1 888 2 DONATE (1-888-236-6283) or book now at blood.ca.