'What makes this job rewarding is knowing it saves lives'
Pedro Custodio helps keep drugs made from plasma flowing to patients
May 15, 2020
During the COVID-19 pandemic, we're bringing you stories of our employees who continue to work on the front lines. Pedro Custodio is a shipper/receiver in Brampton.
The warehouse where I work in Brampton is pretty unique at Canadian Blood Services. We store plasma protein products, which are drugs made from a component of blood called plasma. We receive shipments from fractionators, which are the manufacturers who make them. We also ship those medications to our sites across the country for patients.
'I'll try to learn anything new'
I've been at Canadian Blood Services for about 20 years, starting in transport. Back then I was in the donor centres a lot and I enjoyed that. I became a shipper/receiver when this facility opened in Brampton. When the opportunity came up with plasma protein products, I volunteered. I'll try to learn anything new.
These drugs have to be handled really carefully. We have to make sure they have been stored at the right temperature in the truck that brings them, and also make sure we store them correctly in our warehouse. That could be at room temperature, in the fridge or freezer, or even an incubator.
Image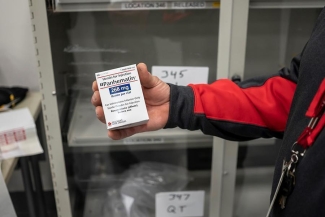 'It saves people's lives'
I know these medications are very expensive, but what's really on my mind while I'm working is how important they are for people. You don't want to damage anything. You don't want things to go out without the proper paperwork. You have to be careful to make sure that when it gets to its destination, it can be used. We have really good staff who care about doing the job properly, and that's important because everything has to be done correctly every time.
What makes this job rewarding is knowing how it contributes. That it saves people's lives. Not everyone is aware of all these drugs that are made from plasma.
When I mention it to family or friends and explain some of it, it's interesting. It feels good to talk about it. To say hey, what I'm doing matters.
Image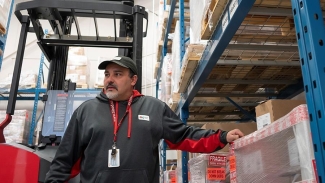 'I'm kind of missing the camaraderie'
During the pandemic I am kind of missing the camaraderie with the drivers who bring our shipments. They're friends. But for now they're staying inside their trucks when they arrive. We have them just give us the paperwork and we do the unloading ourselves, to avoid that contact.
On the home front my family is making adjustments like everyone else. Last week I'd scheduled vacation, and my wife and I were supposed to go camping in a provincial park. Of course that was cancelled, so we ended up camping in our backyard.
Image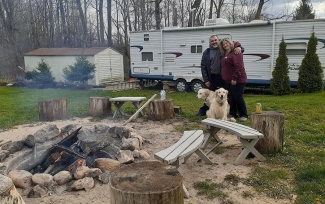 We have a big, secluded backyard with a firepit. We watched movies, played some games and sat by the fire as if we were camping. My son and daughter are 16 and 20 and they're at home, so they thought it was great to have the house to themselves. Then on Mother's Day they made breakfast and brought it down to the trailer so we could all have breakfast together. It was just a fun thing to do.