'There should be diversity, equity and inclusion in every organization'
Annette Regalado is a residential school survivor and Canadian Blood Services employee in Regina, Sask.
June 28, 2021
Annette Regalado was still reeling from the discovery of the remains of 215 Indigenous children in Kamloops, B.C., when she heard a shocking report that hit even closer to home. 751 unmarked graves had been discovered on the grounds of another former residential school, this one in Annette's own province of Saskatchewan.
"Hearing about the mass grave in Kamloops was devastating for me already and then the news from Saskatchewan came and hurt me even more deeply," says Annette, a residential school survivor who works as a donor services representative at Canadian Blood Services in Regina, Sask. "My heart broke for the families who wondered what might have happened to their children, and those discoveries brought back sad memories."
Annette's parents were members of Peepeekisis First Nation in southern Saskatchewan. It's about 100 kilometres from Cowessess First Nation, where the discovery of unmarked graves was announced June 24, 2021. As the eighth of nine children, Annette recalls helping her parents take care of their cattle and chickens on the reserve, as well as the impact of residential school system on her family.
"It was hard. My two older brothers and one sister were taken away to Birtle Indian Residential School in Manitoba," says Annette. "And they were not allowed to come home at all because their school was far from home. My parents always worried about their well-being."
Annette later attended the Lebret (Qu'Appelle) Indian Residential School in Saskatchewan, starting in 1972. "I was very young and had never been away from my mom," she remembers. "I felt very scared and alone sometimes, even though I had my younger sister with me."
While Annette finds it painful to remember those "dark times," she sees the stories as essential to healing.
"I knew schoolmates who ran away from school and never came back, and we never heard what happened to them," she says. "I ran away myself because something bad happened to me at that school and I never did go back. But those stories are of interest to my children and their children today because they are the basis of the reconciliation and justice we still seek."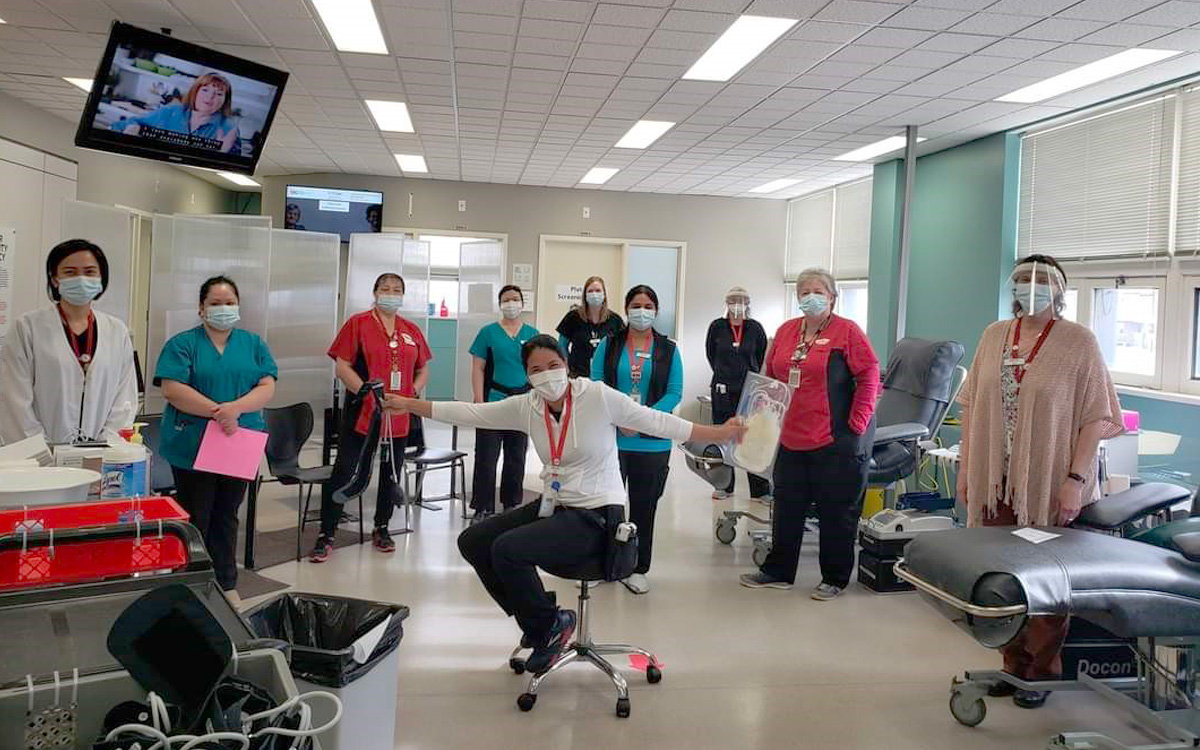 Donor services representative Annette Regalado (third from left) and her colleagues are always happy to welcome donors at Canadian Blood Services' donor centre in Regina, Sask. Annette sees members of her Indigenous community come in to donate blood regularly, and she says they're a vital part of Canada's Lifeline.
Building relationships with Indigenous peoples
Every June, we celebrate National Indigenous History Month by honouring the heritage, contributions and cultures of First Nations, Inuit, and Métis peoples in Canada. However, this year's celebration is different as our country grieves the horrific discovery of the remains of the 215 Indigenous children in Kamloops and the hundreds of unmarked graves in Saskatchewan.
Celebrating National Indigenous Peoples Day
To recognize these tragic events, Canadian Blood Services first lowered its flags to half-mast for 215 hours, one hour for each child whose remains were discovered in B.C. We have lowered them again to honour those buried in the hundreds of unmarked graves in Saskatchewan. Annette believes it's "the right thing to do," but she also sees a need for much more "concrete action" on the part of organizations and governments across Canada to advance the work of reconciliation.
Last year, Canadian Blood Services committed to creating an inclusive culture both within the organization and among donors and stakeholders. And as a follow-up to that commitment, we are developing a major initiative to build and deepen our relationships with Indigenous communities.
Annette looks forward to seeing the outcome of that project. "I believe that there should be diversity, equity and inclusion in every organization, especially those like ours that cater to all Canadians," she says. "I really hope that the work we're doing won't neglect those Indigenous peoples living in rural areas who're constantly in need of appropriate health care services."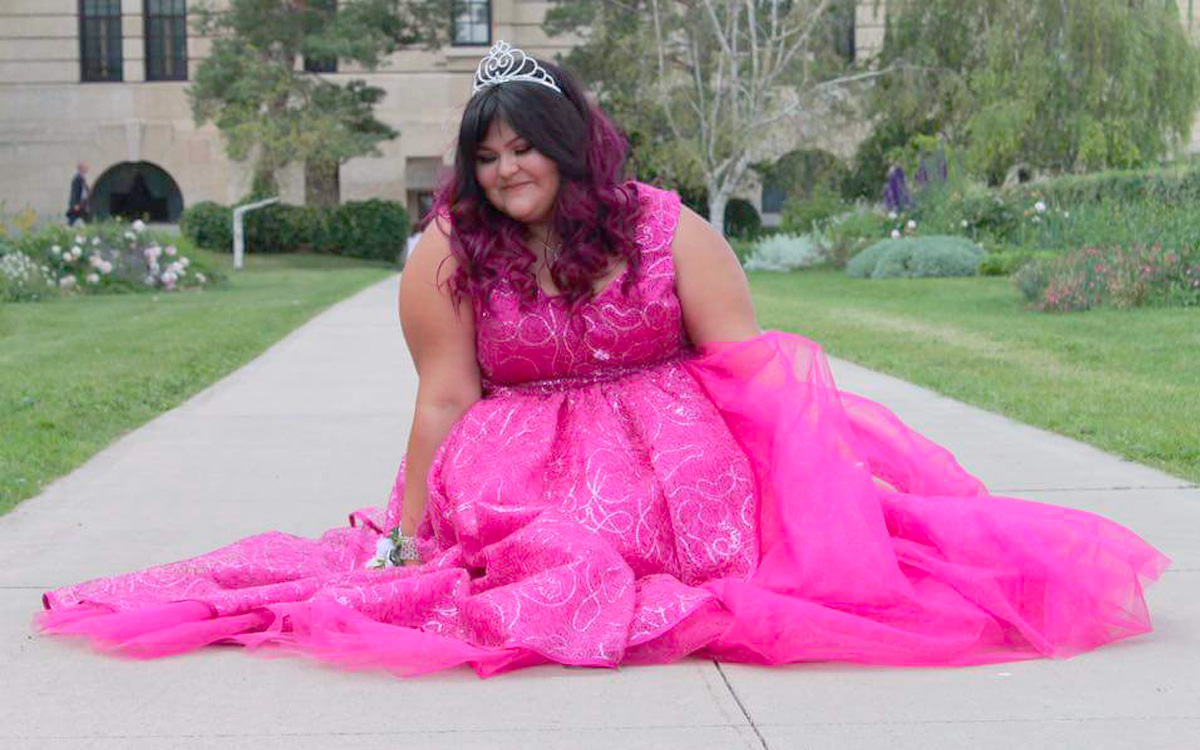 Annette Regalado was inspired to join Canadian Blood Services by her granddaughter Shanelle Johnson, seen here on her prom night in 2016. Shanelle received blood transfusions during treatment for leukemia.
Annette's own granddaughter Shanelle Johnson is among those who have relied on Canada's Lifeline. In fact, she is the reason Annette was inspired to join Canadian Blood Services herself more than 15 years ago. Shanelle was diagnosed with leukemia at age four, and blood products were an important part of her treatment.
It's another very painful memory for Annette, but this story is one with a happy ending.
"I watched her go through chemo and I couldn't hug her at that time because her skin would have bruised very easily," says Annette. "Today, Shanelle is 22 and has graduated high school. We are very thankful for the blood products she received, and it reminds me every day that what we do matters."
This National Indigenous History Month, as we learn about the lived experiences of First Nations, Inuit and Métis peoples and reflect on their contributions to society, we are mindful that actions are necessary to remove barriers, develop equitable opportunities and foster inclusive spaces. This is needed not only during the month of June, but year-round. Learn more about our commitment to diversity, equity and inclusion at blood.ca/DEI.