To this survivor of a drive-by shooting, blood donors are heroes
Brandon Peacock was on his way for a haircut when he was hit by three bullets intended for another target
August 30, 2022
The need is constant for blood, platelets, and plasma. While one in two Canadians is eligible to donate, only one in 81 does. This year, we need more than 100,000 new donors to meet demand. Book now at blood.ca or download the GiveBlood app. Together, we are Canada's Lifeline. 
On a summer evening two years ago, Brandon Peacock was on his way to the barber when his life changed in an instant.   
That June, restrictions were starting to lift after the first wave of the pandemic. A haircut was supposed to be a taste of the return to a more normal routine. But just as an employee opened the door of the Ottawa shop to greet him, gunshots rang out. 
Brandon pulled the shop employee through the door, and they dropped to the ground together in an effort to shield themselves. That's when Brandon realized he had been shot three times: once in the chest, once in his right leg close to the knee, and once in his left leg.  
Blood transfusions, including O-negative, were critical  
"I have a clear memory of this moment and knew immediately that I'd been hit," says Brandon, who learned later that the shooter's intended target had been a person sitting on a nearby bench.  
"Oddly enough, my immediate thought was of the future, and what I would do after I made it through this. Then someone handed me a phone to call my mom, because it was also possible that I might not survive."  
A police officer who happened to be nearby responded immediately. All three of Brandon's wounds were bleeding badly, but the one near his right knee was the worst. The officer compressed it with a towel to try to stop the bleeding and applied a tourniquet.   
Fortunately, an ambulance arrived quickly. The bullet in Brandon's right leg had actually hit his femoral artery, the main blood vessel supplying blood to the lower body. He was losing blood at a life-threatening rate. The paramedics continued with urgent care in the ambulance.   
"I was still fairly conscious, and even in the chaos of that moment, I was amazed at how quickly the paramedics were working to stop the bleeding," Brandon recalls. "These are things you don't even realize are possible, until they start happening to you."  
Within 25 minutes, Brandon was at the hospital receiving his first blood transfusion. Brandon's blood type is O-positive, but that first lifesaving transfusion was O-negative.  Because O-negative blood is compatible with all other blood types, it is often essential in trauma situations where there is no time to confirm the blood type of the patient. O-negative donors are truly a critical part of the first responder team. 

To get him through the immediate crisis, and the eight-hour surgery that followed, Brandon required three blood transfusions within 24 hours. On average, an adult body has about five litres of blood, and Brandon lost four during his ordeal.  
"No one ever thinks something like this can happen to them. Without a doubt, I would have died if I hadn't received blood." 

Remarkable recovery fuels desire to help others  
As Brandon recovered, doctors warned him he wasn't quite out of the woods. It was still possible his right leg would need to be amputated. But as a young, active person in his early twenties, Brandon was hopeful that a positive mindset — combined with excellent care — would see him through.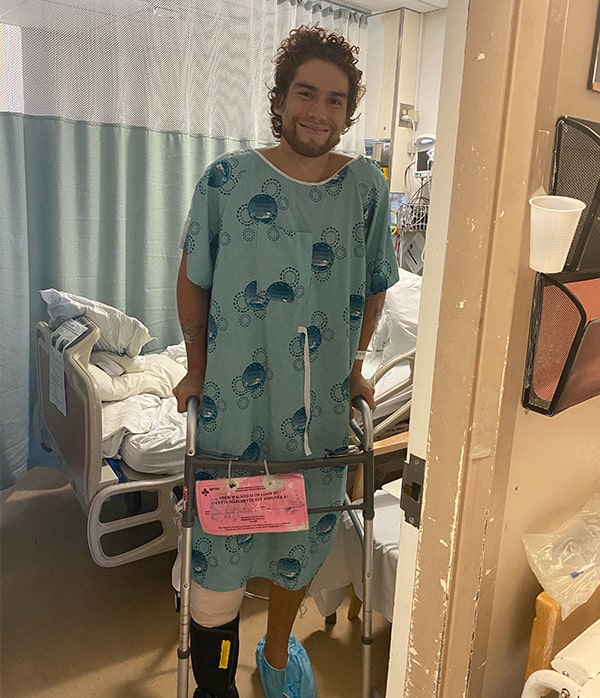 That happy ending was soon a reality. Within two weeks, Brandon was able to return to the comfort of his home to begin the next phase of healing: rehabilitation.  In fact, through perseverance, and a strong regimen to build up strength and mobility in his leg, he ran his first marathon just 14 months after the shooting. 
"I was told I might lose my leg, but instead I set a goal to run a marathon, and didn't leave any stone unturned when it came to my recovery," he says.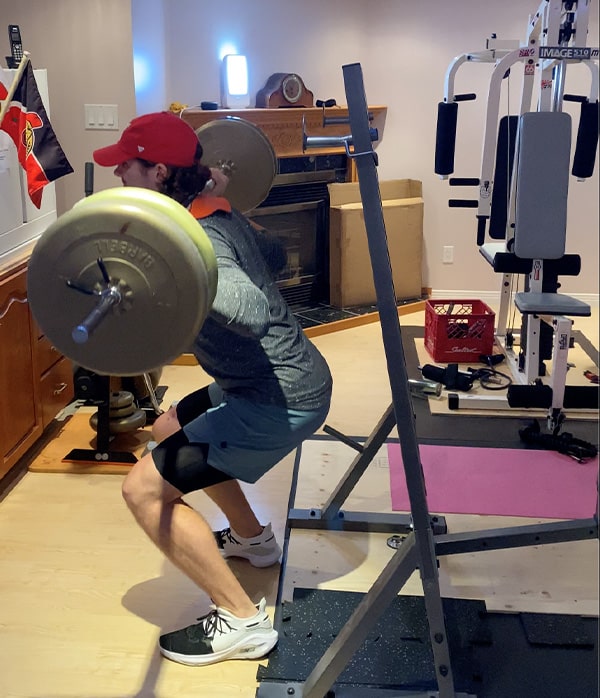 Meanwhile, Brandon also became connected to other trauma survivors, and noticed a common theme: rehabilitation and mental health resources are not always accessible or affordable. To support and guide others, he started a charity to help provide resources to trauma survivors for rehabilitation. 
Blood donors both save a life and inspire a career shift
After blood donations saved his own life, Brandon also felt a powerful connection to Canadian Blood Services. In late 2021, when he saw a job posting for a position in the area of donor recruitment, it felt like fate.   
"I knew I had the experience to take on the role," says Brandon, "but what really fuelled me to apply was my desire to create positive change, and be at the forefront of encouraging people to donate blood and save lives." 
Brandon joined Canadian Blood Services' Ottawa team in January 2022 with the title of community development manager.  Increasing awareness of the need for blood products with both the public and partner organizations is a big aspect of his day-to-day work. But what he loves most is thanking donors.  
"I go out of my way to thank blood donors and share my story with them. I'm even curious when I speak to blood donors who have the same blood type as me, or who are O-negative. I often wonder if they gave me their blood in June 2020." 
Today, Brandon's health journey has truly come full circle. He has encouraged many friends and family become donors, and will soon be able to donate himself.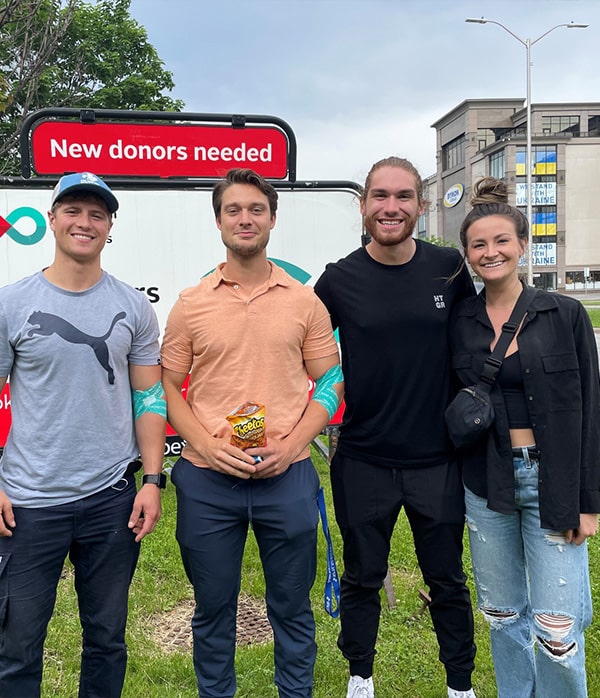 "Our tagline is Canada's Lifeline for a reason. We really do create a bond and connection between donors and recipients, even if it's something we don't realize every day," he says.  
"For me, as a recipient, I do think about it every day. I'm still here because of blood donors. My parents still have a son because of blood donors. My siblings still have a brother because of blood donors. There are no words of gratitude that can express what this means."