To honour Remembrance Day, this master corporal suggests donating blood
Greg Kitchen was inspired by his son to sign up as a blood donor and a registered organ donor
November 2, 2020
One of Greg Kitchen's proudest moments was joining the Canadian Armed Forces at the age of 18. He always knew that he wanted to become part of something big, and since then, it has been a roller coaster ride. But when he first became a father — another proud moment for him — he was inspired by his son to become a blood donor.
Greg's son, Cole, was diagnosed with Diamond-Blackfan anemia at the age of two months. Cole's condition is a rare blood disorder that affects his bone marrow's ability to produce red blood cells. Some individuals with Diamond Blackfan anemia require regular blood transfusions to stay alive.
Am I eligible to donate blood?
"I always knew that I should donate blood, but for whatever reason, I never actually got in the door until we received our son's diagnosis," says Greg. "It really hit home because I have the same blood type as my son which happens to be one of the rarer blood types and I knew that I needed to give back."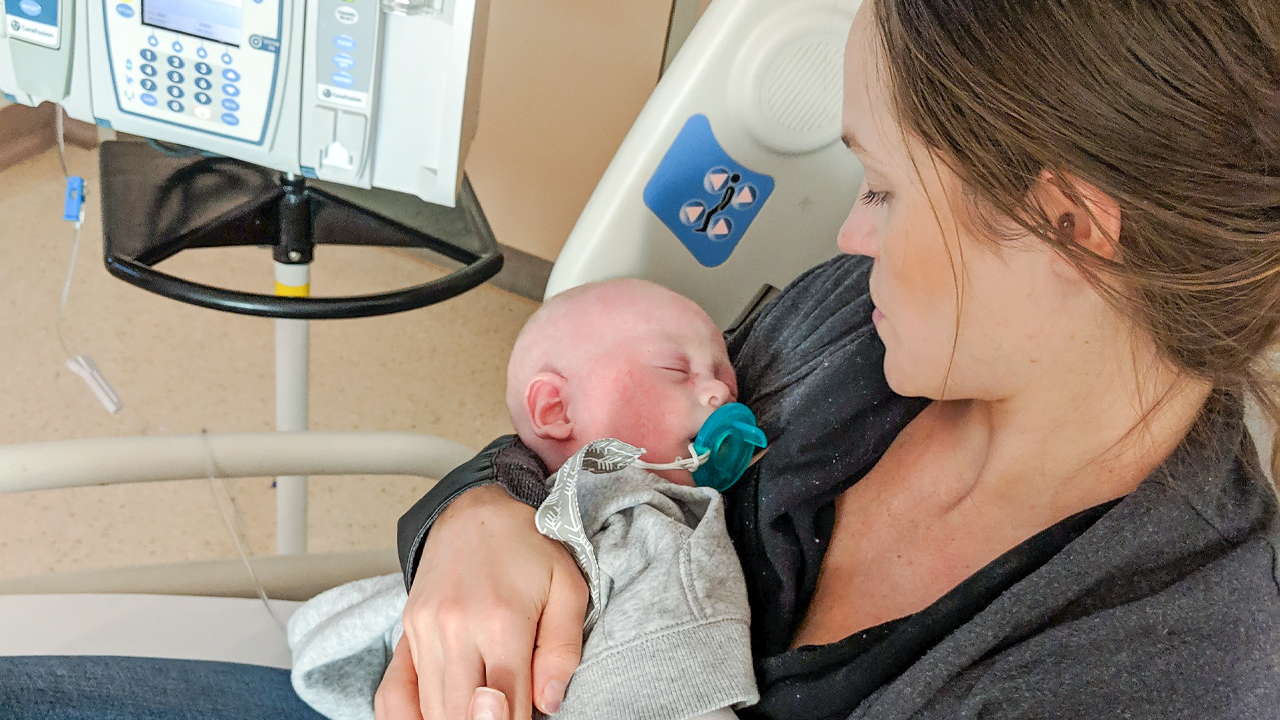 Deanna Kitchen cuddles her son, Cole, during his treatment at The Hospital for Sick Children (SickKids) in Toronto, Ont.
Greg, a father of two from North Bay, Ont. remembers what it felt like watching Cole receive his first blood transfusion. He didn't only think about the donor who might have donated that first unit, but he thought about the other donors who so frequently gave blood to help save lives like his son's. That meant so much to Greg and his family, and it moved him to also become a registered organ donor.
"Donating blood and registering as an organ donor are my ways of making sure that anyone who needs blood or organs will receive them," says Greg. "It's also my way of thanking whoever so selflessly did the same for my son, time and time again."
'I will continue to advocate for others in need'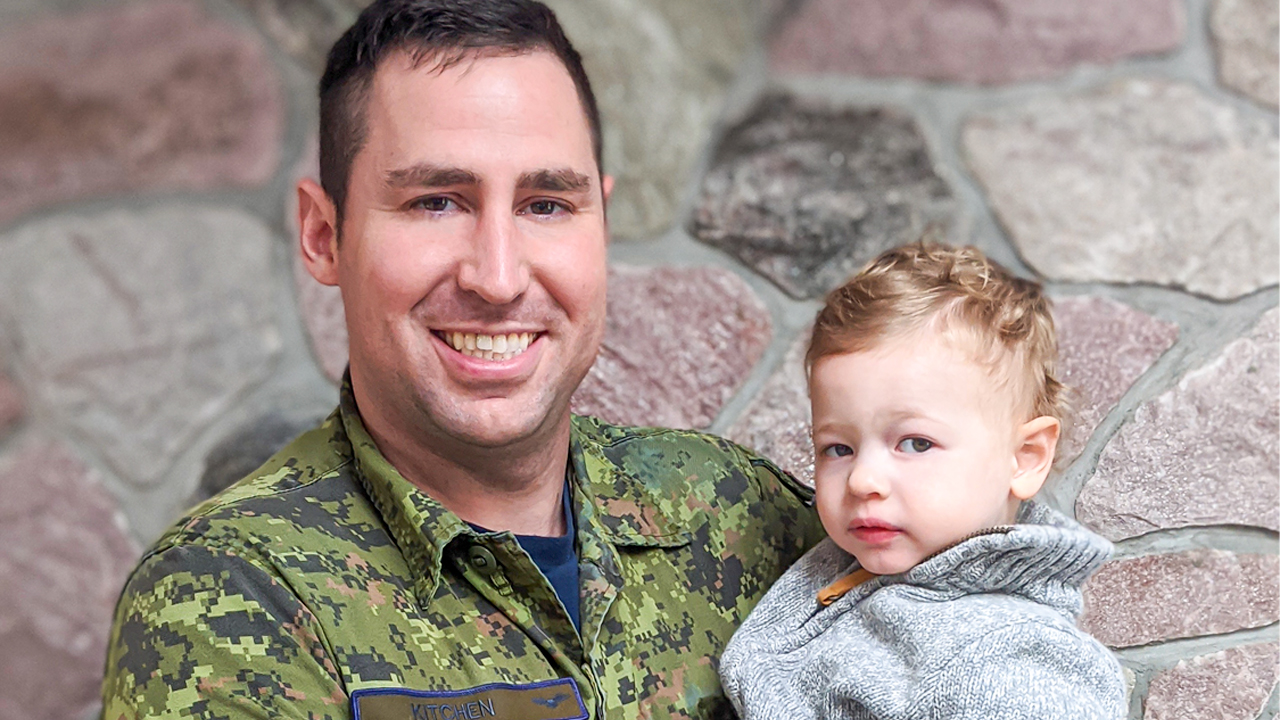 Greg Kitchen and his son, Cole, who was diagnosed with Diamond-Blackfan anemia at the age of two months.
Greg often talks about the impact Cole had on his decision to donate blood. Being a father has also significantly impacted his attitude to life. "Being a dad has taught me patience and provided me with immense gratitude for my own father," says Greg. "For the first time in my life, I can truly see the sacrifices my parents made to ensure my siblings and I had the opportunities we had."
It's a priority for Greg to teach his children strong values early in life, so they can become part of their personalities as they grow. He believes that donating blood demonstrates the values of putting others first, helping those in need and actively contributing to one's community.
"Blood donation is essential, safe and life-changing. One donation can save three lives and it only takes 45 minutes out of your day," says Greg.
Canadian military history and blood donation
Members of the Canadian Armed Forces and the Department of National Defence (DND) have had a long history with blood donation in Canada. During the final year of the Second World War, Canadians donated close to a million units of blood for use in military hospitals. This generous response gave birth to Canada's voluntary blood system.
Blood in war zones: Canada's contribution
In 2006, the Department of National Defence became Canadian Blood Services' first national Partner for Life organization. Since then, members of the Canadian Armed Forces and DND have made thousands of blood donations and inspired many Canadians to become regular blood donors.
"The kind of support we get from the Canadian Armed Forces is simply amazing. They provide members with ample opportunity to donate blood by hosting regular donation drives right on the base," says Greg. "Those who live in smaller communities without a local on-base donor clinic are encouraged to donate at nearby donor centres, so everyone gets the opportunity."
The need for blood never stops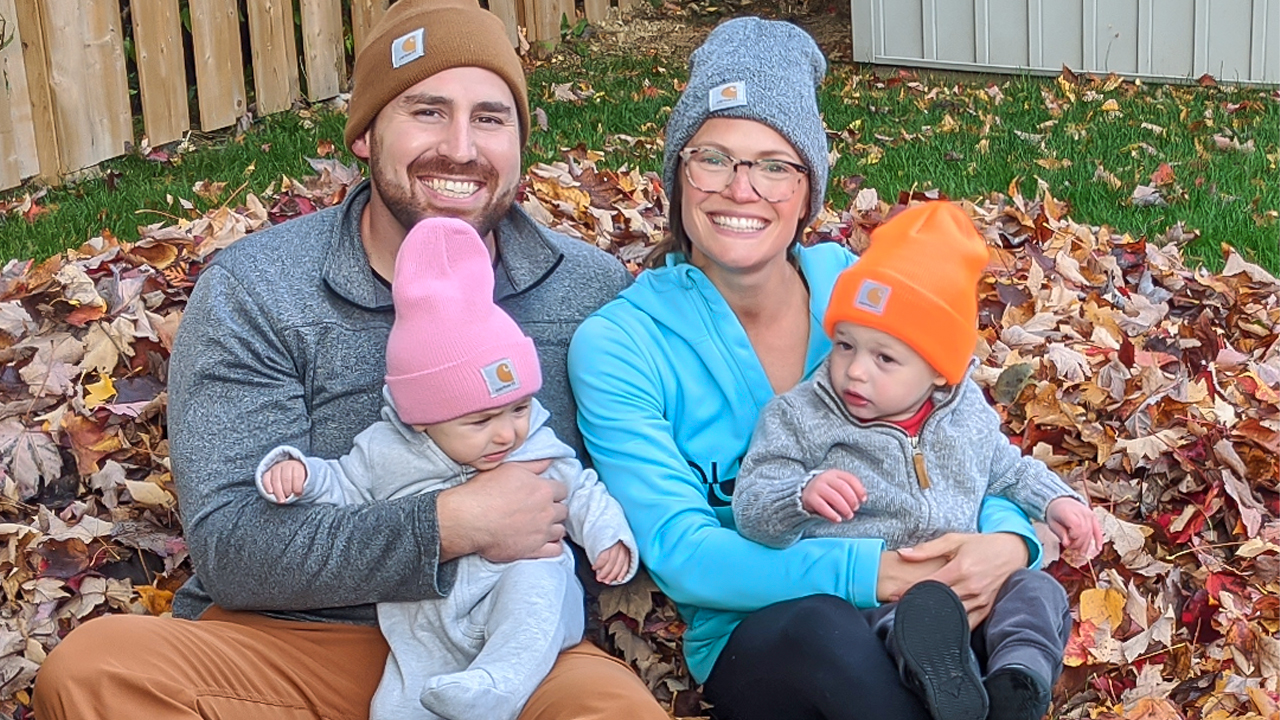 Greg and his wife, Deanna, enjoying fall with their children, Cole and Michaela.
The Kitchens welcomed their daughter, Michaela, in March, right at the start of the COVID-19 pandemic. She's been great company for Cole, who has been out of daycare for months because of fears that his weak immune system might make him vulnerable to COVID-19. Cole could need blood at any time, and his family continues to monitor his condition and meet with his doctors virtually.
"The need for blood never stops," says Greg. "Hospitals need regular blood donations to treat patients. We can't say enough thanks to both Canadian Blood Services and the Hospital for Sick Children in Toronto for all they do for Cole and other Canadian patients."
As Canada records new COVID-19 cases, Greg is encouraging his colleagues and all eligible donors to make and keep their appointments to donate blood in order to help their neighbours, friends and loved ones. "Do this in honour of Remembrance Day," says Greg.
"The pandemic does not stop the need for blood," he says. "Every eligible Canadian should become a blood donor. It's a simple task that makes a huge difference and it requires nothing but a little bit of your time. Yet, it means the world to those in need."
This fall, to commemorate Remembrance Day on Nov. 11, we encourage all those who can to honour members of the Canadian Armed Forces, past and present, by booking an appointment to donate blood or making a financial donation to Canadian Blood Services. Group blood donations (three or more donors) are also encouraged.