Plasma donation empowers students to serve patients
By finding just a little time in their busy schedules, these young plasma donors are helping to save and improve lives 
November 29, 2021
Keegan Brantner is a plasma donor and member of the Pronghorns women's rugby team at the University of Lethbridge in Lethbridge, Alta. She donated plasma in September 2021.
As a first-year grad student at the University of Lethbridge and the captain of a varsity team, Keegan Brantner's schedule is packed. But she and her teammates have found a powerful way to help others that takes just a few hours a month at most.
"The amount of time it takes to donate plasma is minimal and the impact is so significant," says Keegan, who is completing a master's degree in kinesiology while also playing for the Pronghorns women's rugby team. "For my friends and I, donating plasma has become something that we enjoy doing together. It's an easy way for us to give back to the community and we can do it together with our friends and teammates."
The incredible story of how plasma donations help patients
Thank you to our Plasma Ambassador Keegan!
We appreciate your dedication and advocacy for plasma donations. Thank you for continuing to make a lifesaving difference in this community and communities across Canada.@UofLPronghorns @HornsRugby #PlasmaforLife #CanadasLifeline #yql pic.twitter.com/chFEfkg5cw

— Canadian Blood Services Lethbridge (@LifelineYQL) April 6, 2021
Plasma: what is it?
Plasma is the straw-coloured, protein-rich liquid in blood that helps other blood components circulate throughout the body. While some donated plasma is transfused directly to patients, most is required as the source material for a variety of treatments ― manufactured products for patients with rare, life-threatening, chronic and genetic conditions. Demand for products made from plasma is growing in Canada and around the world, and plasma donor centres such as the one in Lethbridge, Alta., are helping to meet that need. Others have opened in Sudbury, Ont., and Kelowna, B.C., and more are planned for the Ontario cities of Ottawa and Brampton.
Plasma security and sustainability: learn more 
What are plasma protein and related products?
Keegan admits she had butterflies before her first plasma donation.
"I was a bit nervous, as I was unsure of what to expect," she shares. "But I went with several teammates who had donated plasma before, and they explained the process. My first donation went very well."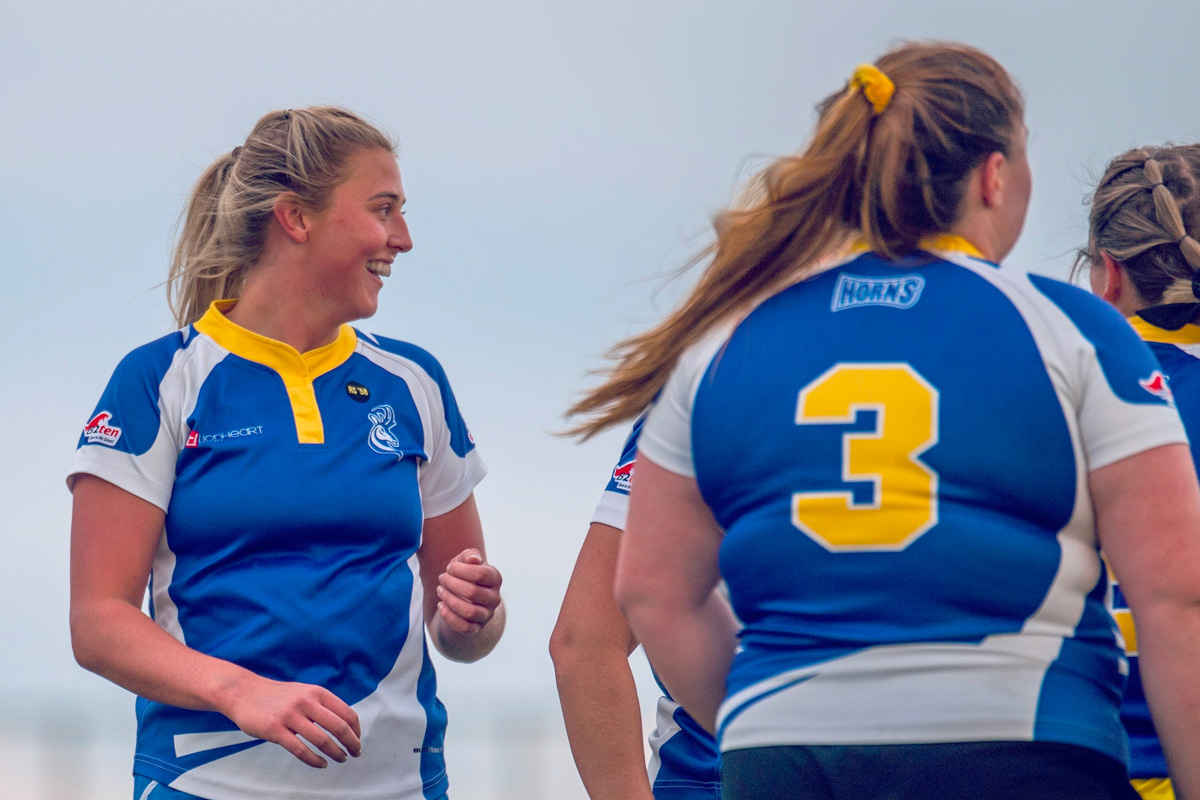 As a first-year Master of Kinesiology student at University of Lethbridge in Alberta and captain of the Pronghorns women's rugby team, Keegan makes sure regular plasma donations fit into her busy schedule.
It went so well that Keegan now donates plasma regularly at the Lethbridge plasma donor centre.
"The staff and volunteers are so friendly. They make sure that my experience is great and that I always feel comfortable," she says. "The new plasma donor center is so awesome, too. It's a large, clean space, and the energy is always very high and positive."
Eligibility requirements for donating plasma, blood and platelets: learn more
How does donating plasma work?
Canadian Blood Services extracts plasma from donations of whole blood, but at our dedicated plasma donor centres ― as well as at several other sites across Canada ― we separate plasma from other blood components during the donation process itself. 
In that donation process, which normally takes between 50 and 60 minutes, the donor's blood flows through a machine at their bedside. Their plasma is collected in a bottle or bag, and the red blood cells and platelets are returned to them. As a result, donors can donate plasma more frequently than whole blood ― as often as once a week. The entire plasma donation appointment ― from entering the donor centre to grabbing a snack afterwards in the refreshment area ― normally takes less than 90 minutes. By doing this, students in Lethbridge and beyond play a vital role in securing a domestic supply of plasma for patients in Canada. 
Celebrating a year of plasma donation in Lethbridge
Like many students in Lethbridge, the way Keegan helps patients has evolved. She was a dedicated whole blood donor who transitioned to plasma donation last winter. That's when Canadian Blood Services closed the blood donor centre in Lethbridge in order to open the new plasma donor centre.
"Students in Lethbridge always responded generously to the need for blood, so we're very pleased, but not surprised, that they have done the same for plasma," says Brenna Scott, business development manager at the Lethbridge plasma donor centre. "Since opening the plasma donor centre in December 2020, we've welcomed regular groups of donors from the Pronghorns men's soccer and women's rugby teams, the University of Lethbridge's Kappa Beta Gamma sorority and the Kodiaks women's soccer team at Lethbridge College."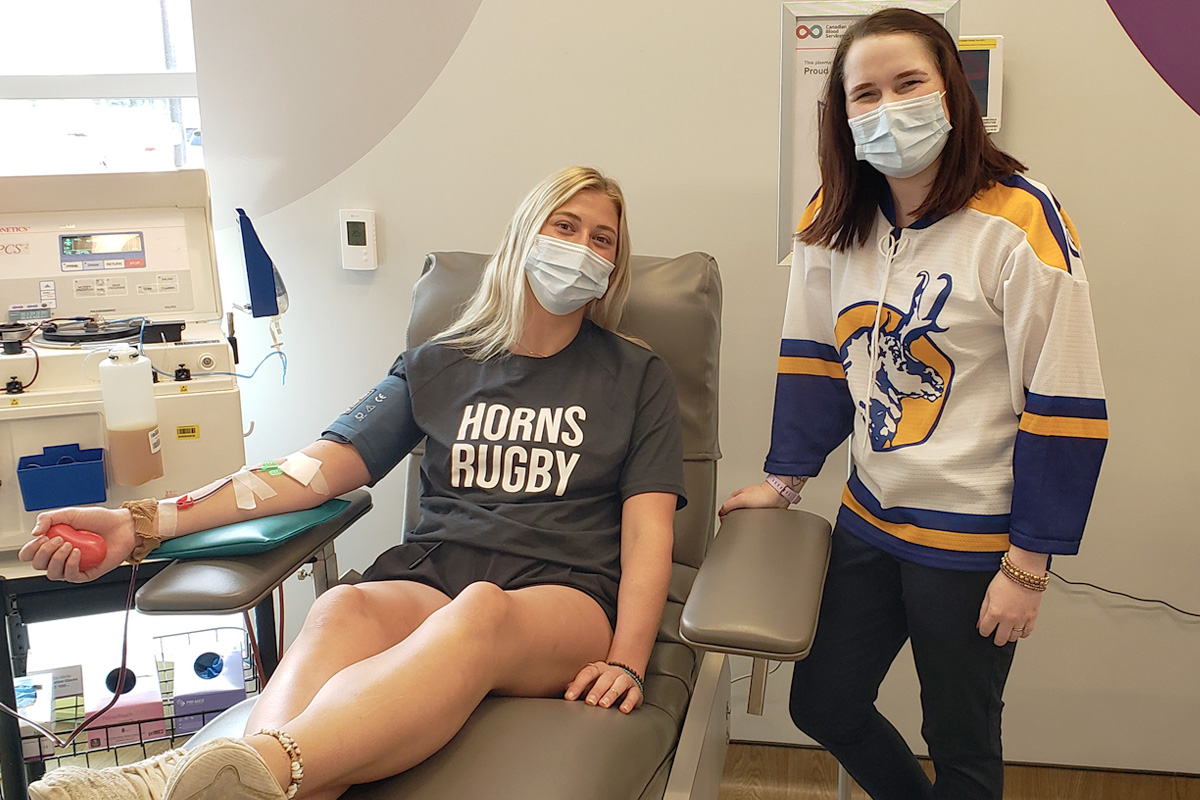 Keegan at one of her regular plasma donations with Brenna Scott, business development manager at the Lethbridge plasma donor centre. Since opening the plasma donor centre in December 2020, the staff has welcomed many local students who are coming together to donate plasma.
As a plasma ambassador with her university's NextGen Lifeline group, Keegan encourages other students on campus to join her and her rugby teammates in supporting Canada's Lifeline as plasma donors.
"That's how I first learned about plasma donation — through my role as a plasma ambassador organizing group donation events for the Pronghorns women's rugby team," she notes.
We want to give a big shoutout to the Women's Rugby Team at the @uLethbridge. They brought their team in yesterday to donate and we are grateful for their help to advocate for plasma donations! @UofLPronghorns

Book your plasma appointment today at https://t.co/4FdWJMtNK1 pic.twitter.com/ninWlFkAXe

— Canadian Blood Services Lethbridge (@LifelineYQL) September 16, 2021
Students recruiting donors to save lives: learn more
Plasma, blood, organs and tissues: so many ways to give
Keegan knows donations of blood and plasma aren't the only ways she can help patients in Canada through Canada's Lifeline. Giving financially, joining the stem cell registry and registering to donate organs and tissues are others.
"I was motivated by my former coach Ric Suggitt and Green Shirt Day to become a registered organ donor," she shares. "After Ric died in 2017, his organs helped save lives. He also inspired my friend Logan Boulet of the Humboldt Broncos to plan to donate his organs."
Green Shirt Day was created in 2019 to remember all the victims and families of the 2018 fatal crash involving the Humboldt Broncos. This event, held annually on April 7, continues Logan's legacy by inspiring Canadians to talk to their families and register as organ donors.
"Logan's father Toby Boulet is my friend," says Keegan, who initiated a talk with her own parents about organ donation. "He likes to say, 'The service you give is your rent to live on this earth.' Registering as an organ donor and donating plasma are some of the ways I pay my rent. I'm proud to give back and help save lives."
Organ and tissue donation: learn more
Having the kitchen table talk tonight! Inspired by both Logan & @sluggo_a_go_go ??? #GreenShirtDay #LB27 #RS58 pic.twitter.com/2zOTqQVBdq

— Keegan Brantner (@Keegan_brantner) April 8, 2020
Whether it's donating plasma or raising awareness about the many ways to join Canada's Lifeline, students like Keegan are bringing joy and hope to patients and their families.
Plasma donors can help meet the growing needs of patients by booking appointments at any of our many sites across the country. Learn more about where to donate plasma, or book now by using the GiveBlood app, calling 1 888 2 DONATE, or at blood.ca.