Member of National Women's Team a proud Hockey Gives Blood Player Ambassador
Emily Clark was inspired to donate blood for the first time by her brother, who needed blood transfusions to recover from a crippling injury.
February 18, 2021
Emily Clark, a member of Canada's National Women's Hockey Team, was initially inspired to donate blood and to serve as a Hockey Gives Blood Player Ambassador by her brother Jeff. As part of his treatment for a terrible knee injury, Jeff received blood transfusions.
"Jeff was only able to receive the blood he needed because other people had donated," says Emily. "I became a blood donor because doing so helps other people like him."
Born in Saskatoon, Emily Clark started skating at age three, played hockey alongside her brothers growing up and soon developed into an elite athlete. A consummate team player, she's competed internationally for Canada for a decade, contributing to a host of tournament medals. Soon after winning a silver medal at the 2018 PyeongChang Olympics, however, two incidents made her recognize the importance of using her status as a high-profile athlete to influence others.
In April, a bus transporting the Humboldt Broncos, a Saskatchewan junior hockey team, collided with a truck, claiming the lives of 16 people. Among the casualties was Bronco player Logan Boulet, a registered organ donor. Emily considers Logan a hero and was inspired to register as an organ donor.
In August, Emily's brother Jeff suffered a terrible fall, dislocating his kneecap, tearing a ligament and severely damaging a major artery. During seven months in hospital, Jeff underwent multiple surgeries, received blood transfusions and had to learn to walk again.
Image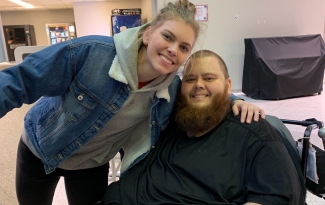 Emily Clark visits her brother Jeff in hospital.
"My brother is the most mentally strong person I know," says Emily. "His experience made me recognize how much I have to be thankful for. Being a Hockey Gives Blood Player Ambassador represents an opportunity to give back."
These ambassadors are elite players from across Canada who are recognized as influential champions and are dedicated to promoting donations of blood, stem cells, organs and tissues to help save lives. For the 2020–2021 season, Canada Life teamed up with Canadian Blood Services and Hockey Gives Blood as presenting sponsor of the player ambassador program.
Image

"I know the positive impact that other people's donations had on my family," says Emily. "So many other people and families also need blood, so my decision to become a blood donor and an ambassador was a very easy one."
Several of Emily's teammates, including Emerance Maschmeyer, Blayre Turnbull and Micah Zandee-Hart are also Hockey Gives Blood Player Ambassadors.
"Being a good role model is extremely important to me," says Emily. "My parents always encouraged me to play the right way and be a good teammate. I try to do that off the ice, as well, such as by helping people whenever possible. People across Canada need blood and I've personally experienced the positive impact that blood donation has on families."
As much of Canada celebrated Family Day, the Clark family had extra reasons to be thankful. Jeff's rehabilitation continues to go well and sister Kristina will soon have a baby, making Emily an aunt for the first time. After participating in a mini-camp with her teammates in Calgary, Emily is back in Montreal, training in preparation for the World Championships, currently scheduled for April in Nova Scotia.
"We do not know for sure when the World Championships will be, so all we can do is take things one day at a time and support each other along the way," says Emily. "I hope that sharing my family's story about Jeff inspires other to donate."
Am I eligible to donate blood?
The need for blood is constant, and there are many donation appointments available at donor centres across Canada. To book your own appointment to donate blood, visit blood.ca/donate, download the GiveBlood app or call 1 888 2 DONATE. Enhanced safety measures are in place during the COVID-19 pandemic.