The need goes on #10: Her immune system depends on donated plasma
Before receiving immune globulin Lisa Hardill battled constant infections
April 9, 2020
Lisa Hardill had never heard of common variable immune deficiency (CVID) before she was diagnosed with it in her early 20s.
At the time, she was finishing up her education to be a dental hygienist, and was just about to be married. But this exciting period of her life had been marred by constant illnesses.
"A lot of congestion, a lot of coughing, a lot of sinus infections and ear infections," says Lisa, who is now 40 and a mother of two boys. "It was just chronic for two years."
Multiple rounds of antibiotics didn't restore her to health. Lisa says the first big clue that something was wrong with her immune system came from blood work, which revealed she was missing antibodies that should have been present given her vaccination record.
Fortunately, CVID can be treated with immune globulin. That treatment is derived from plasma, which is a component of blood. Lisa is able to administer the treatment herself at home, through subcutaneous infusion. She describes it as essential to her quality of life.
"If I did not have access, I think my whole life would change," Lisa says. "I would not be able to be the mom I want to be. I don't think I would be able to contribute to the dental industry in the same capacity. I know I would be chronically ill."
Image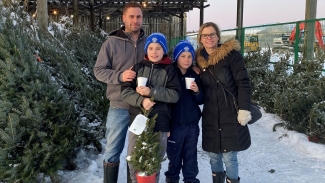 Lisa Hardill, seen here at right with her husband and two sons, says she remains healthy and strong in spite of her immune deficiency because of treatment with immune globulin
Donors needed to ensure long-term supply of immune globulin for patients
With treatment, Lisa has been able to stay healthy and strong and enjoy a long career in the dental hygiene field, first in clinical practice for many years and now focusing on dental consulting and education.However, like many people with chronic illnesses, the pandemic has her feeling vulnerable.
Lisa knows that people with CVID are more prone to lung problems than others. She also knows that her access to medication in the long term depends on people continuing to give blood, even during this time of heightened concern about going out in public.
"It's not just about me. It's about the big picture of everyone who relies on blood products for hundreds and hundreds of conditions," Lisa says. "This is what's keeping so many lives going."
The need for blood products continues during the COVID-19 pandemic. Our donor centres have enhanced wellness measures to protect donors, staff and volunteers. To make an appointment you can download the GiveBlood app, call 1 888 2 DONATE (1-888-236-6283) or book now at blood.ca.