How Toyota Canada's "unlikely" partnership has become a critical link in Canada's Lifeline
Part of our 'heroes of financial giving' series
November 25, 2020
When Toyota Canada began sharing its manufacturing processes with Canadian Blood Services in 2015, to help strengthen and improve our blood supply chain, the collaboration was initially meant to be a short-term knowledge-sharing project, Toyota's first Canadian endeavour of this kind.
Fast forward five years, and what was once referred to as an "unlikely" partnership has evolved into a relationship of unmatched and ongoing support that has had a lasting impact on our national blood supply system and on patients across the country.
"We didn't set out five years ago to be where we are today," said Stephen Beatty, vice-president, corporate, at Toyota Canada. "Relationships were made, and connections happened across our organizations. Through the evolution of our partnership, Toyota Canada came to understand how complex it is to operate a national blood system, and we now have a profound appreciation for the critical importance of getting blood products where they are needed, quickly."
Toyota Canada's contributions to Canadian Blood Services began when our organization set out to make improvements and create efficiencies within our manufacturing processes through a collaboration with the Toyota Production System Support Center (TSSC), a not-for-profit arm of the automotive manufacturing giant that works with various organizations to help them become more productive, maximize available resources, and improve quality and safety.
Toyota Canada and Canadian Blood Services' unlikely partnership has turned out to be a perfect match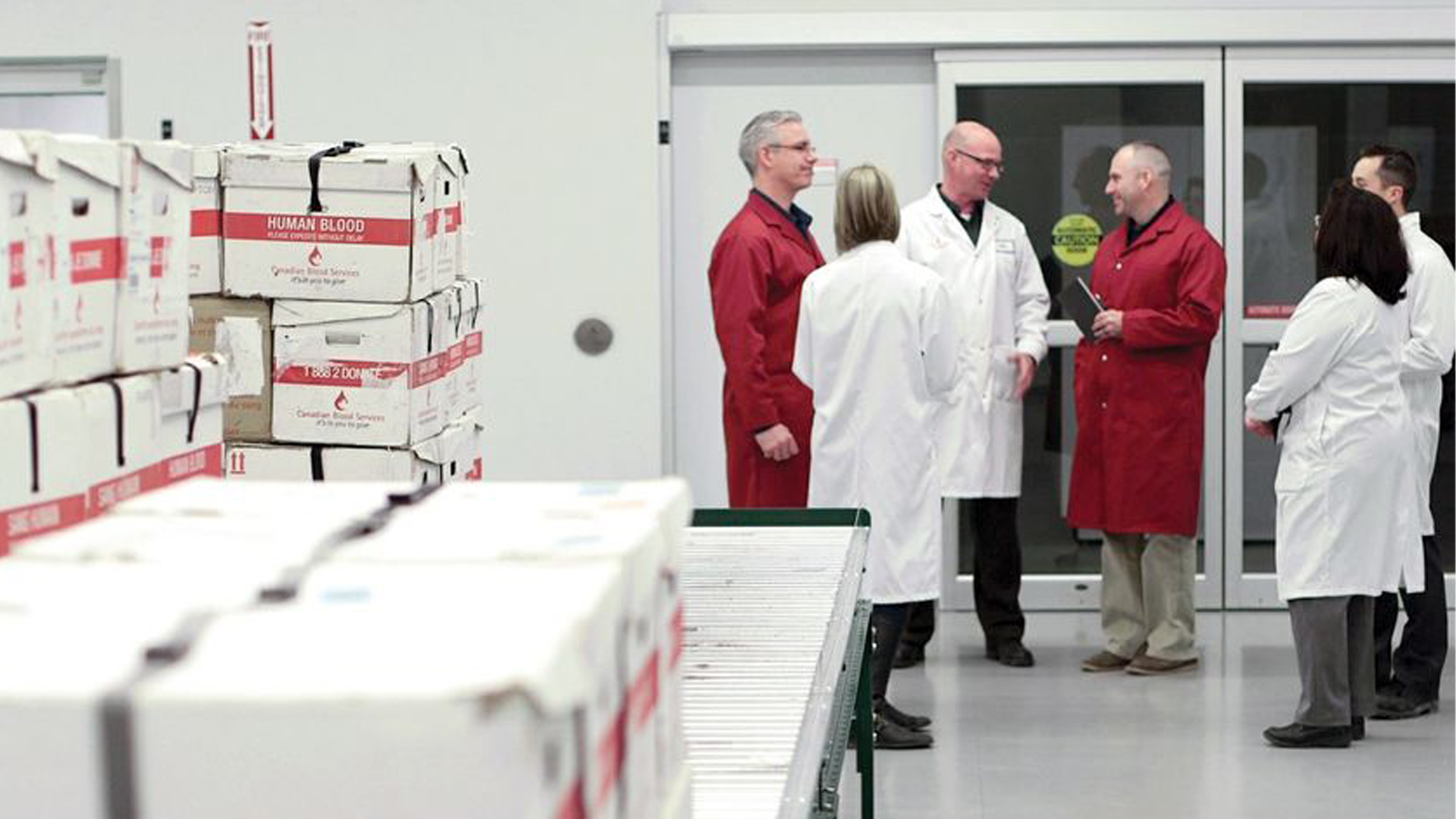 Rick Prinzen, Canadian Blood Services' chief supply chain officer and vice-president, donor relations (third from left), meets with representatives from Toyota Canada in 2015, at Canadian Blood Services' production and distribution facility in Brampton, Ont
Canadian Blood Services has utilized the expertise gained from our work with Toyota Canada to turn donated blood into high-quality blood products faster than ever before.
Over the past five years, Canadian Blood Services has made dramatic changes in the four main areas of collections, testing, production and distribution, according to Rick Prinzen, chief supply chain officer and vice-president, donor relations.
By putting new mechanisms in place to simplify the sorting process, for example, employees in that section saw their number of steps taken reduced by 88 per cent, which has resulted in a gain of one hour of production time per day. As such, tasks that previously required three hours of work, now require only two.
All the small advancements that have been achieved add up to a big difference in terms of our ability to get orders out the door exactly as scheduled, to meet hospital demand and patient needs.
"Our ability to shorten lead times and more consistently meet delivery times means that hospitals are now in a better position to serve patients," said Prinzen. In addition to getting blood products out the door faster, learnings from Toyota Canada have helped Canadian Blood Services to establish a culture of continuous quality improvement and ensure better stability of the national blood supply.
"What's been unique and exciting about implementing process improvements at Canadian Blood Services is that you have a situation where demand and supply vary every day," said Jamie Bonini, vice president TSSC at Toyota Engineering and Manufacturing North America.
"The Toyota production system is based on standardization and doing things consistently, but at Canadian Blood Services, circumstances change based on donors. Setting up a system to effectively adjust to those ever-changing variables on both ends has been a fascinating and rewarding experience."
As just one example, having the right tools and processes in place to ensure consistency of inventory levels across all blood groups proved to be particularly critical when COVID-19 hit in March 2020, forcing our blood supply system to face new and unprecedented challenges.
"Through the continuous improvement culture that we've developed, with guidance from Toyota, we were able to enter the COVID-19 situation in as strong a position as we could have hoped for," said Prinzen.
From quality improvement to health system investment
As Toyota Canada's relationship with Canadian Blood Services evolved over the years and its understanding of the national blood supply system grew, the company began looking at ways to further extend its support, so as to have a greater impact on patients and the health-care system as a whole.
That's why, since 2015, Toyota Canada and its dealers across the country have supported Canadian Blood Services through financial contributions totaling more than $1.5 million dollars, further strengthening our national programs and initiatives.
Financial donations help support and strengthen Canada's Lifeline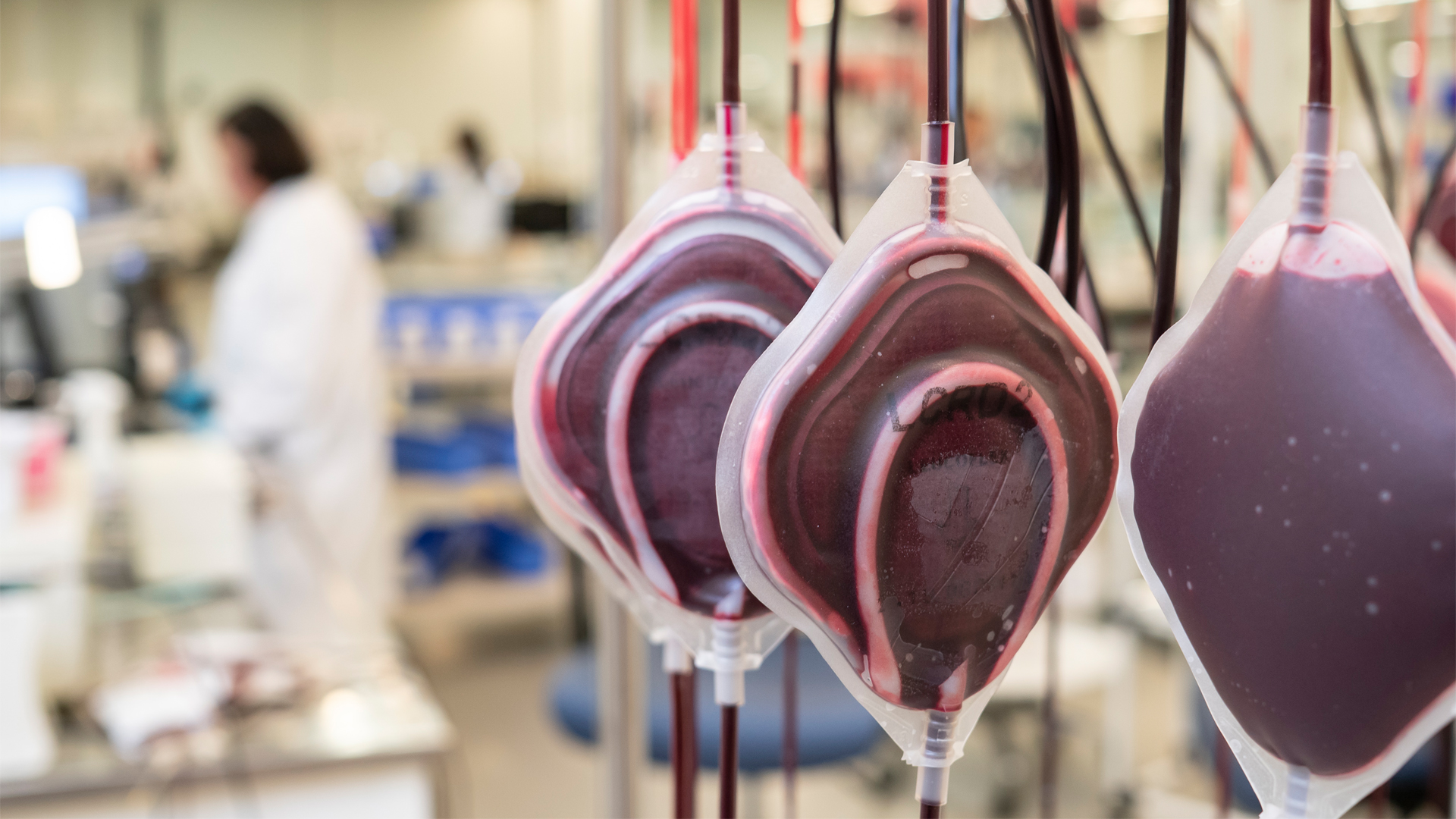 Before reaching patients, blood donations go through complex testing and production processes. By applying principles of the Toyota Production System, Canadian Blood Services has been able to make significant production and sorting improvements which have enabled us to get critical blood products to hospitals – and to patients – sooner.
Toyota dealers across the country also regularly support their communities by providing shuttle vehicles for blood donors, hosting blood donor events and donating advertising space to help Canadian Blood Services recruit donors at the local level.
Earlier this year, when Toyota Canada heard that Canadian Blood Services was facing cancellations of blood donation appointments because of COVID-19, the company stepped up again to remind Canadians that the need for blood is constant.
At that time, Toyota Canada and Lexus Canada together donated more than $1 million in television advertising to highlight the ongoing need for blood products and to encourage Canadians to book a blood donation appointment during the pandemic.
How corporate Canada is helping our blood system during the pandemic
Looking back on the past five years of successes and milestones, Prinzen said that although the collaboration between Canadian Blood Services and Toyota Canada might have seemed "unlikely" at first, he couldn't imagine a more constructive partnership supporting the national blood system.
"Over the years, Toyota Canada has really felt more like an extension of Canadian Blood Services — we're one team, one group of people working to identify and solve problems to drive organizational excellence," he said.
Despite the significant impact that Toyota Canada has had on our national blood system, however, Beatty is reluctant to take credit for the positive changes that have come about through this partnership.
"From our standpoint, we've simply helped Canadian Blood Services do what it has pledged to do. Our hope has never been that our knowledge-sharing and financial giving would make a difference directly, but rather that we would share our tools and resources so that Canadian Blood Services would make a difference for itself," he said.
As for why it's been so important for Toyota Canada to continue stepping up over the years to support Canadian Blood Services in new and evolving ways, that can be chalked up to a combination of personal connections and a commitment to continuous quality improvement.
"It's simple, really. Everybody knows somebody who at one point in their life has needed or will need blood products," said Beatty. "It has been a tremendous education, as well as a point of pride, for us to be able to lend a hand."
"I always get a bit emotional when I visit Canadian Blood Services' distribution or production centres," added Bonini. "Every product that leaves these plants could be somebody's life. Each unit has got to be perfect."
Celebrating our heroes of financial giving and their lifesaving impact 
At Canadian Blood Services, we need donors of all kinds to help support us in our quest to help every patient, match every need and serve every Canadian.  
Financial donors play an important role in strengthening Canada's Lifeline, by helping us to grow and diversify our donor base and invest in cutting-edge research and technology that will help to meet ongoing and emerging patient needs.
That's why this November, we're celebrating our heroes of financial giving.
Financial supporters of Canadian Blood Services are generous individuals, organizations and partners from across the country who hold fundraisers, make monthly or annual financial contributions, invest in innovative research or honour their loved ones by helping to support patients.   
In celebration of National Philanthropy Day (Nov.15), we're publishing a series of stories all month long, which profiles our growing community of financial supporters and recognizes how their generosity is helping us to catalyze meaningful change for patients and their families.  
Read our latest annual report to financial donors to learn more about the impact of financial gifts made in support of Canadian Blood Services.