'I hope we keep the momentum going'
Akintunde Adeniyi, information security analyst, tells us why diversity, equity and inclusion in Canada are personal for him
February 25, 2021
This February, in honour of Black History Month, we are celebrating the rich history and accomplishments of Black Canadians and exploring the contributions that Black employees have made to Canadian Blood Services. Akintunde Adeniyi, an information security analyst in Ottawa shared his thoughts on his work, his background and what Black history and heritage mean to him.
Last year, Akintunde Adeniyi and his wife were blessed with the arrival of their first child Tobi amid the COVID-19 pandemic. Tobi's birth coincided with the Black Lives Matter protests against police brutality and racial injustice in early June. Akintunde recalls watching the searing video of George Floyd, the Minneapolis man whose death in police custody caused great anger around the world.
"Like me and my wife, Tobi has brown skin and dark curly hair, so naturally we already started worrying about his safety the moment he was born," says Akintunde, an information security analyst at Canadian Blood Services in Ottawa. "No one wants their child to ever go through racism or discrimination of any kind."
Image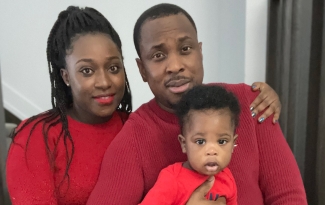 Akintunde Adeniyi, his wife, Firi Adeniyi and their son, Tobi in December 2020. Akintunde, who has been employed at Canadian Blood Services for close to three years, hopes that all Canadians would commit to tackling racism.
But Akintunde was hopeful. He saw organizations and groups come out to publicly condemn racism. At his own organization, he was already aware of some projects that were being launched to make it more diverse and inclusive. And although he was initially unhappy with the slow pace of the diversity, equity and inclusion work at Canadian Blood Services, he became excited when it ramped up and became a focus.
"Unlike COVID, there's no vaccine for racism, and there's no time like now to keep the conversation about diversity, equity and inclusion going," Akintunde says. "Everyone needs to understand that everyone deserves an equal chance, and it's a positive sign that Canadian Blood Services has acknowledged racism and committed to do better."
It's for the sake of his eight-month-old that Akintunde hopes that all Canadians would commit to tackling racism. "I believe most people want to see an end to systemic racism because it benefits all of us. That's why I hope that we keep the momentum going and keep this discourse on the front burner."
Image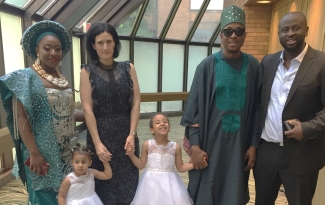 From left to right: Firi Adeniyi, Kylie Adeniyi and her daughters Toyin and Moyo, Akintunde Adeniyi and his brother, Yemi Adeniyi (Kylie's husband) during Akintunde and Firi's wedding in Ottawa in 2019. Akintunde and his wife enjoy wearing their traditional Nigerian attire in Canada. They say it constantly reminds them of their home country and they want their son, Tobi, to never forget where they came from.
'I can be my authentic self'
Although Akintunde has been employed at Canadian Blood Services for close to three years, his connection with the organization started when he arrived Canada eight years ago. "I fell terribly ill shortly after arriving in Canada and I needed a blood transfusion to get well," he says. "That whole experience endeared me to the organization when I saw an opening that matched my skills years later."
He considers his job vital to the organization's vision to help every patient, match every need and serve every Canadian. "My day-to-day job involves ensuring that Canadian Blood Services' information and digital assets are protected from cyber threats," says Akintunde. "It's the trust that donors have for our ability to safeguard their information that has kept them committed to saving lives."
Akintunde likes that he's able to be his authentic self in his workplace. "I'm an introvert," he says. "I basically speak at meetings only when I have something important to add and that's O.K." He especially feels more comfortable and productive knowing that his organization "accommodates a greater diversity of styles and values."
As an immigrant from Nigeria, he often finds cultural differences between his home country and Canada amusing. "It took me awhile to accept that it is acceptable to address your manager or professor by his or her first name," he says. In his native Yoruba culture, it is disrespectful to call one's boss by their first name.
Another cultural difference Akintunde struggled with was "looking into people's eyes when communicating." After a few years in Canada, he says that, "I realized not doing so could be construed as not being truthful or confident. Yet, my Yoruba culture might consider you rude or arrogant if you look an elder in the eye when having a conversation with them."
"I joke about these cultural differences with my wife, and we're hoping to teach Tobi how to be a Nigerian and a Canadian at the same time," he adds.
Image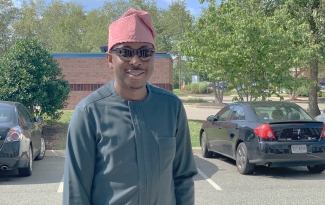 Akintunde Adeniyi often finds the cultural differences between his home country and Canada amusing. He jokes about those cultural differences with his wife, and hopes to teach their son Tobi how to be a Nigerian and a Canadian at the same time.
What Black history and heritage mean
Black history is Canadian history, and every February we celebrate Black History Month and the many contributions of Black Canadians to this country. Without their work and dedication, much of which has been poorly documented and recognized, Canada wouldn't be the country it is today.
"I get excited this time of year about the opportunity we get to celebrate Black heritage," says Akintunde. "Although February is not the only time we expect people to fight for the well-being of Black people, it's a chance for people to show up and do better, not just for Black people, but for all of us."
Like many organizations, Canadian Blood Services has recognized the lack of diversity and representation within its senior leadership. The organization has started taking steps to address inequity and systemic racism internally. Akintunde hopes that the organization won't pause on this work.
"It's important for Canada's Lifeline to truly reflect Canada's diverse population."
Black History Month is an important time to reflect on Black Canadians' contributions to society, but it also serves as a reminder that actions are necessary to remove barriers, develop equitable opportunities and foster inclusive spaces not only during the month of February, but year-round.  Learn more about our commitment to diversity, equity and inclusion at blood.ca/DEI.