Stem cells brought them together. Now they want others to share the love
Jason Kooy's decision to donate stem cells endeared him to his now-wife Sierra for a powerful reason
December 18, 2020
It's not every day that one meets their true love through Canadian Blood Services. But Sierra and Jason Kooy, both from Bradford, Ont., bonded over the years as schoolmates, and later as soulmates, because of stem cells ― one of the many ways Canadian Blood Services helps patients.

"My husband and I attribute the formation of our relationship to God and to Canadian Blood Services," says Sierra. "And it all started with my father's cancer diagnosis."

In the fall of 2010, when Sierra was only 13 years old, her father, Glenn Van Zeumeren, was diagnosed with myelodysplastic syndrome (MDS) — a cancer that affects the bone marrow's ability to produce stem cells that could grow into proper white blood cells and platelets.
"We were shocked by this news," says Sierra. "Dad was a runner, a natural athlete, a frequent triathlete, and he even fulfilled his lifelong goal of completing an Ironman race just months before he was diagnosed."
To survive, Glenn needed a stem cell transplant from a matching donor. Stem cells, specifically blood stem cells, are immature cells that can develop into any cell present in the bloodstream. They are found in the bone marrow as well as circulating blood and can be used to treat more than 80 blood cancers
and disorders. However, for stem cells to be transplanted successfully, the donor and the recipient must be a close genetic match.

Glenn's family became involved with Canadian Blood Services Stem Cell Registry and organized stem cell swabbing events in their community to find a match for Glenn. At that time, Sierra and Jason were both students at Toronto District Christian High School, which hosted one of the events.

"There and then, I felt moved to join the registry once I was old enough," says Jason, who was 14 at the time. To join the registry, donors must be between 17 to 35-years-old in order to offer better patient outcomes.

Canadian Blood Services was able to identify a match for Glenn, and he had a stem cell transplant at Princess Margaret Cancer Centre. He later developed graft-versus-host disease, a post-transplant complication which may occur where the transplanted cells attack the recipient's cells. Sadly, he died as a result of complications of the disease.
Before his passing in 2011, Glenn Van Zeumeren was an Ironman athlete. He completed his first Ironman triathlon shortly before he was diagnosed with myelodysplastic syndrome. His family remembers him by donating blood around the anniversary of his death.
Glenn's impact on Jason Kooy

After Glenn passed away, his family created an award in his memory at Toronto District Christian High School. The annual award was to go to a graduating male athlete who was a leader both in the classroom and on the field. Jason won this award in 2014. A few weeks prior to receiving it, he had also turned 17, and promptly joined the stem cell registry.

"I recall walking into the room to get swabbed and being excited to join because of what it meant to the school community and especially the Van Zeumeren family," says Jason. "I didn't know the family super well, but I had a friendship with Sierra though playing sports and I knew how much joining the registry meant to them."

Five years after that stem cell swab event, Canadian Blood Services contacted Jason to say that he had matched with a patient who needed stem cells.

Joining the stem cell registry is a long-term commitment to patients in need of a lifesaving transplant. As a potential stem cell donor, registrants could be matched within a few months or years of their registration date.

"The call came in while I was at work," says Jason, a heavy equipment mechanic. "And even though I was a little unsure about what the next steps were, I was excited to get this rare opportunity to help save a life."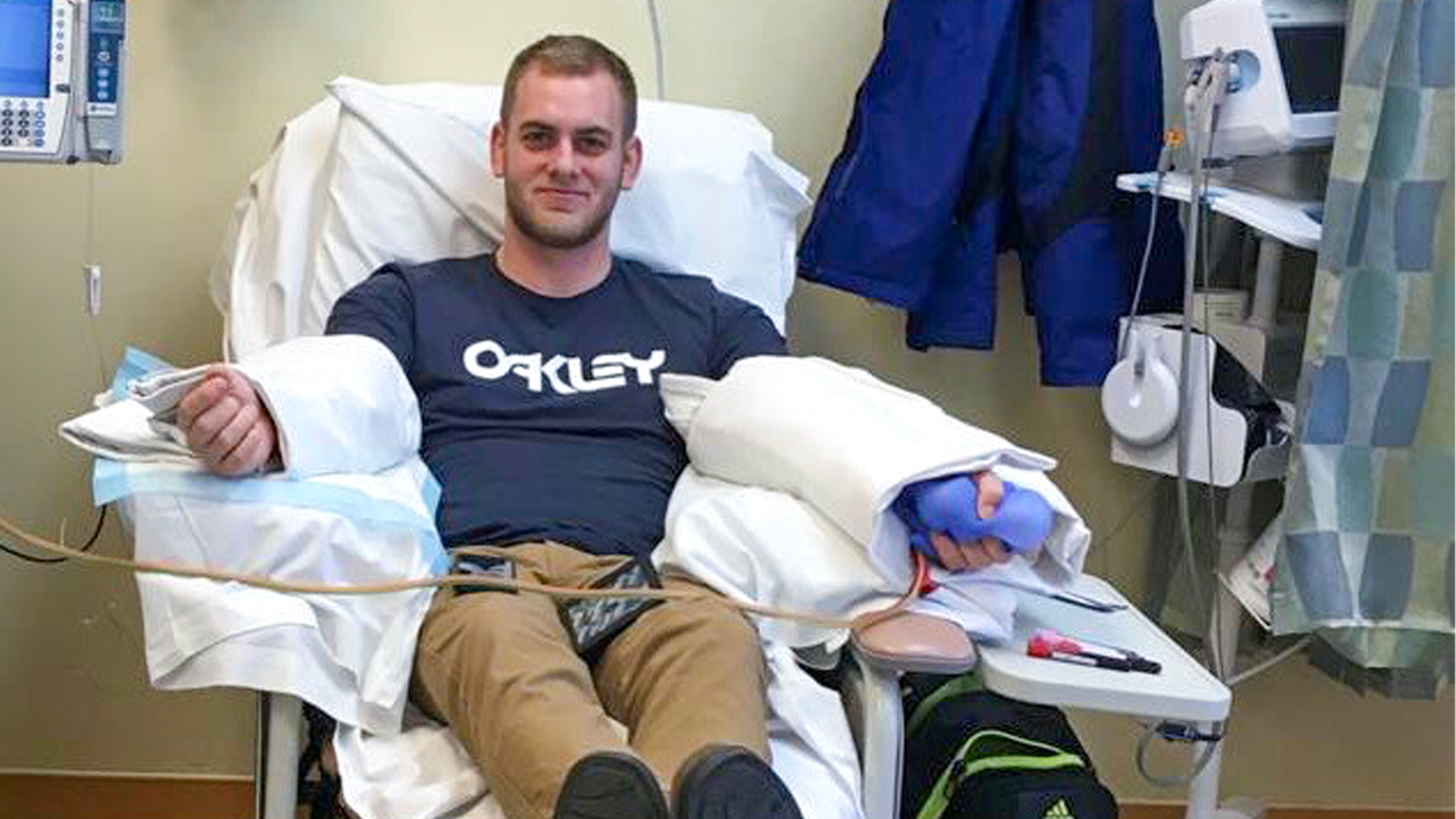 Jason Kooy donated stem cells in January 2019.
"Stem cells inspired our love"
Jason also made the fateful decision to share the big news with his old schoolmate Sierra on Instagram.

"Feeling so deeply connected to this, I was so touched that he reached out to tell me," says Sierra, who was in her last year of university at the time.

Sierra recalls how it felt when her family got the news that her father had found a stem cell match. That memory made her all the happier for the patient who was lucky enough to have found a match in Jason. The prospective donors on Canadian Blood Services Stem Cell Registry are essential for patients, because 75 per cent will not find a match within their own families.

"I was so excited for Jason to be able to bless someone in the same way that our mystery donor blessed my family," says Sierra. "Even if the transplant didn't keep my dad alive for years, it gave us hope and a few extra months with him."

Sierra and Jason continued to chat over the phone until they met for their first date. Very quickly, they knew their relationship was going to last. After a month of dating, Jason's appointment to donate stem cells arrived, and Sierra got to be part of it.

"It was such a beautiful experience for me," she says. "I stood beside my dad as he received the 'bag of life' in 2011, and then seven years later, I got to stand by my boyfriend's side as he donated his stem cells for someone in need."

"Indeed, stem cells inspired our love."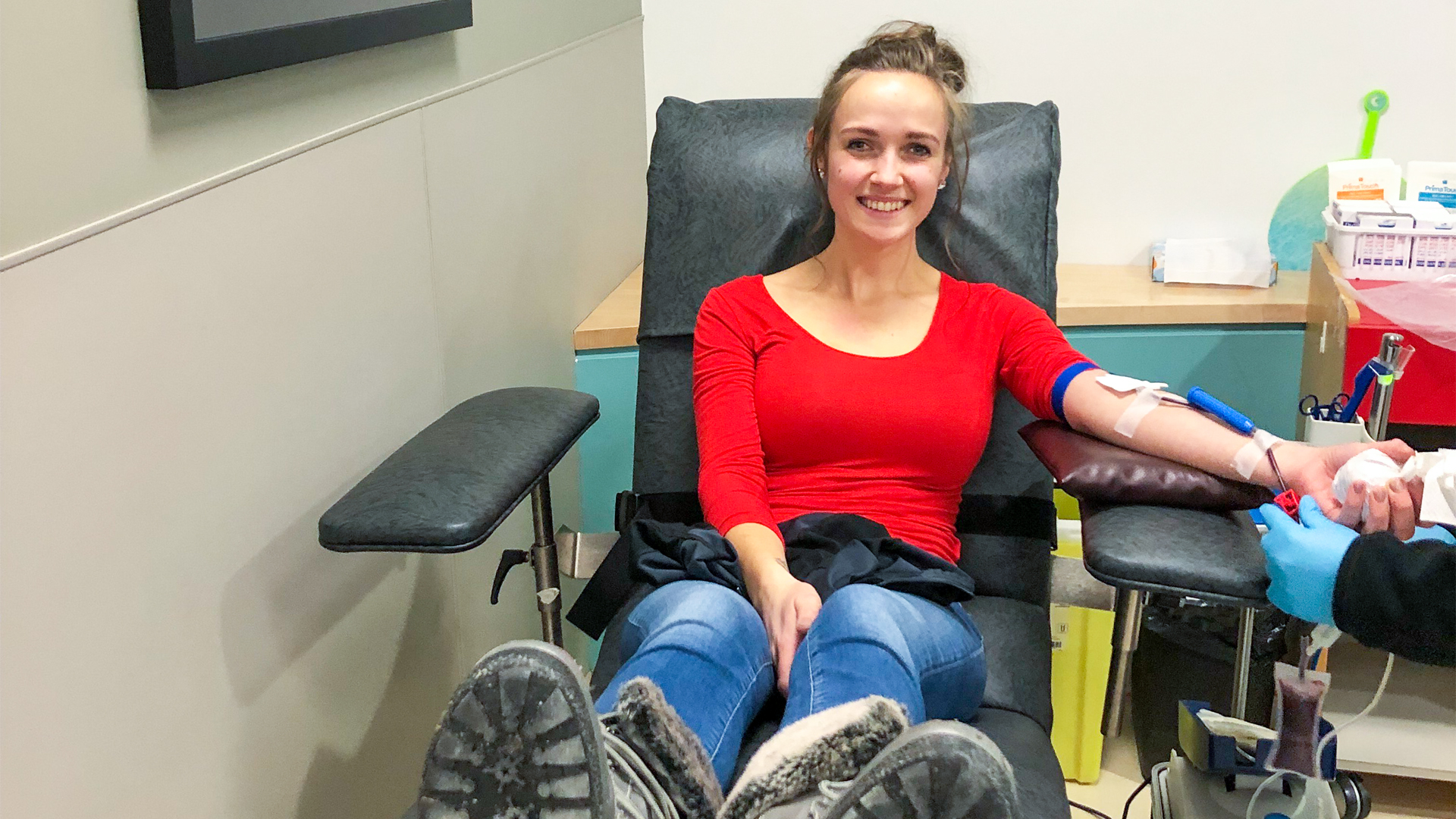 Sierra Kooy donates blood in honour of her father, Glenn Van Zeumeren, every year around the anniversary of his death. It's an important tradition for her family.
Happily ever after

Sierra and Jason got married in August 2020. As they settle into married life they plan to continue an important family tradition that helps others.

"Over the course of his illness, my dad received more than 75 units of blood transfusions," says Sierra. "And as a way of showing our gratitude for those whose donations kept my dad alive, we always donate blood at the anniversary of his passing."

The couple have even made a "date night" of donating blood in the past, and they take great pride in the way their family has helped ― and continues to help ― patients in need.

"Donating blood or stem cells is important to us because we understand the impact it could have on someone's life," says Jason. "I believe that we're on this earth to love one another, and donating is one way we can love someone regardless of whether or not we know the recipient."

Sierra agrees wholeheartedly.

"How often does anyone come across the chance to save someone else's life?" she says. "Joining the registry was quick for Jason and donating was easy. Everyone who's eligible to donate stem cells should register to save a life and follow through when called to make this donation."
This holiday season, we are urging healthy Canadians between 17 and 35 years of age to join Canadian Blood Services Stem Cell Registry online and order their swab kit to be delivered in the mail. If you have already joined the registry and no longer wish to be considered as a potential stem cell donor, please contact us to update your status to "no longer committed" in the registry. This change is not permanent. At any time, registrants can change their status to "yes, committed," or update their contact information, by calling 1 888 236 6283 (1 888 2 DONATE).