Blood donors to honour one man's community service
Cody Allard was 'always keen to help others' family says
August 13, 2020
Those who knew Cody Allard were not surprised to learn that he had donated his organs upon his death, improving the lives of eight people.
Cody, who died last year in a motorcycle crash at age 30, was well known for his community service. A special blood donation event will be held in his honour in Surrey, B.C. on August 19, the first anniversary of his death.
"Cody was always keen to help others," says his sister Alyssa Connelly, who organized the event. "There's nothing he wouldn't do for people.
How can I register to donate organs and tissues?
Cody Allard came by his devotion to service naturally. Two of his great-grandparents served overseas during the Second World War. His mother volunteered with the RCMP to help the homeless and his father once earned an award for helping make an arrest. The whole family participated actively in a long list of charitable activities.
Cody's first job – caring for an autistic child – provides another hint of his character. At times, he also selflessly helped strangers.
"One time while driving, he spotted a boy with Down's Syndrome walking in the street, surrounded by traffic," says Alyssa. "Cars swerved to avoid hitting him before driving on, but Cody stopped and led him to safety. He called the police and stayed until they contacted the boy's family."
Along with his sister, Cody left behind his wife Alaina Larson, his 11-year old daughter Dakota, his parents Terri (Grant) and Rob, his brother Mitch, sister Jada, two nieces and a nephew.
He also left behind his fellow reservists in the British Columbia Regiment (Duke of Connaught's Own), where he served as a well-respected corporal. He coached the regiment's team in Relentless Warrior, a competition that tests the close-quarters combat skills of members of the Canadian Armed Forces' 3rd Canadian Division. In Cody's honour, the Regiment entered and won the 2020 edition of the competition.
"Cody always wanted to be a father, a soldier and a firefighter," says his mother Terri Allard. "He excelled at the first two and I'm sure he would have been a good firefighter, too. He had just finished his firefighter training and had started looking into job opportunities."
Image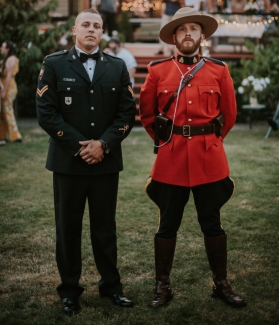 Cody Allard (left) served as best man at his friend Martin Peacey's wedding in 2019 and the two posed in their dress uniforms.
Terri and her former husband Rob Allard signed organ-donor cards for their children. All three children chose to renew the commitment as adults. Cody was also a blood donor. To honour Cody's passion for community service, Alyssa Connelly decided to organize a blood donation event.
"The fact that friends and family quickly booked all of the appointments for the event shows just how special he was," she says.
While the Aug. 19 event is fully booked, the need for blood is constant, and there are many other donation appointments open and the donor centre in Surrey and at donor centres across Canada. Donations can still be made and tracked in Cody's honour by following the process described below.
"The donor event is a way to encourage others to follow in his footsteps by donating blood and registering as an organ donor," says Alyssa.
Am I eligible to donate blood?
To book your own appointment to donate blood, visit blood.ca/donate, download the GiveBlood app or call 1 888 2 DONATE. Enhanced safety measures are in place during the COVID-19 pandemic.
To donate in memory of Cody Allard:
Go to blood.ca/donate
Log into or create your blood.ca account
Select PFL organizations from the menu
Add PFL ID INME0089966 and select Join the team
Canadian Blood Services also encourages group donations (three or more donors). To learn more, visit the Partners for Life section of our website.