A mighty kind movement brought to you by the Orgamites
This global education program helps educate young children about organs and organ donation
April 22, 2022
Currently, there are more than 4,000 Canadians waiting for a lifesaving organ transplant. Each year, approximately 250 Canadians die waiting.Clearly, there is a need for organ donors that remains unmet.
Awareness events and campaigns help shine a light on those in need, and honour those who have generously donated to save lives. But saving lives now and for generations to come also requires education, starting at an early age. Parents, teachers and healthcare practitioners can all play a role.
Enter the Orgamites, a global education program that introduces the subject of organ donation to children in an age-appropriate way. Its animated characters — a team of lifesaving organs — help children and their families learn about and appreciate the roles of organs, as well as learn what organ donation is all about. They also introduce the concepts of kindness and caring for ourselves, our communities, and the planet.
Roydon Turner, creator of the Orgamites, is a film director, creative director, producer, designer, writer and proud dad of two children. He was born and raised in South Africa and now works and creates in London, England.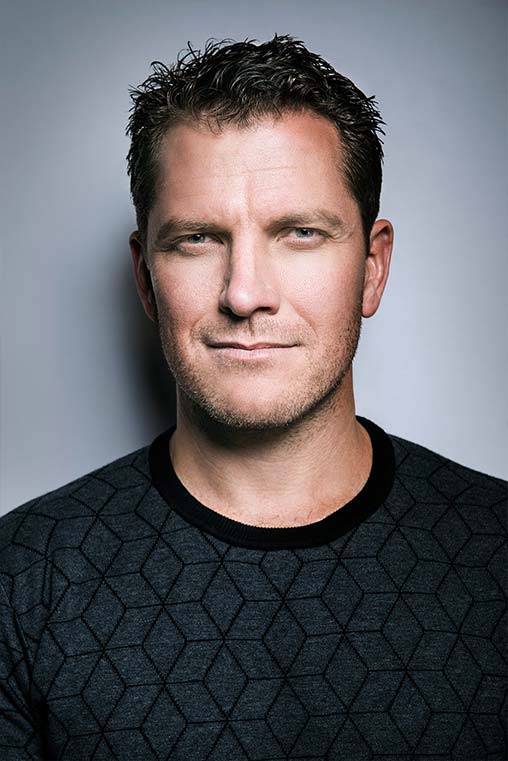 "I come from a very small city in South Africa called East London. For someone that aspired to work in the arts, from graphic design to advertising and film production, the opportunities were very limited at the time I was growing up," says Turner.
"My parents realized that our small city just didn't have the infrastructure to facilitate anything in the arts, and very much supported the idea of me moving away to a bigger city or abroad."
After finishing a degree in art and graphic design, Turner found himself working as an art director for TBWA\Hunt\Lascaris, which was one of South Africa's top advertising agencies at the time.
He was ultimately drawn to organ donation education for children for three reasons:
A family loss

Turner had two older brothers, Bradley and Brendon. His brother Bradley contracted encephalitis when he was just five weeks old. When he later passed away at the age of 12, no one thought to ask his parents about donating his organs.

"I've since felt we would have healed stronger and possibly quicker if Bradley's sad passing had some positive outcome. If for instance, via organ donation, his death had saved another child's life. In a small yet powerful way, he'd still be here too," says Turner.

"I've always wanted to share this vision with other families, so that they could have more choices if ever faced with such a tragic loss as our family's."

A four-year-old boy named James

Later, after he had moved to the U.K. and was working as a creative director for an advertising agency, Turner was approached by the charity Live Life Give Life — an organization dedicated to organ donation awareness — to create their next campaign. At the time, organ donation awareness campaigns were typically about the adult individual in need of a transplant, not the wider circle of family, friends and colleagues who were grieving the loss of the person who'd become a donor. This led him to create a community campaign called "let love live on."

The success of this campaign reinforced Turner's commitment to helping the organ donation community, so he joined the charity as a trustee and creative director.

"Later that year, I was introduced to the Lewis family, whose four-year-old son James was in desperate need of a new heart," he shared. "Motivation doesn't get bigger! I made a short documentary which got the right attention, and James got his new heart. But I also learned that day that 40 other children were still waiting for theirs. In that very moment I knew there had to be a better way to talk to children, their parents and teachers about organ donation."

Growing up in South Africa

"Growing up in a very divided society gave me first-hand experience of how our biases, prejudices and beliefs at a very young age can quickly shape your future," says Turner. "This really inspired me to create a program about diversity and inclusion. It is my belief that one of the keys to solving many of our societal challenges starts in education, and the earlier the better."

Turner's animated Orgamites team truly embodies the idea "it's what's inside that counts," and helps adults and children communicate about organs and organ donation in a very human way.

"In a world that had become obsessed with outer appearances and possession, who better to talk to kids about their health, wellbeing and acts of kindness than a team of organs found in every one of us?"

When he first presented the idea, though, not all of Turner's friends and family were supportive.

"I think the whole idea of talking organs made people quite squeamish and of course I had these fun, lovable characters in mind."
The Mighty Organs
Turner's big breakthrough idea was the "mighty organs," to help facilitate conversations about organ donation.
"One day I was on a holiday reading different ideas around organs in medical journals," Turner says, "and I discovered the category of vital organs. And I wondered if anyone knew what the most transplanted and donated organs were."
When you start the conversation, and you say, 'Do you know that the Mighty Organs are those that are the most transplanted and donated organs?' it becomes an interesting conversation at home with families, and at school with teachers.
And so, the Mighty Orgamites were born.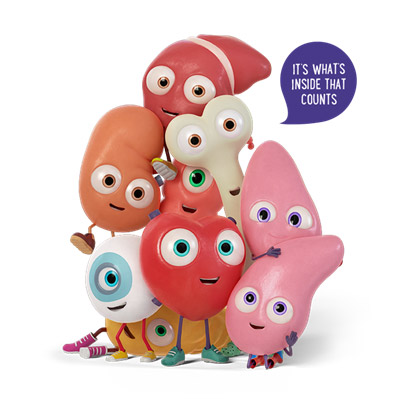 Three pillars of education and conversation
For Turner, there are three pillars of this conversation: organ donation, health, and acts of kindness. Three sets of resources were developed to fuel discussion in each of the three areas:
The Meet Your Mighty Organs toolkit is intended to inspire conversations about the organs most needed for transplant
The Let's Get Mighty Healthy toolkit helps children learn how the health of their organs affects their overall health, and helps make them aware of the concepts of organ donation and caring for others. As Turner puts it, "It's important for children to have a better understanding of how broccoli is going to make their engine work better. Hopefully that will also then make it a little bit easier for parents to empower their children and make them captains of their own health".
The Mighty Kind Movement toolkit was created to encourage and inspire kids to take better care of one another and the environment, too. It's based on the belief that teaching children about altruistic behaviour, including organ donation, begins with talking about kindness.
The Canadian connection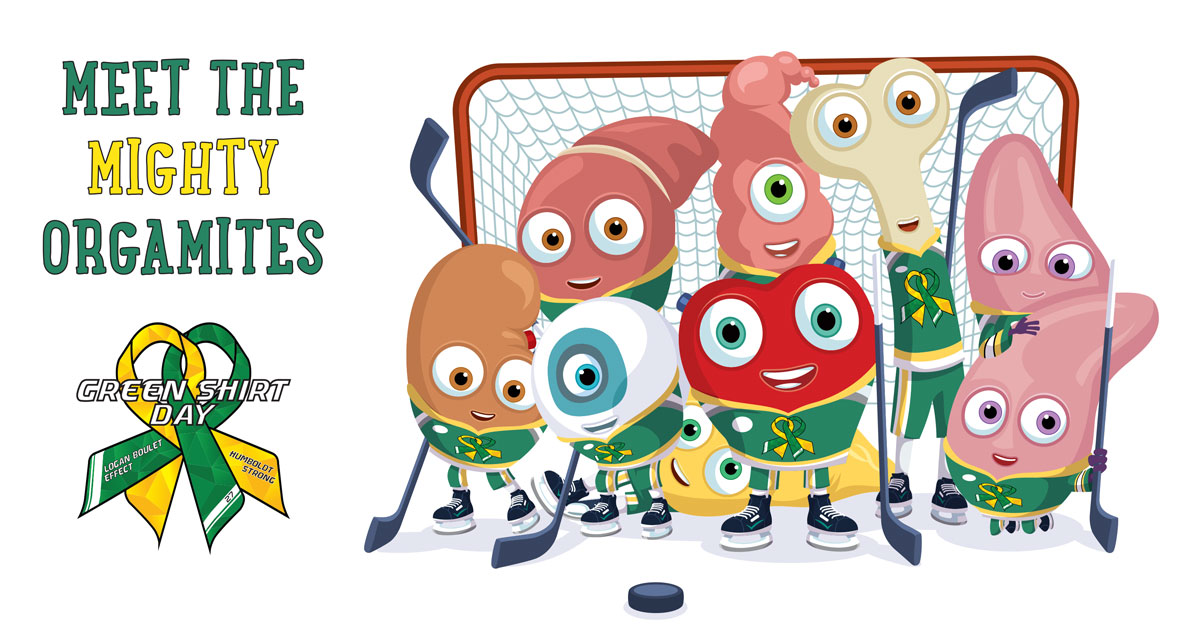 There is a powerful connection between the Orgamites and the family of Logan Boulet.
Just weeks before his tragic death in April 2018 as a result of injuries suffered in the Humboldt Broncos bus crash, Logan made the decision to be an organ donor. Because he had registered his choice and shared that decision with his family, his father Toby and his mother Bernadine were equipped to make the heart-wrenching decision to allow Logan's organs to be used for transplantation and research. Six of Logan's organs were donated to patients in need, and others saved for use in vital research, all because of Logan's kindness and his family's willingness to support his wishes.
The "Logan Boulet Effect" has inspired hundreds of thousands of Canadians to become registered organ donors. And since Logan's passing, Bernadine, a grade two teacher in Lethbridge, Alta., has also worked to encourage educators to talk to kids about organ and tissue donation. In fact, it was Bernadine who first brought the Orgamites to the attention of Canadian Blood Services, paving the way for this program to be brought to Canada. She discovered the program while searching for resources to use in her own classroom in 2019.
"I wanted to share my son's story with my class to encourage family discussions about registering as an organ and tissue donor," said Bernadine, "but when I went looking for elementary-level educational materials about organ donation, I couldn't find any until I discovered the Orgamites.
"It's important to teach kids about citizenship and altruism. Organ donation is not just about death. It's part of a medical treatment. Let's treat it the same way as the topic of blood donation — the idea of giving and helping other people."
Bernadine's passion and efforts dovetailed perfectly with some work that was also underway at Canadian Blood Services.
"While seeking resources to help build a portal to connect educators to quality tools to help bring this topic to their classrooms, we were thrilled to discover and eventually partner with Roydon and the Orgamites," says Jenny Ryan, the lead for public education and awareness initiatives for organ and tissue donation at Canadian Blood Services. "Through Bernie we understood the need for these resources and are so grateful to have partnered with All Good Co. to develop such inspired and unique resources for Canadian teachers and students."
The Orgamites made their Canadian debut in Fall 2021 and are beginning to find their way into classrooms across the country. If you would like to learn more about the Orgamites teacher toolkits or resources to support your own conversations with young people, you can find them in our education portal. You can also visit the Canadian Orgamites website, check out the Orgamites on Instagram and Facebook, or contact otdt@blood.ca to learn more.
Heart of Hope: a family film that aims for the heart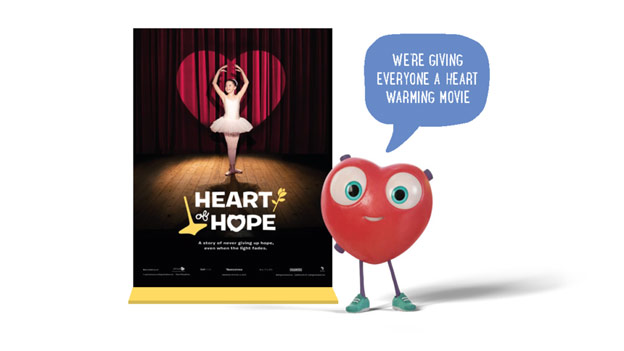 It's not every day that a family movie wrestles with the critical shortage of donated organs and also celebrates the marvel of transplantation, but Heart of Hope does both. The film is directed by Roydon Turner and features a cameo appearance by the Orgamites.
Heart of Hope is free to view online from April 24 (the first day of National Organ and Tissue Donation Awareness Week) to May 24.
About National Organ and Tissue Donation Awareness Week: April 24-30, 2022, marks the 25th anniversary of National Organ and Tissue Donation Awareness Week (NOTDAW). In 1997, the last full week of April was chosen to commemorate the death of young Stuart Herriott, whose organ donation saved four lives. Dedicated to honouring organ donors and their loved ones — who together, have made decisions to save lives — NOTDAW is a chance to raise awareness of the impact of organ and tissue donation. Across Canada, people and organizations including Canadian Blood Services are striving to empower Canadians and their families with the information they need to make their own informed choices.
Taking education about organ and tissue donation to new heights
Three ways to learn more about the power of living organ donation
One organ donor can save up to eight lives, and tissue donation can improve the lives of up to 75 others. More than 4,000 Canadians are waiting for a lifesaving transplant. Register your intent to be an organ and tissue donor through your province or territory and have that all-important conversation with your family. Looking for resources to educate others? Check out our Organs & Tissues for Life Education Portal.