Teen recovers thanks to donated plasma
James Peloza recovers from rare immune disorder
September 2, 2020
While getting ready for breakfast one morning, James Peloza noticed that something was seriously wrong. Since overcoming a bad cold two weeks earlier, the 14-year-old had stumbled and fallen several times; James felt like he was no longer fully in control of his body. When he tried to make his way to the shower that particular morning, however, he suddenly lost his eyesight and screamed for help. His mother rushed up the stairs and he collapsed into her arms.
"We called an ambulance," Elizabeth Peloza recalls. "It was absolutely terrifying. He went from being a healthy child to one that was completely incapacitated."
In hospital, doctors determined that James had suffered an acute attack of Guillain Barré Syndrome (GBS), a rare disorder that causes the immune system to attack the nervous system.
James received two doses of immune globulin, an effective treatment for GBS and several similar conditions. Made from donated plasma, the straw-coloured protein-rich liquid in blood, immune globulin contains elements of the immune systems of up to a thousand donors.

"I had no idea what was going on," says James Peloza. "But after I received treatment, I felt a lot better very quickly."
"He had stabilized by the next morning and has been improving steadily ever since," recalls Elizabeth.
New plasma donor centres will help meet growing patient need
James is just one of many patients across Canada who rely on donated plasma. Demand for plasma and plasma products is rapidly increasing, as they are used to effectively treat a growing number of immune deficiencies, bleeding disorders, cancers, and kidney and liver diseases.
To meet rising demand, Canadian Blood Services opened a new plasma donor centre in Sudbury, Ont. in Aug. 2020; others are set to open in Lethbridge, Alta. later this year and in Kelowna, B.C. in 2021. Thanks to the generosity of donors, the centres can help transform the lives of many more patients like James.
A thousand plasma donations and counting
After a week in hospital, James continued his recovery at home. Through a regime of physiotherapy and exercise, he has rebuilt much of his strength, coordination and stamina. He eased back into school, and initially attended only one class before needing to sleep for a few hours. After a month, he began to attend school full-time.
"He still has to put some weight back on," says Elizabeth, "but his spirit has been great. He's back to his old self again."
The need goes on: Her immune system depends on donated plasma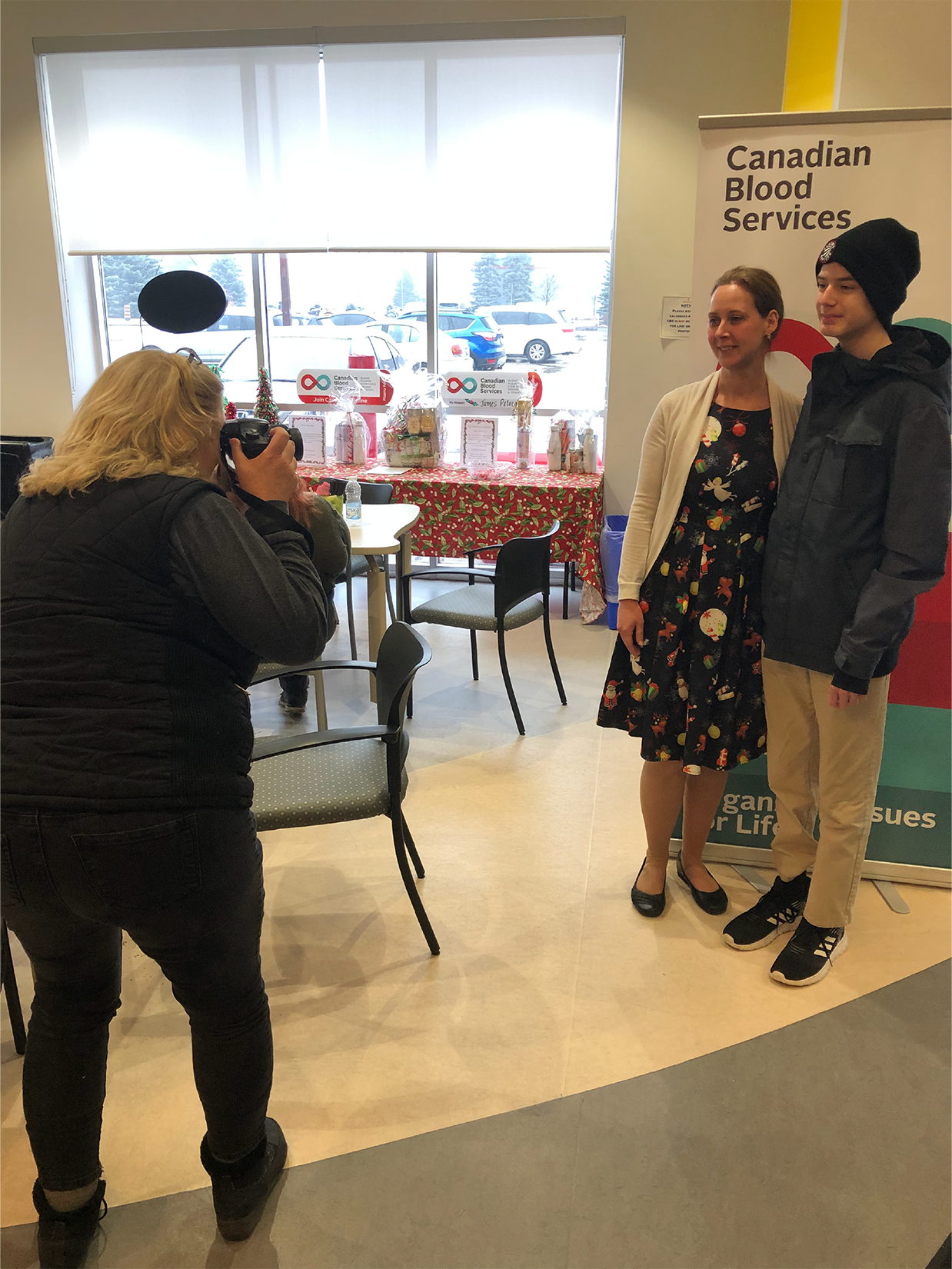 Elizabeth and James Peloza at the blood drive they organized in London, Ont. in Dec. 2019
A long-time blood donor, Elizabeth organized a special donor event to show the family's appreciation. And when she learned that plasma can be donated weekly, she switched to donating plasma.
For James, perhaps the biggest disappointment was that GBS caused him to miss the tryouts for his high-school basketball team. He continues to work hard toward a full recovery so that he'll be ready for the next season of high-school basketball.
"It would mean a lot to me to make the basketball team," he says. "If I were to meet a plasma donor, I would thank them for saving my life.
Becoming a plasma donor can make a lifesaving difference to patients across Canada. To book an appointment, visit www.blood.ca/en/ways-donate, download the GiveBlood app or call 1 888 2 DONATE.