B.C. motorcyclist survives crash thanks to donated blood
Nathan Olson shares his O-negative blood type with the dozens of blood donors who helped save his life
September 3, 2020
In the blink of an eye, a father of five in Nanaimo, B.C. went from dedicated blood donor to patient in need. 
It was a crisp Easter Monday afternoon and Nathan Olson and his wife Jennifer Olson had taken their motorcycles out for a scenic ride along the coast. They were celebrating a job well done, having spent the morning cutting and sewing tube-style masks to help protect people in their community from COVID-19.  
"Driving a car for me is just a mode of transportation, but motorcycles have always been a pleasure," says Nathan, 47. "The wind's in your hair, and you're experiencing more of the elements. I just enjoy it so much. It's a passion."  
Before that holiday Monday, Nathan says he'd never been in a collision. But that day, the couple was heading uphill through a construction zone when a motorist heading downhill turned left into Nathan at high speed. 
"It actually severed my leg on impact," says Nathan.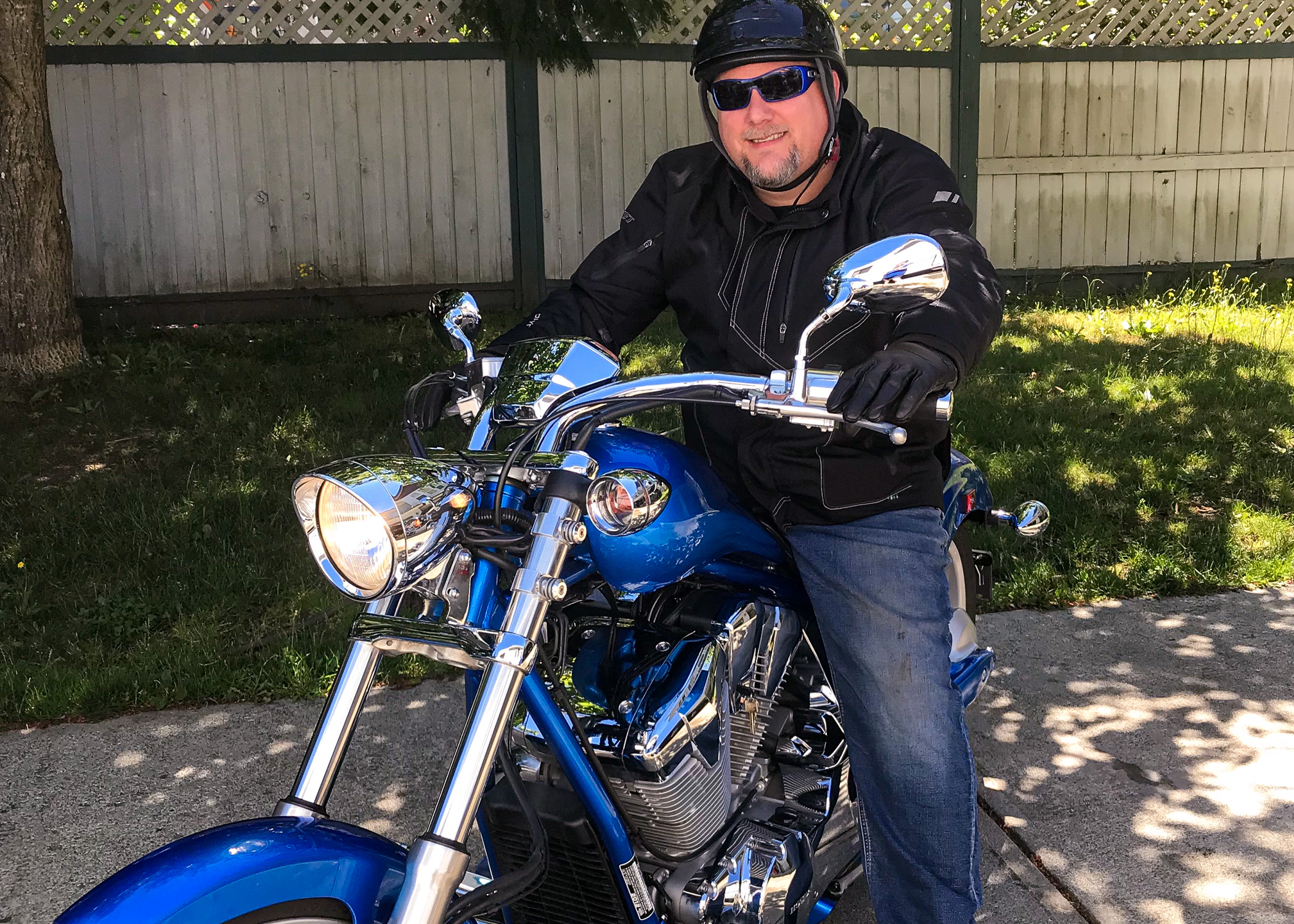 Nathan Olson, seen here before a motorcycle crash in April 2020, owes his life to blood donors. 
Bystanders and blood donors help save a life 
Fortunately for Nathan, several motorists witnessed the collision and swung into action. One of them, a nurse, rushed to his side in the wooded area where he'd been thrown. A tow truck driver gave her his belt for a tourniquet. 
Paramedics took Nathan to a hospital in Nanaimo; from there he was airlifted to Victoria for further treatment. He suffered several rib fractures, a punctured lung and kidney damage in addition to the loss of much of his left leg.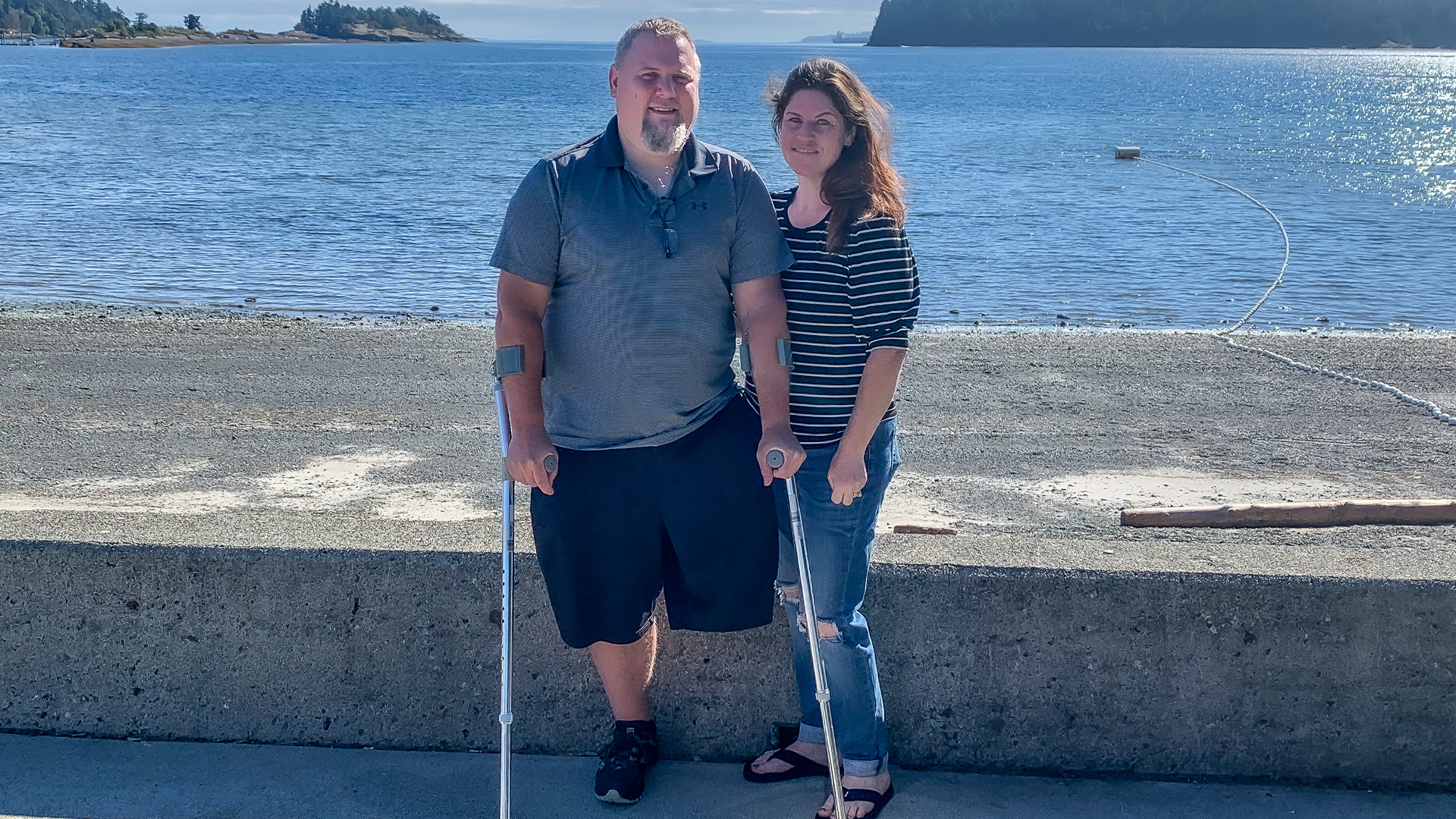 Nathan Olson, seen here with his wife Jennifer Olson, suffered major injuries including the loss of much of his left leg in a motorcycle crash in April 2020. 
He spent six weeks in the hospital recovering. But another number also stands out in Nathan's mind: 42. That's how many units of blood he needed to survive those devastating injuries. The number still amazes him, particularly when he thinks back on his own blood donations. 
"There might be 20 people in the room at a time, between those donating, and the people completing the questionnaires or waiting in line," says Nathan, who estimates he has donated blood about two dozen times at Canadian Blood Services. "So 42 units would be double that number of people."  
Am I eligible to donate blood?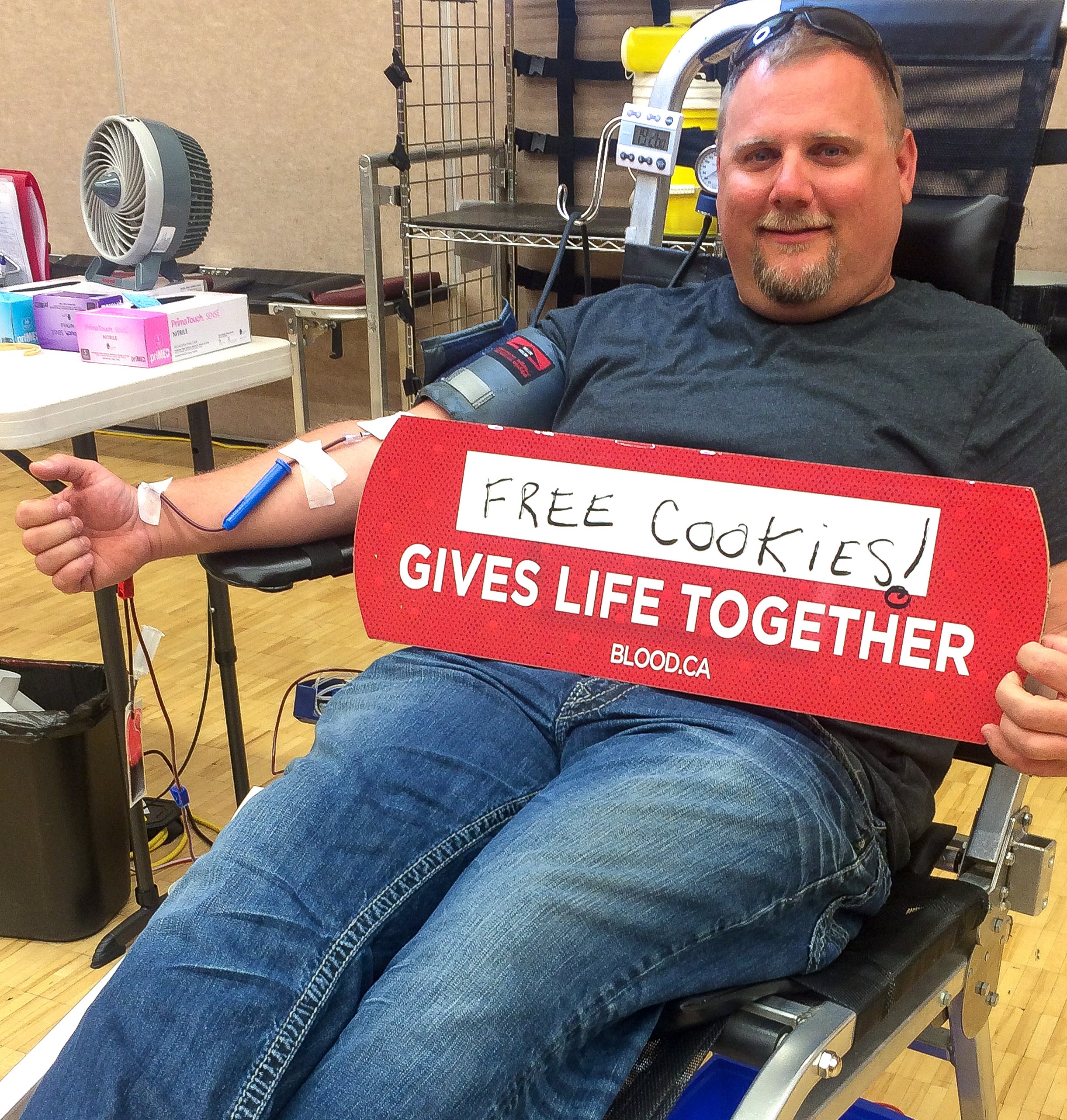 Before he was severely injured in a motorcycle crash, Nathan Olson donated blood regularly. 
Additionally, Nathan is well aware that there's much more to that numbers game. A donor's blood type also needs to match that of the patient. Nathan has an O-negative blood type, which he shares with only seven per cent of Canadians. O-negative red blood cells are compatible with all other blood types, which means they are extremely valuable in critical emergencies where there is no time to check a patient's blood type. But they are also the only type that Nathan can receive safely. 
Receiving blood after giving it has crystallized for Nathan the lifesaving importance of blood donation. After the crash, he shared his thoughts on social media to encourage those in his network to give blood. Saving his life required a team effort, he says. His team's first members were the nurse and the driver who gave her his belt to stop the bleeding. But it quickly expanded to include blood donors.  
"I could have the best doctor in the world, but without blood, he could not save my life," says Nathan. "Donating blood is like standing next to a doctor during a lifesaving surgery and helping out. You're a part of the surgical team." 
Because of blood donors, Nathan survived to meet a new family member — his second grandchild, Emersyn Olson. They met for the first time after Nathan's many surgeries and long hospital stay.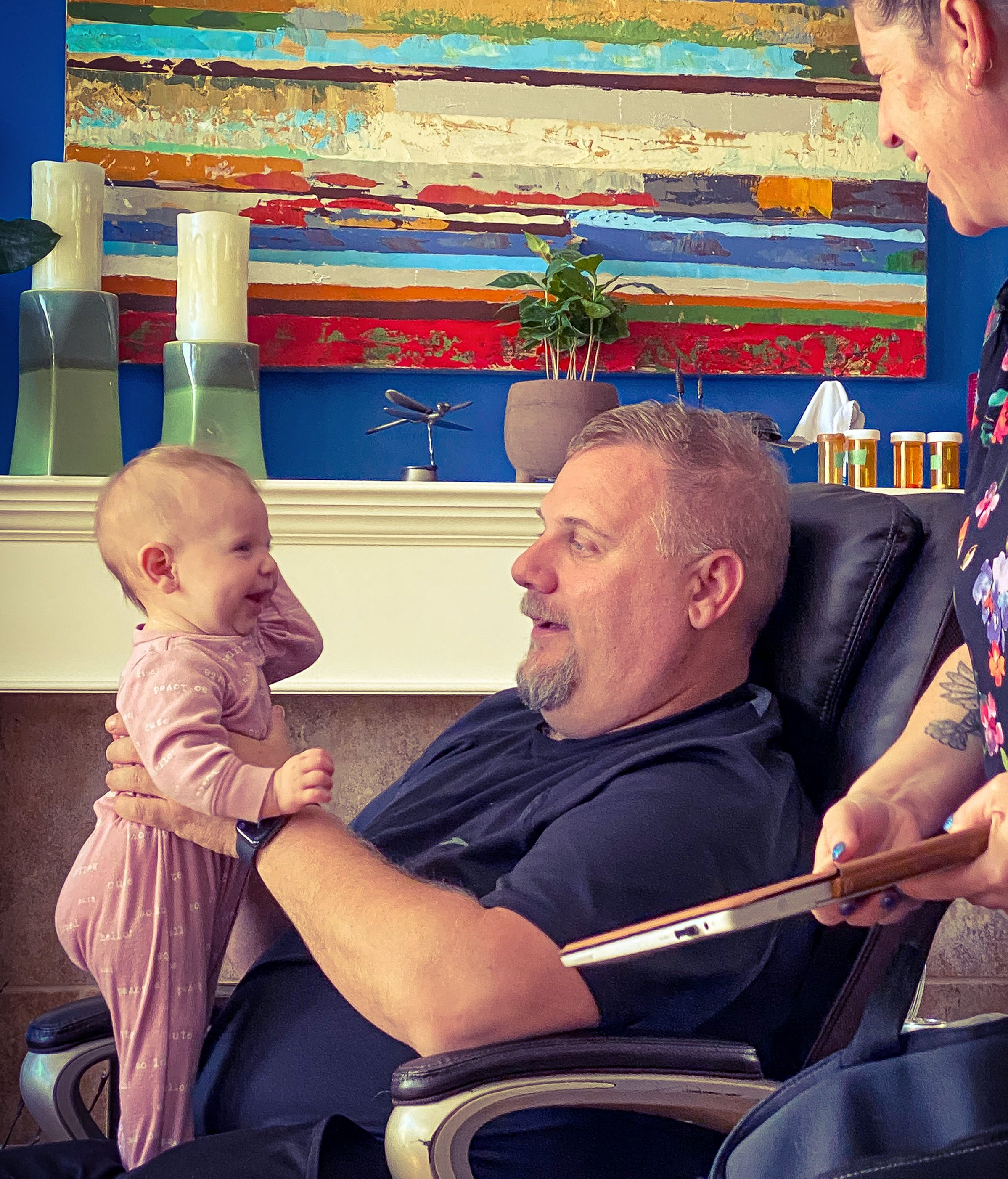 Because of blood donors, Nathan Olson survived to meet his new granddaughter, Emersyn Olson. 
The road to recovery runs through a pandemic 
The loss of a leg is a huge adjustment for Nathan. He's a millwright at a pulp mill, a job he describes as extremely physical, and when he returns to work he expects to be wearing a new prosthetic. 
He's also getting through this tough time during a pandemic. COVID-19 visitor restrictions made his stay in hospital a lonely one. He's grateful to be home now and among family, including five sons aged 15 to 24. Thinking about friends and family helped lift his spirits in the weeks after the crash.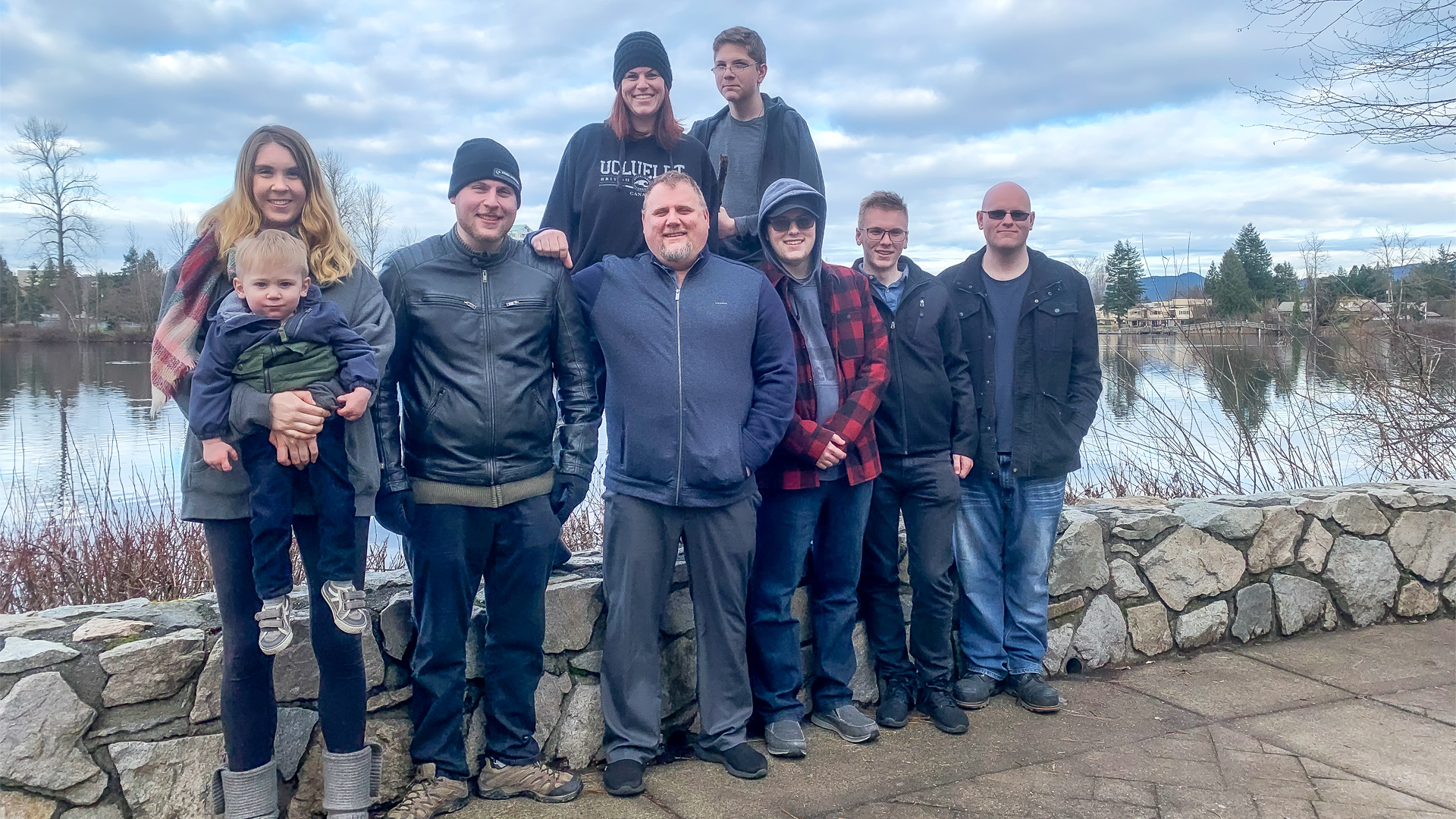 Nathan Olson, centre, with his wife, five sons, daughter-in-law and grandson. Nathan lost much of his left leg in a motorcycle crash in April 2020.  
"I remember lying in the hospital bed thinking to myself, 'I just want to be down by the river, with a campsite, and a campfire, and friends and family all sitting around yakking.'" 
In July, he finally got to enjoy that camping trip. He's also thinking about donating blood again. It may be some time before his health allows it, but he's already imagined his next encounter with those making blood donations in Nanaimo, B.C.  
"I can picture myself walking in with a prosthetic and saying, 'Because of you guys, I survived this.'" 
The need for blood is constant for patients on Vancouver Island and across Canada. Canadian Blood Services needs donors to book appointments to donate blood in the days before and during the Labour Day long weekend. To book, download the GiveBlood app, call 1 888 2 DONATE or make your appointment at blood.ca/donate.