Donated plasma transformed this boy's life
Heydan Morrison and his family attended opening of new plasma donor centre in Sudbury
August 25, 2020
The family of a nine-year-old boy is grateful both for plasma donors and for the new plasma donor centre that opened in Sudbury on Aug. 25.
Every three to four weeks, Heydan Morrison receives immune globulin, a medication derived from plasma — the straw-coloured, protein-rich liquid in blood that helps other blood components circulate throughout the body. Each dose of his medication contains elements of the immune systems of up to a thousand donors.
"Sometimes I have to get needles, so I have to be brave," says Heydan, who lives with his family near Sault Ste. Marie, Ont. "After I have my treatment, my mom takes me out for lunch. Then I run around a lot, because I have a lot of energy."
Heydan will likely need this treatment for the rest of his life. He has hypogammaglobulinemia, a rare condition that leaves his body short of the antibodies it needs to fight off infections. Throughout his early childhood, he suffered from a nearly continuous series of infections that left him listless and underweight. Immune globulin has made a world of difference.
"Ever since Heydan started treatment, he's become a happy, healthy, energetic little boy," says Shannon Morrison, Heydan's mother. "As soon as he started on immune globulin, he started growing and he was out running around. He was back to being the child he should have been all along."
New plasma centres will help meet growing patient need
Image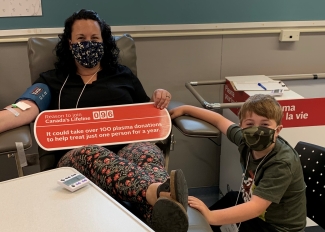 Shannon Morrison, whose son Heydan relies on medication made from plasma, was one of the first donors at a new plasma donor centre in Sudbury.
Having witnessed Heydan's remarkable recovery, members of the Morrison family are now keen advocates for blood and plasma donation. In fact, Shannon and her mother, Marlene Wilson, were the first to donate at Canadian Blood Services' new plasma centre in Sudbury, Ont.
"Until it affects you, you don't think about donating," Shannon says.
The need goes on: Her immune system depends on donated plasma
Plasma to save a toddler's life
Heydan is just one of many patients across Canada who rely on donated plasma. Demand for plasma and plasma products is rapidly increasing, as they are used to effectively treat a growing number of immune deficiencies, bleeding disorders, cancers, and kidney and liver diseases.
To meet rising demand, Canadian Blood Services is also opening new plasma centres in Lethbridge and Kelowna. Thanks to the generosity of donors, the centres can help transform the lives of many more patients like Heydan.
A thousand plasma donations and counting
Image

Marlene Wilson donated plasma at the opening of a new plasma donor centre in Sudbury. Her grandson Heydan Morrison relies on medication made from donated plasma.
"Now, he's probably the healthiest one in the house," says Shannon, mother to Heydan and his older sister Charlotte. "We're the ones with coughs and colds, and he's usually just fine. It's changed so much since he started the treaments."
"If I could meet a plasma donor," says Heydan, "I would say thank you."
Becoming a plasma donor can make a lifesaving difference to patients from across Canada with hypogammaglobulinemia and many other conditions. To book an appointment, visit blood.ca/donate, download the GiveBlood app or call 1 888 2 DONATE.