The need goes on #8: Plasma to save a toddler's life
Mavrik Hampe needs immune globulin to be able to fight infection
April 3, 2020
Diane McKiel recognized that something was wrong with her son, Mavrik, about seven months after he was born.
"He had one infection after another and regular antibiotics didn't seem to help much," says Diane, who lives in Bathurst, New Brunswick with her fiancé, Mike Hampe, and their two young children. "Twice, Mavrik contracted pneumonia and ended up in hospital on intravenous antibiotics."
Doctors diagnosed Mavrik — who turns two in June — with X-linked agammaglobulinemia (XLA). That's a rare genetic disorder that impairs the body's ability to fight infection. Without treatment, the life expectancy of a child with XLA ranges from 8 to 17 years.
Fortunately, most sufferers respond when treated with immune globulin. That's a medicine derived from plasma, one of the components of blood. Each immune globulin treatment contains active elements of the immune systems of as many as a thousand donors.
Family endures second round of isolation during COVID-19
Initially, Mavrik's treatment regime involved doses of immune globulin administered intravenously in hospital every three to four weeks. He responded well, although doctors cautioned that it could take a few months to fully strengthen his immune system. During that time Diane kept both Mavrik and Harlyn, his three-year old sister, home.
Mavrik's immune system is now stronger, but the family is back in isolation again because of COVID-19. Diane's fear of the illness is heightened because Mavrik has respiratory problems and people with XLA struggle more with respiratory infections.
Fortunately, before COVID-19, Diane learned to administer Mavrik's immune globulin at home, subcutaneously, so the family can avoid trips to the hospital. They are taking every precaution. Mavrik's father, Mike, will soon return from British Columbia where he has been working, and when he does, he'll spend two more weeks isolated from his family, living in a separate vacant house.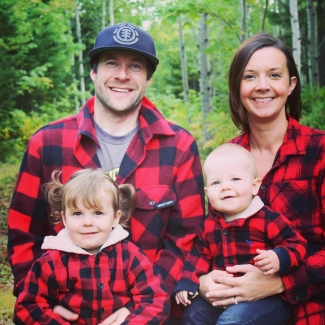 'Forever grateful' to donors
Throughout the hardship, Diane continues to be grateful for the generous donations that make lifesaving blood products available to patients across the country, including Mavrik.
"I don't think that most donors recognize the difference that they make and the impact that they have," she says. "I am forever grateful to them."
In September, the Hampe family helped to organize a special blood drive in honour of Mavrik. News coverage helped attract more than 400 donors in only three days, setting a new record for the mobile donation event in Bathurst.
Now it's Diane's fervent hope that eligible donors will keep booking appointments throughout COVID-19 and beyond. In Mavrik's case, it's blood products that will keep him from a lifetime of pandemic-style isolation.
"Otherwise, he would be home 24-7. He wouldn't be able to leave the house," says Diane. "How everybody is living now is how he would have to live his entire life."
The risk of COVID-19 is requiring people across Canada to avoid many public spaces. However, blood products remain critical for patients, and our donor centres have enhanced measures for the safety of donors, staff and volunteers. Our website is updated daily with information about our response to COVID-19. To make an appointment you can download the GiveBlood app, call 1 888 2 DONATE (1-888-236-6283) or book now at blood.ca.