Connecting with donors 'a joy that's difficult to explain'
Susan John, a donor care associate in B.C., brings passion to her work, even amid a pandemic
May 19, 2021
Asian Heritage Month is a time to celebrate the rich history and accomplishments of Canadians of Asian descent. This May, we are exploring their connections and contributions to Canada's Lifeline as employees, donors and patients. Susan John, a Canadian Blood Services employee in Vancouver, told us about her work, her background and what Asian heritage means to her.
When donors walk into a Canadian Blood Services donor centre or donation event, one of the first faces they see is that of a donor care associate. Susan John has been welcoming donors at events in British Columbia's Lower Mainland for three years.
"Because I go to different locations daily, I get the opportunity to meet donors from across the region," says Susan. "And it's difficult to explain the kind of joy one feels to connect with blood donors on a personal level, and to hear about their experiences."
Over the past 14 months, those donors have braved a pandemic to support Canada's Lifeline, and Susan and her colleagues are grateful to them.
"Without donors, we can't imagine what would have happened to those patients who rely on blood and blood products for survival," she says.
The donors also inspire Susan and others on the frontline to keep giving their best through this challenging time.
"It's been overwhelming for sure, but it's the job we've chosen to do, and we do it with the same passion whether or not there's a pandemic," she says.
How we're putting safety first at donor centres during the pandemic
'We've always felt welcome in Canada'
Susan grew up in India, then had a successful two-decade career as a medical laboratory technologist in the health ministry of Abu Dhabi in the United Arab Emirates. She hadn't planned to immigrate to Canada in her forties, but when the time came for her children to attend university, they chose to study in Canada. So not wanting to live thousands of kilometres away from them, Susan followed.
"Life has been good since we settled here ten years ago," she says. "We've always felt welcome in Canada and Canada is home."
Susan feels the same way about her organization. She's been with Canadian Blood Services for more than five years and has particularly enjoyed connecting with donors. She spent her first two years as a cord blood collections specialist at the BC Women's Hospital — one of four hospitals where Canadian Blood Services' Cord Blood Bank collects umbilical cord blood. In that role, she helped spread the word to hospital employees and expectant mothers about how cord blood can save lives. There's a particular need for donations from babies of diverse and mixed ancestral backgrounds, to match the needs of diverse patients who require lifesaving stem cell transplants.
Cord blood donors could be someone's hope for life
"I always felt fulfilled whenever an expectant mom signed up to donate her baby's cord blood," says Susan. "Connecting with moms from all ethnic backgrounds was a good adventure and it's the same feeling for me now that I'm working on the whole blood side."
Diversity is important in whole blood, too, including to help patients with rare blood.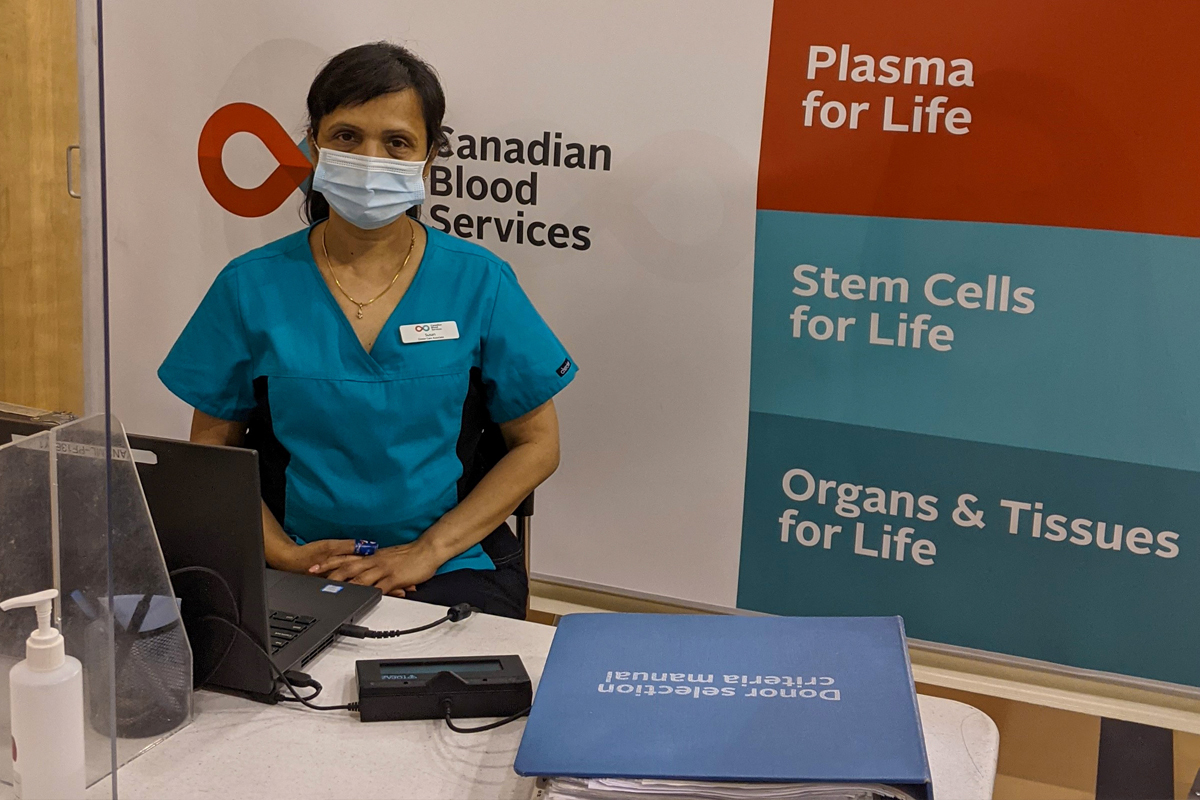 Susan John, a donor care associate in B.C., brings passion to her work, even amid a pandemic.
Celebrating her heritage at home and at work
Since moving to Canada, Susan has continued to celebrate her South Asian heritage. Before the pandemic, she and her family often attended local festivals and celebrations of Indian culture in Vancouver. "That's how my children stay in touch with their Asian heritage," she says.
At work, Susan has been pleased to see Canadian Blood Services take steps as an organization toward greater diversity, equity and inclusion (DEI).
"I'm happy about two steps we've taken so far," says Susan. "First is the release of our commitment on blood.ca, and second is the respectful workplace training we took as employees at the start of the year."
These advances have helped Susan feel more at home than ever, and optimistic for greater diversity, equity and inclusion in both her workplace and Canada's Lifeline as a whole.
"Working on the frontline daily, I see how important it is for our organization," says Susan. "We can't afford to rest."
Asian Heritage Month is an important time to reflect on Asian Canadians' contributions to society. It also serves as a reminder that actions are necessary to remove barriers, develop equitable opportunities and foster inclusive spaces not only during the month of May, but year-round. Learn more about our commitment to diversity, equity and inclusion at blood.ca/DEI.