How we help patients with rare blood
There's more to blood type than A, B, AB and O
September 11, 2020
Even if you've never donated blood, you've likely heard of the major blood groups: A, B, O and AB. In addition to these blood groups each individual can be positive or negative for something called "Rh factor." But did you know your blood type is even more complex than that?
"People think of just ABO and Rh, but really there are hundreds of different antigens," says Dr. Gwen Clarke, head of the Rare Blood Program at Canadian Blood Services.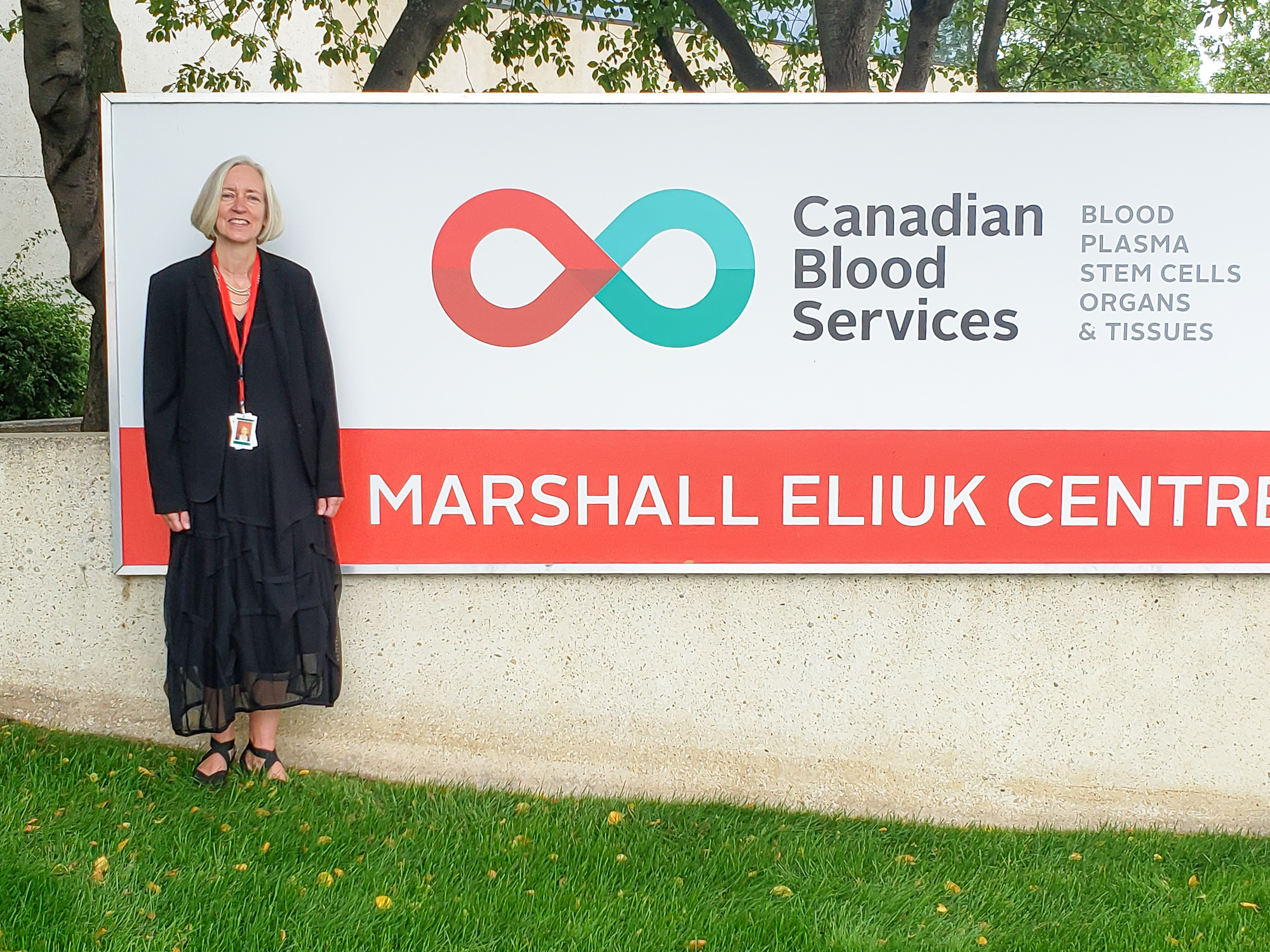 Dr. Gwen Clarke is head of the Rare Blood Program at Canadian Blood Services.
Antigens are proteins found on the surface of every red blood cell in the body. There are more than 600 known antigens, with more being discovered each year. Your unique combination of antigens is called your "phenotype."
While most patients in Canada who need a transfusion can be helped safely with blood that simply matches their ABO blood type, some patients with unusual antigens or antigen combinations develop antibodies. These people may suffer a dangerous immune reaction to such "off the shelf" units if additional matching is not available. Their body may attack and destroy the transfused blood cells. Matching those patients with suitable donors requires ongoing effort by Canadian Blood Services employees in multiple parts of the organization and across the country.

Canadian Blood Services tests blood donations for unusual antigens and antigen combinations as well as for transfusion transmissible diseases. (This photo was taken before the COVID-19 pandemic.)
Who has rare blood?
If only one in 1,000 people has the same antigen combination as you, your blood is rare. If it's one in 10,000 people, your blood is very rare. In either case, Canadian Blood Services wants to find you.
One way we do this is by examining the generous donations of blood that are already collected across Canada every day. All donations are tested for certain antigens, such as the familiar A, B, O and AB, but some are also selected for additional phenotyping.
If you have donated blood more than once, and have also self-identified as non-Caucasian, your donation is more likely to receive this extra scrutiny. That's because your phenotype is linked to your ethnicity, and phenotypes that are common in other countries may be unusual in Canada. For that reason, we encourage people of diverse backgrounds to become blood donors.
"It's necessary from a medical and scientific perspective that our donors match our patients," says Dr. Clarke. "People's blood cells are not all the same, so diversity is really incredibly important."
Aaliyah's army: How blood donors helped one child survive during the pandemic
Location also helps determine which donations should undergo more detailed testing.
"We want to have some phenotyped inventory across the country, so we try to select a sprinkling of repeat donors from different centres," says Dr. Clarke.
Some donations are selected for even more extensive testing, by extracting DNA from the blood to predict an even more extended red cell antigen phenotype.
"Some of our donors have a really extended list of antigens determined for their red blood cells," says Dr. Clarke.
If your blood is rare enough to fall into that category of one in 10,000 donors, Canadian Blood Services will notify you by letter. We will encourage you to become a regular donor. We may also freeze some of your donations, to create a bank for patients whose lives could depend on them. Those units can rest in storage for decades.
The amazing journey of donated blood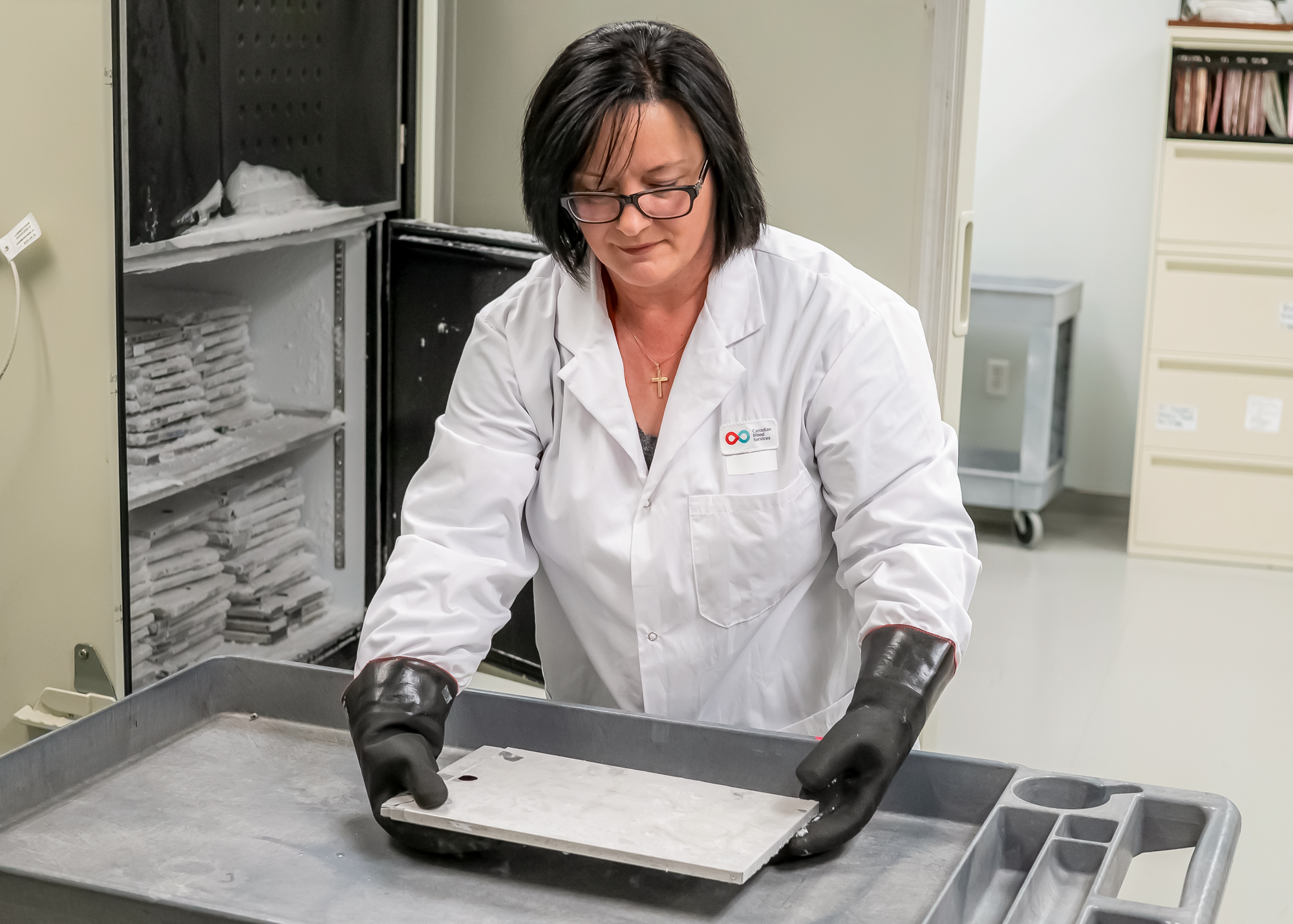 Canadian Blood Services stores red blood cells of rare types in special freezers, sometimes for decades. (This photo was taken before the COVID-19 pandemic.)
When patients become rare blood donors
While some people learn they have rare blood by becoming donors, others discover it as patients. Blood typing in the hospital reveals evidence of their unusual profile, often through detection of an unexpected red blood cell antibody.
In such cases, a blood sample from the patient is sent to one of Canadian Blood Services' reference testing labs for further analysis. That helps us meet the patient's own immediate need for blood products. Then later, if their health permits, that patient could become a rare blood donor, as could any siblings who share their rare blood type.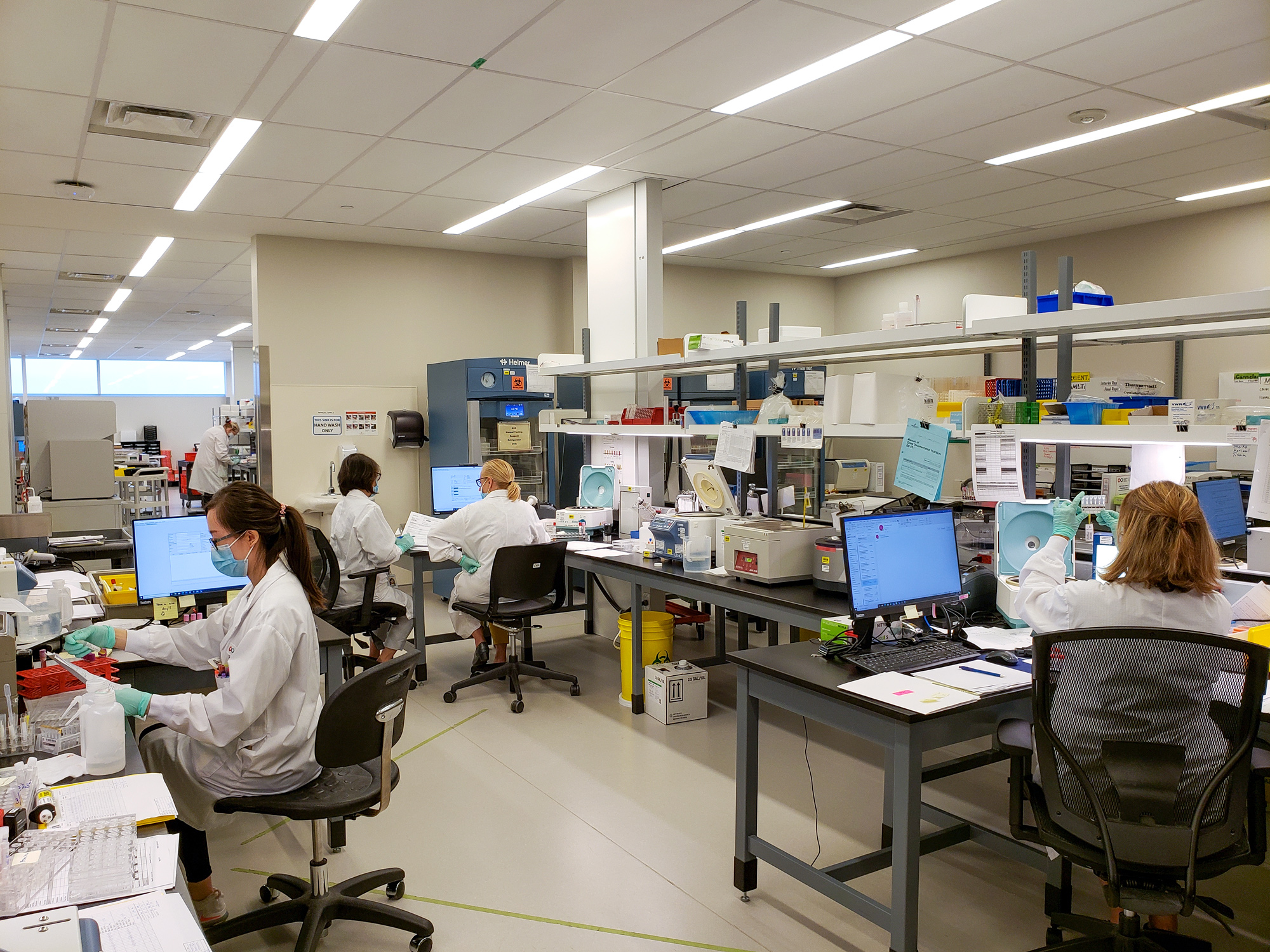 Laboratory professionals at Canadian Blood Services' reference testing lab in Brampton, Ont. help meet patient need for blood of rare types.
How we connect donors and patients
Requests for rare blood types come to Canadian Blood Services distribution centres from hospitals. A technical specialist within a centre will search our existing national inventory to find matching units and can arrange for them to be shipped from anywhere in Canada.
If no matching units are available, the specialist can also search our records to identify a matching donor who has given previously. If no matching donors can come in right away, the specialist can also turn to the International Rare Donor Panel, which gives us access to a database of more than 5,000 rare donors in 27 countries.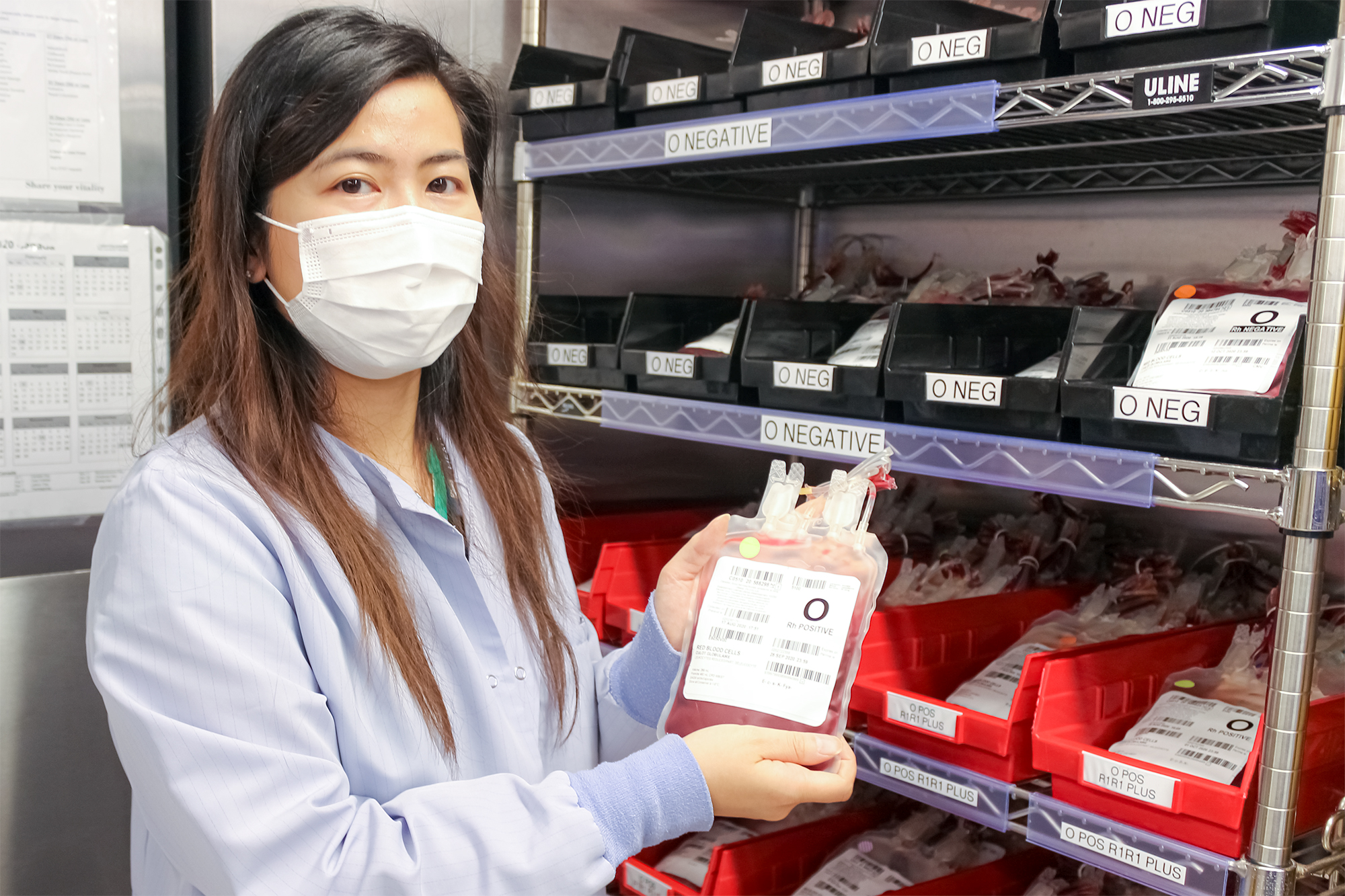 Canadian Blood Services' technical specialists such as Zerlina Tam help identify matching donors for patients with blood of rare types.
Patients with rare blood are assigned case managers within Canadian Blood Services' Rare Blood Program. Their team also includes physicians such as Dr. Clarke and others who work directly with the patient's doctors to understand their blood requirements and develop plans to meet them. That effort may involve our reference labs for testing that more precisely identifies the patient's rare blood type.
Donor testing labs in Brampton and Calgary also play a role. Not only do they help build our database of rare blood donors through routine phenotyping of donations, but they also swing into action when the need is urgent. Over days or even weeks, they may run extra tests on incoming donations and existing inventory to find matches for a specific patient. Then when suitable donors are found, our National Contact Centre can reach out to them for new appointments to meet future needs.
'This work can reach and serve anyone': Meet a medical laboratory technologist in donor testing
"A lot of the people are kind of a behind the scenes army, working to make all of this happen," says Dr. Clarke.
Every day, patients need blood from donors whose blood type matches their own. Canadian Blood Services encourages people of all backgrounds to donate blood to meet the needs of diverse patients. Your donation could help save a life. To book an appointment, download the GiveBlood app, book online at blood.ca/donate, or call 1 888 2 DONATE (1-888-236-6283).