New Brunswick woman successfully donated stem cells years after registering
Canadian Blood Services Stem Cell Registry needs committed donors like Lizzy Burns to be able to help patients
January 19, 2021
Last year, a young woman in New Brunswick got a chance to do something incredible for a patient in need.
The Burns family was preparing for dinner when a call from Canadian Blood Services informed 25-year-old Lizzy Burns that she had matched with a patient in need of a stem cell transplant. Stem cells, specifically blood stem cells, are immature cells that can develop into any cell present in the bloodstream. Transplants are a potentially lifesaving treatment for many blood diseases and other life-threatening disorders.
"In that moment, I got this rush of excitement like when you're on a roller coaster that's slowly reaching the top of the peak right before it drops," Lizzy says. "I always wanted to help a patient in need, and here came that opportunity to do something great."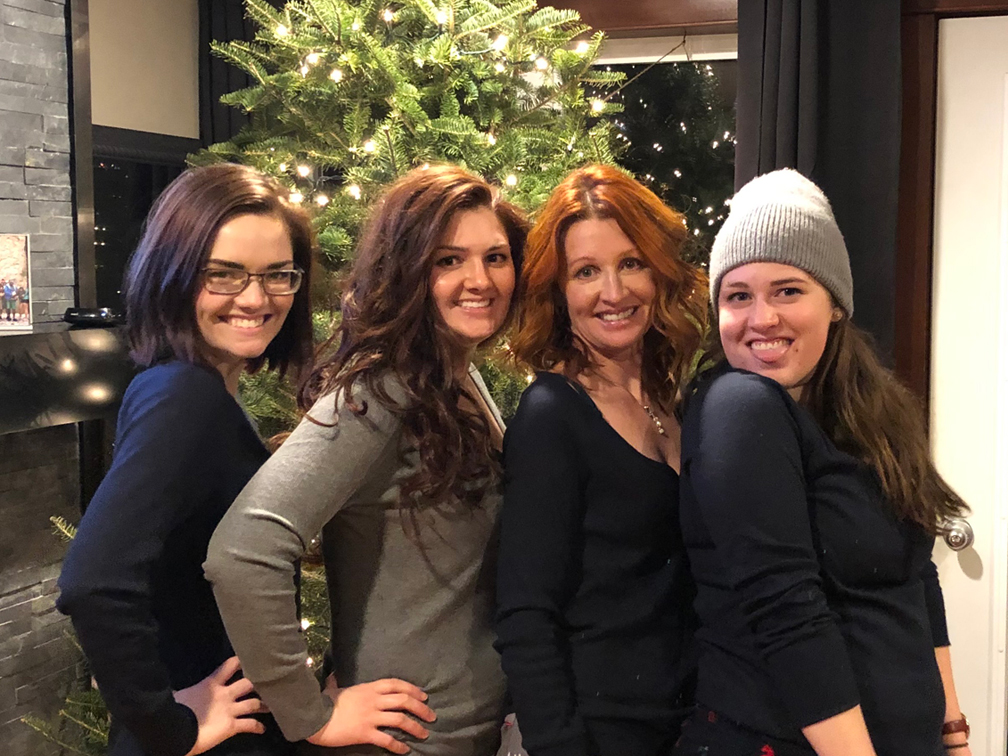 Lizzy Burns, left, with her sisters Jessica Martin (second from left) and Hannah Burns (far right) and their mother Kim Burns (second from right). Kim and Jessica are both registered nurses. All three sisters say they are constantly inspired by their mother to be kind to their neighbours.
Lizzy, who's the second of three children, often recalls how her mother constantly reminded her and her two sisters of the importance of making a difference in other people's lives.
"As kids, my sisters and I always told our mom that if something ever happened and we died, we'd like to donate our organs to a patient in need," says Lizzy, who has registered to become an organ and tissue donor in addition to joining Canadian Blood Services Stem Cell Registry. "And then my mom would tell us to always be ready to help others, especially if we were fortunate enough to have good health."
A smooth path to donation
The day after Lizzy donated, she contacted Canadian Blood Services in the hope of sharing her positive experience broadly.
"I was expecting a lot of pain post donation because stem cell harvesting is presented as this super painful experience on TV," she said. "I am one day post-procedure and I am feeling way better than I expected. I have next to no pain," she continued, adding that it simply felt "like I slept in a funny position and just need to stretch."
Throughout the stem cell donation experience, Lizzy says she felt well-supported.
"The entire team at Canadian Blood Services who did my initial testing, and the hospital staff, provided so much comfort to me throughout the process, even when I felt like I didn't need it," she says. "And I can't thank them enough."
'I always hoped that day would come'
Every year, hundreds of Canadian patients require lifesaving stem cell transplants to treat more than 80 diseases and disorders. About 75 per cent of those patients will not find matching donors within their own families. To survive, they'll rely on the generosity of unrelated donors identified for them through Canadian Blood Services Stem Cell Registry. The registry also connects Canadian patients with donors in other countries ― and connects international patients with Canadian donors ― through its links with similar registries worldwide.
California stem cell donor helps save Dundas, Ont. man's life twice
Family marks stem cell transplant anniversary with appeal to donors
As Lizzy discovered, joining the registry is easy. She signed up five years ago as a first-year student at Mount Allison University in Sackville, N.B. At the time, she was intrigued by the small gathering of fellow students who had come together for a swabbing event. Participants at such events "swab" the inside of a cheek to provide the registry with the DNA sample required to identify them as a potential match for a patient.
"I answered some quick questions, did a swab and that was it," says Lizzy, who was already a blood donor at the time. "Although I never thought I would be called in five months or years after joining, I always hoped that day would come."
Joining the stem cell registry is a long-term commitment to patients. Like Lizzy, many potential donors wait years to be matched. Others are called within months, while some never receive a request to donate at all. Regardless, all registrants help bring hope to patients in Canada and abroad who require lifesaving stem cell matches.
Even though she always intended to help a patient if called, Lizzy says knowing the impact of the COVID-19 pandemic on stem cell transplantation made her even more determined to follow through with donation. Most Canadian patients depend on international stem cell donors, but border closures and travel restrictions related to COVID-19 have meant that patients and transplant centres now rely more on donors from Canada.
The pandemic has also made it more difficult to recruit new potential donors to Canadian Blood Services Stem Cell Registry. That's because in-person community swabbing events to recruit potential donors are suspended to reduce the transmission of COVID-19. People are encouraged to sign up online instead, and receive a swab kit in the mail.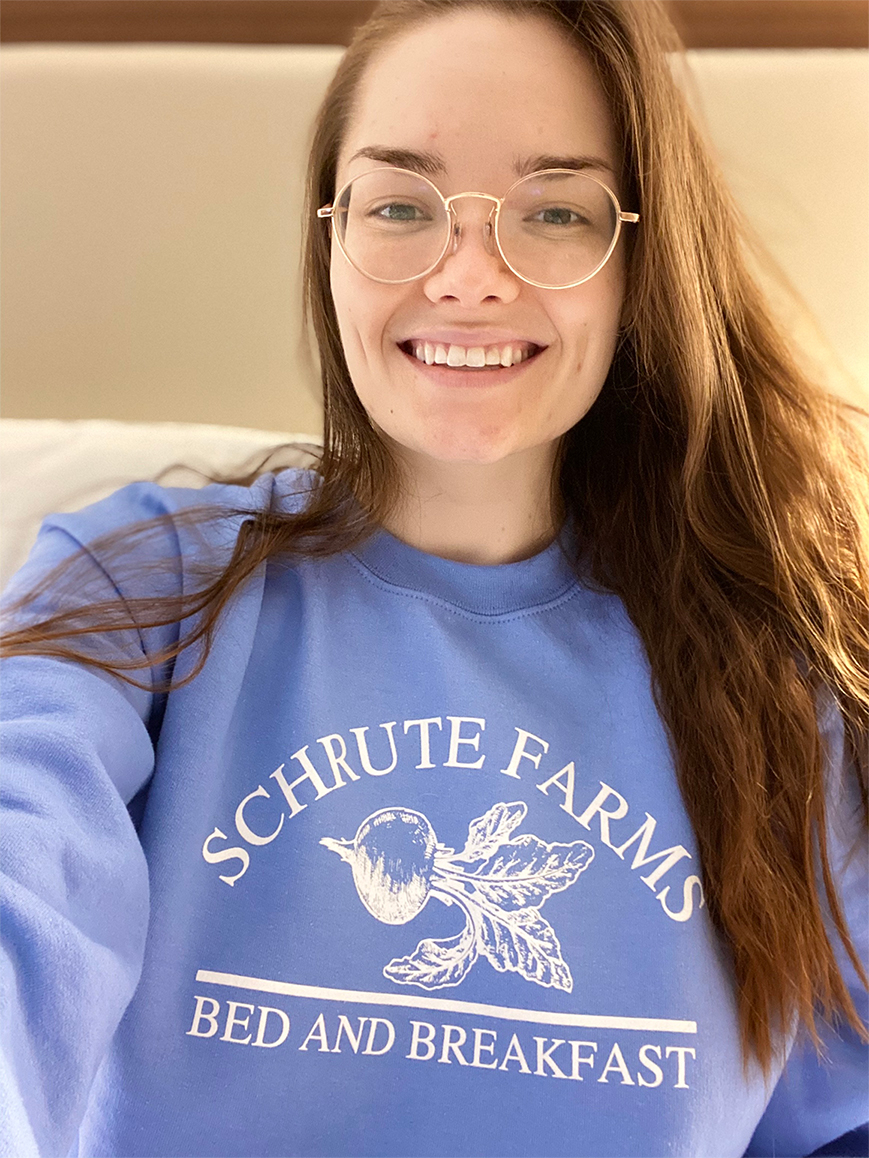 After being on the stem cell registry for five years, Lizzy Burns successfully donated stem cells. She now hopes to be an example for other potential donors who might get the call to donate years after joining Canadian Blood Services Stem Cell Registry.
A crucial need for committed donors
Unfortunately, unlike Lizzy, not all those who join the registry agree to donate when called. Only about 50 per cent of those contacted follow through. In some cases, the decision not to donate when called is driven by important health or other personal reasons. However, prospective donors should understand that if one matching donor declines, a delay finding another — if one can even be identified — can put the patient at serious risk.
On the stem cell registry? Let us know you're truly prepared to donate
"When you get a phone call saying that you've matched a stem cell patient, you know that you could be the person that holds the key to whether that patient lives or dies," Lizzy says. "Just like the honour it carries to be part of the registry, it's an even bigger honour to proceed with the donation."
"There can be no better privilege than the power to save another human's life."
We urge healthy Canadians between 17 and 35 years of age to join Canadian Blood Services Stem Cell Registry online and order their swab kit to be delivered in the mail. If you're already on the registry and no longer wish to be considered as a potential stem cell donor, please contact us to update your status to "no longer available" in the registry. This change is not permanent. At any time, registrants can change their status to "yes, committed," or update their contact information, by calling 1 888 236 6283 (1 888 2 DONATE).