Canadian stem cell donor saves American infant's life
Just a few months after birth, Austin Mares received lifesaving stem cells to treat a rare disease
September 6, 2022
An American child has beaten a rare and life-threatening illness thanks to a stem cell donor from New Brunswick.  
At just two months old, Austin Mares of Clarksville, Tennessee, was diagnosed with Hemophagocytic Lymphohistiocytosis (HLH) — a rare disorder of the immune system that is typically diagnosed in young infants and children. Fortunately, after multiple rounds of chemotherapy, he was able to receive a lifesaving stem cell transplant in December 2020, just a couple of months after his diagnosis.   
"I still remember the moment Austin's transplant coordinator told us they had found him a perfect 10/10 match," says Courtney Mares, Austin's mother. "It felt like such a weight had been lifted off our chests."  
A tiny baby's journey to stem cell transplant  
Austin was born without any complications, and seemed perfectly healthy for the first several weeks of life. Then one night, several hours after he'd received some routine infant vaccines, he spiked a fever. While that fever subsided after a few hours, he experienced a second one a few weeks later.  
This time, Courtney — who is also a registered nurse — was worried enough to take him to the hospital.  
"I rushed him to the emergency room, believing he'd be diagnosed with a virus or common cold and be sent back home. But that didn't happen," recalls Courtney. "Within an hour, he was transported by helicopter to a major children's hospital in Atlanta, after his lab results showed severely low white blood cells, red blood cells and platelets."  
Austin was immediately admitted to pediatric intensive care. His liver and spleen were extremely enlarged, and his blood tests continued to show signs of abnormality. After a bone marrow biopsy and genetic testing confirmed the HLH diagnosis, doctors told the family that Austin's only hope of survival was a stem cell transplant.  
---
STEM CELL DONORS SAVE LIVES
---
Courtney and her husband, Jordan Mares, immediately set out to learn everything they could about both HLH and stem cells.   
Blood stem cells are immature cells that are formed in the bone marrow, the soft tissue inside bones.  They can develop into any cell present in the blood stream. Stem cells are easy to donate, and are used to treat more than 80 diseases and disorders. But for a transplant to be successful, the stem cell donor must also match the patient in terms of particular proteins found on the surface of white blood cells and other tissues. 
About a quarter of patients are lucky enough to have a stem cell match in their own family, typically a sibling. However, tests determined that Austin's only sibling — his older sister Hailey — was not a match.  
So Austin needed an unrelated stem cell donor, available only through a stem cell registry. These organizations around the world, including Canadian Blood Services Stem Cell Registry, constantly recruit healthy volunteers to help save lives. They also frequently facilitate matches across borders.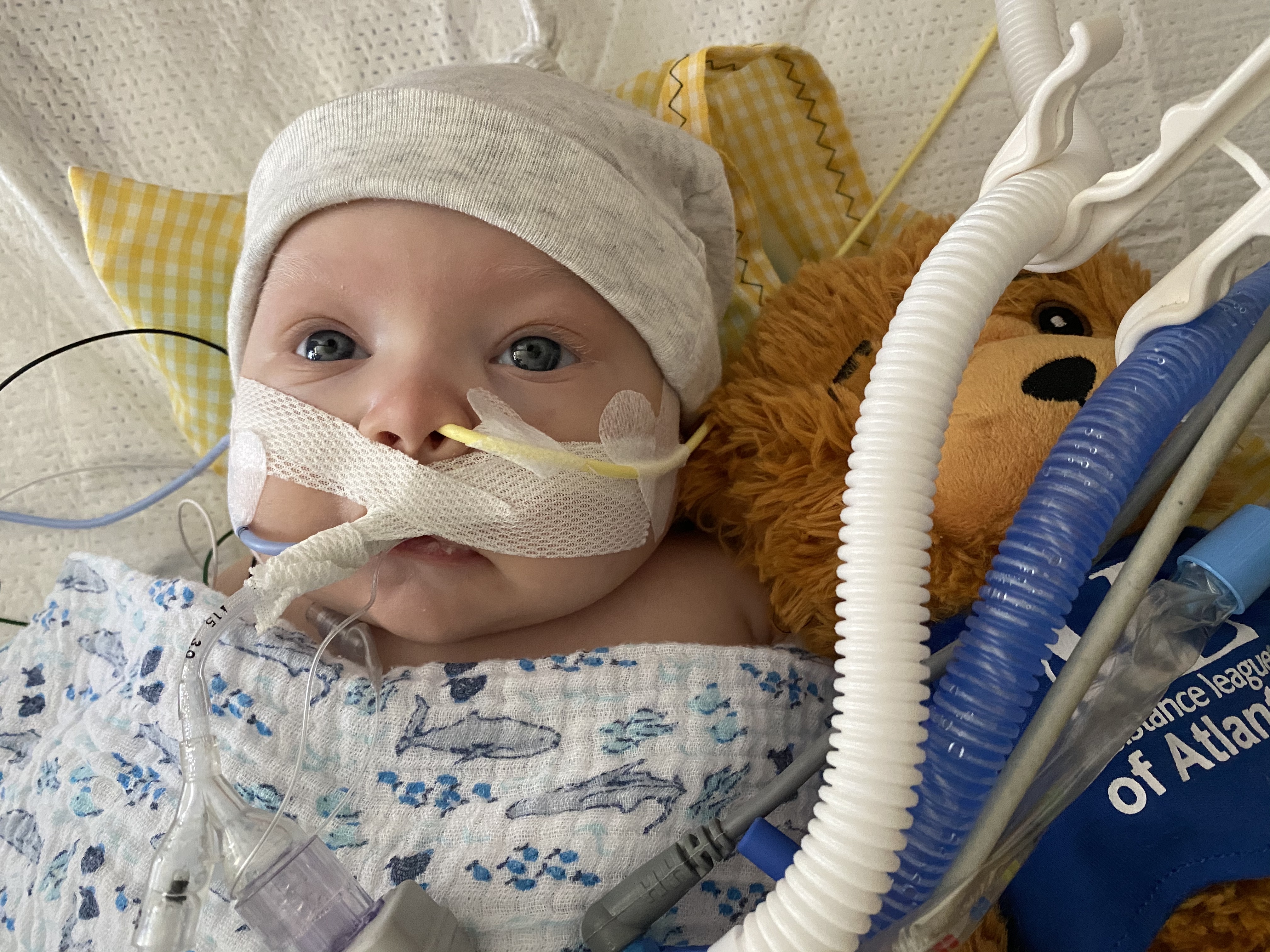 The Be The Match registry in the United States identified seven potential donors for Austin, two of whom were ideal matches. Of those two, Austin's medical team favoured one from Canada, for the simple reason she was available to donate quickly. 
Austin's family didn't know it then, but that donor was Lizzy Burns. This young woman from Moncton, N.B., had joined Canadian Blood Services Stem Cell Registry years earlier. Like many donors, she was surprised to be called, but also thrilled to be able to help.  
"At that time, I didn't know who was going to receive my stem cells, but I wanted to save someone's life," says Lizzy, who also shared her donation story with Canadian Blood Services in early 2021. "It didn't matter where that individual came from."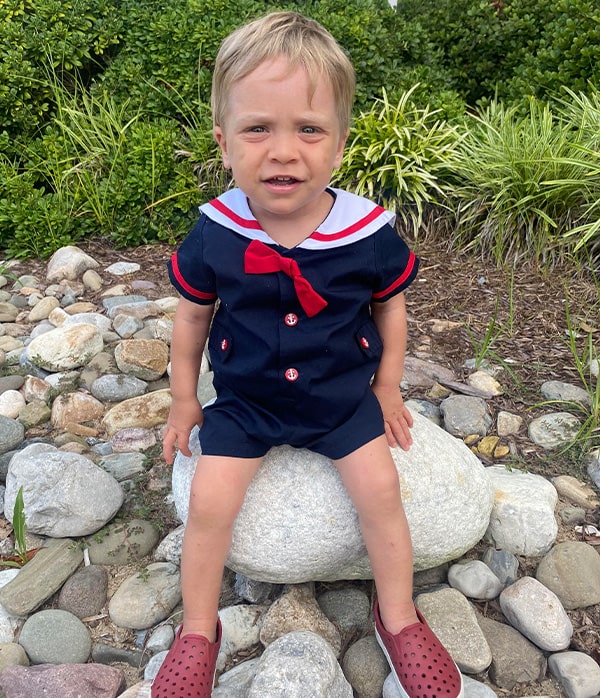 Meeting the stem cell donor who gave Austin 'new bones' 
Austin received his stem cell transplant right before Christmas 2020, and one of his family's Christmas wishes was to eventually meet the donor who saved his life.  
Stem cell donors in Canada are not permitted to communicate directly with their recipients, or to exchange identifying information, until one year after the transplant. But during that waiting period, they may exchange anonymous letters through the stem cell registry. And after a year has passed, they may talk or even meet if both donor and patient consent.   
"Lizzy had sent Austin a letter before she knew who he was, and we could tell from that letter that she was such a special person," says Courtney. "As soon as Austin marked his one-year post-transplant anniversary, we connected with Lizzy and her fiancé Ryan."   
Their families have established a strong relationship since a first video call last winter, and also discovered they have a lot in common. 
"Courtney and I have a great friendship," says Lizzy. "She's a registered nurse, and I also come from a family of nurses. My father was in the U.S. military, and her husband currently serves in the military. And like our family, they've moved around a bit."  
Lizzy has also had the chance to bond with Austin and his older sister during video chats. Hailey refers to Lizzy as the person who "gave Austin new bones".  
"We can't thank Lizzy enough," says Courtney. "I'm so excited for the day we get to meet in person."  
In the meantime, Courtney has teamed up with other parents of kids with HLH to launch the HLH Heroes Foundation in the U.S. Through this Foundation, she's helping to provide support for individuals and families impacted by the disease.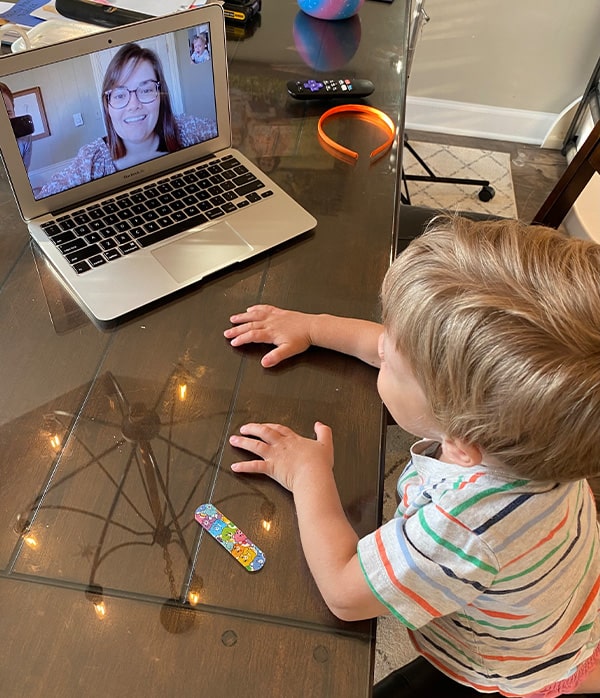 Registering to donate stem cells is easy 
If you are between the ages of 17 and 35, you could be eligible to join Canadian Blood Services Stem Cell Registry. Signing up is easy and you could save a life. 
The first step is to complete an online registration to receive a self-swabbing kit in the mail. The kit comes with instructions on how to perform a painless buccal (cheek) swab and return the kit free of charge. That small sample of cells helps determine if you are a potential match for a patient in need. That could happen months or years from now, which is why it's important for registrants to be sure of their commitment before signing up.   
That said, donating stem cells is much easier than you might imagine. It's frequently very similar to donating blood. The below video explains how cool and easy it is to donate stem cells.   
Diverse stem cell donors save lives  
It's important to note that a patient's best hope of a match is typically a donor of similar ancestral background. Unfortunately, in stem cell registries around the world — including Canada's — the majority of prospective donors are of European descent.  
"Austin was very fortunate to be a white male when looking for potential stem cell donors, because that's the biggest pool of donors available on registries worldwide," says Courtney. "Other ethnicities aren't represented as much, so they have a much harder time finding a match, which is heartbreaking for those families." 
Here in Canada, prospective donors of Indigenous, Asian, South Asian, Hispanic, mixed-race and diverse Black backgrounds make up only 33 per cent of the total within Canadian Blood Services Stem Cell Registry. That's why we encourage people of all ethnic backgrounds to join. By doing so, you can bring hope to the more than 1,000 patients in Canada who are currently waiting for lifesaving transplants, and to many more across the world. 
As U.S. residents, Courtney and Jordan were eligible to join Be The Match. That's the registry which connected with Canadian Blood Services Stem Cell Registry to provide Austin with his ideal donor, for whom Courtney says "we will forever be thankful." Not only have they joined that stem cell registry, they've encouraged their friends and family to so as well. 
"As a way of paying it forward, Jordan and I are both hoping to get the call one day to save someone's life like Lizzy did for Austin," says Courtney. 
As we celebrate World Marrow Donor Day on Sept. 17, we are thankful to stem cell donors all over the world. We encourage eligible donors to register online. We also encourage parents-to-be living in Brampton, Ottawa, Edmonton, and Vancouver to consider donating umbilical cord blood, another source of stem cells. You can help save a life.