Image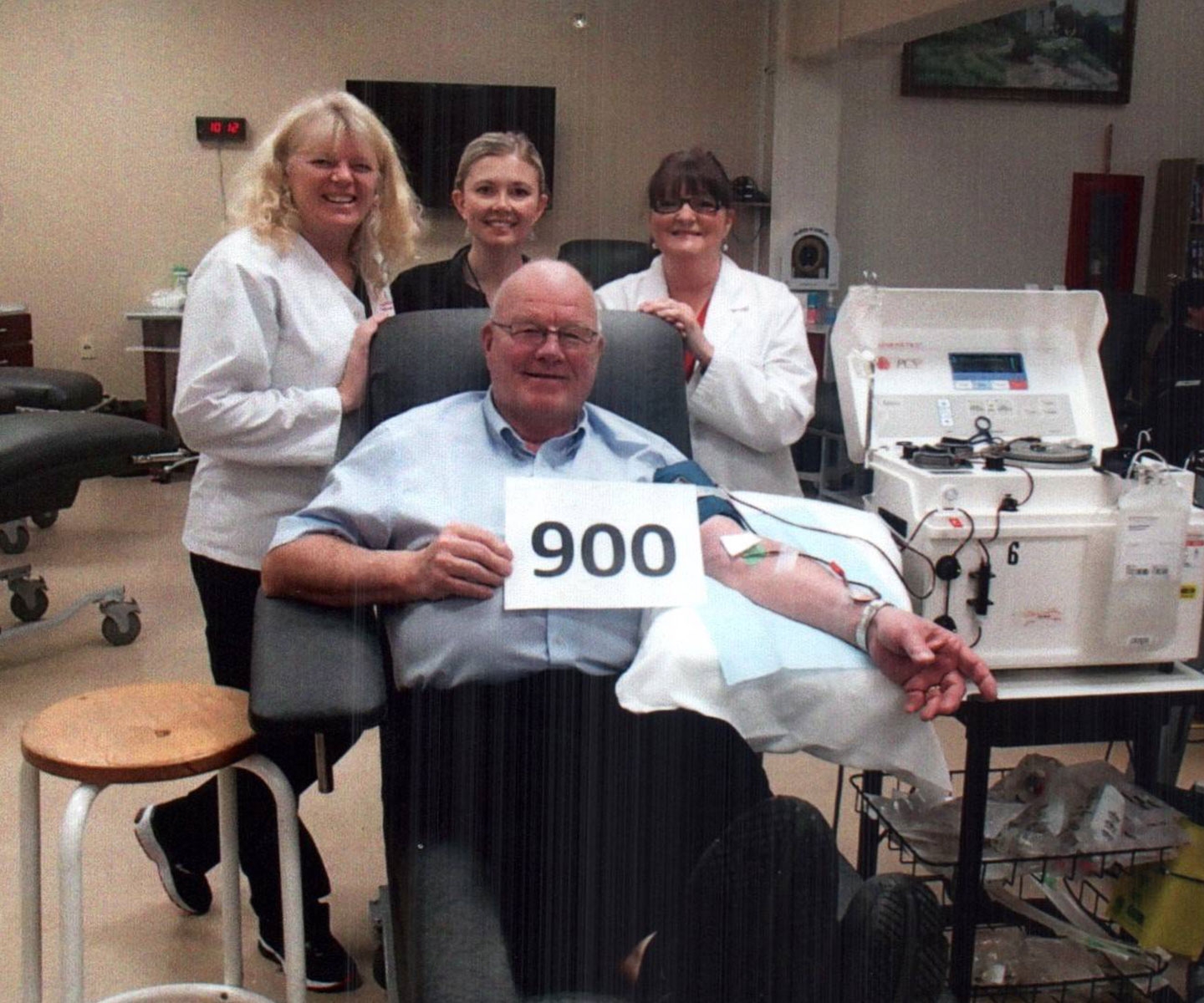 His family now donates in his memory, and invites others to help boost his legacy to 1,000 donations
This National Blood Donor Week (June 11-17) we are shining a light on donors, including Don Shaw of Saint John, N.B. 
Donating blood and plasma (a component of blood) was an important part of Don's identity. He was so dedicated that he promoted blood and plasma donation to anyone he encountered, booked his vacations around his donation schedule, and rarely missed an appointment.  
Don was motivated in part by seeing his own family members become patients in need. When he was 17 years old, his mother was diagnosed with cervical cancer and required blood. When his second daughter, Lesley, was born in 1966, she required blood exchange right after birth, where her blood was completely removed and replaced. And a half century later, another daughter, Tracey, was diagnosed with ovarian cancer and required large amounts of blood during treatment. Don not only supported her through her medical journey but continued to donate blood as well.  
Don became the first person in New Brunswick to reach 700 blood and plasma donations. Along the way, he inspired Tracey and Lesley, as well as their sister Rhonda and his wife Jean, to donate blood themselves. Then after 63 years of donating — and reaching 939 donations — he became ineligible to donate for a year following a heart attack in 2018.  When he became eligible again, Don and his family decided it was time to slow down and stop donating.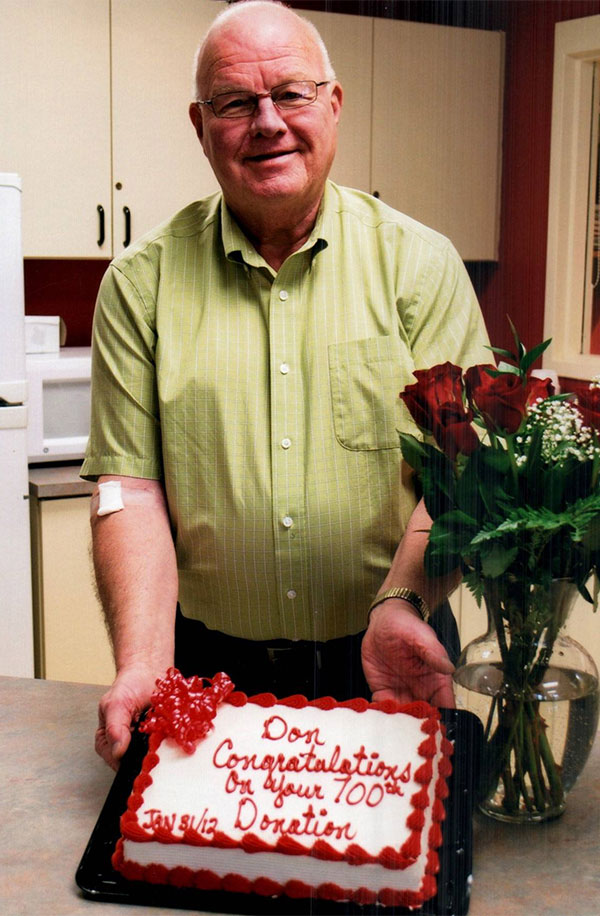 "We found out later on that he was going to the donor centre anyway, just to drop in, say hi to everyone and have a snack. It was just part of his routine," says Tracey.  
Don passed away from cancer in January 2023. Today, his family honours his amazing commitment with a Partners For Life team, a powerful way to bring people together to donate blood and plasma. Those who join the team can have their upcoming donations added to its total — and help the family reach that symbolic 1,000 milestone in Don's honour. 
It's easy to join any team or start your own. Simply log in to your donor account online or by using the GiveBlood app. Then use the Partners tab to start or search for a team; the code for Don's team is HELP0110101. You can also leave or switch teams at any time. 
Don't have an account yet? Book your first appointment at the button below, and create one in minutes as part of the process. 
So many ways to save lives through donation: blood, plasma and stem cells 
Don also encouraged Tracey and Lesley, along with Tracey's husband Allan, to join the stem cell registry in the early 90s. Their cousin had been diagnosed with leukemia and needed a stem cell transplant. Unfortunately, no matching donor was found, and he passed away. But all three remained on the registry, prepared to donate for any other patient in need. 
Since then, Allan has been matched with patients twice. Unfortunately, the first time, the patient passed away before the donation and transplant could take place. But the second time, in 2018, Allan had the amazing experience of donating stem cells. It did not involve surgery. Like most stem cell donors, he donated "peripheral blood stem cells" through a process that is more like blood donation.  
"I don't remember any pain; it was an incredible feeling. I was relaxed," says Allan. "I don't know why more people don't sign up. I was privileged to match twice. It's such a rewarding experience knowing you're able to help somebody. I don't know who I helped, but it could be my neighbour. That person is able to live a life."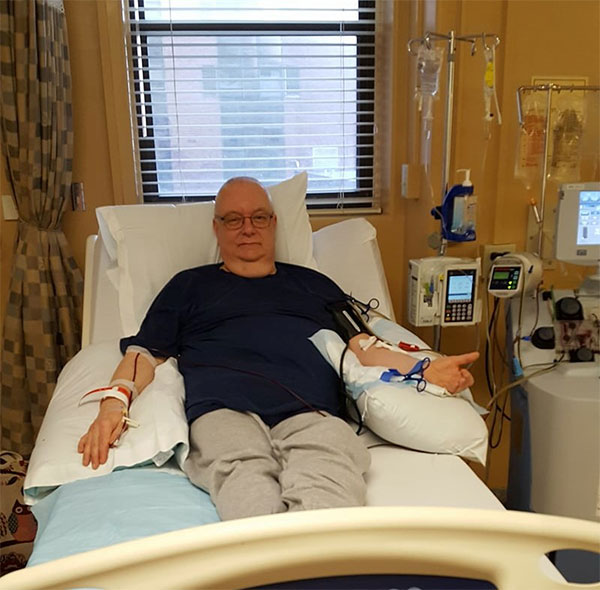 Allan is now a blood donor, with plans to switch to plasma. Donors registered as male can donate blood every 56 days or plasma every 7 days. Inspired by Don's commitment, he wants to donate as many times as possible. 
"Don was never looking for recognition, that was really special about him," says Allan. "He was proud to donate blood." 
Kindness ran through this blood and plasma donor's veins 
Donating blood and plasma was just one of many ways Don demonstrated care for others. When Tracey was going through cancer treatment, and when Allan suffered a stroke, Don drove them to all their appointments.  
He supported his family in their charitable endeavours, too, such as Jean and Tracey's 60-year involvement in Girl Guides. Don helped by selling Girl Guide cookies, a commitment for which the Girl Guides honoured him at his memorial service. 
Don was also a member of the KV (Kennebecasis Valley) Old Boys, a group of men over 50 that collect recyclable bottles and use the money for community needs, including building wheelchair ramps or lifts in homes. In 2022, they raised $12,000 from bottle returns and put that money back into the community. 
Honouring Don's legacy 
In addition to encouraging people to donate blood and plasma, the family also honoured Don recently with an event to recruit new people to the stem cell registry. We encourage all those in good health and between the ages of 17 and 35 to join the registry for the chance to become a patient's lifesaving match. 
"He would have been thrilled that the family hosted a stem cell recruitment event," says Jean, who donated blood 38 times. "Our family feels very strongly about blood, plasma and stem cell donation, with more and more friends and family answering the call." 
"Donating blood or talking about donating blood or stem cells, any good deed you can do, if you are in a place where you can do it, it doesn't cost anything other than time," says Tracey.